During his recent trip to Canada, during which he had an epic lift-off with Cal Strength's Spencer Moorman, Irish weightlifter and YouTube personality Clarence Kennedy recorded a full day of eating with his pal Omar Isuf.
There are a couple of reasons why this is notable. First, Kennedy is insanely strong — his best lifts are a 185kg snatch and a 220kg clean & jerk at about 100kg bodyweight.
The second reason is that he's a vegan. (He made those lifts both before and after his transition to veganism in 2016.) And let's be honest, vegans are often associated with protein deficiency, anemia, and skinniness.
That's the fourth of seven pause squat singles of 260 kilograms (573 pounds).
[We named Clarence one of the 5 strongest vegans on Earth. Check out the full list!]
So we were curious when Kennedy told us about this upcoming video that followed his diet for a day. And while the video does do that, we weren't sure if we could call it a "day" of his diet since they appear to spend the second half of the day eating fried vegan cheat food instead of carefully calculated weightlifting fuel.
But here's the most useful info we got.
The Protein
On average, the man eats about 4,000 calories per day and 150 grams of protein. His groceries on this day included, in rough order of "protein-rich" to "not quite as protein rich":
Firm tofu
Vegan "ground meat"
Chickpeas
Lentils
Chocolate soy milk
Peanut butter
Hummus
Flaxseed
Oatmeal
Rice
Grapes
Dates
Shredded coconut
Miscellaneous vegetables
If you're wondering where the vegan protein powder is, Kennedy has said in the past that he usually doesn't consume the stuff.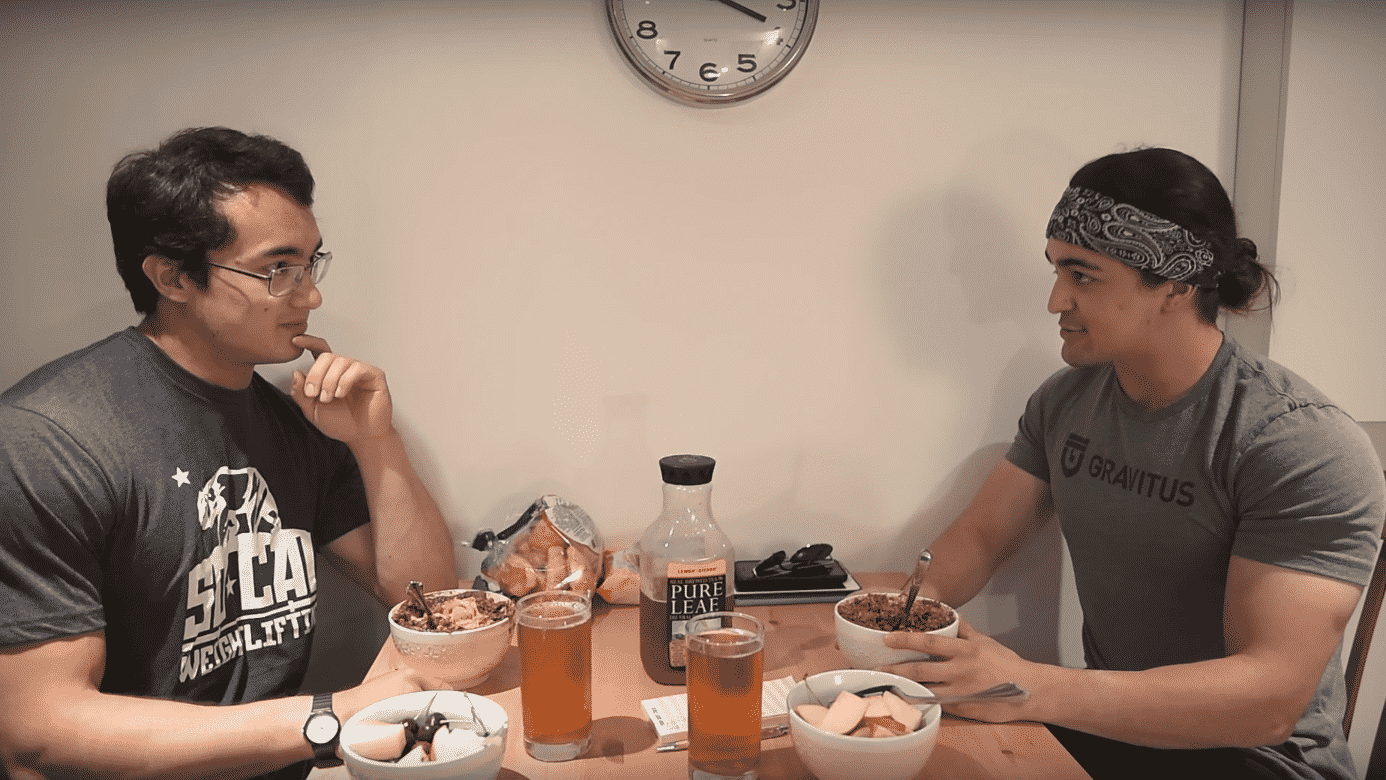 Image via OmarIsuf on YouTube.
The Breakfast
A bowl of fruit with apples, grapes, and cherries
A bowl of oatmeal
2 cups of chocolate soy milk
4 tbsp peanut butter
According to Isuf, that made 1458 calories, 50 grams of protein, 220 grams of carbs, and 42 grams of fat.
[Curious about macro-focused diets? Check out our guide to the "If It Fits Your Macros" approach.]
After this, the two eat some vegan takeout (mostly beans, tofu, and vegetables) and then go ham on deep fried vegan mac 'n' cheese balls.
If you're left wondering what a full day of eating would look like when he's paying attention to his calories, micronutrients, and amino acids, check out the video above (and our discussion here) that provides a lot more detail. And get ready for a lot of beans, pasta, and soy!
Image via @clarencekennedy_ on Instagram.