Stripped to its foundation, the deadlift is as straightforward an exercise that exists. Simply approach the bar and pick it up off the floor. This lack of flash doesn't make the deadlift any less effective, on the contrary, the deadlift is a time-tested staple for building absolute strength.
The deficit deadlift is performed using your standard conventional deadlift technique but from a slightly elevated surface, elongating your normal range of motion. You might have less weight on the bar, but you'll certainly be setting yourself up for some new personal records.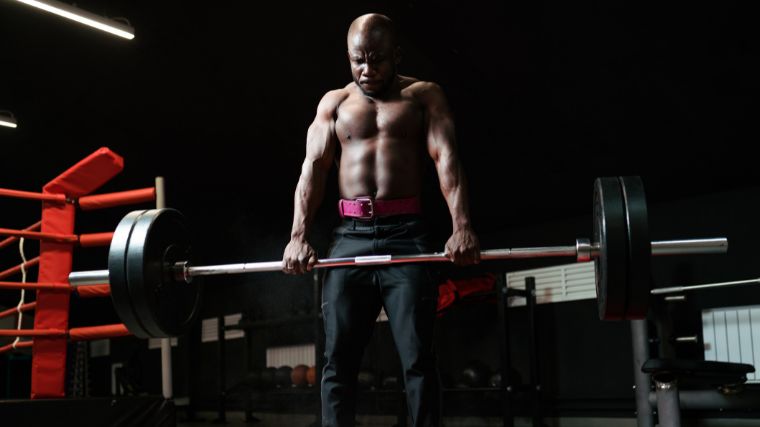 The addition of a mere few inches of depth is an ingenious method of revitalizing your strength training progress. Be it a tool to improve your technique, allow better recovery, or address specific weak points, deficit deadlifts offer a surprising degree of versatility. Here's how to do the deficit deadlift.
Editor's Note: The content on BarBend is meant to be informative in nature, but it should not be taken as medical advice. When starting a new training regimen and/or diet, it is always a good idea to consult with a trusted medical professional. We are not a medical resource. The opinions and articles on this site are not intended for use as diagnosis, prevention, and/or treatment of health problems. They are not substitutes for consulting a qualified medical professional.
How to Do the Deficit Deadlift
The deficit deadlift builds off of your standard conventional deadlift technique. Here is a step-by-step guide on how to perform the deficit deadlift.
Step 1 — Set the Deficit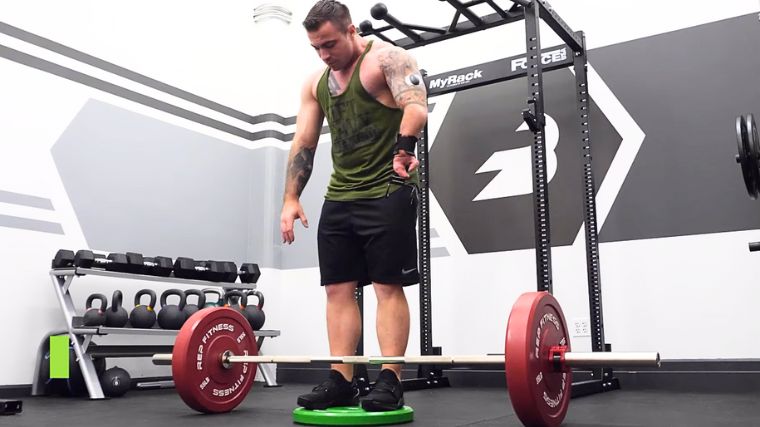 You perform the deficit deadlift while standing on a platform, but the barbell itself stays on the ground as normal. Find a small surface to elevate your starting position, standing on a 25-pound weight plate works well here. Make sure you establish even foot contact with secure grip on the platform, your elevation only needs to be around two inches.
Coach's Tip: You may need individual risers for each foot depending on your body size and shape, or if you pull sumo.
Step 2 — Set Up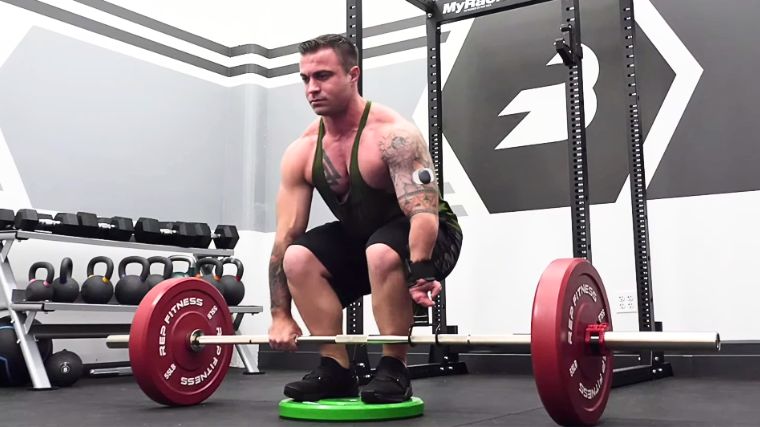 Assume a hip-to-shoulder width stance with the bar directly over your midfoot. Your toes should be pointed slightly out. With soft knees, reach down and grab the bar just outside of your legs. Bend your knees until your shins touch the bar, squeeze your chest up, flatten your back, and sit back into your hips. Brace and maintain full foot pressure.
Coach's Tip: Protract your shoulder blades as you reach for the bar for the best starting position.
Step 3 — Lift Off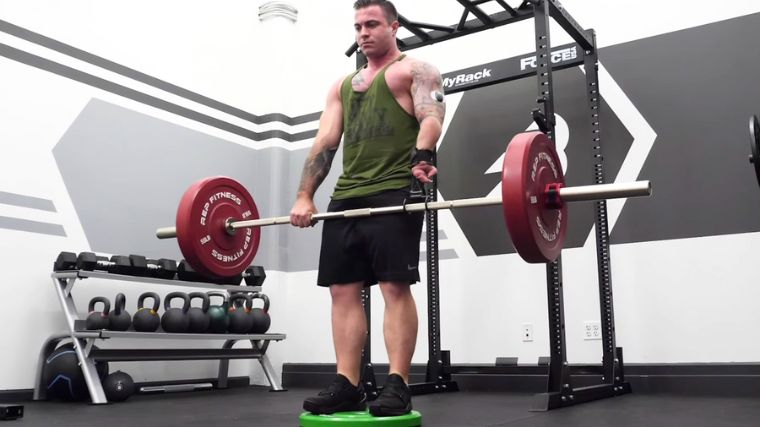 Maintain full body tension and begin to press through your quads. As the barbell passes your knees, drive your hips forward to meet the bar by squeezing your hamstrings and glutes. Stand tall with your shoulders back to finish the lockout.
Coach's Tip: Avoid excessively rocking backwards at the top of the movement. Lockout by standing tall instead of leaning too far back.
Deficit Deadlift Variations
Although the deficit deadlift is a twist on the standard conventional deadlift, it also has some neat variations of its own. Adding a pause, performing one-and-a-half-reps, or using stiff-legged variations help you target even more specific gains.
Paused Deficit Deadlift
The paused deficit deadlift breaks up the concentric portion of your lift by stopping you at a predetermined part of the repetition. You begin as normal, but around mid-shin height you pause for a brief moment while maintaining full body tension.
[Read More: Nutrition for Athletes — How to Eat for Muscle and Performance]
Paused deadlifts reinforce your brace and challenge your strength in specific ranges of motion. Utilize your standard deadlift technique, but come to a full halt as soon as the bar breaks off the ground.
1.5 Deficit Deadlift
The 1.5 deficit deadlift elongates each repetition of your set. You start the deficit deadlift as normal, but as you hit about mid-shin height, you start all over again. One repetition of a 1.5 deficit deadlift requires you to complete a partial range of motion, descend back to the floor, complete a full repetition, then fully descend to the floor again.
This 1.5 deficit deadlift builds strength-endurance of your brace and challenges your ability to control the bar from multiple starts and stops.
Stiff-Legged Deficit Deadlift
The stiff-legged deficit deadlift is a spicy addition to your posterior chain training. The stiff-legged deficit deadlift doubles down on the standard stiff-legged deadlift, providing a massive challenge to your hamstrings without needing to increase the load on the bar.
[Read More: The 12 Best Vegan Protein Powders]
Perform your normal set-up with as little knee bend as possible. Keep them with a soft bend to avoid completely locking them out, but don't drop your hips down any further than is necessary to reach the bar and flatten your lumbar spine.
Deficit Deadlift Alternatives
If you're all deadlifted out or are simply looking for some alternatives, you have a few options. The front squat, hack squat, and trap bar deadlift are all deficit deadlift alternatives that help you build similar attributes.
Front Squat
The front squat is a solid way to emulate some of the deficit deadlift requirements (and benefits) without having to perform more deadlifts. The front squat helps you maintain an upright posture, full foot contact with the floor, and improves your awareness of back and core tension. Similar to the deficit deadlift, the front squat requires less absolute load because of how challenging the bar position makes the lift.
However, using a squat pattern here alleviates some of the mid-to-low back fatigue that a deadlift would impart. Thus, if you're looking for a way to get similar deficit deadlift benefits from a squat pattern but need to manage back fatigue, the front squat is your best bet.
Hack Squat
The hack squat machine is undeniably one of the best tools for leg development. By increasing your range of motion, the deficit deadlift places a big emphasis on starting leg drive with your quadriceps. The hack squat is one of the best non-barbell alternatives in the gym for accomplishing the same thing. It's highly loadable, more stable, and safer to take close to muscle failure.
[Read More: The Best Foods for Energy Before, During, and After Your Workouts]
Not every solution to a deadlift problem is simply more deadlifting. Try the hack squat as a fantastic way to develop your quadriceps strength if that's holding back your deadlift variations.
Trap Bar Deadlift
The trap bar deadlift serves as a happy medium to help improve your positioning and train some muscle. The trap bar deadlift forces you to have improved full foot contact and bodyweight distribution because of the position of the handles. It pushes you back into your midfoot or else the bar itself would awkwardly rotate.
The trap bar deadlift also helps alleviate some of the mid-to-low back fatigue since the bar doesn't have to stay kicked out in front of you. If you're just starting out and learning to groove your deficit deadlift give the trap bar deadlift a try.
Deficit Deadlift Tips
The deficit deadlift is a very powerful tool in your training repertoire. However, employ a few of these tips to see even better progress.
Don't Go Too Heavy
The deficit deadlift certainly serves as a main movement within your workout program, but one of the best ways to see gains is to treat it like a skill.
Maxing out on lifts is fun in the moment, but it doesn't provide nearly as much long term benefit as "staying in the pocket" and executing flawless repetitions over a long period of time. Not every deadlift session needs to be super heavy; aim to perform perfect-technique using sets of 3-5 repetitions.
Nail the Brace
The key to the deficit deadlift is the elongated range of motion, but with greater range of motion comes a greater challenge to your bracing (and flexibility). The deficit deadlift puts you in a different starting position which often makes it harder on certain muscles to stay tight.
It also extends the length of time you need to keep everything engaged. Nail the brace and maintain perfect positioning for the best results.
Train Hard
While going too heavy is unnecessary, you still need to train hard. The goal of the deficit deadlift is to build full-body strength. To best achieve this, you'll still need to get some serious sessions in.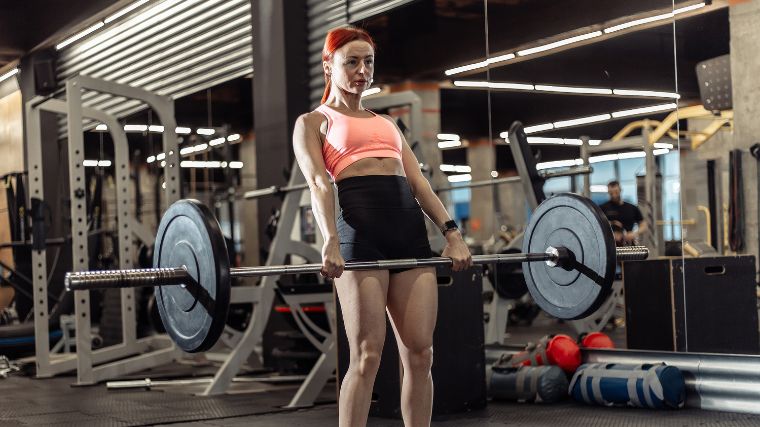 [Read More: The 16 Best Pre-Workout Supplements]
Once your technique is dialed in and you feel confident in the movement, start pushing your sets closer to technical breakdown. Aim to keep your sets clean, but shoot for leaving only two or three repetitions on the table.
Deficit Deadlift Sets and Reps
The deficit deadlift is a variation of the standard conventional deadlift, which gives it a few unique applications. It's perfect for full body strength, to build skill, and as a warm-up for other lifts.
For Strength: Perform 2-3 sets of 3-5 repetitions. Reset each repetition once you place the bar on the floor. Aim for 1-2 repetitions in reserve, and rest 2-3 minutes between sets.
For Skill: Perform 3-5 sets of 5 repetitions. Reset each repetition once you place the bar on the floor. Keep 2-3 repetitions in serve, and rest 2-3 minutes between sets.
For Warm-Ups: Perform 1-2 sets of 5 repetitions. Reset each repetition once you place the bar on the floor. Aim for 2-3 repetitions in reserve and rest 2 minutes between sets.
Benefits of the Deficit Deadlift
The deficit deadlift is one of the most effective exercises for building posterior chain strength. Since it is a variation of your standard conventional deadlift technique, it helps improve your starting position, build better quads, and allow you to train with less absolute weight on the bar.
Improved Starting Position
The deficit deadlift is fantastic for improving your conventional deadlift starting position, but also has huge carryover potential to numerous other exercises. By extending your range of motion, while lifting the bar you'll pass by your "regular" start position. Except, this time, it'll be under load.
[Read More: Best Posture Correctors That Provide Posture Support]
Tension plus load plus time equals adaptation. In this way, the deficit deadlift can teach you to find and maintain perfect posture during your standard deadlifts, especially if you pause there while you're lifting.
Better Quad Drive
The deficit deadlift also helps target your quad strength. The increased range of motion forces a greater degree of knee bend when compared to your normal deadlift. When this happens, inherently more quadriceps are required to help push you back into a standard deadlift position as the exercise progresses. In order to stand up from an increased depth, your quads need to get working.
Do More (With Less Load)
Although counterintuitive, a deficit deadlift helps produce more gains with a lighter load. Progressive overload often focuses on increasing weight to see improvement; however, the deficit deadlift challenges you with a longer range of motion.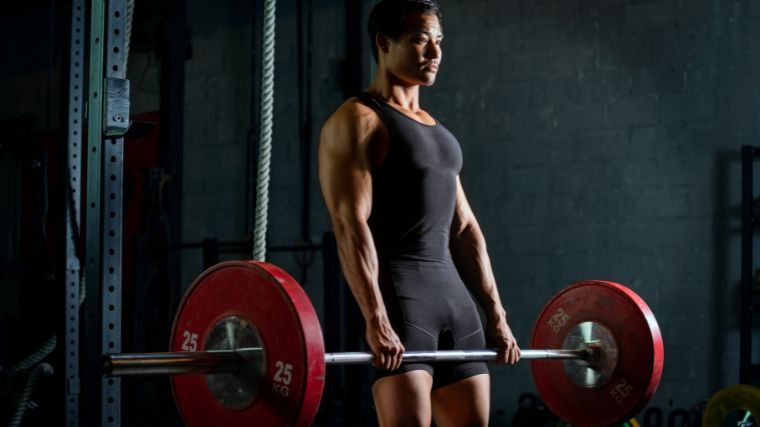 This increases the amount of work performed per repetition, and thus means less load is required to get you to an appropriate level of effort. This is a huge asset when you're trying to manage overall fatigue that you'll be incurring per workout, preventing you from spreading yourself too thin.
Muscles Worked by the Deficit Deadlift
The deficit deadlift truly is a full-body exercise. You'll be getting great stimulation for your quadriceps, hamstrings, glutes, latissimus dorsi, traps, and forearms all at once.
Quadriceps
The main job of your quadriceps is to extend your knees. The deficit deadlift creates a greater degree of knee bend at your starting position, increasing the burden on your quadriceps. As you drive from the ground through the first few inches of the lift, your quadriceps are heavily involved.
Hamstrings
Your hamstrings work to extend your hip during the deficit deadlift. Although they are working throughout the range of motion, as your quads extend your knees, your hamstrings are then placed in a stronger position. From the middle of each repetition to lockout, your hamstrings are the workhorses for hip extension.
Glutes
Your glutes are one of the largest and strongest muscles of your lower body. They work to primarily extend your hips, meaning that the middle of your deficit deadlift all the way to the top is prime time for your glutes. Together with the hamstrings, your glutes help ensure no missed repetitions from the mid-range to lockout.
Trapezius
The trapezius is a big patch of muscle that sits around the base of your neck and extends throughout your upper back. Similar to the latissimus dorsi, the traps help to neutralize your thoracic spine from rounding under load during your deficit deadlifts. When you lock in your traps, you'll be securing your upper back positioning for the duration of each repetition.
Core
Your core is a series of muscle layers in your midsection that act to neutralize your mid-to-low back during exercise. There are several muscles that comprise the core (the rectus abdominis, internal and external obliques, and transverse abdominis), and are intimately connected to the job your traps and lats are performing. Altogether, your core musculature contracts in unison to make your torso rigid and stable during your deficit deadlifts.
Forearms
The forearms are an unsung hero of the deficit deadlift. While the deficit deadlift is less loaded than your standard conventional deadlift, you'll often perform more repetitions. In order to safely and successfully execute these repetitions, you'll need a secure grip on the bar.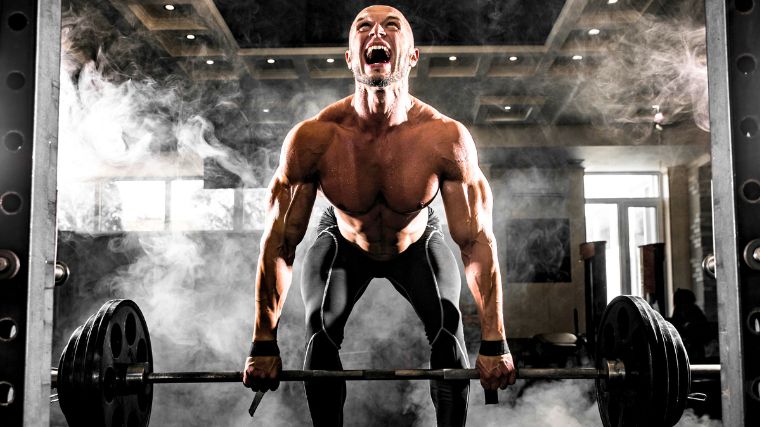 [Read More: The 15 Best Shoulder Exercises For Building Muscle]
While there are some smaller muscles directly in the hands, the big guns for your grip come from the forearms. If you can't hold onto the bar, you can't complete the set. Your forearms are a major player here.
Who Should Do the Deficit Deadlift
Strength sport athletes such as powerlifters and strongmen are standout candidates for the deficit deadlift. However, Olympic lifters also see benefits from employing them as well.
Powerlifters
If you're looking to break a deadlift plateau, adding in a variation is a solid strategy. The deficit deadlift in particular helps address many common issues you'll encounter while performing your competition deadlift.
[Read More: The Best Full-Body Bodybuilding Workout for Beginner to Advanced Lifters]
Increasing the range of motion highlights a poor brace or starting position. Cleaning these up and spending time pursuing progress on a deadlift variation reinvigorates your competition deadlift training in a few short blocks.
Strongmen
Strongmen are notorious for performing feats of insane strength. With all of the accumulated wear and tear from strongman-specific training, a deadlift variation is a perfect way to manage fatigue. Instead of loading things up maximally and adding even more stress to your system, use a deficit deadlift.
You'll still be able to train the deadlift technique and address mobility or skill issues, but the overall load is reduced. This allows you to focus your effort on adequate recovery or placing more tonnage into another exercise for a while.
Olympic Lifters
There are a few key components of the deficit deadlift that actually carry over nicely to Olympic lifting demands. The deficit deadlift reinforces a strong posture that an Olympic lifter greatly benefits from.
It also encourages full-foot pressure and greater quadriceps drive off of the floor, extremely similar to the initiation of a snatch or clean. If you're struggling with some of the fundamentals of Olympic lifting positioning, try some deficit deadlifts to nail the essentials.
Common Deficit Deadlift Mistakes
While the deficit deadlift is effective for making a variety of gains, there are some fairly common mistakes. Going too heavy, adding too much volume, and lifting off of too high of a deficit are all going to cost you progress.
Going Too Heavy
The keys to increasing your strength are clean technique and progressive overload. Strength clearly benefits from training heavy (1), but a common mistake is running away with the weights. A major benefit of selecting the deficit deadlift is that the increased range of motion reduces the weight needed to reach adequate levels of fatigue.
If you start slapping on too many plates too soon, there's a good chance your technique rapidly breaks down. Stay in the pocket with your load selection, a solid 1-2 repetitions left in the tank is a good rule of thumb.
Too Much Volume
Another common error in deficit deadlift programming is adding in too many sets and repetitions. The deadlift and all of its variations are very challenging exercises. They recruit a ton of muscle mass and take a boatload of coordination.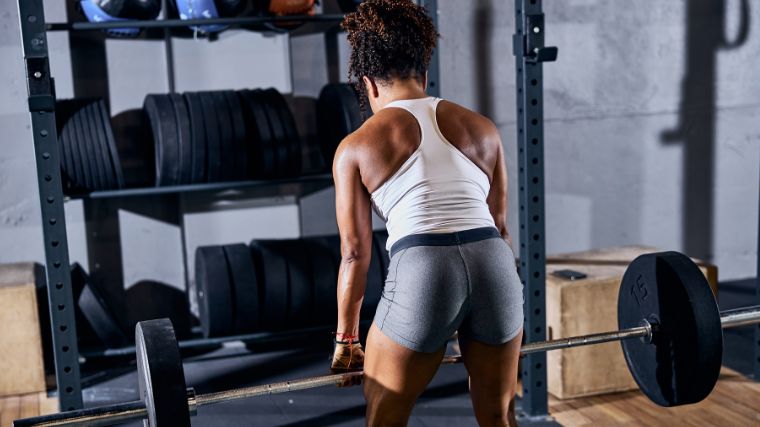 [Read More: The Complete Guide to Pre-Workout Supplements]
This results in a very fatiguing lift that, if programmed too aggressively, may spill over into the rest of your training. In conjunction with correct loading (1-2 repetitions left in the tank), it's a good general plan to sit around 2-3 sets of 3-5 repetitions for your deficit deadlift.
Too Deep of a Deficit
The deficit deadlift is awesome for improving your full body strength and transfers nicely to a ton of other lifts. The mere addition of an inch or two of deficit is enough to subtly alter your mechanics, but be wary of going too deep.
If "some" is good, "more" is not necessarily better. The greater the deficit, the less likely you'll be able to find and maintain your regular technique. Once you exceed, say, three or four inches, you may struggle to maintain good form. Using anywhere from 1-3 inches for your deficit should be enough.
The Deadly Deficit
Adding a small elevation to your deadlift is a clever way to switch things up. The deficit deadlift takes the conventional pull and modifies it in the smallest way for big gains. One or two inches of increased range of motion help to focus your technique, solidify your brace, and build major pulling power.
Don't forget to train hard, keep your sets and repetitions clean, and don't go overboard with the programming. Whether a mainstay exercise or a compliment to improve others, the deficit deadlift is one of your best choices for full body strength.
FAQs
Here are a few important questions and answers you may have about the deficit deadlift.
Are deficit deadlifts safe?
Deficit deadlifts are no more dangerous than any other exercise in the gym. When performed correctly (and loaded appropriately), they are tremendously beneficial for a ton of mobility and strength gains. Although the deadlift in general often receives a negative perception, using clean technique with reasonable weight always keeps you as safe as possible.
How should I program deficit deadlifts?
Deficit deadlifts should be programmed as a normal strength movement or supplemental exercise to compliment your program. This means it should either be performed first in your workout or second, scaled for sets, reps, and load as needed.
Deficit deadlifts are a strength exercise, so performing 2-5 sets of 3-5 repetitions with 1-2 repetitions in reserve is a good general guideline.
How long should I use the deficit deadlift?
The deficit deadlift is a great tool to shift away from standard conventional deadlifts for a while. In this case, use them as your staple deadlift for as long as you want, but at least 12 weeks would be a good baseline. This allows you to see progress with your deficit deadlift that transfers back to the lifts you're using to improve. Otherwise, the deficit deadlift is a viable mainstay hinge exercise in your program. Use it for as long as you'd like.
References
Lopez, P., Radaelli, R., Taaffe, D. R., Newton, R. U., Galvão, D. A., Trajano, G. S., Teodoro, J. L., Kraemer, W. J., Häkkinen, K., & Pinto, R. S. (2021). Resistance Training Load Effects on Muscle Hypertrophy and Strength Gain: Systematic Review and Network Meta-analysis. Medicine and science in sports and exercise, 53(6), 1206–1216.
Featured Image: DmitryStock / Shutterstock