Clang. Your barbell makes music as you set it back in the rack after your second set of rows. Breathless, you glance over your shoulder. A nearby gymgoer unracks another bar — loaded just a bit heavier than yours — for their own set of bent-over rows. Their lats are a bit bigger than yours, and, more importantly, they're using a different grip. Have you been doing it wrong this whole time?
Back training is a must. It's bodybuilding law that shows are won from the back; strength athletes rely on their backs to support them in their sports. Moreover, many back-day staples (such as the bent-over row) tend to be a bit more bespoke than other mainstay movements. You can customize everything from equipment to your own posture to your grip. And it's your grip that might matter more than the rest.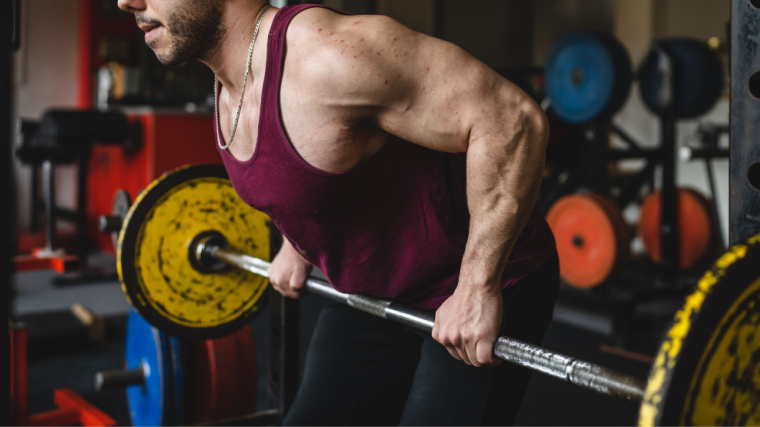 The right row grip can make or break your back workout (yes, it matters). It could mean the difference between a lat pump that leaves you feeling like you could fly out of the gym or a pair of sore biceps and little else.
Here's what you need to know about row grips and how to know which one is right for you.
The Best Row Grips
When it comes to optimal back training, your grip of choice is ground zero. How you hold the weight you're working with during pulling exercises — particularly rows — will influence which muscles work the hardest, the nature of the exercise's resistance curve, and much more.
Types of Row Grips
There's more than one way to skin a cat, and there's definitely more than one way to situate your grip when you row. To find the right rowing grip, you need to know what your options are in the first place:
Choose Your Hand Position
Pronated: A pronated, or overhand grip, is the standard grip most folks use when they row. The backs of your hands are visible while your palms face the floor.
Supinated: The supinated, or underhand, position is the opposite of the pronated position; turn your wrists around so your palms face upward.
Neutral: A neutral grip involves maintaining alignment between your hand and forearm; your palms face one another.
Thumbless: Sometimes called a suicide grip, you may unwrap your thumbs from whatever you're holding and squeeze the handle with just your forefingers.
Choose Your Grip Width
Narrow: A narrow grip width generally falls at shoulder width or closer.
Medium: A medium or moderate grip width generally falls around 1.5 times shoulder width.
Wide: A wide grip generally falls anywhere between 1.5 and over 2 times shoulder width.
You can also mix and match your hand position and grip width. It's certainly possible to perform a narrow-grip underhand row, wide-grip pronated row, or anything in between (depending on your equipment of choice; there's no way to hold a barbell with a neutral grip).
The Best Row Grip for Lats
Your lats are the biggest muscles in your upper body and are responsible for the lion's share of your pulling power. Well-developed lats also contribute to the iconic V-taper aesthetic. Some data has shown that the following grip orientation results in substantial lat activation: (1)
Hand Position: Overhand or neutral
Grip Width: Medium to wide
The Best Row Grip for Upper Back
The trapezius, rhomboids, and posterior deltoids are but a few of the many small muscles that make up the landscape of your upper back. These tissues support and create movement at your shoulder joint; training them is just as important for healthy posture and good mechanics as it is for beefing up your yoke.
If you want to emphasize your upper back a bit more than your lats, you might try:
Hand Position: Overhand
Grip Width: Medium to wide
The Best Row Grip for Strength
Strength is all about maximizing your leverage and calling as many muscles into action as you can to move a heavy weight. In some ways, this idea is antithetical to rowing for muscle growth, wherein you might adjust your grip to limit the activity of certain muscles and prioritize others.
Certain studies have shown that most people will generally produce the highest amount of force with the following grips: (2)
Hand Position: Overhand or underhand
Grip Width: Medium to narrow
Much of this data was gathered from subjects performing upper-body pulling movements like the lat pulldown. There's little research on how grip width influences muscle activation and mechanics in free-weight rows. However, rows and pulldowns are technically similar and work many of the same muscles, so you can expect the principles to carry over (at least in part).
Do Different Row Grips Matter?
If you've ever watched someone crank out a set of eight pristine barbell row repetitions with several 45-pound weight plates on either side, it's perfectly normal to analyze their choices. Does a big row (and, consequently, a big back) come from steady progressive overload alone, or does your grip of choice actually matter that much? The short answer is, well, kind of. But the "long" answer is far more interesting.
The Deciding Factor
Your body is an intricate web of levers; your hand is connected to your forearm, which is connected to…you get the idea. Therefore, adjusting your grip on a barbell or cable attachment will usually change the position of your arm relative to your torso.
As you widen your grip, your elbows tend to flare out more to remain aligned with your wrists. Flipping your hands to a supinated position will naturally encourage you to tuck your arms to your sides for the same reason.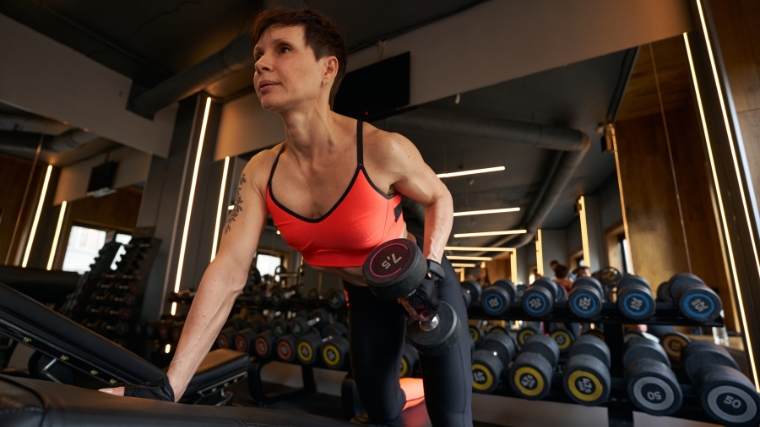 Grip style influences which parts of your back work harder than others, but that's a technicality; the angle and position of your upper arm relative to your torso is what really matters. (1)
This also aligns with how your back is built. Many of your upper back muscles have horizontal fiber orientations that run left to right. Flaring your arm places the lever in alignment with those fibers. Conversely, the fibers of your lats run vertically. Tuck your arms in and you may give the lats better leverage to contract.
Consider these points more of a guideline than a hard-and-fast rule, but it's a great place to start if you want to optimize your grip on back day.
For Muscle Growth
Understanding how your anatomy influences your performance is critical if you're in the market for muscle growth (aka hypertrophy). However, it's not the only factor influencing how fast you can grow.
A good mind-muscle connection starts with your setup. An overhand, medium-grip barbell row may be ideal for lat engagement on paper, but the juice isn't worth the squeeze if it causes elbow or shoulder discomfort.
Fiddle with your grip to focus on specific areas on your back, but only if doing so doesn't tarnish your enjoyment or make the movement uncomfortable.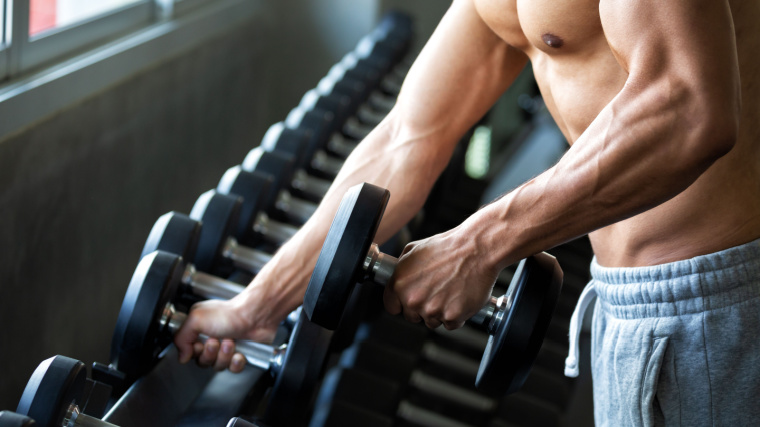 One important consideration: Many people find underhanded rows and pulldowns useful for engaging their lats as that grip position forces the upper arm to remain tucked against the torso. However, if you row or pull with a supinated grip, expect your levels of back activation to drop off a bit.
An underhanded grip gives your biceps better leverage, so expect them to pick up some of the load at the expense of your back. (3)
For Strength
Strength training is less about muscular mastery and more about perfecting a specific movement. Exercises like rows and pulldowns may not be as intricate as a sumo deadlift or snatch, but you should still prioritize good form to consistently gain strength.
Regarding your grip of choice, widening your hand position will cause your upper arm to flare out. This shifts some tension away from your lats and onto the smaller muscles in your upper back, limiting how much weight you can move.
[Related: The Best Protein Powders On the Market for Muscle Gain]
If you're concerned with rowing as heavily as possible, keep your grip relatively narrow and use an overhand (or neutral, if working with dumbbells or on a machine) hand position.
What Muscles Make Up Your Back?
You probably woke up the day after your first back workout sore in places you never knew you had. Your back plays host to the most diverse muscular ecosystem in your entire body. That diversity is mostly down to the free-moving nature of your shoulder joint. Here are the major muscles you'll find yourself working on back day:
Latissimus Dorsi
Your lats are the largest muscles on the backside of your torso. These fan-shaped tissues originate way down on your lumbar spine and stretch upward, attaching to your shoulder blade and the bone in your upper arm.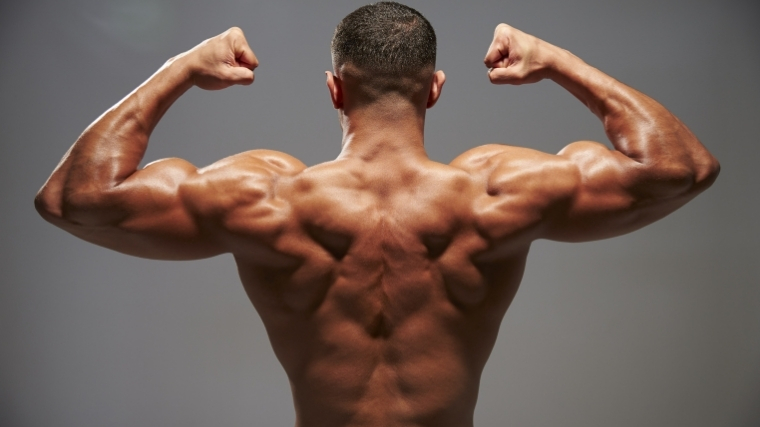 The primary function of your lats is to extend your shoulder. That is, to bring your arm back into alignment with your torso. You'll find yourself working your lats when you perform a row, pull-up, pulldown, pullover, or any other movement that involves getting your arm back against your body.
Upper Back
Your upper back isn't a specific muscle; it's a series of small tissues that weave across your ribcage and integrate with your scapula. The major players in your upper back, though, and the muscles you can feasibly train in the gym, are:
Trapezius (upper, middle, and lower)
Rear Deltoids
Levator Scapulae
Supraspinatus
Infraspinatus
And more. Your shoulder blade is unique in that it "floats" freely on your ribcage and isn't fixed bone-to-bone like your shin is to your thigh.
As such, you utilize all of these muscles in tandem to lift, drop, retract, protract, and rotate your shoulder blades when you perform back exercises. They may not be the prime muscles generating force in all cases, but they're integral for overall joint stability.
What You Need to Know
You don't need to become an anatomy expert to get a good back workout. Understanding the nature of your muscular system can help you select and modify exercises, but you still need to build sweat equity.
The most important takeaway here is that the muscles in your back work synergistically to move your arm and shoulder; changing your grip width or hand position will adjust the emphasis of certain muscles, but you can't sideline any one of your back muscles altogether.
How to Perform a Row, Properly
The row is a bit like chess; easy to learn, but difficult to master. You may know what a good row looks like, but cranking out set after set of pristine repetitions is another matter entirely. To truly master (or, perhaps, learn for the first time) the barbell bent-over row, it helps to take things back to square one:
Stand upright with your feet under your hips and your shoulders drawn back. Hold your arms loosely but maintain a snug, just-outside-shoulder-width grip on the barbell.
Perform a hip hinge. Brace your core, unlock your knees, and tip over at the waist. Descend until your torso is roughly parallel to the floor and allow the bar to naturally slide down your thighs. You should feel a big stretch in your hamstrings.
The barbell should be around knee-level. From here, pull your shoulders back to initiate the row and follow through with your elbows.
Row the bar into your lower abdomen. Pull as high as you comfortably can with good form, then reverse the motion.
Coach's Tip: As you tire out, you'll find yourself tempted to lift your torso upright. Fight that urge and stay in a solid hinged position throughout.
Many of these technical elements apply just as well to a dumbbell, kettlebell, or cable. The hallmarks of a good row are a locked-in torso and leading with shoulder movement rather than pulling entirely with your arms.
Your Takeaways
It's perfectly normal to want to perfect every facet of your workouts, especially if you're on the prowl for more muscle or a new personal record. Adjusting your grip during rowing exercises can make some level of difference in the quality (and quantity) of your results.
Research conducted on upper-body pulling exercises shows that different hand positions or grip widths influence regional muscle activation.
You can bias your lats more than your upper back by rowing with a medium-width, overhand grip.
Conversely, widening your grip or using a supine palm position will shift emphasis toward your upper back or biceps.
The data show that while there is a level of change in back activation depending on grip style, the real-world differences are somewhat minimal. (2)
You can't turn a barbell row into a lat-only exercise by narrowing your grip, nor remove your lats from a set of pulldowns by flipping your hands around.
Your back works synergistically. Think of different row grips as seasoning, rather than the meat and potatoes.
More Training Content
References
Signorile, J. F., Zink, A. J., & Szwed, S. P. (2002). A comparative electromyographical investigation of muscle utilization patterns using various hand positions during the lat pull-down. Journal of strength and conditioning research, 16(4), 539–546.
Andersen, V., Fimland, M. S., Wiik, E., Skoglund, A., & Saeterbakken, A. H. (2014). Effects of grip width on muscle strength and activation in the lat pull-down. Journal of strength and conditioning research, 28(4), 1135–1142.
Lusk, S. J., Hale, B. D., & Russell, D. M. (2010). Grip width and forearm orientation effects on muscle activity during the lat pull-down. Journal of strength and conditioning research, 24(7), 1895–1900.
Featured Image: Miljan Zivkovic / Shutterstock