As more athletes are realizing the long-term savings that can come with building an at-home workout space, the fitness industry is capitalizing by manufacturing better space-saving equipment. One of these space-savers is the Echelon Stride Auto-Fold Connected Treadmill — an affordable piece of equipment with an option for virtual classes to keep things spicy.
The keyword here is "auto-fold" — believe it or not, this 69-inch treadmill folds down to just 10 inches tall, making it ideal for the tiny home-dweller. And with a sub-$1,500 price point, it's actually one of the cheaper options for at-home treadmills. But just because it's affordable, doesn't mean it isn't high-quality; it features a solid steel build, as well as effective shock absorption in the running deck. This Echelon model is ideal for those who are shopping on a budget and aren't looking for any high-tech bells and whistles — the basic design here keeps the Echelon Stride Auto-Fold affordable, functional, and compact.
Main Takeaways
This treadmill is perfect for everyone from power walkers, who can walk as slow as 0.5mph, to high-speed sprinters, who can run as fast as 12mph.
The treadmill folds down to only 10 inches high in three steps, making it perfect for someone with little space for a home gym (read: most of us).
You can choose from virtual classes from over 30 instructors, or take the scenic route with workouts filmed across the globe — you'll find all of this available with the Echelon Premier membership, which you can add on to your tread purchase for as low as around $29 per month (for the two-year plan).
Echelon Stride Auto-Fold Connected Treadmill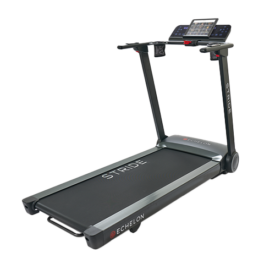 Echelon Stride Auto-Fold Connected Treadmill
This tread folds flat so that it's only 10 inches tall and stores away easily. The speed can reach up to 12mph, and you get a free 30-day Echelon Premiere membership with your purchase, which provides access to over 3,000 live and on-demand classes. This treadmill is great for saving both space and money.
Echelon Stride Auto-Fold Treadmill Highlights
The Echelon Stride Auto-Fold Connected Treadmill is designed to be an at-home treadmill that fits well under the $1,500 mark. It provides an incline of up to 10 percent, which isn't the highest we've seen (many treads go up to 15 percent incline), but it's enough to burn out your glutes. It folds to 10 inches tall, has speeds of up to 12 mph, and provides a console screen to show stats like your speed, incline, time, and calories burned.
Unfortunately, it does not have a touchscreen display like some higher-tech treads. But this is reflected in its affordable price point. The Echelon Stride Auto-Fold costs about $1,000 less than many treadmills across the market, and it doesn't skimp on durability. It features a solid steel frame, as well as an impact-absorbing running deck that can withstand everyday use.
Who Should Buy the Echelon Stride Auto-Fold Connected Treadmill
Anyone looking for an affordable treadmill. Even if you don't have the near $1,299.99 upfront, Echelon allows you to finance your purchase for $28 a month.
Athletes who appreciate instruction, as the Echelon memberships offer over 40 daily live classes plus thousands of on-demand classes.
Someone who lives in a small space, as this treadmill folds to just 10 inches in height. (And if you're looking for other gear for small spaces, we have some recs. )
Who Shouldn't Buy the Echelon Stride Auto-Fold Connected Treadmill
Runners who weigh more than 300 pounds, as this treadmill will not be able to support this weight.
Anyone that wants their treadmill to incline higher than 10 percent, as this max incline is relatively low (other treadmills we've reviewed can incline all the way up to 40 percent).
Those who want a touchscreen display; to watch anything on a screen, you'll need a separate tablet or mobile device.
Price
The Echelon Stride alone costs around $1,299.99. If you take a look at our best budget treadmills list, you'll see that its cost falls right in line with many of those picks. Sure, it's not quite as cheap as some picks that run around $400, but with higher speeds, more incline options, and a greater weight capacity, the Echelon offers much more.
There's also a membership cost that you can pay in one-month, one-year, or two-year increments. Without the membership, the Echelon Stride is just a treadmill, which you can use for running or with other fitness streaming services of your choosing for workouts both on and off the tread.
The bare-bone fitness plan, FitPass, costs about $11.99 a month for up to five profiles, making it a good option for a family or a household with multiple runners. With FitPass, you will receive access to both live and on-demand off-equipment classes (over 2,000 to be exact). However, if you want classes for this tread, or other Echelon rowers, fitness mirrors, and Connect Bikes (plus about twice as many on-demand classes), go with a one- or two-year Echelon Premier plan. The two-year plan is the most affordable, saving you over $140.
If that level of commitment is a bit scary to you, keep in mind that Echelon offers a 30-day return policy. Sure, returning a treadmill may not be the simplest process in the world, but it's nice to have it as an option.
Overall Build and Quality
Weighing only 156 pounds overall, the Echelon Auto-Fold is a relatively lightweight treadmill, but don't let that fool you into thinking it's flimsy. Rather, with a rubber running deck that absorbs impact through an elastomer, it can withstand even the heaviest gait. Rather, the Stride is a great option for someone that wants a treadmill they can easily fold and move out of the way.
Even though it comes in at well under $1,500, the treadmill itself is durable as it's able to withstand someone up to 300 pounds. Keep in mind its features include a steel transport handle, vertical and horizontal transport wheels, and handlebar sensors, so you can see just how hard you're working.
Features
If you want speeds of up to 12 mph, 12 incline levels plus heart rate monitoring, the Echelon Stride could be a good option for you. It's even better if you have a separate tablet you can place on the treadmill's device holder, on which you can choose from thousands of on-demand workouts via Echelon's FitPass. However, because the treadmill doesn't have a built-in screen, it may not be the best option for those who value having the latest and greatest high-tech features.
Incline Range
The Stride's incline range is only zero to 10 percent, which is pretty minimal. If you're looking to get your glutes even more activated and run on large hills, the Echelon may not be the best choice for you. Instead, you may want to try the Echelon Stride-5S, which has 16 incline levels and a range of up to 15 percent (but keep in mind the near $2,499.99 price tag).
Speed Range
You can run anywhere from 0.5 to 12 mph on the Echelon Stride. For most people, that's probably fast enough, unless you're an Olympic runner. For example, in 2009 Usain Bolt broke the world record for the 100-meter sprint, running it in only 9.58 seconds. For you non-math whizzes, that's a whopping 23.35mph. (1) So with speeds of anywhere from 0.5 to 12mph, Bolt might find the Echelon Stride not quite up to his speed…literally.
However, most of us are not, unfortunately, as fast as Bolt. For most, the Stride's upper speed range will be more than enough to work up a sweat and burn some serious calories.
Included Workouts
No matter which Echelon membership you choose, from the lowest-cost option FitPass to higher-cost Echelon Premier monthly, yearly, or two-year options, you'll have access to over 40 live classes every day, thousands of on-demand classes, and eight programmed workouts from more than 30 instructors. However, you'll get access to over 4,000 on-demand classes with the Premier membership, compared to over 2,000 with FitPass only. Plus, the Premier membership offers tread (and other equipment-based classes), while FitPass only offers off-equipment classes, which are ideal for cross-training.
Cross-training is an important part of anyone's fitness diet, so it's important to mix up your workouts with more than just walking, jogging, or running (and get some of the best cross-training shoes, while you're at it). FitPass includes workout types such as barre, HIIT workouts, kickboxing, strength training, Zuma, and yoga, a great combination with strength training
[Related: Learn more about How to Balance Running and Strength Training]
Display
Though the Echelon Stride does not feature a traditional display or touchscreen, it does track your stats across the console. You'll find time elapsed, speed, incline, and distance.
Since the Echelon Stride lacks a traditional screen, you'll do workouts through the Echelon Fit app on your mobile device or tablet. But fair warning — the app has only a 2.8 rating on the Apple store and a 2.4 rating on the Google Play store as of October 2022.
Speakers
Although it lacks a screen, the Echelon Stride comes with two two-watt speakers for its console. To use the speakers, you'll need to plug in a mobile device or tablet through the USB port. There is no Bluetooth connectivity, so you won't be able to connect wirelessly.
Fans
Unless you're one of the few people who doesn't sweat when you work out, you might be a bit disappointed to discover that the Echelon Stride lacks a fan. Might we recommend some sweat-wicking headbands?
Heart Rate Monitoring
Heart rate variability, otherwise known as HRV, is the differences your body experiences between heartbeats. It's a great way to track your training and recovery, which is why many treadmill shoppers may want a tread with heart rate monitoring. Fortunately, Echelon didn't skimp in this category.
You can measure your heart rate through the treadmill's handlebar sensors and use this data to assess your fitness levels and improve your HRV, no separate heart rate monitors needed. But if you prefer, you can track your heart rate in the Echelon Fit app itself to view your HR and BPM (beats per minute) zones using the Echelon Beat Heartrate Monitor (which is available for purchase separately for about $60).
HDMI, USB, and Other Inputs
Whether you're using the Echelon Fit app or simply listening to Spotify as you jog, you'll be pleased to know that the Echelon Stride has a USB 2.0 port, so you can plug in your phone. While the Echelon Stride may not be one of the best treadmills for streaming, at least your phone won't run out of battery while you do a workout on the app.
Bluetooth and Audio Options
The Stride Auto-Fold comes equipped with double two-watt speakers. However, there is no Bluetooth connectivity. For that, you'll need to upgrade to the Stride-S, which has connectivity with Bluetooth for both audio and heart rate. Otherwise, you can just connect your wireless Bluetooth headphones to your mobile device directly through a USB cord.
Water Bottle, Cup Holders, Tablet and Phone Holders
Fortunately, the treadmill comes with dual cup-holders, as well as a built-in holder for your tablet or smartphone, so you don't have to clutch it with your sweaty fingers throughout your run. If you already have a tablet, this is an easy replacement for a screen. However, if you lack a tablet, you can use your smartphone instead, although it won't be as satisfying as seeing your workout on a larger screen.
Product Specs
The most unique feature of the Auto-Fold is just that: its ability to fold to such a short height of only 10 inches. But in terms of specs, it's pretty average with a 55-inch long running area and a weight capacity of up to 300 pounds.
Motor Size
The treadmill has a 1.75 CPH motor, which is energy-efficient in case you're worried about that ever-rising electricity bill. However, if you want to run on the treadmill often, this motor may not be powerful enough. Instead, choose a treadmill that has a CHP of anywhere from 2.5 to 3, or more if you weigh more. That being said, for the casual runner, any motor over 1.5 CHP should be sufficient.
Running Area
The running deck on the Echelon Stride is 55 inches long and 20 inches wide. This is a bit short, but is the standard length for walking treadmills. Running treadmills tend to be about 58 to 60 inches, in comparison. This doesn't mean you can't run on this treadmill, but taller users should definitely be wary.
Enjoy running on it with some of our favorite running shoes, and while you're at it, try this running warm-up to boost your performance.
Weight Capacity
The treadmill supports a weight of up to 300 pounds. Given that the average weight for adults ages 20 and older is 199.8 pounds for men and 170.8 for women this should accommodate most people. (2) However, there are treads with a higher weight capacity if you do surpass this one.
Folding Options and Dimensions
If you're building a home gym in a small space, the size of the equipment is probably of the utmost importance to you. Well, the Auto-Fold is 69 inches long, 31 inches wide, and 49 inches high. However, with only three steps, you can fold it into just 10 inches tall, making it a great option if you live in a tiny home or just a tiny apartment. All you'll need to do is press the tablet holder, bringing it down to parallel with the floor, press the button to release the handlebars, and press the red lever. Automatically, the handlebars will float towards the running deck.
Max Speed/Incline
Run up to 12mph, or if you're just warming up, you can saunter as slow as 0.5mph. This is standard across the treadmill market. While there are 12 incline levels, which sounds impressive, the maximum incline is only 10 percent, a bit disappointing.
Electrical Requirements
You'll need a 110-volt AC to plug the treadmill into, the average home outlet.
Warranties
Another factor to keep in mind is the warranty. Although this treadmill comes with a one-year limited warranty, you can buy an extended warranty for either around $119 a year or around $179 for two years. That warranty will cover electronic issues, normal wear and tear, and repairs.
Places to Buy
You can buy the Echelon Stride through the Echelon website directly. If you want to test out the Auto-Fold before you buy, head over to one of the in-person dealers located throughout the Northeast.
Company Information
Echelon Fitness is a wellness company based in Chattanooga, Tennessee. It's a relatively small company (with less than 500 employees according to its LinkedIn) that makes not only treadmills but also rowers, bikes, and apparel. Serving customers in the U.S. only, Echelon was founded in 2000.
To contact the company, either submit a request through the online form, call 1-8330YES-BIKE, or text 1-423-205-1860. You can email them at [email protected].
Final Word
The Echelon Stride Auto-Fold is a solid option for someone who wants a basic, foldable treadmill. If you want inclines of anywhere from zero to 10 percent, speeds of up to 12 mph, and a treadmill that folds to just 10 inches high, the Echelon is a great, compact option for you. However, it does lack a display screen and Bluetooth connectivity, so it may not provide the best user experience for those who value virtual training. However, if workout apps aren't your thing, the Auto-Fold is a great and affordable treadmill for home use.
FAQs
Can you use Echelon Stride without a subscription?
Yes, you can use the Echelon Stride without a subscription to its fitness platform, the Echelon Fit app. However, you won't have access to any virtual classes, either live or on-demand — you will just be able to use your tread for manual running workouts. 
ow do you collapse the Echelon Stride?
To collapse the Echelon Stride: 
Press the tablet holder so it is parallel to the floor. 

Press the button on the handlebar's underside. That will release the handlebar section down. 

On the left-hand side of the treadmill towards the floor, use your foot to press down the red lever. The handlebars will float towards the running deck automatically. 
Can you watch Netflix on the Echelon Stride?
You can watch Netflix while using the Echelon Stride if you have the Netflix app on your phone or tablet, which you can place on the treadmill's smart device holder. But keep in mind that the Stride lacks a screen, so to watch Netflix, you'll need a separate device. 
References
Rogers, Kara. "How Fast Is the World's Fastest Human?"

Encyclopædia Britannica

, Encyclopædia Britannica, Inc.,

https://www.britannica.com/story/how-fast-is-the-worlds-fastest-human

.

"FASTSTATS – Body Measurements."

Centers for Disease Control and Prevention

, Centers for Disease Control and Prevention, 10 Sept. 2021,

https://www.cdc.gov/nchs/fastats/body-measurements.htm

.