You may have noticed that a number of home gyms are going through a modern day upgrade with the incorporation of AI (artificial intelligence). The Mirror Home Gym — one of these high-tech smart gyms — is a great option for fitness enthusiasts who want to conquer a HIIT or bodyweight workout at home, or maybe even take some time to meditate. Mirror Home Gym (which actually looks like a mirror) offers its users personal training classes and nearly 10,000 live and on-demand workout classes across 50 different categories. These workouts are instructed and consist of a warm-up, the actual workout, and a cool-down.
The camera at the top of the Mirror allows your instructor to read and correct your form when needed in both personal training and live classes — don't worry though, it comes equipped with a slide if you want to cover it up. When you make your purchase, there are four different packages to choose from — the Basic, Essential, Pro, and Family packages. If you're looking to ramp up your home workout experience with qualified professionals, Mirror has your back.
Main Takeaways
Mirror takes up minimal room with dimensions of 56" x 22.4" x 1.5", making it ideal for anyone who is tight on space (like apartment dwellers).
Mirror offers nearly 10,000 live and on-demand fitness classes for you to join at any time of the day, and personal training sessions if you want to go one-on-one.
If you don't have any workout equipment of your own, you can purchase additional ankle weights and a pair of dumbbells that will track your reps during exercises through Mirror.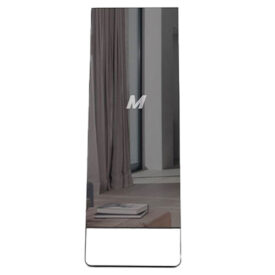 This product is a mirror that doubles as a gym. Your Mirror purchase comes with one pair of weights, as well as a mat, heart rate monitor, bands, yoga block, towel, and foam roller that you can pair with the large touchscreen display for virtual training. 
Mirror Home Gym Video Review
Our Reviews Writer, Jake, puts the Mirror home gym the test during his in-depth video review. Follow along as he walks you through all its features, virtual training options, accessories, and more.
Mirror Home Gym Highlights
What's great about home gyms like Mirror is that they offer an array of classes that can be tailored to fit your needs. The footprint is similar to one you would find on an actual full-length mirror with a stand, as well as a wall mount. Once you have your Mirror set up, you have to pair it to your phone via the companion app to gain access to the classes. The available classes are categorized — Mirror offers strength training, cardio, yoga, and even meditation, among many more.
You'll also notice that each class is ranked from beginner to advanced, so as you progress, you can always up the intensity. A really cool feature with this product is that even if you are away from the mirror, you can still get a workout in and stream your class from your phone or tablet. Though, you do have to pay $40 a month for access to the available classes, as well as $40 for each personal training session.
It's worth mentioning if you are looking to focus on building muscle, you may be a bit disappointed that the Mirror dumbbells cap out at 35 pounds, and are quite expensive. In fact, all of the accessories will cost you extra, and you'll have to buy the more expensive packages if you want anything more than just the Mirror. This smart home gym is mainly focused around cardio and flexibility, but that doesn't mean you won't break a sweat — a lot of the classes are HIIT workouts, which are known to burn calories at a high rate.
Who Should Buy the Mirror Home Gym
Anyone tight on space who wants to work out in their home will love that the Mirror has a minimal footprint, and looks like an actual mirror when not in use.
Those who are new to fitness and don't want to join a mainstream gym will love that Mirror brings personal training and group classes to the comfort of your home.
Athletes who thrive off competition will love the leaderboard function during live classes.
Anyone who wants the ability to control what's on-screen on the Mirror from their phone will like that Mirror ditches the touchscreen feature, and solely uses their companion app for class selections.
Who Shouldn't Buy the Mirror Home Gym
Because this is an expensive piece of equipment, the Mirror may not be in your budget, especially once you factor in the $40 monthly membership fee to access the classes, as well as $40 for each personal training session.
Athletes who are wanting to focus on strength training will want to consider another product. While there are strength training classes offered, you aren't going to build as much muscle with the Mirror's 35-pound dumbbells as you could with a competitor smart gym.
Since this product is not necessarily focused on strength training, you don't get a good amount of starter weights with your purchase. Even if you were to choose a package that includes dumbbells, the max weight is only 35 pounds, so you are limited in regards to progressive overload.
This product does not have a touchscreen, which could be a turn off for some.
Price
The Mirror home gym is available in four different packages — the Basic, the Essentials, the Pro, and the Family. Each package varies in what is included with your purchase — the basic only comes with the Mirror and a stand, while the rest will feature a set of accessories that grows in size with the price tag.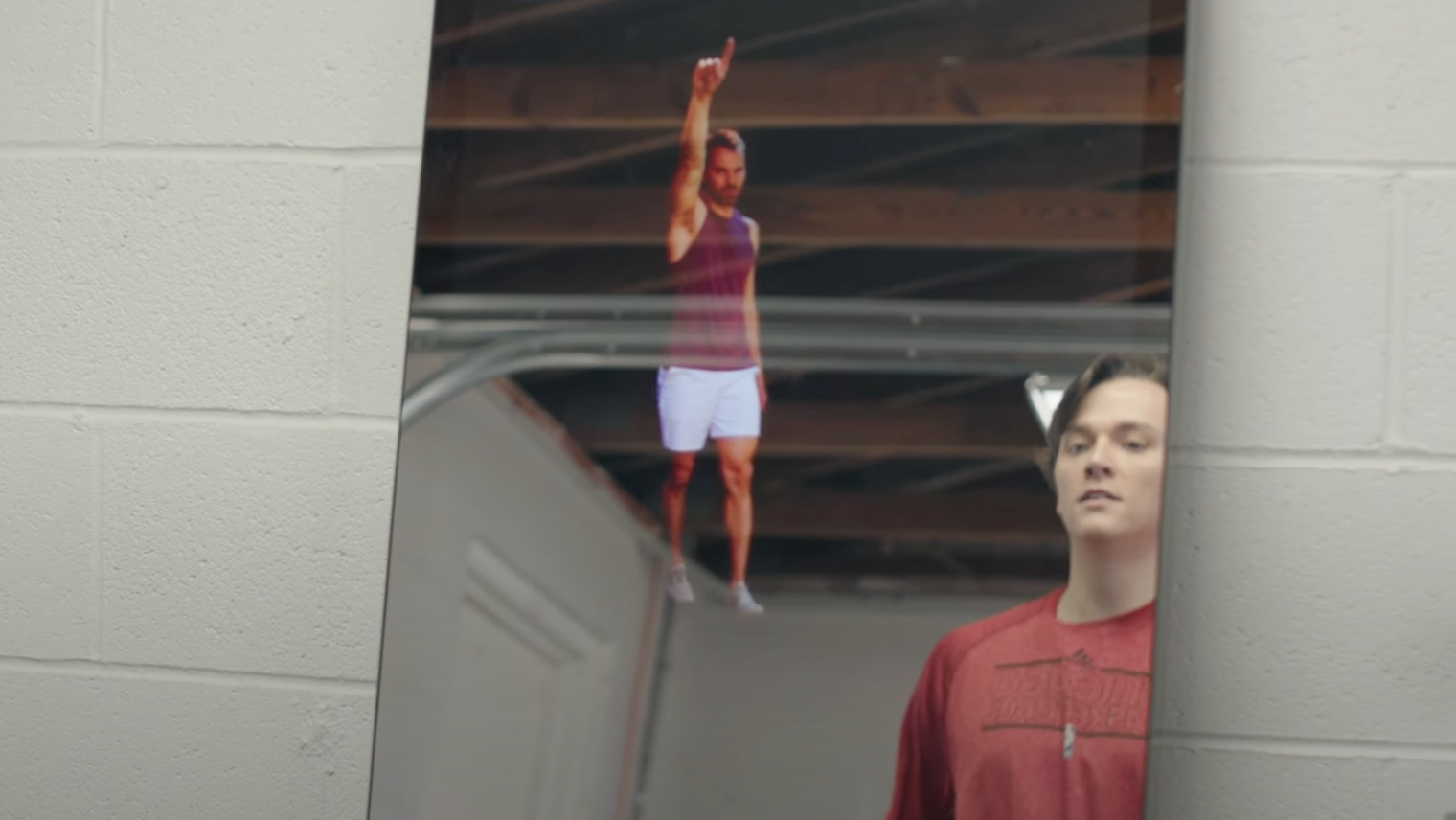 If you're looking to save some money on this product, your best bet is to go with the Basic package. It's the cheapest option available for about $1,500, and includes no extras — it's just the Mirror, stand, and lens cover. The Essentials package is going to cost you around $1,600 and comes with a stand, lens cover, heart rate monitor, fitness band pack, reversible floor mat, Loop It Up Mat Strap, Lift & Lengthen Yoga Block, and a foam roller.
The Pro Package — which is going to cost you around $1,700— has everything mentioned in the Essentials package with the addition of a pair of dumbbells of your choosing (ranging from one to 35 pounds), and a towel. If you have multiple people in your household, the Family package could be a great option for you, and will include two of everything available other than the foam roller, and will run you around $2,000.
It's worth noting that you do not have to purchase any of these accessories if you already have them. It is nice though that their dumbbells will track your reps during muscle exercises. Mirror will deliver and install your product for no additional charge, and you can choose to split your purchase into 12, 24, or 48 monthly payments.
Overall Build and Quality
In terms of footprint, it's going to be tough to top the Mirror. The dimensions are nearly identical to a full-length mirror. It's 56 inches tall, 22 inches wide, 1.5 inches deep, and weighs 70 pounds. The Mirror can easily be mounted on your wall, or you can choose to keep it on the stand for portability. While working out, the space you need for your classes will vary, so it may be best to make sure you have around six to eight feet of floor space around your Mirror.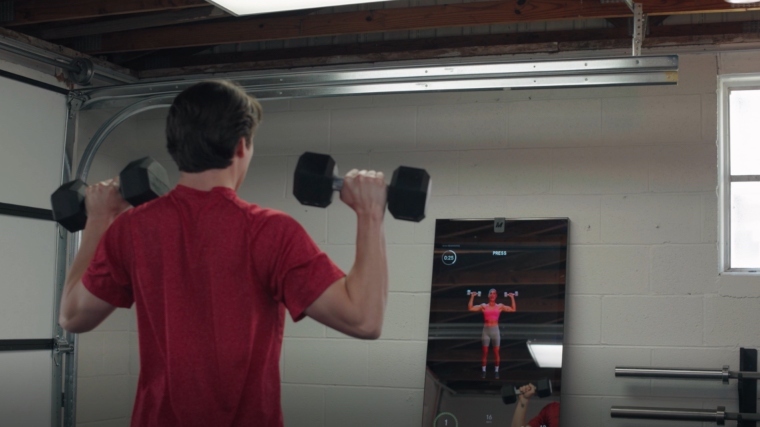 Since the display is made of glass and is pretty fragile, it's best to make sure you have it in the safest possible place in your home to ensure it doesn't break — the last thing you want is seven years of bad luck. The framework is made from carbon steel though, which is durable enough to keep the Mirror around for as long as the display stays up and running, which like a TV, should be well over 10 years.
Features
Mirror has a lot of features that make this a unique piece of equipment. However, the technology side of things is what stands out the most. From the app, to the music capabilities, to tracking your fitness level with the help of a health score — Mirror resembles something you would see in an episode of Black Mirror.
Since this product is not touch-screen, it's essential that you download the companion app in order to access the available classes. There's also Bluetooth capabilities that allow you to sync your heart rate monitor or fitness tracker in order to get an accurate reading of how many calories you are burning. The camera allows the instructor to see you while working out and correct anything that needs to be fixed; the display is 43 inches, and has a crystal clear 1080p HD picture — but more on that below.
Accessories
The accessories included with your purchase will depend on which package you choose, but you can always buy each accessory separately. In the packages, you'll notice that the Basic package only includes the stand and lens cover, the Essentials package comes with the stand, lens cover, heart rate monitor, fitness band pack, reversible floor mat, Loop It Up Mat Strap, Lift & Lengthen Yoga Block, and a foam roller. The Pro package includes everything the Essentials package has, with the addition of a pair of dumbbells and a towel, and the Family package will have two of everything, other than the foam roller.
The dumbbells range from one to 35 pounds, and will also track your reps during your workout. The one-pound pair is going to cost you $50, with the 35-pound pair being around $200. This is expensive for a pair of dumbbells and you don't necessarily need them, but if you are wanting to track your reps, this is the way to do it.
If you don't have a heart rate monitor or a set of resistance bands, you can also opt for the Starter Pack. This is going to be around $100, and will include both accessories. Or, you can always buy each one separately, for about $50 a piece. Mirror has their own set of ankle weights that will track your reps for any exercise you use them for. The one-pound pair is around $80, while the two-pound pair is about $100. Unfortunately, these are not included in any of the packages, so if you want a pair, you'll have to purchase them individually.
Because Lululemon purchased Mirror in 2020, they manufactured a lot of the accessories that you can buy. The towel is $40, the yoga mat is around $80, the mat strap can also be used as a stretching rope and will cost you $20, and the mini roller is around $40. If you don't have anything to clean your mirror, you can also purchase the Care Kit. This will include a cleaner, cloth, and an extra mirror lens cap for another $20.
Companion App
Because Mirror does not have a touchscreen, you will have to download the companion app in order to access the classes. Fortunately, it's available for both iOS and Android phones — once you have it downloaded you'll be able to pair your phone and the Mirror to one another.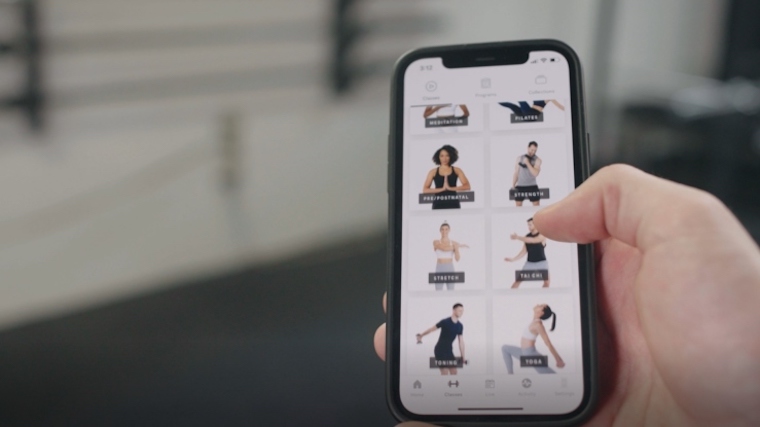 When you get the two paired up, you can control everything the Mirror does with your phone. From here you can scroll through thousands of classes, sign up for personal training, set your goals you want to achieve, and control the volume of the instructor and music. Plus, if you're on the road traveling or just simply away from your Mirror, you have the luxury of streaming these workout classes on your phone or tablet.
Workout Classes
Whether you want to spend the day kickboxing, focusing on mobility, taking some time to clear your mind with meditation, or hitting a full-body workout, Mirror has you covered. There are 50 different fitness categories to choose from, with new live classes being added daily.
Mirror also has a "Weekly Drop" feature that provides you with suggested classes based on your workout history. You can even participate in specific programs that last anywhere from one to six weeks. Some examples of these programs are the Fat Loss Program, Monthly Challenge, and 2 Week Strong Core Program.
Subscription
Not only do you need the companion app to access the classes, you're also going to need a yearly membership, which is going to get broken up into monthly payments of around $40. While this is a bit expensive for an already expensive purchase, the cool thing is that you can invite up to five friends to share that membership with you. So if you have roommates, or maybe just a workout buddy, you all can essentially split that membership together.
To invite a friend, just head over to the settings tab on your app, tap on 'household members,' and from there you'll be able to click 'invite' and type in the email address you want to send a link to. Once they get their invite, all they need to do is click on the 'download now' link and it'll take them to the app store to download. It's a pretty straightforward process, and easy to follow.
Camera
During your live and personal training sessions, if you want the instructor to see you working out and possibly correct your form, you can do so by uncovering the camera lens. The five megapixel camera is going to provide an image clear enough for the instructor to see you during the class. Don't worry though, because of that complimentary lens cover, you can always slide it over the camera if you want your privacy.
Heart Rate Monitor
A heart rate monitor may be one of the best accessories for the Mirror. If you already have one you don't need to purchase Mirror's — it'll connect to any monitor or fitness tracker you may already have. But if not, Mirror also sells their own heart rate monitor, and offers this device within most of their packages. This is an important accessory because it's going to affect your "health score" you build as you continue to work out with Mirror.
Once connected via Bluetooth, you'll notice a meter on the screen during your workouts — the longer you're able to keep your heart rate in the 'zone' (which is in the middle of the meter), the more points you'll receive towards your health score.
Health Score
Another cool feature that allows you to track your progress is the Health Score. Over time, your score is going to increase with the more classes you participate in and finish. This is where the heart rate monitor, dumbbells, and ankle weights could really come in handy. If your heart rate stays in the 'zone,' you'll get points towards that score, and your weights will count each of your reps in classes that require dumbbells.
The more reps you can do with proper form, the higher your score will be. And since recovery is a big part of working out, Mirror will reward you with points for any recovery classes you participate in.
Bluetooth and Audio
Not only does the Mirror connect to your fitness tracker or heart rate monitor via Bluetooth, but it can also connect to speakers and headphones. This is a good feature for those who want to only have one thing coming through the 15w stereo speakers of the Mirror at once (either the instructor or music).
Display
While the dimensions of the mirror are 56" x 24", the display is actually a little bit smaller. The 43-inch full HD 1080p display is going to give you a picture so clear, you'll feel like you're in the same room as the instructor. Since it only takes up a portion of the Mirror, you're able to see yourself at all times in order to correct your own form.
Product Specs
The Mirror might just be the most compact home gym we've tested. The frame resembles an actual full-length mirror, and is only two-feet wide and 70 pounds, so you can easily move it if necessary. But because of the glass, you need to be extra careful when you decide to move it. While the footprint is relatively small, you still may need about six to eight square feet in order to perform your exercises properly.
Materials
While the display is made of glass and is a bit fragile, the frame is actually pretty solid. It's made from carbon steel and has a bronze powder coating that will help it blend into your home, and add some protection from scratches.
Dimensions
It's going to be tough to top the compact design of the Mirror, since the dimensions are only 56" x 24" x 1.5" when on the stand (it will sit higher than that when mounted), it really does feel like a normal mirror in your personal space. This is ideal for anyone limited on space in their home, but you may want to move some furniture out of the way to properly participate in the workout classes — around six to eight square feet of floor space should do.
Delivery and Assembly
With Mirror, you get white-glove delivery and installation at no extra cost. When making your order, someone from the Mirror team will reach out and confirm delivery times with you.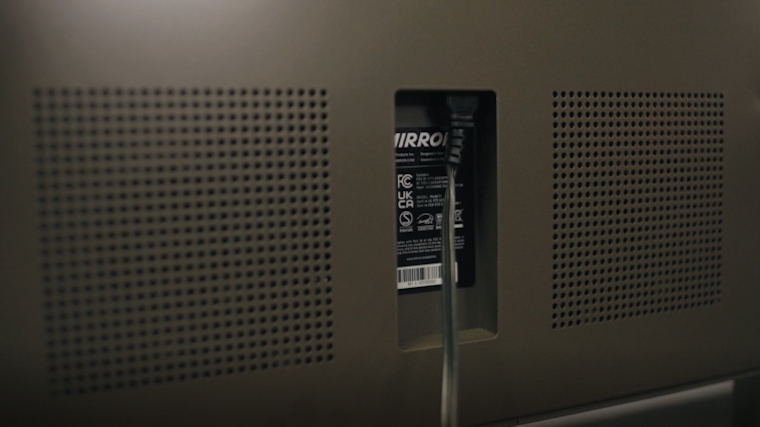 A delivery team will arrive with your product, install it for you, and help you set it up, as well as answer any questions you may have. Delivery takes around seven to 14 days, and the installation will take about 30 to 45 minutes of your time.
Warranties
Mirror offers a one-year warranty on all of their products. This warranty covers anything that could have gone wrong during the manufacturing process — not negligent use. If anything were to break, Mirror will cover the cost to have your product repaired by an authorized third-party partner. For more information on their detailed warranty, head over to their website to read up on their policy.
Places to Buy
You can buy the Mirror Home Gym through Mirror's website directly.
Company Information
Mirror is aiming to give everyone the ability to lead a healthy lifestyle by gaining access to professional trainers from the comfort of their own home. You are eligible to apply for a refund within the first 30 days of your purchase. If you bought any accessories or clothing separately, they will need to be unused, and in their original packaging. To learn more about their policies, you can email their support team at [email protected], or via phone call at 1-888-288-1588.
Final Word
When bringing a full gym into your home, space can be a deal breaker. Luckily, Mirror has a nearly invisible footprint, which truly resembles a normal mirror. With this product, you have access to nearly 10,000 classes in over 50 different fitness categories. Once you have the app downloaded, you can search all of the available classes, sign up for personal training, track your progress and weekly goals, and even stream the classes directly from the app. As long as you have around six to eight square feet, you should get a solid workout.
While this is an expensive piece of equipment, it can provide almost everything you need in terms of getting active and staying healthy. However, if you are someone who wants to focus on strength training, this may not be the product for you. While there are a good amount of strength training classes, we found the Mirror to not really be focused around that.
This is a very easy product to use, there are tons of live and on-demand classes for you to choose from, and it takes up virtually zero space in your home. While it is expensive, with such a high-quality build and so much versatility, Mirror is a great option to satisfy your at-home cardio, yoga, and (sub-35 pound) strength training needs.
FAQs
Is a subscription required to use the Mirror?
Yes, if you want to reap the benefits of the Mirror, you must sign up for a yearly membership that is broken up into monthly payments of $40.
How do you connect the Mirror to your phone?
Once your Mirror is set up, you will see a list of instructions on how to pair it to your phone. Make sure they are both on the same WiFi, then select your Mirror from the list of options in your settings. Once you type in the code that pops up on the screen, you're all set and ready to experience everything Mirror has to offer. Luckily, you won't have to worry about doing this as the Mirror team who delivers your product will take care of it for you.
What level athlete is Mirror designed for?
The beauty of Mirror is that it can be used by athletes of all levels and ages. However, if you are someone who wants a high focus on strength training, you may want to consider another option. Since the dumbbells only go up to 35 pounds, you may have some trouble progressing further than that over time.