Walk into any gym and you're likely to see a cardio section with a few treadmills and ellipticals. You've likely either avoided it completely or potentially wondered which one is better.
You can use both cardio machines to incorporate steady-state or high-intensity aerobic work into your fitness routine. This can boost your cardiovascular health, increase your calorie burn, help you train for an event, or actively recover on your off days from lifting.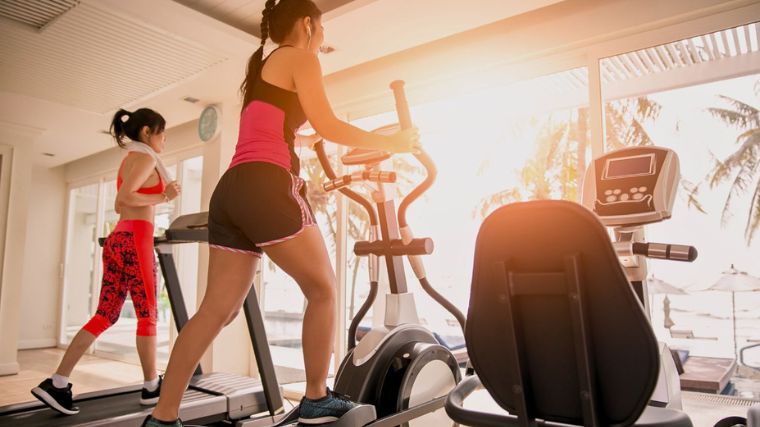 Both the treadmill and elliptical can give you a good cardio workout by getting your heart rate up. The choice comes down to your individual body, needs, fitness goals, and preference. Let's take a deeper dive into the two pieces of equipment, the benefits of each, how to choose which is right for you, and leave you with some killer workouts to try.
Editor's Note: The content on BarBend is meant to be informative in nature, but it should not be taken as medical advice. When starting a new training regimen and/or diet, it is always a good idea to consult with a trusted medical professional. We are not a medical resource. The opinions and articles on this site are not intended for use as diagnosis, prevention, and/or treatment of health problems. They are not substitutes for consulting a qualified medical professional.
What Is a Treadmill?
A treadmill is a cardio machine where you can walk, jog, run, or sprint in place at customized speeds and inclines. It's meant to mimic doing these activities outdoors, but in a small convenient space where you don't have to worry about the weather. It's a classic piece of fitness equipment that you can find at almost any gym — from small hotel gyms to big box gyms and maybe even your own home.
Treadmills work by a motorized conveyor belt moving continuously that you can walk on and you can customize your speed. The belt is supported by the machine itself which can be raised to your desired incline level, mimicking uphill walking or running. Treadmills typically have a railing on either side of the belt but you can opt to not hold on for more of an intense workout.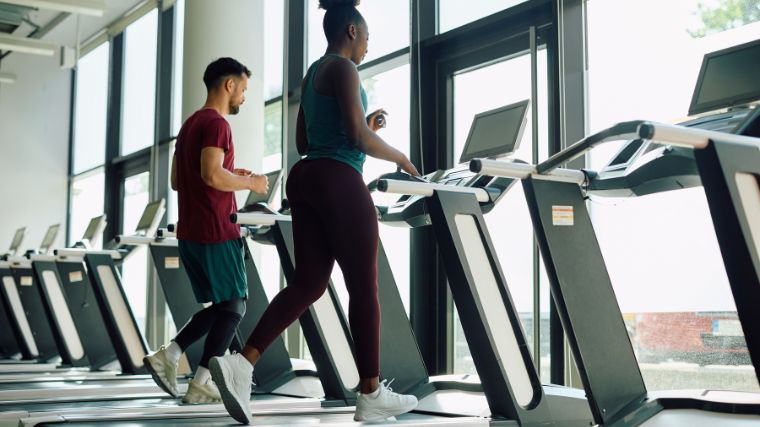 [Read More: The Complete Guide to Pre-Workout Supplements]
Most treadmills will have a control panel where you can customize your speed and incline or choose from different pre-set workouts. Treadmills may have other handles to grab that can sense your heart rate. Some can keep track of your workouts so you can make progress on your time, distance, heart rate, and calories burned.
Treadmills can be effective for beginners, advanced lifters looking to do conditioning or increase their cardiovascular health, hikers, runners, or other athletes training for an event.
What Is an Elliptical?
An elliptical trainer is a cardio exercise machine with pedals and swinging handles meant to mimic walking or stair climbing. Elliptical machines became popular in the 1990s and nowadays you can find them in most gyms just like treadmills. They have less of a natural movement pattern than a treadmill, but they incorporate your upper body and are lower-impact on your joints since your feet never leave the pedals.
The pedals and handles work together and are powered by a flywheel motor or magnetic resistance. You can choose to push and pull the handles as you walk to get an upper-body workout, or hold on to stationary handles to purely work your lower body.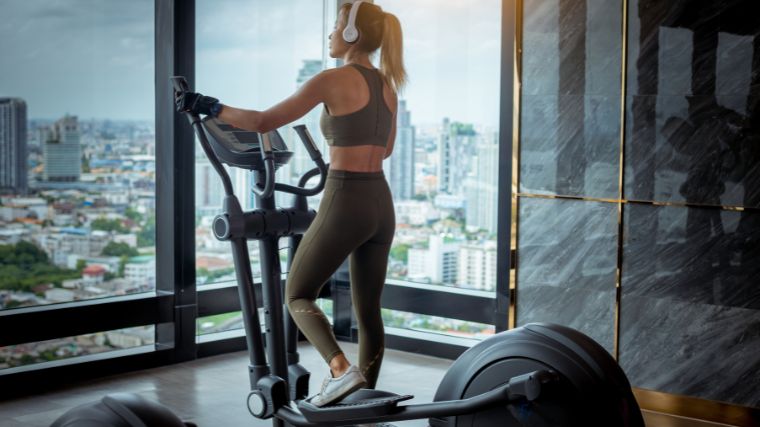 [Read More: The Best Foods for Energy Before, During, and After Your Workouts]
Ellipticals typically have a console where you can adjust your speed, resistance, incline, and stride length. You can customize your own variables or choose from pre-set workouts. Some will track your heart rate. They also have a display showing you your time, distance, and calories burned, and some will keep track of your progress over time.
Ellipticals provide similar cardiovascular benefits as treadmills with the added bonus of being a low-impact cardio option. They are great for beginners, people with joint issues or injuries, and older folks. Advanced lifters, athletes, and bodybuilders can use the elliptical as well — it's customizable to your fitness level.
Benefits of Using a Treadmill
Treadmills are a convenient way to take indoor walks, jogs, runs, and sprints at customizable speeds and inclines. Let's look at the top ways treadmills benefit your health and fitness goals.
Boosts Cardiovascular Health
It's well known that regular cardio exercise can improve your heart health and help prevent cardiovascular disease by regulating your blood sugar, cholesterol, blood flow, and blood pressure. (1) Cardio can also improve your mental health by fighting symptoms of anxiety and depression, decreasing stress, boosting your cognitive function, and helping you sleep better at night. (2)
Cardio exercise usually refers to aerobic exercise. Aerobic exercise is defined by The American College of Sports Medicine (ACSM) as exercise that increases your heart rate and breathing, uses large muscle groups, and is performed rhythmically and continually for a period of time. (3) Walking, jogging, or running on the treadmill are all examples of aerobic exercise.
[Read More: The Best Online Workout Programs For Coaching, Cardio, Value, And More]
To reap the health benefits of cardio, the American Heart Association (AHA) recommends adults get 150 to 300 minutes of moderate-intensity aerobic work weekly. Alternatively, they recommend 75 to 150 minutes of high-intensity aerobic exercise per week, or a combination of the two. (4)
The treadmill is a great option to do many types of aerobic activity to incorporate into your workout routine and improve your cardiovascular health. Even if you go to the gym and lift weights regularly, you may not be spending as much time with your heart rate elevated that you would during a treadmill workout. Adding a steady-state treadmill walk into your routine can get some more movement into your life and give you heart, mental, and brain health benefits. (5)
Versatile Workouts
One major benefit of the treadmill is versatility. You can adjust the speed and incline to modify the intensity for your fitness level, goal, and intention.
You can hop on the treadmill for a quick warm-up before strength training or finish off a session with some sprints for conditioning. You can also use it for steady-state moderate-intensity walks on your off-days from lifting to improve your cardiovascular health.
[Read More: The Gymgoer's Guide to Whey Protein]
Many people spend a lot of time sitting at work and treadmills can help you get more steps in to counteract a sedentary lifestyle, which is a leading cause of health issues. (5) If you don't want to break a sweat during your work day you can keep the speed and incline low just to get moving.
If you're trying to lose body fat for bodybuilding goals or general weight loss, the treadmill is a great option to raise your total daily energy expenditure (TDEE) by increasing the number of calories you burn. Doing an incline walk at a moderate pace will majorly work your hamstrings and glutes and raise your metabolic rate, so you don't even need to run if you don't enjoy running. Of course, you also can run on the treadmill if that's your speed.
Train for an Event
Some people may hate or be unable to do high-impact running — being able to run indoors and in place is a major benefit of treadmills.
Runners can use treadmills when they're training for a marathon, race, or other event. You don't need to worry about the weather or other aspects of the outdoor area where you live or work that may not make it conducive to running.
[Read More: 5 At-Home Workouts for Strength, Muscle Growth, Power, and More]
Adjusting the speed allows you to run at a consistent pace without dealing with unpredictable interruptions while running outside. You can also adjust the incline to simulate hills and the route that you're training for. Running on a treadmill isn't necessarily better than running outdoors, but it is a convenient option that can help you stick to your training plan.
Hikers may also use treadmills to practice incline walking. It's not the same as hiking up a mountain, but it's a way of training your leg muscles and increasing endurance in a similar movement pattern. Athletes also can benefit from incorporating treadmill runs to build their overall endurance that can carry over to their sport.
Perfect for High-Intensity Interval Training
Treadmills are perfect for high-intensity interval training (HIIT). HIIT is a type of aerobic exercise that typically consists of short bursts of highly-intense activity followed by short rest periods or periods of less intense activity. Performing HIIT can boost your exercise capacity, metabolic health, and heart health. (6)
HIIT is also convenient because it gets your heart rate up faster and you may be able to burn more calories in a shorter period of time than a longer steady-state cardio session. If you're pressed for time and able to handle high-impact and high exercise intensity, doing HIIT on a treadmill can be a great option.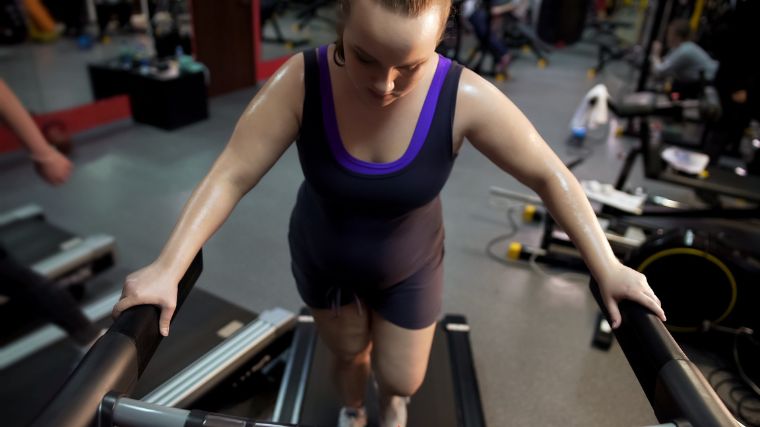 [Read More: What Are Workout Splits and Which Is the Best One?]
The treadmill is unique as a machine in that you can do highly-intense sprints and then "rest" by continuing to walk at a slower pace. This keeps your heart rate slightly elevated and keeps your blood pumping as you recover before your next all-out sprint. You can complete a sprint HIIT workout on the treadmill in under 20 minutes — including a proper warm-up and cool down.
Benefits of Using an Elliptical
Elliptical machines are a convenient way to get a great cardiovascular workout indoors. They offer similar heart health benefits as treadmills but with different features that may be helpful for different gym-goers.
Low-Impact Cardio Benefits
Like treadmills, elliptical trainers are also a great tool to use to boost your cardiovascular health. Regular cardio exercise improves your heart health, helps you prevent diseases, and manages your blood pressure and blood sugar. It also provides mental and brain health benefits. It's recommended to do 150 to 300 minutes of moderate-intensity cardio per week by the American Health Association to get these health benefits. (1)(2)(4)
However, it may be difficult to reach that amount of time on a treadmill if you're not able to do high-impact exercise. On the elliptical, the motion mimics walking but your feet never leave the pedals, making it a low-impact exercise. You're still able to increase the speed, resistance, and incline to up the intensity without any added impact on your ankles, knees, and hips.
People recovering from lower-body injuries — once cleared to exercise by a medical professional — can benefit from a low-impact workout on the elliptical. (7) If you have hypermobile joints and are new to exercise, the elliptical is also a great place to get a cardio workout in to protect your joints from hyperextending.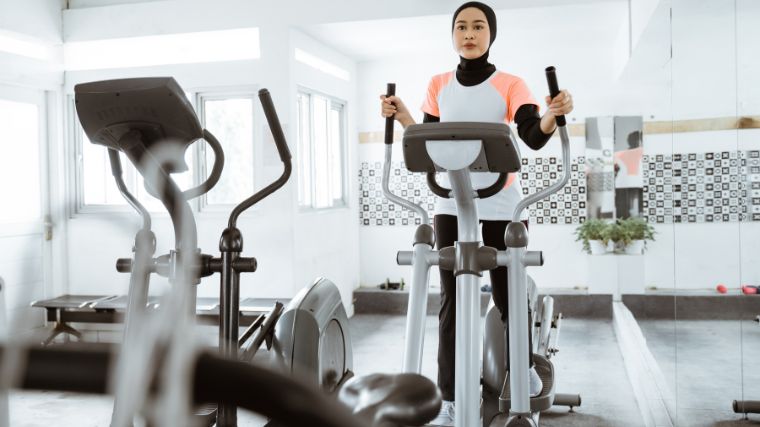 [Read More: Best Posture Correctors That Provide Posture Support]
Even though the elliptical is low-impact, it's still weight-bearing aerobic exercise — you're supporting your body weight as you get your cardio workout in. Weight-bearing aerobic exercise is recommended to older folks to keep their bones strong and prevent or manage osteoporosis. Women are more at risk for osteoporosis as they naturally lose bone density as they age. (8)
Walking on the treadmill is also weight-bearing — but if you already have osteoporosis the elliptical may be a bit kinder to your joints. It's important to also incorporate resistance training and proper nutrition with weight-bearing cardio exercise into your workout program for optimal bone health.
Full-Body Strength Workout
The elliptical has the option of swinging handles that you can hold on to and make your cardio day a strengthening full-body workout. While the elliptical can be an easy light way to get some movement in, you can also up the resistance, actively push and pull the handles, and fully engage your leg muscles to make it a strengthening sweat.
Here are some tips to get the most out of your elliptical session.
Actively spread your feet evenly on the pedals. Press through your entire foot with some extra emphasis in your heels. This will help you squeeze your glutes, hamstrings, and leg muscles — especially with more resistance.
Squeeze your abs and keep your spine neutral. Actively engage your core throughout your elliptical session and you can get an extra ab workout for the day.
Try not to just hold on to the handles and let them guide you. Push and pull them on each swing with intention. Feel your back muscles, chest, biceps, and triceps engage to work your upper body.
Alternatively, skip the swinging arms but increase your resistance to work your lower body more. You can also go backwards on the elliptical which will work different muscles in your legs.
Actively engaging your full body on the elliptical with high resistance is an effective way to keep your heart rate and the intensity up without added impact.
Improves Balance and Mobility
The elliptical can help train your balance and mobility if you are recovering from an injury or an aging adult. Older folks can improve their balance through exercises as a way of preventing falls and other injuries. (9)
On the elliptical, you need to engage your core and build stability and balance through your legs as you do your cardio exercise. You'll also be working your rotary stability — maintaining your core engagement to help your spine resist movement as you move your arms and legs. (10)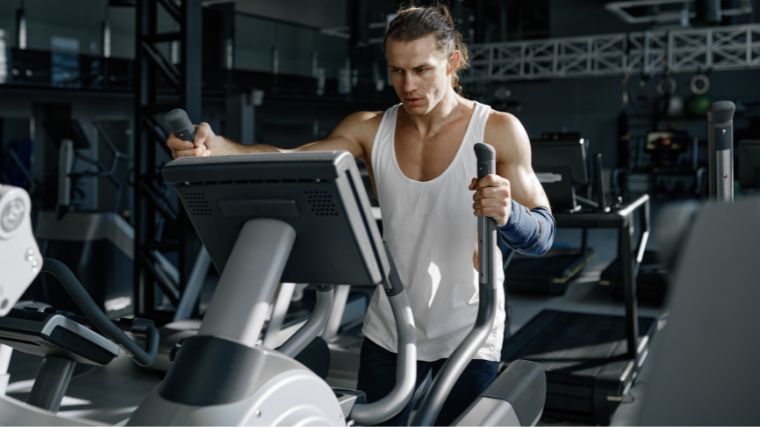 [Read More: The Best Full-Body Bodybuilding Workout for Beginner to Advanced Lifters]
Working your balance and mobility on the elliptical also makes a great option for an active recovery day for lifters. You can move your arms and legs through their range of motion without too much added intensity. Controlling your range of motion can lead to improved mobility.
Less Perceived Effort
Some research shows that people using ellipticals report a lower rate of perceived exertion (RPE) while completing a higher level of exercise intensity. (11) Since the elliptical can feel "easier," you may be able to complete longer and more intense sessions on it.
One study compared the RPE of subjects using an elliptical and a treadmill. Subjects on both machines reported an RPE of 12 to 13 — but those on the elliptical had a higher heart rate and oxygen consumption. This may be because using more muscle groups effectively raises your heart rate and the elliptical can incorporate your upper body. (12)
This suggests that the people on the elliptical were actually working at a higher intensity, but it didn't feel as difficult as it did to those on the treadmill. This is useful if you're not able to use a treadmill for impact reasons. It may seem like you need to run or do HIIT on a treadmill to get a good cardio workout, but you can up your intensity for a longer time on an elliptical as well.
How to Choose Between a Treadmill vs. Elliptical?
Now that you know the benefits of treadmills and ellipticals, which one should you choose? They can both give you a cardio workout to help boost your heart health and your mood . Here are some questions to ask yourself when making the choice.
Choose Your Impact Level
One of the biggest differences between treadmills and ellipticals is the level of impact. If you need low-impact cardio for joint or injury reasons, the elliptical is your go-to since it doesn't add stress on your joints. If impact isn't a concern for you, then both machines are equally beneficial for cardio.
Choose Your Fitness Goal
What are you training for? If it's general cardiovascular health, both machines work. Both machines can improve your endurance. Both can be a good addition to a weight loss program, since they both actively raise your heart rate, work multiple muscle groups, and burn calories.
If you're looking to actively recover from lifting with less impact, the elliptical may be better. If you're recovering from an injury and want to keep strengthening your upper and lower body, the elliptical wins out.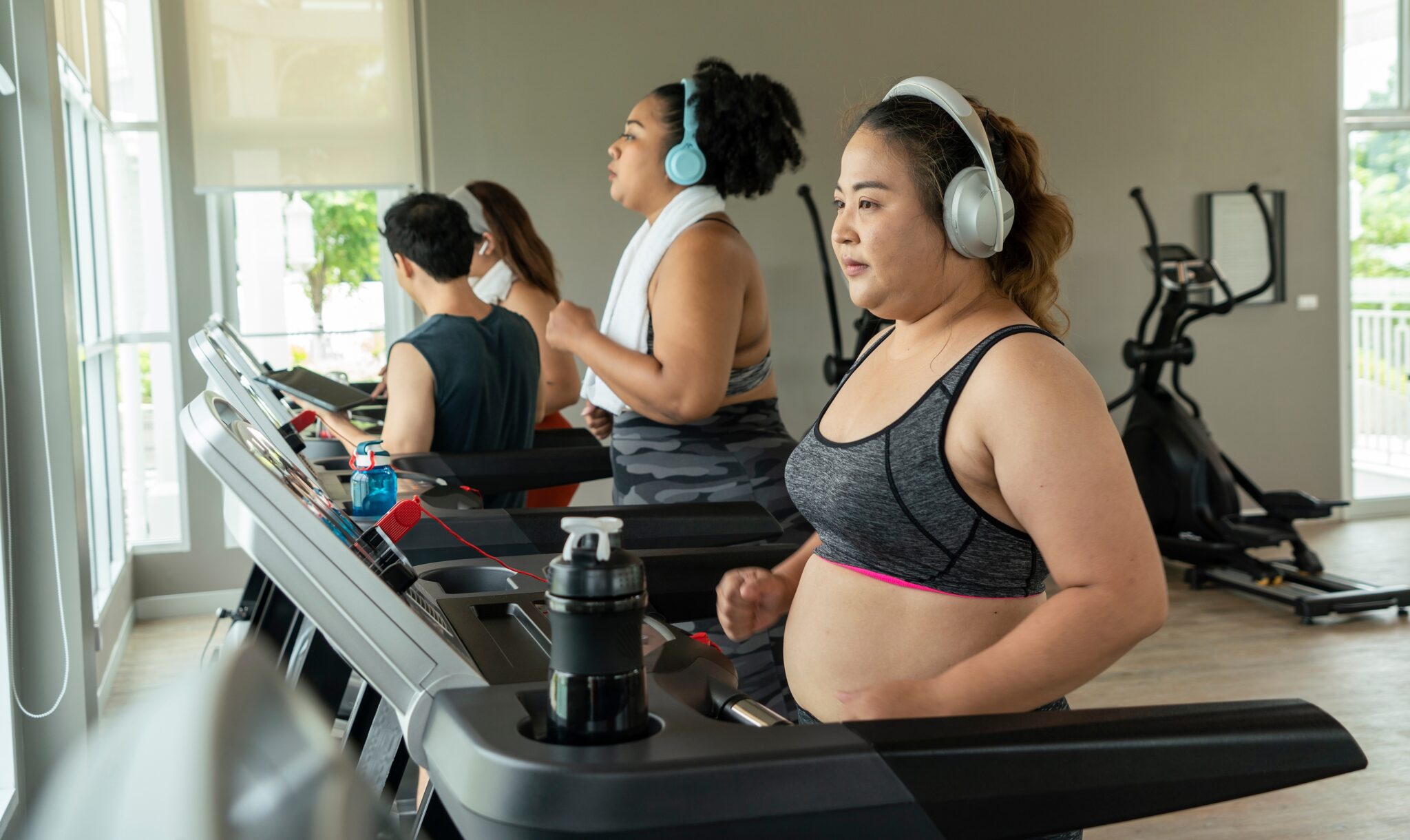 [Read More: The 12 Best Supplements for Muscle Growth (Spring 2023 Update)]
If you specifically want to run, sprint, jog, or walk in a more natural movement pattern then the treadmill is a better choice. If you're training for a race or other event, the treadmill gives you a closer indoor experience to running outside. Treadmills let you increase the incline so you can feel like you're walking uphill and this can't be replicated on the elliptical.
Walking also has many physical and mental health benefits for lifters and everyone else. (2)(13) If you're not able to get outside but want to get your steps in by walking, the treadmill wins out over the elliptical, since your feet leave the pedals and you take actual steps.
Personal Preference
One of the biggest things to consider is which machine you like more. Personal preference matters here — choosing a type of exercise that you enjoy can make you more likely to stick to your program and stay consistent in the long-term.
If you love running or jogging and inclines and are able to handle the impact, go for the treadmill. If you prefer working your arms at the same time and maybe zoning out a little while still getting your heart rate up, go for the elliptical.
Space in a Home Gym
If you're choosing between the two exercise machines to add to your home gym, space matters. Maybe you're not building a complete gym but you have a small space and want to add a cardio machine to your office to encourage you to get some movement in during long work-from-home days.
Ellipticals with magnetic resistance on the front of the machine can often take up less space than an elliptical with a back motor or a full treadmill. You can also try a folding treadmill or a smaller walking pad that would fit into a small room. Measure your space to help you see which would work best.
Try These Workouts
Both ellipticals and treadmills are customizable to your fitness level, goal, and intentions. You can use pre-set workouts on both machines, or try out some of these sample workouts to get your moderate-intensity and high-intensity aerobic exercise done.
Treadmill Workouts
Change the speed and incline on the treadmill to vary your intensity for these three workouts.
Steady-State Incline Walking
Walking on an incline on the treadmill for a period of time is a great steady-state cardio workout that will work the muscles in your lower body, build endurance, and help you actively recover from strength training. It's lower-impact than running but still gets your heart rate up.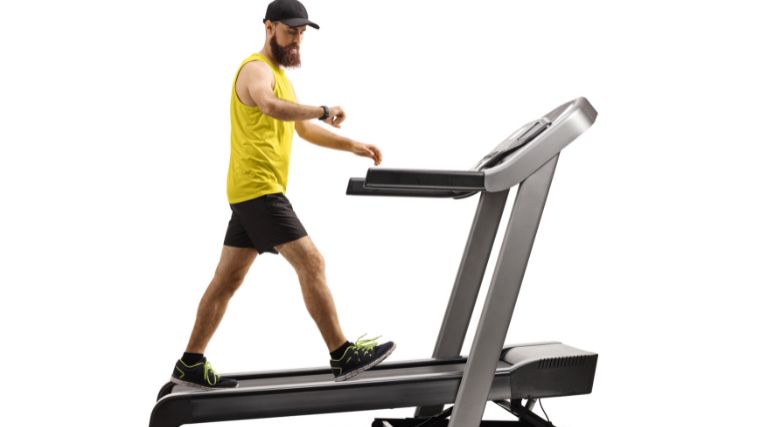 [Read More: The Best Healthy Fast Food Options at the Most Popular U.S. Chains]
Incline walking is customizable for beginners to advanced athletes. You'll need to play around to find the right incline and speed for your level. If you are working with a certified personal trainer, they'll be able to tailor the correct incline and speed for you.
Warm up by walking for three to five minutes with the treadmill flat or at a one percent incline.
Increase your incline to at least five percent for beginners. For advanced walkers, increase it up to 10 percent. Set your speed at a minimum of 3.0 and a maximum of 3.5 to walk briskly without running.
Walk for a minimum of 30 minutes at your incline and speed. Try not to hold onto the railing. If you can't finish 30 minutes without holding on, reduce your incline or speed until you're able to sustain it.
Engage your glutes, hamstrings, and core throughout your walk. Holding the railing decreases your muscle engagement. It's better to lessen the intensity and support yourself.
Cool down for five minutes by gradually reducing your incline and speed. Finish with at least one minute at zero percent incline.
High-Intensity Interval Training
Advanced athletes can use the treadmill to do a HIIT workout with sprints. You can try incorporating this to the end of your strength training session for some conditioning, or do it on an off-day when you need to get a quick cardio workout in.
Be mindful of your risk of injury when selecting your pace for sprinting.
Warm up with a three to five minute jog at a moderate pace.
Choose your paces: Try 7.0 to start for sprinting and reduce to 5.0 or less for recovery jogs in between sprints.
Sprint for 15 to 30 seconds at 7.0.
Walk or jog for one to two minutes at 5.0 or less.
Repeat for four to 10 rounds.
Cool down with a five minute jog or walk and gradually decrease your pace.
Treadmill Running
Maybe you are someone who wants to run on the treadmill or you're training to prepare for a race or other event. Here's a sample 30 minute treadmill workout for running indoors including a warm-up and cool-down.
You'll alternate jogging and running throughout so you can sustain a longer run. You'll start on a flat surface, work your way up to two percent incline, and go back down to zero again. Research suggests that running on up to a two percent incline on the treadmill may somewhat replicate the conditions of running outside. (14)(15)
You may need to change the speeds to accommodate your fitness level but try to stick with the inclines.
Warm up for five minutes with a fast-paced walk at a five percent incline.
Jog at a 6.0 pace on a zero percent incline for five minutes.
Run a little faster at a 7.0 pace on a one percent incline for five minutes.
Jog at a 6.0 pace on a two percent incline for five minutes.
Run at a 7.0 to 8.0 pace on a two percent incline for five minutes.
Cool down for five minutes. Reduce your speed and jog for three minutes at a one percent incline. Walk for two minutes at zero percent.
Elliptical Workouts
On an elliptical, you can also do steady-state moderate-intensity cardio as well as HIIT, without the impact of a treadmill. You can also incorporate the arms and pedaling backwards for more of a strength workout. Here's three workouts to try.
Steady-State With Resistance
You can get your moderate-intensity steady-state aerobic exercise done on an elliptical with no impact on your joints. You can go for 30 to 45 minutes and incorporate more resistance so you engage your lower body muscles. It can build endurance, burn calories, or help you stay active as you recover from an injury.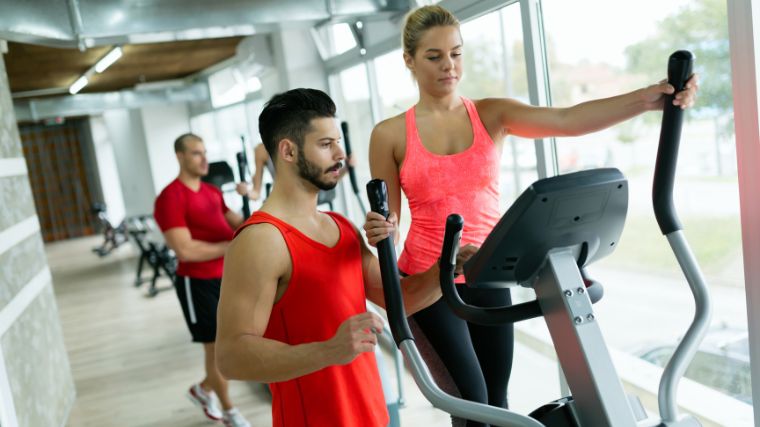 [Read More: Omega 3 Benefits — More Muscle, Better Recovery, and Enhanced Endurance]
You'll want to choose a speed and resistance level that you can sustain for at least 30 minutes to keep your heart rate up.
Warm up for three to five minutes. Pedal at a moderate pace and resistance level.
Choose a speed and resistance level that is challenging but that you can sustain for the next 30 minutes. Aim for higher resistance and moderate speed.
Pedal for 30 minutes. Keep an upright posture and your core engaged. Press through your feet to engage your leg muscles and glutes.
Use the arms if you want extra work and actively push and pull them.
Cool down for five minutes as you gradually reduce the resistance and speed.
High-Intensity Interval Training
You can definitely do HIIT on an elliptical even though you won't be running or sprinting. The same principle of sprints will apply: 30 seconds of all-out effort followed by short rest periods. In this case, you'll want to increase your speed more and not your resistance for your elliptical sprints.
Warm up for five minutes at a moderate pace and resistance.
Choose a moderate resistance to maintain for the length of your workout.
Increase your speed and pedal as fast as you can for 30 seconds. Skip the arms on this one to work your lower body speed more.
Reduce your speed and pedal moderately for one minute to actively recover.
Repeat your sprints and recovery for five to 10 more rounds.
Cool down for five minutes as you gradually reduce your speed and resistance.
Full-Body Strength Workout
Get a full-body workout on the elliptical by taking advantage of pedaling backwards and pushing and pulling the handles. This will be similar to a steady-state workout but it will target more muscles in your legs as well as your upper body.
To get the most out of this, really feel your muscles engage rather than just going along with the movements. Engaging your muscles on the elliptical will strengthen your full body and build endurance. It's a great option for recovering from an injury or just a quick strength and cardio combination workout.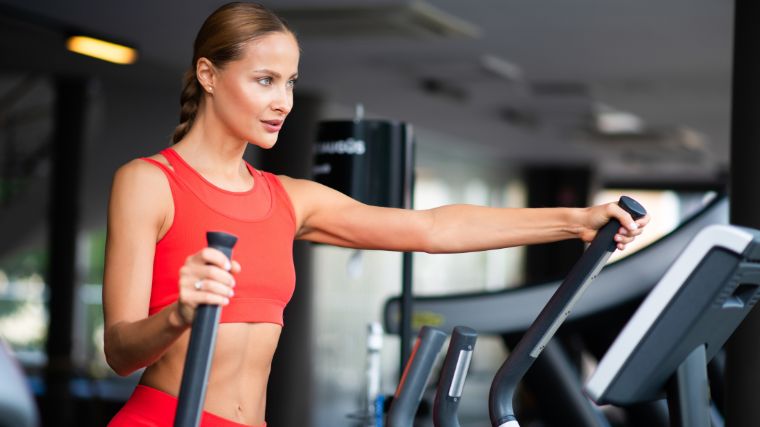 [Read More: Nutrition for Athletes — How to Eat for Muscle and Performance]
You'll use the handles throughout the workout, be at a moderate to high resistance, and alternate pedaling forwards and backwards.
Warm up with three minutes of moderate pedaling forward at a low resistance followed by three minutes of pedaling backwards.
Increase your resistance to a moderate to high challenging resistance that you can sustain for the next thirty minutes.
Pedal forwards for three minutes. Actively push and pull the handles.
Pedal backwards for three minutes. Continue to actively push and pull the handles.
Repeat for four to five rounds.
Cool down with 5 minutes of pedaling forwards as you reduce the resistance and speed.
Elliptical vs. Treadmill — Who Wins?
Ellipticals and treadmills are the most common cardio machines you'll see in any gym. They both can help you get aerobic exercise that's well-known to improve your heart health, help you fight diseases, and boost your mental and brain health as well. Both the elliptical and the treadmill are customizable to your fitness level, goals, and needs.
Ellipticals may be more accessible if you are recovering from an injury or have joint issues or pain because it's lower-impact than treadmills and your feet never leave the pedals. It also has an upper-body component so you can utilize more muscle groups. Treadmills allow you to run indoors if you are training for an event or enjoy running, jogging, or sprinting as part of your fitness routine.
In the battle of elliptical versus treadmill — the winner is whichever one works best for you.
FAQs
Got some remaining questions on these two cardio machines? Check out these answers.
Is an elliptical better than a treadmill?
If you need low-impact cardio for injury or joint reasons, the elliptical is better because you're not putting impact and stress on your joints. Otherwise it's not necessarily better, just different.
What is the difference between an elliptical and a treadmill?
On an elliptical, your feet stay planted the whole time and you can hold on to handles to actively push and pull your arms throughout the workout. On a treadmill, you can walk, jog, or run more naturally as you would outside and adjust your incline to add resistance.
Which is better for your knees?
The elliptical may be better for your knees because you're keeping your feet on the pedals and not adding impact. It's still important to engage your muscles on the elliptical to further protect your knees. The treadmill isn't necessarily bad for your knees when you walk, jog, or run with correct form. But if you are prone to knee issues or recovering from a knee injury, an elliptical may be a safer bet.
Which is better for cardio workouts?
They are equal, it depends on your preference. You can do steady-state moderate-intensity aerobic exercise on both. You can do high-intensity interval training on both. If you want to actually run or sprint for cardio, then the treadmill is better. But you can get an equal amount of intensity on the elliptical for effective cardio workouts.
References
Nystoriak MA, Bhatnagar A. Cardiovascular Effects and Benefits of Exercise. Front Cardiovasc Med. 2018 Sep 28;5:135.
Sharma A, Madaan V, Petty FD. Exercise for mental health. Prim Care Companion J Clin Psychiatry. 2006;8(2):106.
Patel H, Alkhawam H, Madanieh R, Shah N, Kosmas CE, Vittorio TJ. Aerobic vs anaerobic exercise training effects on the cardiovascular system. World J Cardiol. 2017 Feb 26;9(2):134-138.
Piercy, K. L., & Troiano, R. P. (2018). Physical Activity Guidelines for Americans From the US Department of Health and Human Services. AHA Journal, 11(11).
Park JH, Moon JH, Kim HJ, Kong MH, Oh YH. Sedentary Lifestyle: Overview of Updated Evidence of Potential Health Risks. Korean J Fam Med. 2020 Nov;41(6):365-373.
Atakan MM, Li Y, Koşar ŞN, Turnagöl HH, Yan X. Evidence-Based Effects of High-Intensity Interval Training on Exercise Capacity and Health: A Review with Historical Perspective. Int J Environ Res Public Health. 2021 Jul 5;18(13):7201.
Eken MM, Withers A, Flanagan K, Burger J, Bosch A, Lamberts RP. Muscular Activation Patterns During Exercise on the Treadmill, Stepper, and Elliptical Trainer. J Strength Cond Res. 2022 Jul 1;36(7):1847-1852.
Benedetti MG, Furlini G, Zati A, Letizia Mauro G. The Effectiveness of Physical Exercise on Bone Density in Osteoporotic Patients. Biomed Res Int. 2018 Dec 23;2018:4840531.
Thomas E, Battaglia G, Patti A, Brusa J, Leonardi V, Palma A, Bellafiore M. Physical activity programs for balance and fall prevention in elderly: A systematic review. Medicine (Baltimore). 2019 Jul;98(27):e16218.
Cook G, Burton L, Hoogenboom BJ, Voight M. Functional movement screening: the use of fundamental movements as an assessment of function-part 2. Int J Sports Phys Ther. 2014 Aug;9(4):549-63.
Batté AL, Darling J, Evans J, Lance LM, Olson EI, Pincivero DM. Physiologic response to a prescribed rating of perceived exertion on an elliptical fitness cross-trainer. J Sports Med Phys Fitness. 2003 Sep;43(3):300-5.
Brown GA, Cook CM, Krueger RD, Heelan KA. Comparison of energy expenditure on a treadmill vs. an elliptical device at a self-selected exercise intensity. J Strength Cond Res. 2010 Jun;24(6):1643-9.
Iwane M, Arita M, Tomimoto S, Satani O, Matsumoto M, Miyashita K, Nishio I. Walking 10,000 steps/day or more reduces blood pressure and sympathetic nerve activity in mild essential hypertension. Hypertens Res. 2000 Nov;23(6):573-80.
Jones AM, Doust JH. A 1% treadmill grade most accurately reflects the energetic cost of outdoor running. J Sports Sci. 1996 Aug;14(4):321-7.
Miller JR, Van Hooren B, Bishop C, Buckley JD, Willy RW, Fuller JT. A Systematic Review and Meta-Analysis of Crossover Studies Comparing Physiological, Perceptual and Performance Measures Between Treadmill and Overground Running. Sports Med. 2019 May;49(5):763-782.
Featured Image: Dan76 / Shutterstock