Usually when an actor needs to get a Hollywood Body™ for a role, it means cutting to unbelievable, unsustainable, but admittedly impressive levels of body fat. (Ryan Reynolds is said to have hit three percent for Blade: Trinity.)
When the priority is looking ripped — and hey, film is a visual medium, so we get it — celebrities typically focus more on fat loss and calorie restriction than giant deadlifts, but some take their strength more seriously. Here are some of the most impressive feats of strength we've seen by the most noteworthy stars of screen.
1. Jim Parsons: One-Armed 400-Pound Sled Pulls
The man best known as Sheldon from The Big Bang Theory has built the kind of superhero strength his character would envy. This isn't the first time we've seen serious feats from the 43-year-old: earlier this year he posted a 725-pound sled push and 425-pound sled rows. With any luck, Parsons will inspire more young athletes to learn about the full-body benefits of sled training.
2. Henry Cavill: A 435-Pound Deadlift
"It's not just the kind of training that makes you look pretty," Henry Cavill said of his Man of Steel workouts. "It's the kind of training that, first and foremost, is useful."
Cavill was sent to train at Gym Jones, the same facility that trained the actors from 300, to prepare for his breakout role in Man of Steel. To promote the film, Cavill and his trainer Mark Twight revealed to Muscle and Fitness that he maxed a deadlift at 435 pounds, a back squat at 365 pounds, and ten sets of ten front squats at 225 pounds.
3. Kate Upton: 200-Pound Hip Thrusts
The supermodel and star of The Other Woman knows that strength builds the best foundation for curves. Like Jim Parsons, she's coached by Ben Bruno who has posted a lot of her glute workouts, including paused banded hip thrusts, trap bar deadlifts, heavy landmine squats and sled drags. We're betting she could out-lift any other Sports Illustrated cover model.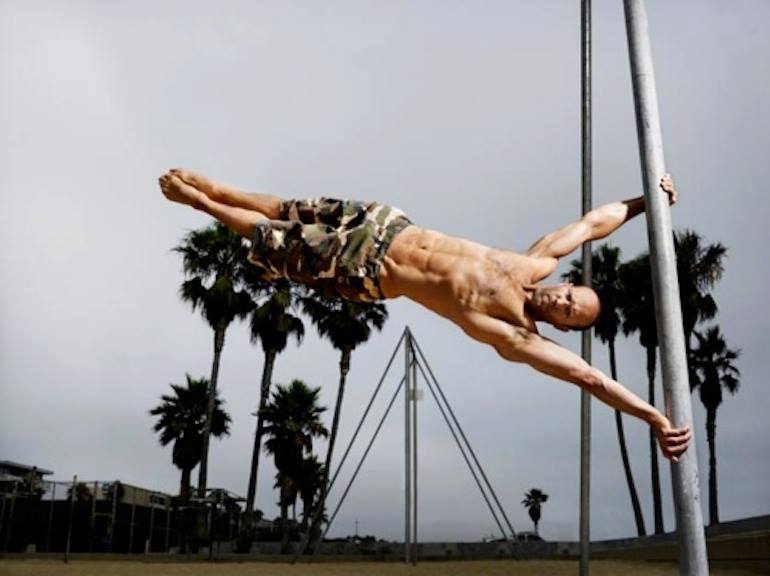 Image via Jason Statham on Facebook.
4. Jason Statham: The Human Flag
A former competitive diver, Statham has described himself as a big fan of being in "prison shape" as opposed to "gym shape," and while he's known to use practically any piece of workout equipment on Earth (including kettlebells and sandbags), he also employs a lot of high-intensity calisthenics to help him build an action hero body.
"They didn't have the big, fat machines you have in the typical gym," he said of a research trip to a Californian prison. "These guys were using their own bodies for lifts, pull-ups, sit-ups, and squats. They employed full bodyweight exercises and old-school gym techniques that seemed to work wonders.
5. Jason Momoa: 2 Reps of 88-Pound Weighted Pull-Ups at 230 Pounds Bodyweight
Sorry, Jason, we couldn't quite count that last rep, but the 6'4″, 230-pound Dothraki is showing some insane pulling strength as he trains for his role as Aquaman in the upcoming Justice League movie. He didn't provide numbers, but he also appears to be using all of the weight in the machine for these one-armed lat pulldowns as well. At this rate, Aquaman will be able to swim with his lats like a manta ray.
6. Kevin Hart: 3 Reps of a 225-Pound Bench Press at 150 Pounds Bodyweight
"This is to all little guys," says the 5'4″ actor as he prepares to bench a 225-pound bar. "You're only as small as your mind allows you to be." Hart likes to joke around — you might remember him ripping on Conan O'Brien when they worked out at CrossFit Horsepower together last year — but the man truly suffers for his fitness.
He said in a video of one of his workouts, "If I'm not breathing as hard as I can, if my chest isn't hurting for a second, then (I) didn't do (my) job today."
7. John Cena: The 304-Pound Snatch
it's hard to pick the most impressive feat of strength from the professional wrestler, who has also managed a 638-pound deadlift and a 611-pound squat, but a celebrity taking the time to master an exercise as incredibly nuanced and skillful as the snatch deserves serious respect. (Just don't ask him if he's a fan of the NFL Combine.)
8. Hugh Jackman: Membership in the 1,000-Pound Club
Wolverine is a serious beast, and Jackman's training (led by the NYC-based gym The Dogpound) led him to hit a 410-pound deadlift (above), a 355-pound squat and a 235-pound bench at age 46.
Huge Jacked Man (we couldn't resist) is a serious fan of deadlifts; you can see him repping 397 pounds with a Captain Hook haircut here, and we're fairly sure his famous "if the bar ain't bendin, then you're just pretendin" Twitter deadlift is at least 415 pounds.
If the bar ain't bendin, then you're just pretendin #xmen #daysoffuturepast pic.twitter.com/7sDhbPNNUm

— Hugh Jackman (@RealHughJackman) July 30, 2013
Despite all the hype around abs and body fat, we think we're seeing a resurgence in pure strength training among Hollywood actors — we can't wait to update this list.
Featured image via bruno082985 on YouTube, @RealHughJackman on Twitter, supertraining06 on YouTube, and Jason Statham on Facebook.