FitMiss is part of MusclePharm, a brand probably best known for their inexpensive protein supplement Combat Whey and their Combat Crunch protein bars. FitMiss was launched in 2008 "specifically designed to meet the needs of women" and while we tried their protein powder, which had some pretty remarkable ingredients related to appetite control, we wanted to try out their pre-workout: Ignite. It promises it "supports converting fat into energy, improving endurance and promoting healthy body composition."
So what's in it?
FitMiss Ignite Nutrition and Ingredients
One scoop has 5 calories (no sugar) and practically all of the ingredients fall into the "FitMiss Ignite Blend," which weighs 5.85 grams. Note that we don't know how much of each ingredient is present in the blend.
The FitMiss Ignite Blend contains, in the following order, beta alanine, choline bitartrate, tyrosine, glycine, taurine, carnitine, betaine anhydrous, hawthorn berry, agmatine sulfate, caffeine, and huperzine A.
FitMiss Ignite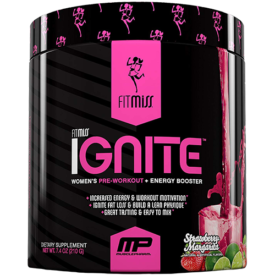 This pre workout contains a proprietary blend of 5,700 mg of energy boosting and fat burning ingredients.
The tub doesn't have any information about the caffeine content, but according to a post from MusclePharm on the product's Amazon page, it has 100 milligrams of the stuff per scoop. That's about as much as you'll find in a small cup of coffee.
The other ingredients are mostly natural and artificial flavors and sweeteners. Note that while it does contain the artificial sweeteners sucralose and acesulfame potassium, the product is naturally colored with fruit and vegetable juice.
See Our Top Pre Workout Choices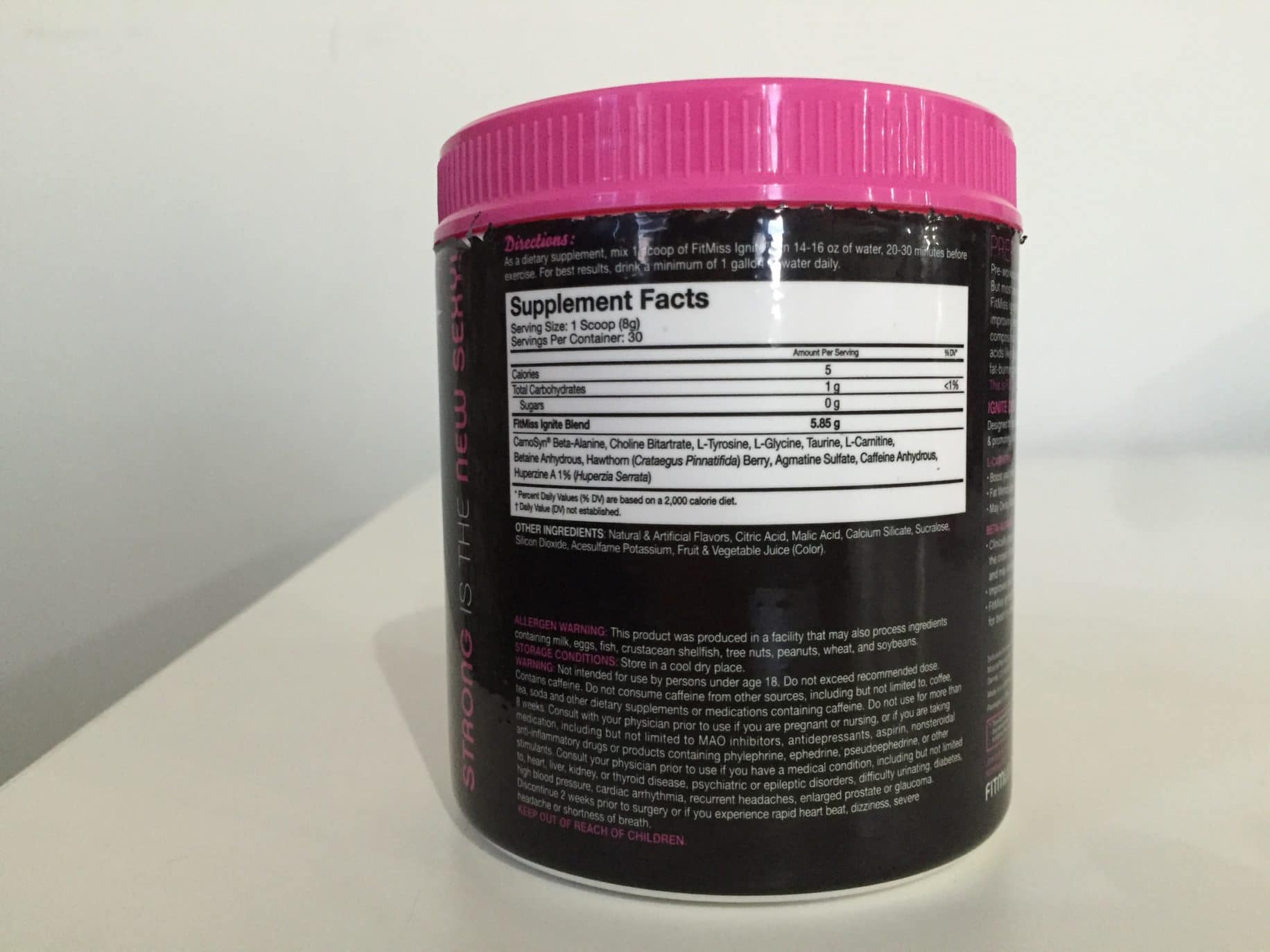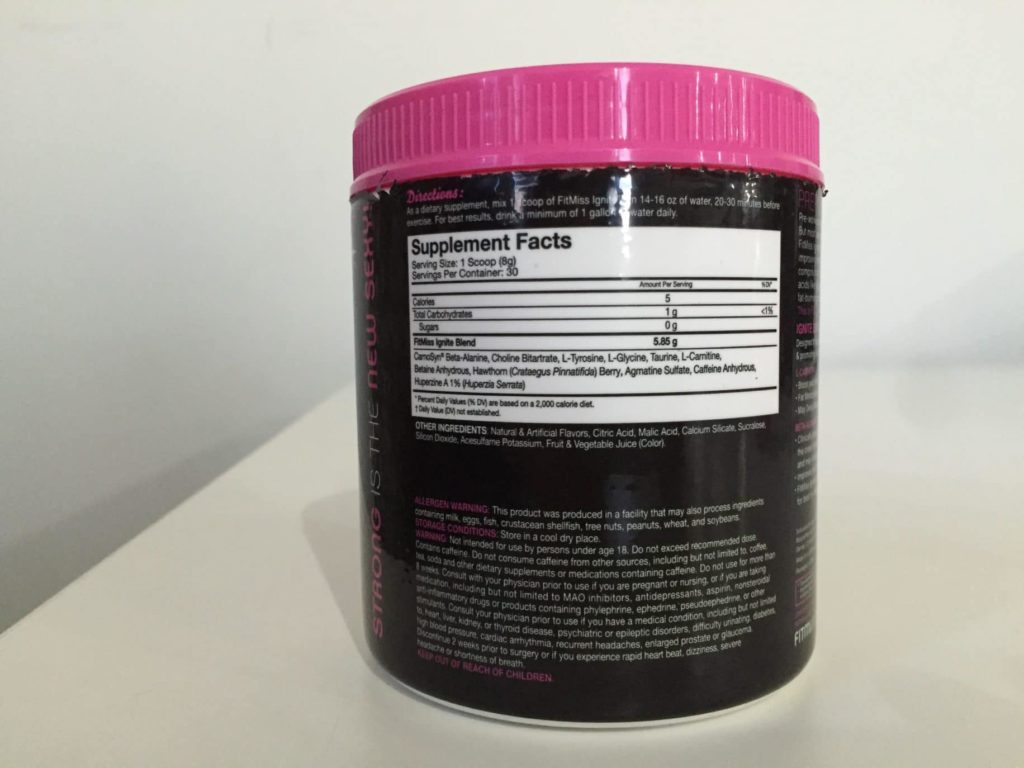 FitMiss Ignite Benefits and Effectiveness
Something to note with this product is that we can't know how much of each ingredient it contains, so it's very hard to know if it contains effective doses.
The beta alanine has a strong link with endurance, and studies have been performed on women that suggest it may reduce neuromuscular fatigue. The choline bitartrate may also delay fatigue, the agmatine could boost nitric oxide and blood flow, and the betaine anhydrous has a strong link with power output, at least in dosages of 1.25 grams twice a day. (That's the dosage used in a lot of studies, though lower dosages may have an effect as well.)
But most of the ingredients are linked to focus. The taurine, tyrosine, glycine, huperzia, and carnitine are all variously linked to focus, cognition, and/or alertness. The carnitine could also help with fat loss and muscular control, and it's typically dosed at 500mg twice a day.
[Curious about ingredients like carnitine? Take a look at our picks for the best female fat burner.]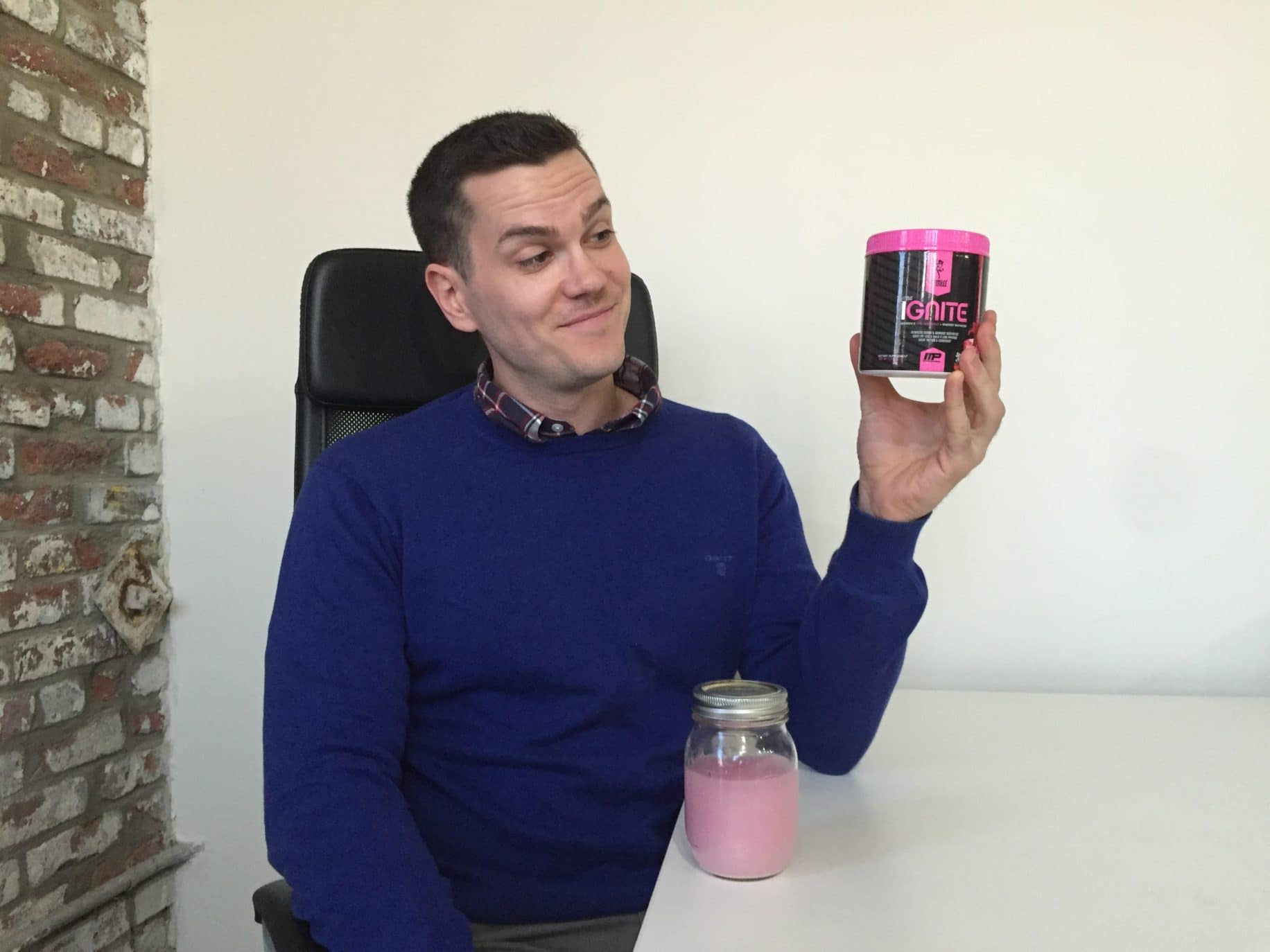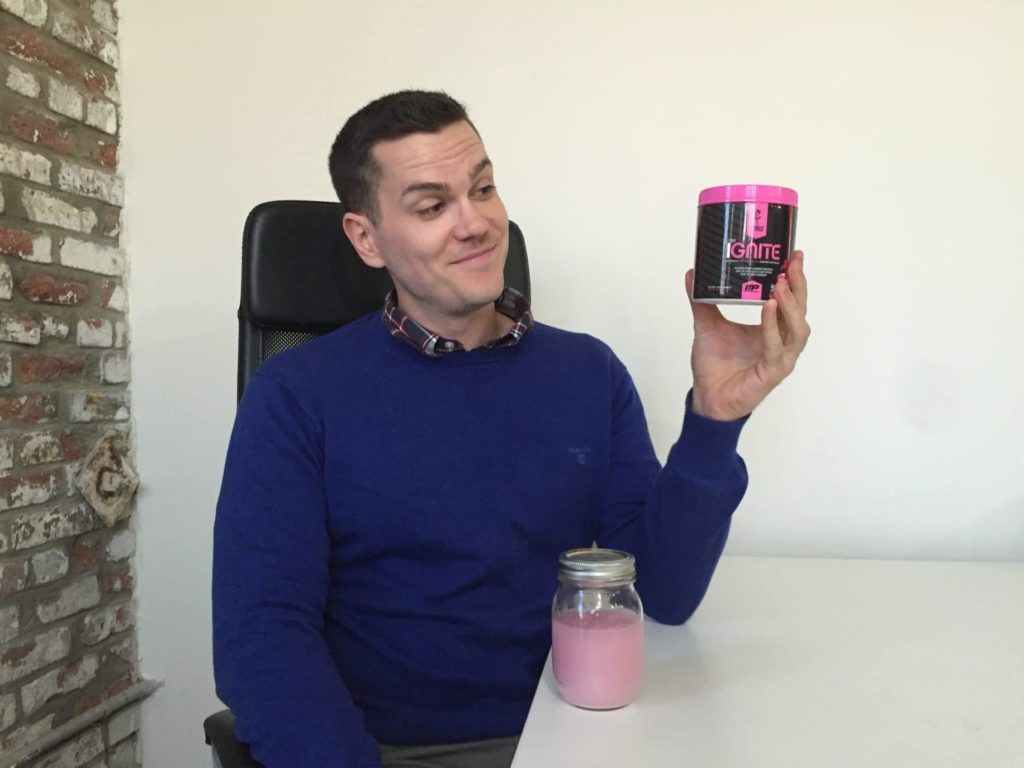 Add all these together and you have a supplement that probably improves endurance and focus. Then again, this product seems designed for lighter athletes, so lower doses may be desirable. In that regard, I liked FitMiss Ignite. A lot of preworkouts on the market contain upwards of 350mg of caffeine, the amount in 3.5 cups of coffee. For lighter athletes or people with a low tolerance to caffeine, those products are pretty much off limits.
So I'd recommend FitMiss to lighter athletes, athletes with low caffeine tolerance, or people who don't take a lot of workout supplements and don't want an extremely strong effect from the ingredients.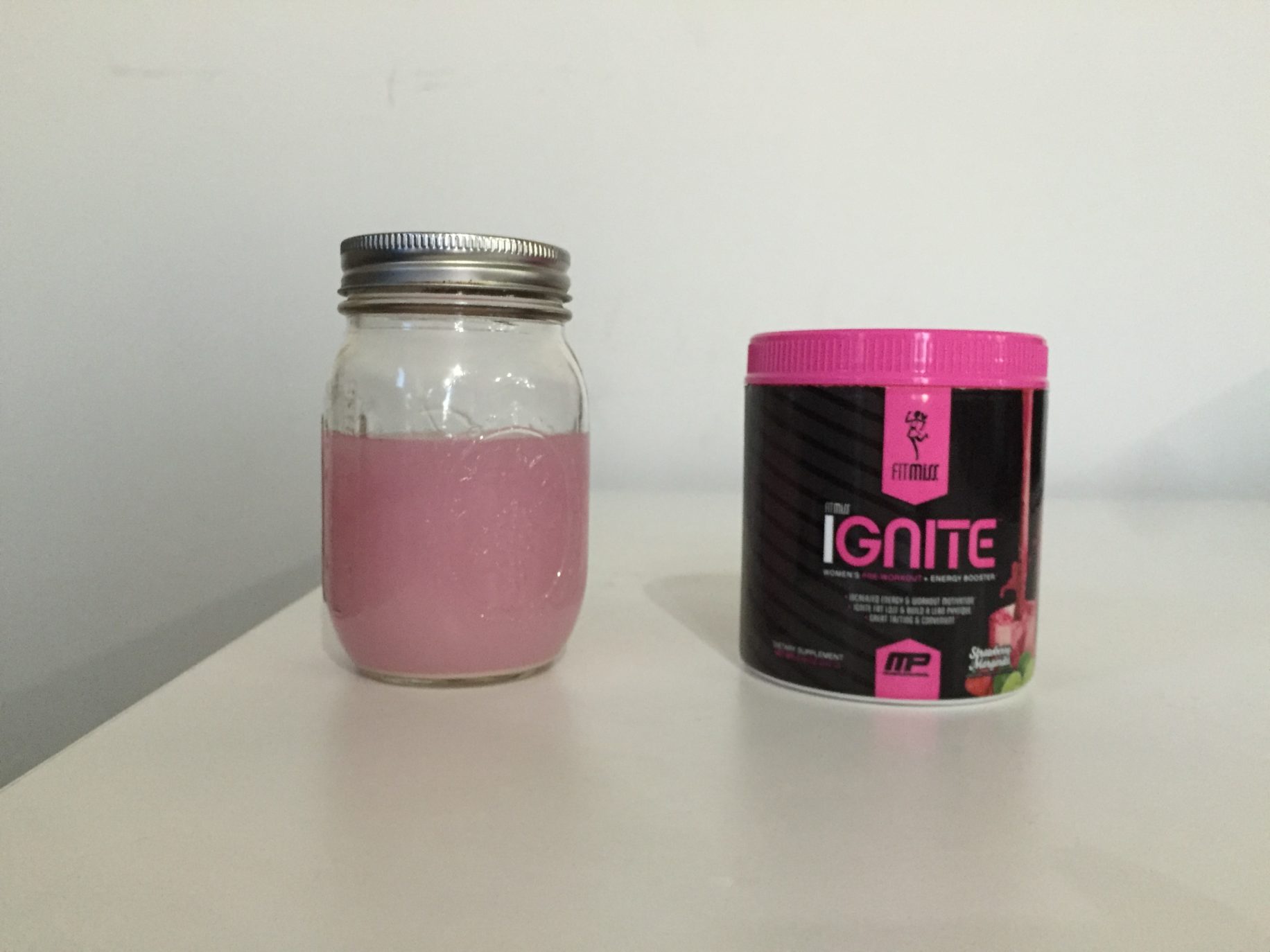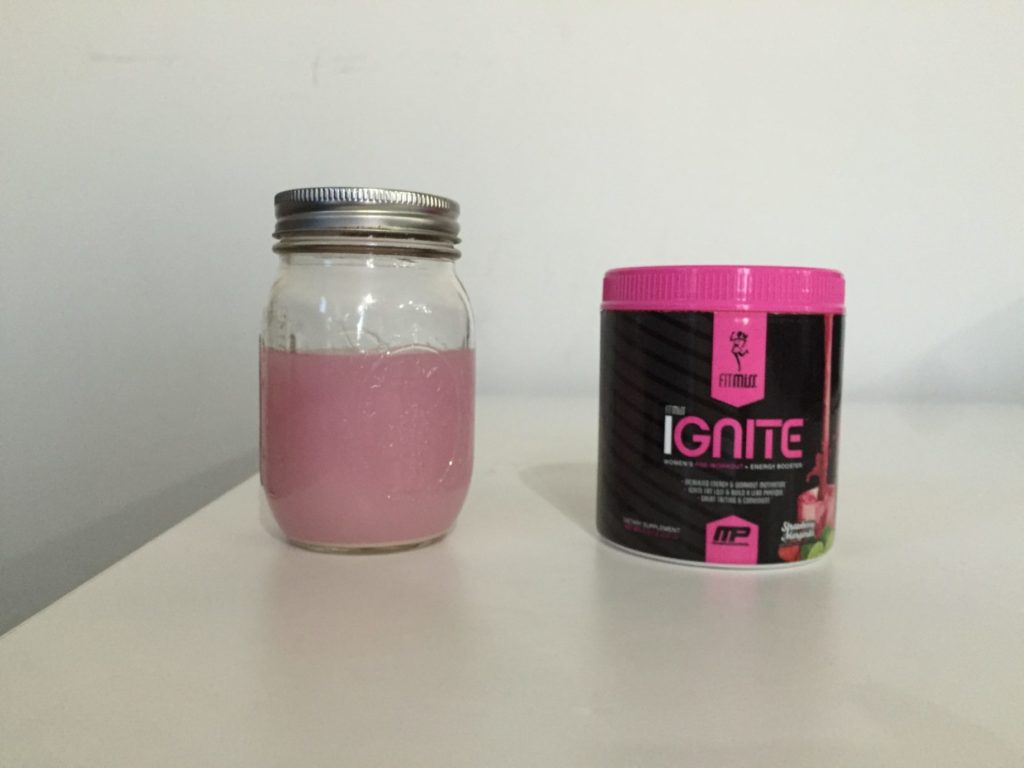 FitMiss Ignite Price
It costs about $16.50 for 30 servings, so 55 cents per serving. That's remarkably cheap; most preworkouts cost between 80 cents and $1 per serving, so the price is a big plus.
FitMiss Ignite Taste
It comes in two flavors: Fruit Punch and Strawberry Margarita. I tried the Strawberry Margarita flavor and it was fantastic: it tasted like strawberry candy and had an aftertaste of lime. I was extremely impressed.
The Takeaway
It tastes great, it's extremely cheap, it has a milder dose of caffeine compared to other preworkouts, and it has a lot of ingredients linked to endurance and focus. Those are the "pros." The downside is that we don't know what the dosages are, so it's hard to say if it will be more or less effective than other preworkouts.
But if you're on the smaller side or you're looking for a milder preworkout, I'd recommend trying it out. Even if you find you need to use two scoops instead of one to have the desired effect, it's still relatively cheap per serving.