If you're in the market for a new barbell that can handle your Olympic, CrossFit, or powerlifting needs, the Force USA Gunner Barbell may be the one for you, as it can be used for all of the above. The Gunner is as strong as barbells come with a top-tier tensile strength rating of 235,000 PSI. This bar also features moderate knurling, which is great for high rep exercises.
The pairing of stainless steel bushings and five-needle bearings (which fit between the bar and loading sleeve to reduce the friction between the two) is a nice addition that provides a spin as smooth as many other more expensive barbells. Since the Gunner is a multi-purpose barbell, it features a moderate knurling that isn't cut too deep. This is great for anyone doing a lift where the bar rotates in your hands — such as a clean and jerk — since the bar is less likely to tear up your hands. When it comes to finding a jack-of-all-trades barbell without breaking the bank, the Force USA Gunner is on our short list of top choices.
Main Takeaways
A tensile strength rating of 235,000 PSI, and an overall weight rating of 1,500 pounds puts the Gunner in the elite class of barbells.
The grooves in the sleeves are cut deeper than they are on other bars we've tested, so the Gunner is top notch in terms of keeping your plates in place.
The pairing of stainless steel bushings and five-needle bearings in both sleeves provides a smooth and controlled spin for your lifts.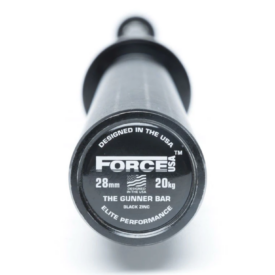 This barbell is available in 20kgs, and is made of 235,000 PSI steel. You can choose between either black zinc or bright zinc sleeves, and either way, this barbell is equipped with smooth stainless steel bearings that offer a great spin.
Force USA Gunner Barbell Video Review
Our Reviews Writer, Jake, tested the Force USA Gunner for himself. In his in depth video review he walks you through the pros and cons, price, and features of this barbell.
Force USA Gunner Barbell Highlights
Whether you want to deadlift, hit a one rep max bench press, or rep out some power cleans, versatile barbells like the Gunner are a great choice for your home gym, since you won't need to switch out your bar for each lift. If you're looking for a bar that can serve as the only one you need, this may be it. Beginners can likely use the Gunner throughout the duration of their fitness journey, while the high tensile strength rating also makes this a good match for elite powerlifters.
The knurling is on the moderate side of things, so your hands shouldn't get torn up while lifting — but that may not be ideal for anyone with rough or sweaty hands. If that's the case, you could benefit from some lifting chalk, straps and/or gloves.
We reference tensile strength a lot when it comes to barbells, and if you don't know what that means, it's essentially going to tell you how strong a barbell is — the higher the rating, the stronger the bar. We've used a lot of strong barbells in our time, but 235,000 PSI might be the strongest we've tried. Anyone of elite strength can rest assured that the Gunner will be able to keep up with you. There are many barbells out there that are more expensive than the Gunner, but don't even come close in terms of tensile strength.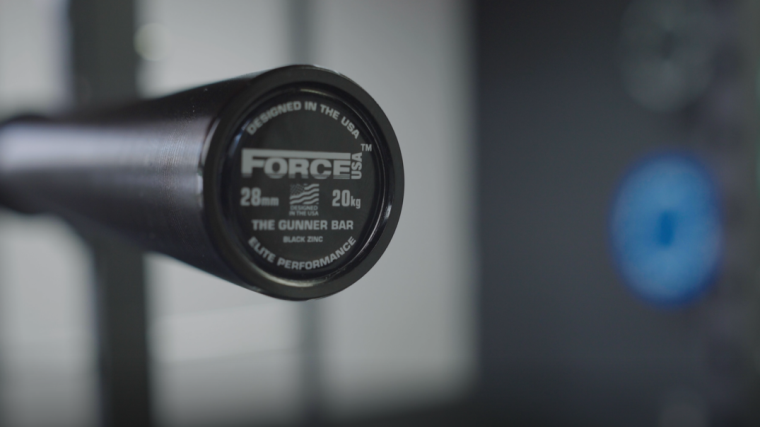 The Gunner features a black zinc coating on the shaft, which gives it a really sleek look, in our opinion. Your loading sleeves can also be coated in either black zinc or bright zinc. While the price between the two coating options of the sleeves is different, we don't think you'll find much of a variation in corrosion resistance between them. In terms of overall protection from corrosion, zinc is going to help some, but not at the same rate as a fully stainless steel barbell.
There are three additional features other than the moderate knurling that put the Gunner in the "multi-purpose" category. The lack of a center knurling is great for any movement where the bar rubs against your skin (such as a power clean), as it reduces the risk of irritation. The combination of stainless steel bushings and five-needle bearings is going to provide you with one of the smoothest spins a barbell can offer, and the grooved pattern on the sleeves is also more prevalent than others we've reviewed. We found this kept our plates pretty securely in place.
Who Should Buy the Force USA Gunner Barbell
Athletes of all levels can use this bar since it features non-abrasive knurling, and a very high weight limit.
Customers who want a barbell that can handle it all without breaking the bank will enjoy that the max you'll spend on the Gunner is $300. There are more expensive bars out there that aren't nearly as strong as this one.
With a tensile strength rating of 235,000 PSI, the Gunner can handle almost any punishment that may come its way, making it about as durable as barbells come.
Who Shouldn't Buy the Force USA Gunner Barbell
While you can do any type of lift you please, the Gunner may not be the best option for anyone with a heavy emphasis on powerlifting since the knurling isn't cut very deep.
The zinc coating on this bar might not be ideal for everyone, especially if you live in a humid environment.
Anyone looking for a 15-kilogram or 10-kilogram barbell may be disappointed that the Gunner is only available in 20 kilograms.
Price
When reading how strong and versatile the Gunner is you might be surprised to find that the max you'd spend on this bar is currently around $300, including shipping. When checking out, you have two different options to choose from with your sleeve coating — black zinc and bright zinc. The bright zinc finish on your bar will feature a price tag of $250, while the black zinc sees a jump to $300.
Now, in terms of protection from rust and corrosion, we don't think you'll find much of a difference between the two coating options on the sleeves. So this may wind up being a personal preference situation, and whether or not you want your barbell to have a uniform appearance.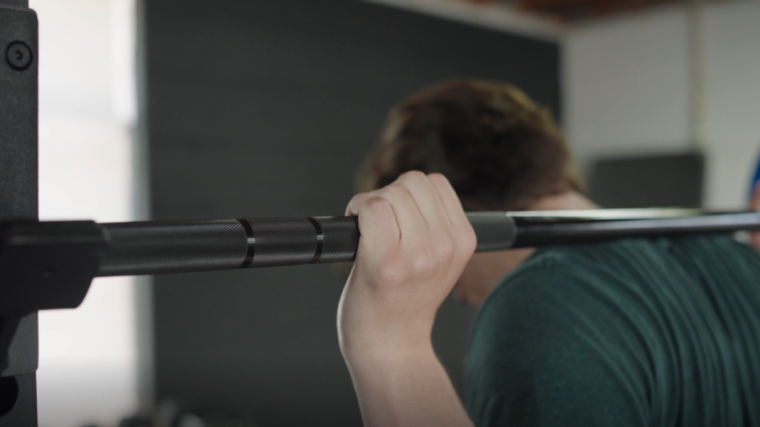 We understand that $300 may be a lot for you to spend up front, and thankfully so does Force USA. If you decide to finance your purchase through Affirm, you would be making monthly payments of around $21 for the bright zinc sleeved bar, or $25 a month for the fully black zinc barbell.
When you compare the overall price of the Gunner to the rest of the market, it's more towards the middle of the pack than it is toward the high end. There are some barbells we've reviewed that are a couple hundred dollars more expensive than this one, but feature a tensile strength rating that is nearly 40,000 PSI less. Some of those bars are also stainless steel, which means you won't have to provide as much care to them, though. You can also find some cheaper barbells out there, but those are not going to be anywhere close to the Gunner in terms of overall strength or quality.
Overall Build and Quality
The Force USA Gunner Barbell is a highly versatile bar that features a black zinc coated shaft, and the choice of either black zinc or bright zinc on your loading sleeves. The tensile strength is as elite as it gets with a rating of 235,000 PSI, and the combo of stainless steel bushings, five-needle bearings, and the deep-cut grooved loading sleeves will give you a spin as smooth as anything we've tried. That being said, we still were able to bench press without the worry of the sleeves spinning too much on their own.
The moderate knurling on this barbell, and the lack of a center knurling are going to be great for high rep movements, as well as any exercise where the bar comes into contact with your chest (since the odds of irritation are drastically reduced). But remember, since the knurling is not cut deep, you may need a little bit of assistance to get the best grip possible.
This barbell is only available in 20 kilograms, so you'll need to keep looking if you want something smaller. It's 86.6 inches in length, has a diameter of 28 millimeters, and features 16 inch loading sleeves — all of which are similar to the dimensions of an Olympic barbell.
Features
The zinc coating on this barbell is going to offer you some protection against corrosion, but you may need to clean it more often than you would like, especially compared to a stainless steel bar. The knurling is pretty moderate, but not too passive to where it'll slip out of your hands. That being said, if you feel like it's not enough for you, we suggest getting some lifting chalk, or gloves to assist.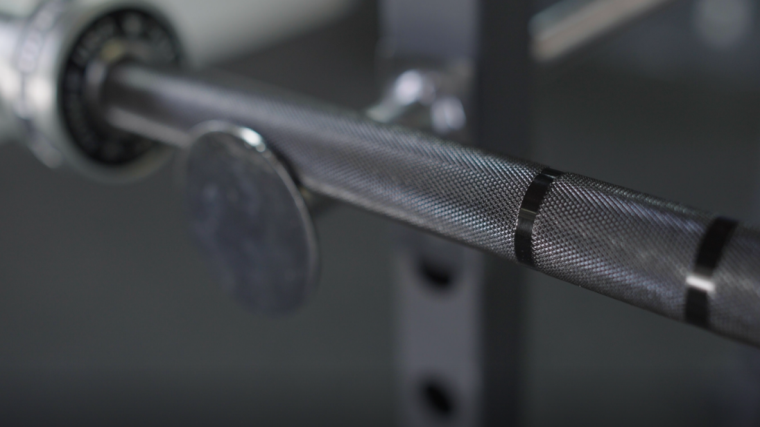 The double knurl markings on the Force USA Gunner Barbell are pretty common in bars similar to this one. The markings meet the regulations set by the International Powerlifting Federation and the International Weightlifting Federation, and will allow you to get identical hand placement during your wide grip lifts. We really enjoy the deep cut grooved pattern on the loading sleeves of the Gunner. This pattern can help keep your plates in their original placement, and throwing on an additional weight collar will increase your safety, while also preventing them from moving much at all.
Knurling
The knurling on this barbell is not as abrasive as a power bar, but it still provides a solid grip in your hands, so it's able to accommodate the majority of your exercises. If you want a barbell that does have a deep cut knurling, you will most likely want to find yourself a solid power bar instead of a multi-purpose one like the Gunner.
While the double knurl markings on either end of the Gunner are pretty common, they're still a nice touch since you won't have to worry about one hand being placed out wider than the other while lifting. We personally enjoy that there isn't a center knurling, but we understand why some lifters may want that extra traction for back squats, specifically. If you fall into that category, this bar may not be for you.
Sleeve Design
The sleeve design on a barbell is a pretty important feature, and will determine what you can expect out of your bar. Grooved patterns are pretty common in barbells like the Gunner, but it's hard to ignore that the grooves feel deeper here than the ones on other bars we've reviewed.
This is especially important during power cleans where the bar tends to be dropped repeatedly onto the ground. Since the grooves are cut deep, you will likely experience less slide with your bumper plates, and weight plates while performing your powerlifts. You might not need a pair of weight collars, but we still recommend using a pair for your safety.
Stainless Steel Bushings
Since the Gunner uses both stainless steel bushings and five-needle bearings in the loading sleeves, you'll find the spin to be one of the smoothest out there. This spin will help during Olympic lifts, since it reduces the amount of torque that your elbows and wrists must endure to perform those lifts. They still won't start spinning out of nowhere on their own though — when we tried, we had no issues as we were bench pressing.
Finish
We think the zinc coating looks really nice in our garage gym. And though we love the look of a black barbell, it's not the optimal choice in terms of corrosion protection. Stainless steel is going to be the best for this protection, with cerakote coming in at a close second.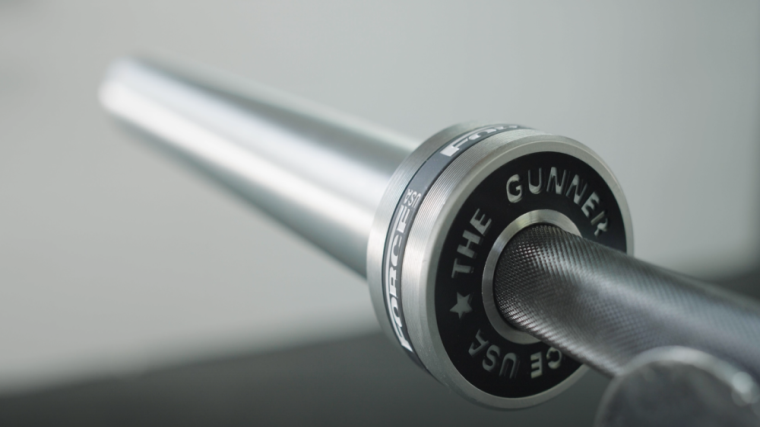 So if you are like us and are working out in a steamy garage, you might want to consider one of those other finishes since you won't need to clean them as much. Stainless steel and cerakote will likely both be more expensive though, so if you're okay cleaning your bar a couple more times a month, this zinc coat may save you some money.
Product Specs
The Force USA Gunner Barbell is in the upper echelon of barbells in terms of tensile strength. With a rating of 235,000 PSI, beginners can use this bar for their entire fitness journey, while advanced lifters are also going to be able to do just about any workout with it. The dimensions are similar to what you would find in an Olympic barbell, so if you're a competitor this is a good option to practice with at home.
Tensile Strength
When you are looking for a new barbell, you need to pay attention to the tensile strength. Depending on your overall strength level, you will want a barbell that matches your abilities. With a rating of 235,000 PSI, the Gunner has arguably the strongest tensile strength we've tested, putting itself in a class of its own. (Barbells typically range from 120,000 PSI to 230,000 PSI, to put that into perspective.)
Materials
The materials used to craft a barbell are not only going to determine the quality of the bar, but they will also drive the price either up or down. The Gunner has a zinc finish, which might not be the ideal coating for anyone in a humid environment. You'll need to clean it pretty frequently, but that doesn't take very long, and you'll save some money compared to a stainless steel or cerakote bar (both of which may be more corrosion resistant).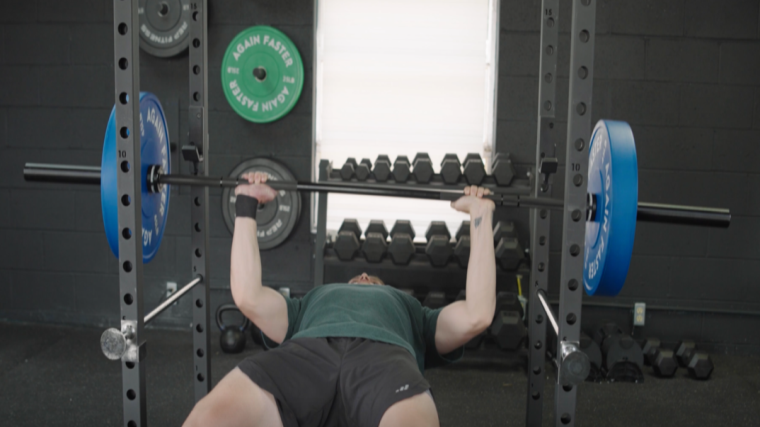 Stainless steel bushings and five-needle bearings in both of the sleeves are going to provide you with a spin so smooth you'll want to write home to your mom about it, but you should still be able to hit your power lifts without a problem.
Weight Capacity
Along with the high tensile strength rating, the Gunner also has a high overall weight rating of 1,500 pounds. This is a nice touch since you'll really be able to pack on the plates for your lifts. Plus, this weight rating should be able to accommodate even elite level athletes.
Dimensions and Weight
The Gunner shares the same dimensions as an Olympic barbell. It's 86.6 inches in length, has a diameter of 28 millimeters, and loading sleeves that are 16 inches long. But remember, this is the only size available, so you'll need to look elsewhere for a smaller option.
Warranties
The Gunner features a lifetime warranty that covers the structural integrity of the bar, and any errors during manufacturing. But it does not cover any rust that may form, or negligent usage.
Places to Buy
You can purchase this barbell directly through the Force USA website.
Company Information
Since 2000, Force USA has had the vision to offer affordable gym equipment for home gym enthusiasts. They believe everyone should lead a strong, happy, and healthy lifestyle. They have seen their operation expand to over 25 countries across the globe.
To find out more information, you can contact their USA operations team at (385) 557-2554, their Canada team at (778) 800-950, or fill out a request form on their website to have someone from their team email you.
Final Word
The Force USA Gunner Barbell is a multi-functional barbell that features an elite tensile strength rating of 235,000 PSI. It's less expensive than some other popular barbells, but it's stronger than a lot of them, as well. It can handle most workouts you throw its way (no matter your fitness level), and you can load up to 1,500 pounds onto it.
While the knurling may not be cut deep enough for some powerlifters, you can always add some lifting chalk to help you out. The amount of spin in the sleeves, the lack of a center knurling, and the moderate knurling are what makes this bar highly versatile, and a good option for anyone without calluses built up to consider.
While it's not stainless steel, as long as you provide the Gunner with proper care, it could last you nearly a lifetime and provide some solid usage. Considering the tensile strength, price tag, and versatility, we think this is a great option for lifters of all levels to add to their home gym.
FAQs
Are there any limitations when it comes to working out with the Force USA Gunner?
In short, no. The beauty of a barbell like this is that it can handle pretty much any workout you decide to do. The moderate knurling, smooth spin of the sleeves, and high tensile strength make this bar highly versatile, and able to serve as the only barbell in your home gym. The only thing you may have to worry about during your powerlifting sessions is getting a super firm grip since the knurling is not cut very deep. But this is easily solved with some chalk, or gloves.
Does it matter if I choose black zinc or regular zinc sleeves on the Gunner?
We don't think you'll find any meaningful difference in terms of protection from corrosion when choosing one coating over the other. Just remember, zinc coated barbells tend to need more care than cerakote or stainless steel barbells do. Just be sure to clean it periodically in order to keep it in good condition.
Is the Force USA Gunner Barbell available in a junior size?
Unfortunately, no. The Gunner is only available for purchase in 20 kilograms. While some companies offer barbells in both 15 and 10-kilogram weight options, Force USA does not for this particular bar. If you are searching for one of those sizes, you'll need to keep on your hunt.