The International Weightlifting Federation's (IWF) 2023 World Weightlifting Championships (WWC) has been anything but unexciting. This year's WWC, which runs from Sep. 4 to 17 in Riyadh, Saudi Arabia, is the final Worlds before the 2024 Olympic Games kick off in Paris, France next summer.
On Sep. 14, Armenian weightlifter Garik Karapetyan added to the ever-growing list of thrilling moments: Karapetyan, 19, snatched a new Junior world record of 183 kilograms, or 403.4 pounds, during the Men's 102-kilogram Group A session.
[Check In: 2023 IWF World Weightlifting Championships Results]
Karapetyan's 183-kilogram record was good enough for silver in the snatch portion, and bested the existing record — which he set just a few months prior at the 2023 European Junior Weightlifting Championships — of 181 kilograms.
Garik Karapetyan | 2023 World Weightlifting Championships
Karapetyan managed to stand out from a very stacked crowd during the Men's 102-kilogram Group A. He even outperformed reigning Olympic Champion Meso Hassouna as well as China's new powerhouse performer, Liu Huanhua, in the first half of the event, despite falling behind during the clean & jerks. Here is Karapetyan's full performance from the 2023 WWC in Riyadh:
Snatch: 175, 183x, 183
Clean & Jerk: 210, 217x, 217x
Total: 393
On the Rise
Since the IWF reorganized their weight classes in 2018, the best weightlifters in the world have gradually acclimated to new body weights and pushed the limits of overhead strength, setting new records in the process. However, the Men's 102-kilogram is among the last categories to really "fill out."
But with less than a year to the 2024 Olympics, where the 102s will be contested, things are finally shaping up. At the 2022 WWC, the gold-medal Total, held by Hassouna, was 391. In Riyadh, the best Group B Total was 399, which ended up being enough for silver. China's Liu Huanhua pushed well into the margins of his potential, totaling 404 kilograms to win the event.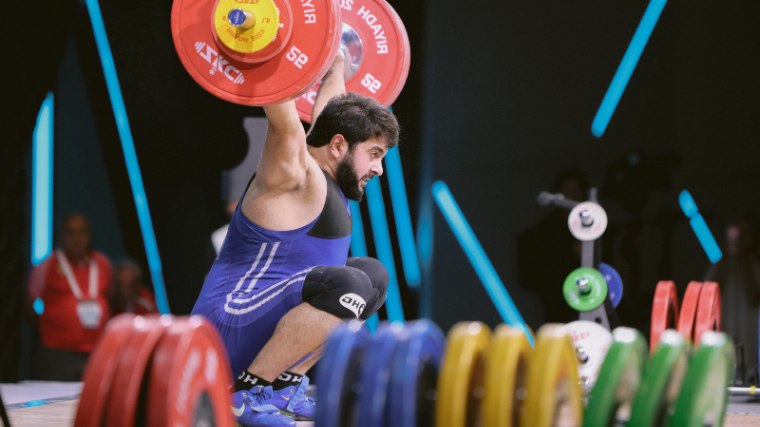 Karapetyan ultimately finished outside of medal contention overall, but his Junior record snatch was one of many lifts indicating that the competition in the 102s is rapidly heating up. And with the Olympic Games a year away, it's still anyone's game.
More Weightlifting Content
Featured Image: William Johnson / @barbellstories