We receive free products and receive commissions through our links. See
disclosures page
.
Ghost is a pretty unusual supplement company in that they prefer to call themselves a "lifestyle sports nutrition brand," decorating their website with workout playlists, fitness content, and interviews with DJs and entrepreneurs.
We've tried their whey and their BCAAs, but their Ghost Legend pre workout is their flagship product. It comes in Blue Raspberry and Fruit Punch flavors but they've also come out with two sour flavors, Watermelon and Black Cherry, in a fun partnership with the kids' candy brand Warheads®. We're happy to report that Legend passed with flying colors: it's effective, science backed, and absolutely delicious.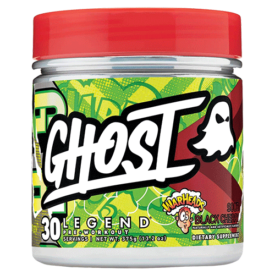 A delicious pre workout that contains adaptogens and antioxidants on top of your standard ingredients.
Ghost Legend Pre Workout Nutrition & Ingredients
One scoop is 5 calories and 1 gram of carbohydrates. It's split up into two blends, Ghost Smart Energy® and Ghost Legend®.
Ghost Legend has 4 grams of citrulline, 2 grams of beta alanine, 500mg of agmatine sulfate, and 100mg of norvaline. I'll discuss the effects of all these ingredients in the next section.
Ghost Smart Energy has a lot more ingredients. For starters it has 202 milligrams of caffeine, a little over what you'll find in two cups of coffee. There's also taurine (1g), Alpha-GC (150mg), Rhodiola rosea extract (50mg), theobromine (50mg), olive leaf extract (50mg), NADH 10% (2.5mg), and rauwolfia root extract (1mg).
Other than those blends there's a very small amount of calcium and potassium and some natural and artificial flavors, colors, and sweeteners. Note that it contains sucralose but it doesn't have any acesulfame potassium, an artificial sweetener that some people try to avoid.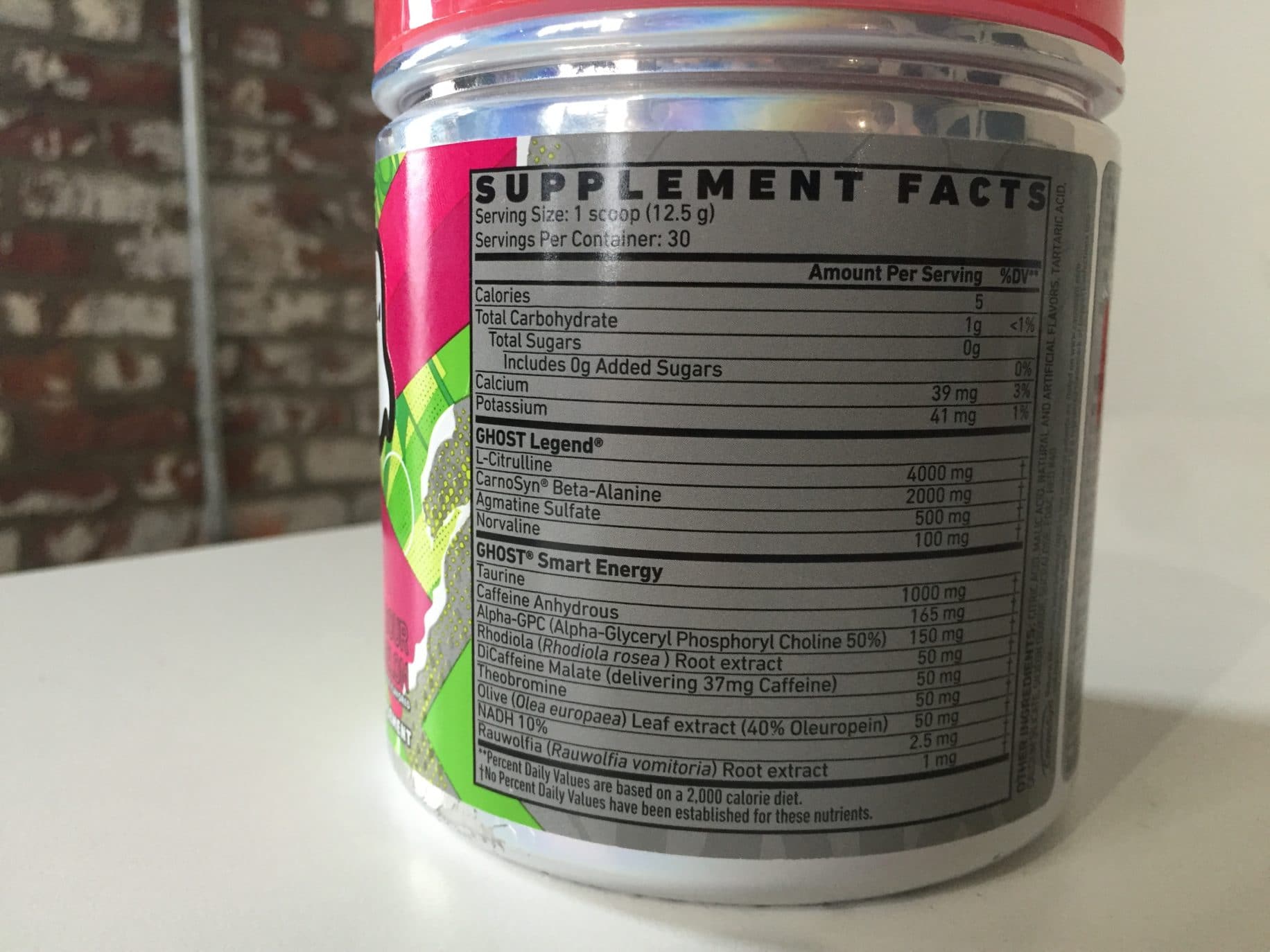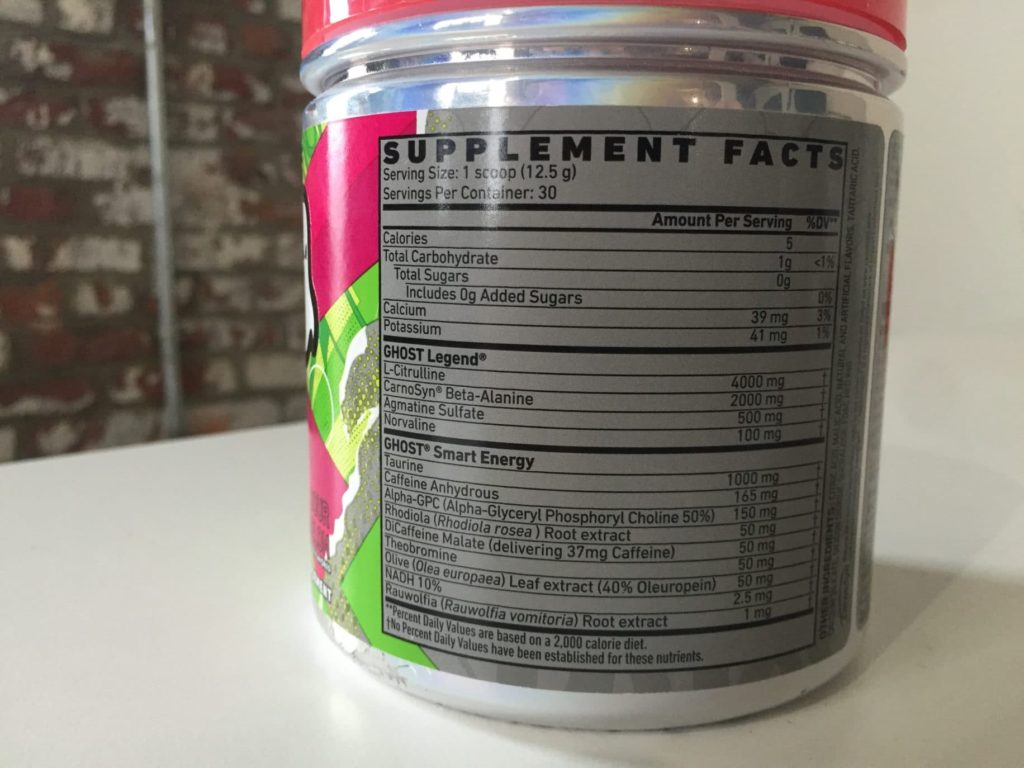 Ghost Legend Pre Workout Benefits & Effectiveness
Let's start with the Ghost Smart Energy. Like I said, there's about 2 cups' worth of coffee in one scoop and there's also some theobromine, which has effects that are pretty similar to caffeine. (Theobromine is usually dosed at levels over twice what's in Ghost Legend, but since it's combined with the caffeine it will probably still have some effect.) The raulwolfia is also said to have stimulant-like effects that include a boost in adrenaline and potentially fat loss.
But there's also a gram of taurine, which can help attenuate the jitteriness and loss of focus associated with a big hit of caffeine. It could also help recovery and muscle cramps, since it draws water into cells.
The rhodiola may reduce stress and improve focus (some people prefer to take it instead of caffeine in the morning) and the olive leaf extract is an antioxidant that's usually used for controlling cholesterol, but it may have fat loss effects, too.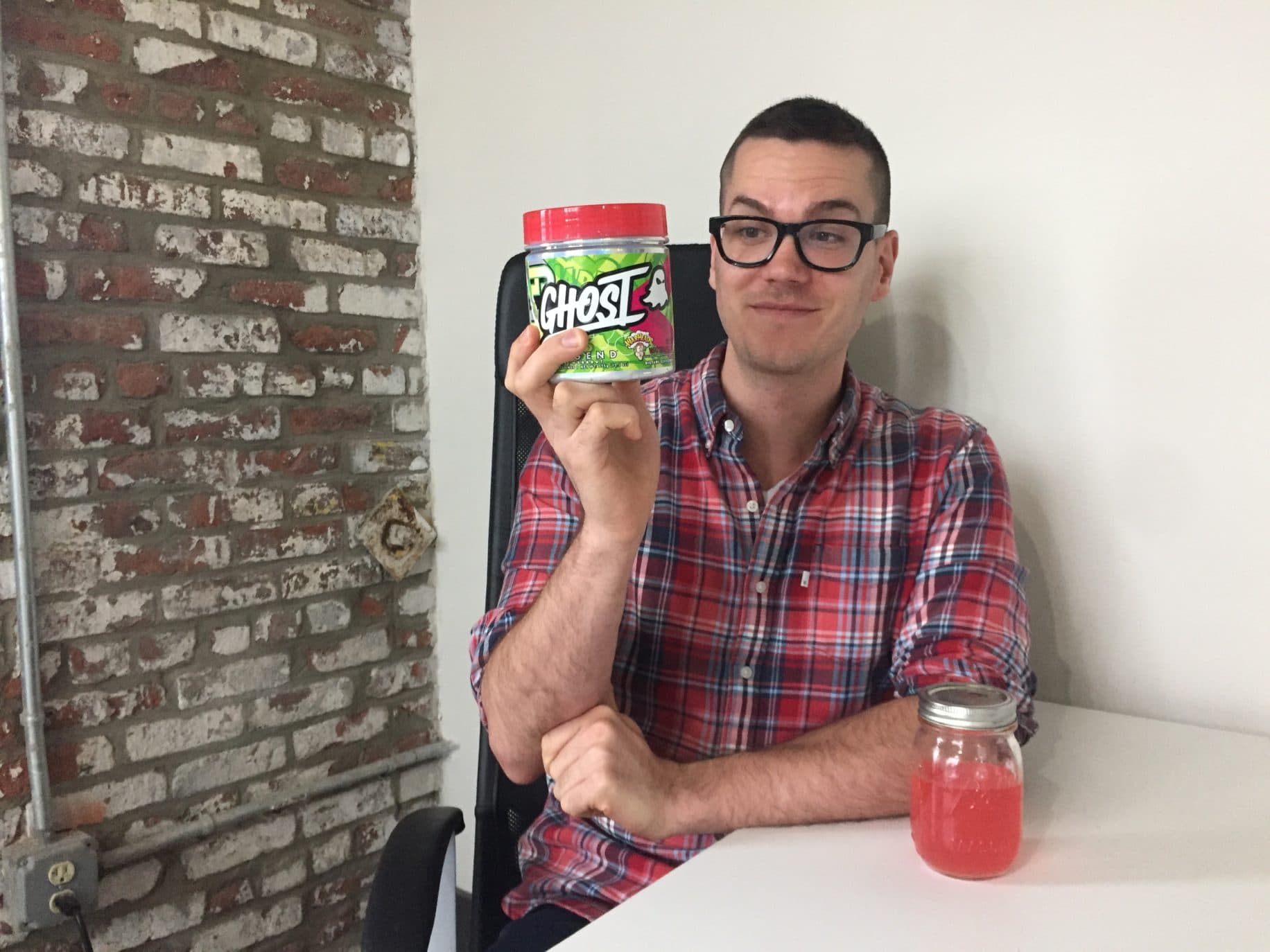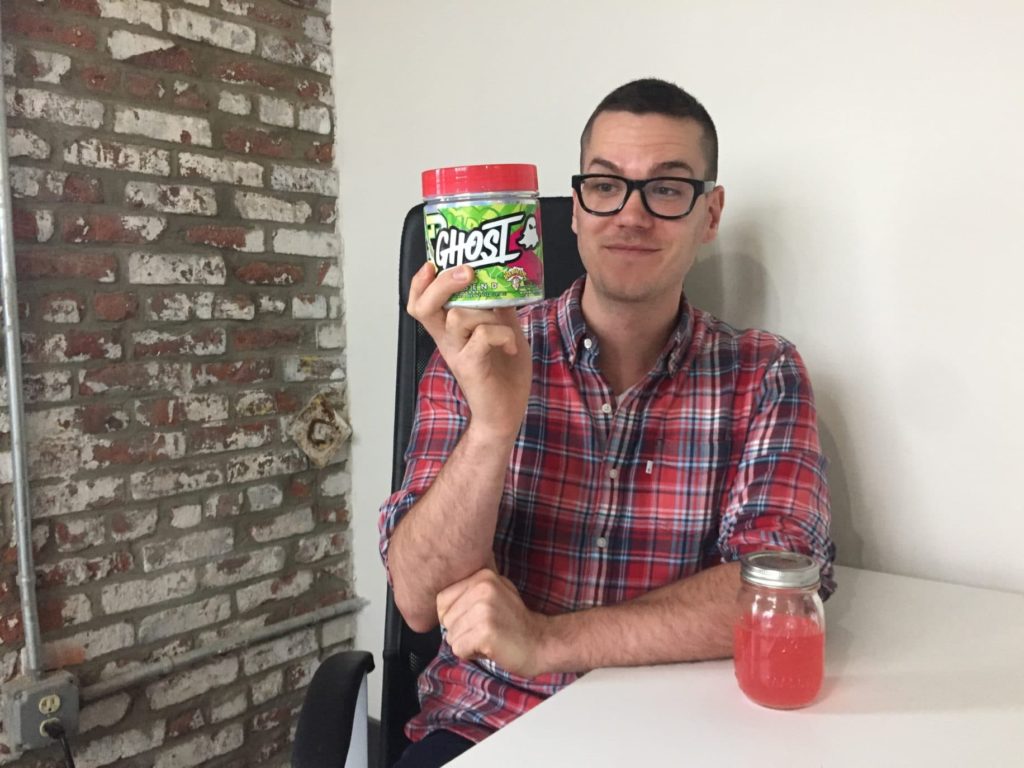 The Alpha GPC has been linked with increased power output but the dosage is a little low: 150 milligrams. Most studies use 300 to 600 milligrams, but again, combined with all of these ingredients it may help the effect. (The NADH is also associated with increased energy.)
Then there's the Ghost Legend blend. It has a 4 grams of citrulline which is a very large dose of the amino acid that may boost nitric oxide and increase circulation. There's 2 grams of beta alanine, which is also a large dose (usually pre workouts have 1.5 grams of the stuff) and that has a strong link to endurance. Note that beta alanine is known for producing a "tingling" sensation on your skin.
The agmatine sulfate is associated with cognition and the 500 milligrams is roughly the amount, pound for pound, that saw that effect in rodents. Finally, the norvaline might help with muscle growth and vasodilation, but it can cause dizziness and light headedness in some folks, so you may want to start with half a dose of Ghost Legend to see if it has any of these effects.
Ghost Legend Price
You can pick up a tub of 30 servings for $45, or $1.50 per serving. This is on the expensive side for pre workouts. Most pre workouts fall somewhere between 80 cents and 1 dollar per scoop.
Ghost Legend Taste
I loved the Sour Watermelon flavor. I was a big fan of Warheads® candy when I was a kid and it was fun to revisit it in a pre workout. It's very sweet and pretty sour, and I'd recommend sipping it slowly: it might be too sour to gulp down all at once.
The Takeaway
Like a lot of pre workouts the ingredients fall in different places on the scale of "lots of evidence supporting its effectiveness" and "evidence is pretty mixed." The good news is that there are a lot of ingredients that have a lot of research supporting their effectiveness and they're present in significantly higher amounts than most of its competitors. I'm talking about the beta alanine, citrulline, and taurine in particular, but there's also solid evidence behind the focus-based ingredients like rhodiola and agmatine sulfate.
It's a little low in some ingredients, like the Alpha GPC, and a couple of the ingredients like norvaline and olive leaf extract don't have a ton of evidence supporting them.
The biggest hurdle is the price: it's 50 percent more expensive than most of the other pricy pre workouts on the market. Whether or not a pre workout that's high in beta alanine, citrulline, and focus-promoting ingredients it's worth that extra cost is up to you.
Ghost Legend
Per Serving: $1.50