What kind of stuff would you find in a women's pre workout? IdealLean has released a product, just called "Pre Workout for Women," that joins the slowly growing market for female focused workout products.
We've tried a lot of products from IdealLean: their protein powder, their BCAAs, and a few products from their sister companies IdealRaw and IdealShape — one of our favorite meal replacements.
We found that IdealLean's Pre Workout is an unusually nutritious product with a good deal of ingredients to help with focus and endurance, while keeping the caffeine content relatively low so that it's not too stimulatory for people at lower bodyweights.
Save 45%
IdealLean Pre Workout for Women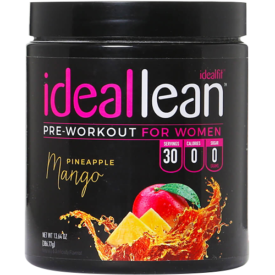 IdealLean Pre Workout for Women
An unusually nutritious pre workout that's well dosed for energy, endurance, and focus. Use code BARBEND45 for 45% off!
IdealLean Pre Workout for Women Nutrition
The main event is the ingredients, but it's worth pointing out the surprisingly high vitamin content of this product. Here's what you'll find in one scoop.
Calories: 5 (1 gram carbohydrates)
Vitamin C (22% RDI)
Thiamin (83%)
Niacin (125%)
Vitamin B6 (1,176%)
Vitamin B12 (292%)
Calcium (54%)
[Check out our full list of the best pre workouts!]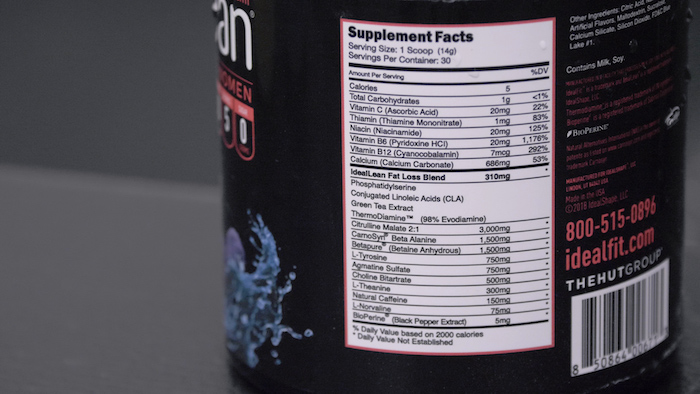 IdealLean Pre Workout for Women Ingredients
Caffeine: 150mg
Citrulline malate: 3,000mg
Beta-Alanine: 1,500mg
Betaine Anhydrous: 1,500mg
L-tyrosine: 750mg
Agmatine Sulfate: 750mg
Choline Bitartrate: 500mg
L-Theanine: 300mg
L-Norvaline: 75mg
Black Pepper Extract: 5mg
IdealLean Fat Loss Blend (310mg): Phosphatidylserine, Conjugated Linoleic Acid (CLA), Green Tea Extract, ThermoDiamine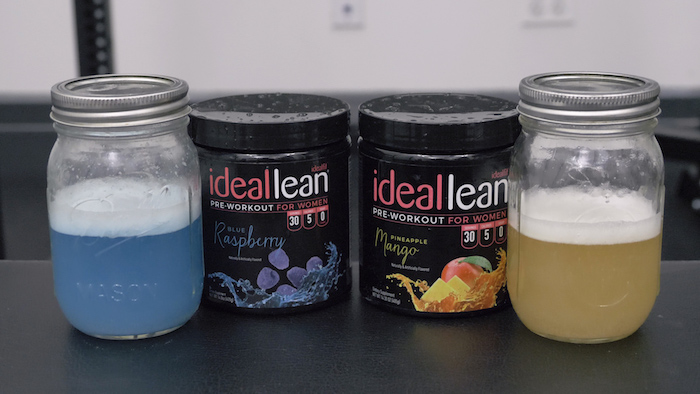 IdealLean Pre Workout for Women Benefits & Effectiveness
A clear sign that IdealLean put some thought into its female-focused formula is the lower caffeine count. The USDA puts a 4oz cup of coffee at about 90 milligrams of caffeine and a tall Starbucks coffee is about 235 milligrams. Plenty of pre workouts push 400 milligrams, but the 150 milligrams in IdealLean may be friendlier on athletes at lighter bodyweights or those who just don't like huge hits of caffeine.
Furthermore, the product includes one of our favorite (and most underrated) pre workout ingredients: theanine. Usually derived from tea, theanine helps to reduce the jitteriness and lack of focus that can sometimes accompany a big hit of caffeine. The tyrosine may also help with focus as well.
There are also a few ingredients here to help with endurance. According to research published in Amino Acids and the Journal of Strength and Conditioning Research, 1.6 to 5 grams may increase endurance in sprints and in higher rep sets of strength training.(1)(2)(3) The norvaline and the agmatine sulfate are also linked to endurance by way of increasing nitric oxide, though research is more mixed, here.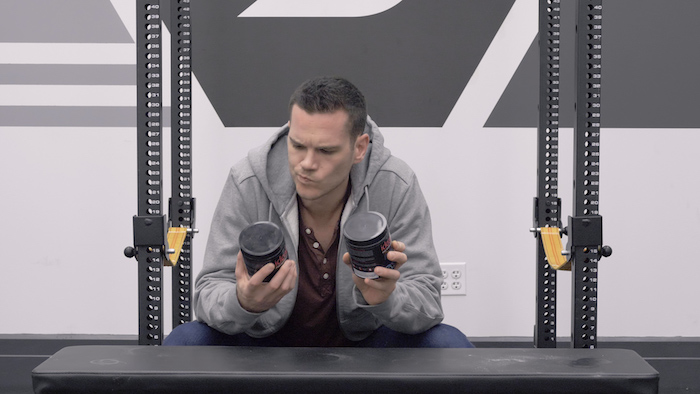 The citrulline may help with blood flow, but most studies have put an effective dose at a minimum of 6 grams, and there's just 3 grams here.(4)(5) (Though it may be useful for lighter athletes.) Similarly, the betaine has links with increased power output, but thus far research suggests you need about twice what's found in a scoop of IdealLean Pre Workout for Women.(6)(7)
The Fat Loss Blend is less convincing. The first ingredient is phosphatidylserine, an amino acid that may improve focus and reduce cortisol.(8) But usually, you take 100mg to 800mg three times a day. Similarly, CLA is a kind of fat that is often said to improve fat loss, but studies are mixed. If has an effect it's very mild, and when it's usually taken in doses of 3 to 6 grams.(9)
Finally there's the ThermoDiamine, which contains evodiamine, an extract from a berry used in Traditional Chinese Medicine that may help with burning fat. Rodent studies have shown it may be useful, but a dosage hasn't been established for people.(10)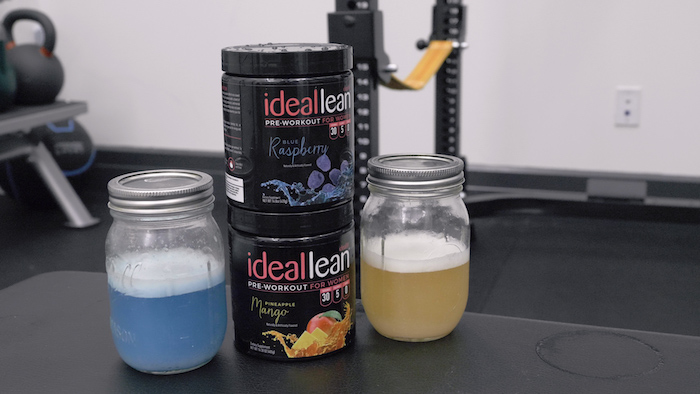 IdealLean Pre Workout for Women Price
Normally, it's $35 to $45, so about $1.33 per serving. The typical pre workout is between 80 cents and $1 per serving, so it's on the pricier side, but not by much.
That said, the product frequently goes on sale for half the price, which is an astounding deal if you can get it.
IdealLean Pre Workout for Women Taste
Blue Raspberry: You're instructed to mix one scoop with 8 to 10 ounces of water. This makes for a very strong, sweet concoction. It tastes a lot like a slightly creamy, raspberry-flavored candy. I liked it, but you may prefer to use more water.
Pineapple Mango: Both flavors have an element of creaminess that borders on waxiness. I preferred the Blue Raspberry because although I'm a big fan of tropical flavors, the Pineapple Mango tasted a little like lip balm.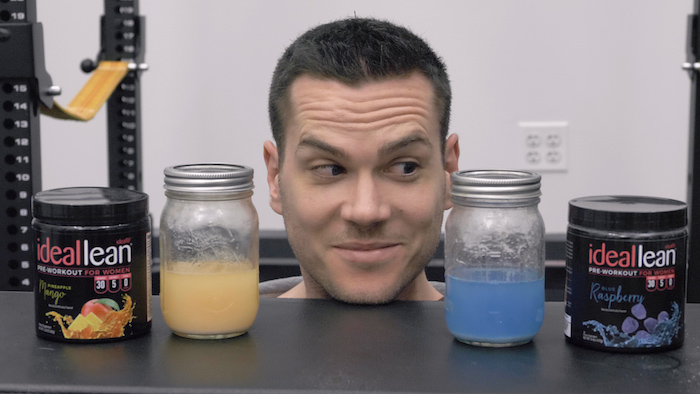 IdealLean Pre Workout Pros & Cons
Pros
Good doses of ingredients for endurance and focus
Well suited to lighter athletes
Relatively nutritious
Tasty
Cons
Has artificial flavors and sweeteners
"Fat Loss Blend" doesn't seem super effective
Slightly expensive
The Takeaway
I think this is a great supplement for energy, endurance, and focus, plus it has a lot of vitamins. I'm not that confident in the fat loss properties, but given it's a good cocktail for a more effective workout, I can see it improving results as well — particularly for lighter athletes.
References
1. Hobson RM, et al. Effects of β-alanine supplementation on exercise performance: a meta-analysis. Amino Acids. 2012 Jul;43(1):25-37.
2. Stout JR, et al. Effects of beta-alanine supplementation on the onset of neuromuscular fatigue and ventilatory threshold in women. Amino Acids. 2007;32(3):381-6.
3. Kern BD, et al. Effects of β-alanine supplementation on performance and body composition in collegiate wrestlers and football players. J Strength Cond Res. 2011 Jul;25(7):1804-15.
4. Glenn JM, et al. Acute citrulline-malate supplementation improves maximal strength and anaerobic power in female, masters athletes tennis players. Eur J Sport Sci. 2016 Nov;16(8):1095-103.
5. Suzuki T, et al. Oral L-citrulline supplementation enhances cycling time trial performance in healthy trained men: Double-blind randomized placebo-controlled 2-way crossover study. J Int Soc Sports Nutr. 2016 Feb 19;13:6.
6. Lee EC, et al. Ergogenic effects of betaine supplementation on strength and power performance. J Int Soc Sports Nutr. 2010 Jul 19;7:27.
7. Hoffman JR, et al. Effect of betaine supplementation on power performance and fatigue. J Int Soc Sports Nutr. 2009 Feb 27;6:7.
8. Kingsley M, et al. Effects of phosphatidylserine supplementation on exercising humans. Sports Med. 2006;36(8):657-69.
9. Pinkoski C, et al. The effects of conjugated linoleic acid supplementation during resistance training. Med Sci Sports Exerc. 2006 Feb;38(2):339-48.
10. Kobayashi Y, et al. Capsaicin-like anti-obese activities of evodiamine from fruits of Evodia rutaecarpa, a vanilloid receptor agonist. Planta Med. 2001 Oct;67(7):628-33.
IdealLean Pre Workout for Women
Per serving: $1.33