We receive free products and receive commissions through our links. See
disclosures page
.
IdealLean is a Utah-based fitness company that targets women with workout programs and clothing but also with supplements like protein powder, pre-workouts, and the branched chain amino acids we've reviewed.
They're actually part of IdealShape, which has a bunch of other branches including IdealRaw, IdealBar, IdealBoost, and so on. (We've checked out their plant-based IdealRaw protein powder as well.) IdealLean, though, is what they call the "best protein for women," it's "engineered for women by women," and it provides "additional ingredients women need to hit their goals — in other words, specifically designed protein for women."
So what does that mean? We tried out three different flavors of their whey to find out what's what and we discovered that it's extraordinarily delicious, completely fat free, and it has a big hit of Vitamin D for bone strength. Read on to learn more about the formulation and why it might be for you.
IdealLean Protein Shake-Broken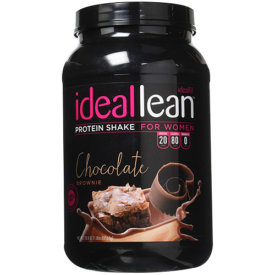 IdealLean Protein Shake Nutrition
We tried the White Chocolate Peppermint, Strawberries N Cream, Caramel Mocha, and Chocolate Peanut Butter flavors. They all had pretty much the same nutrition info, though the Chocolate Peanut Butter had 20 extra calories from two grams of fat. Here's what the average protein had, though:
Calories: 90
Protein: 20g
Carbohydrate: 1g (0 fiber)
Fat: 0g
Cholesterol: 0g
Vitamin D: 50% RDI
Calcium: 7% RDI
Besides the addition of Vitamin D, it's very remarkable that there was no fat or cholesterol here, especially as some fat free whey products still wind up with some cholesterol. Not so here.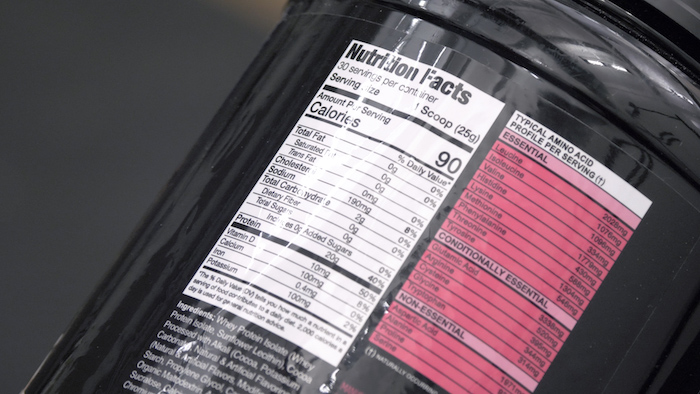 IdealLean Protein Shake Ingredients
The protein here comes from whey protein isolate, which explains the low fat and carbohydrate count.
Then there's sunflower lecithin for mixability, natural & artificial flavoring, salt, sucralose, calcium carbonate, Vitamin D, chromium picolinate, and folic acid. It's notable that there's no soy here, instead they've gone with the pricier sunflower lecithin.
Each flavor has a few extra ingredients thrown in: there's roasted peanuts in the Chocolate Peanut Butter flavor, for instance, and Caramel Mocha has some acacia gum. But this is the basic template all the flavors have.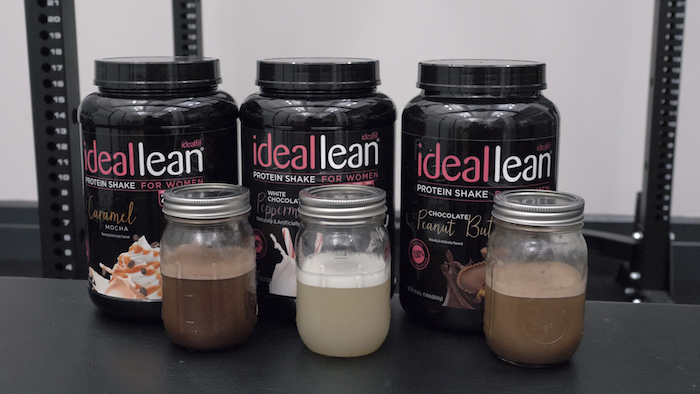 IdealLean Protein Shake Benefits & Effectiveness
The absence of fat and cholesterol really helps this product to stand out in the market, even among other whey isolates, but the question we were asking is why this is specifically formulated for women.
The lack of soy may be part of that; while the amount present in soy lecithin almost certainly has no effect on hormone levels, there are nonetheless plenty of people who try to minimize soy in their diets out of the concern that it might affect estrogen levels. (Read our guide to soy and testosterone to learn why this probably isn't true.)
Otherwise, the main things that stand out here are the Vitamin D, folic acid, and chromium picolinate. The Vitamin D is the most interesting: most people don't appear to meet the recommended daily intake of this nutrient and it's linked to improved hormonal health, mood, and bone strength.(1) Many women are advised to keep their intake consistent — it's one nutrient often recommended for female athletes — particularly as it may be a valuable component of preventing osteoporosis.(2)
We were less impressed by the other two ingredients, not because they're useless — many women are advised to supplement with folic acid for reproductive health and chromium picolinate has some links with weight loss.(3)(4) However, IdealLean made the mistake of not saying how much of them are included in a serving, so we can't make any statements about the dose's efficacy.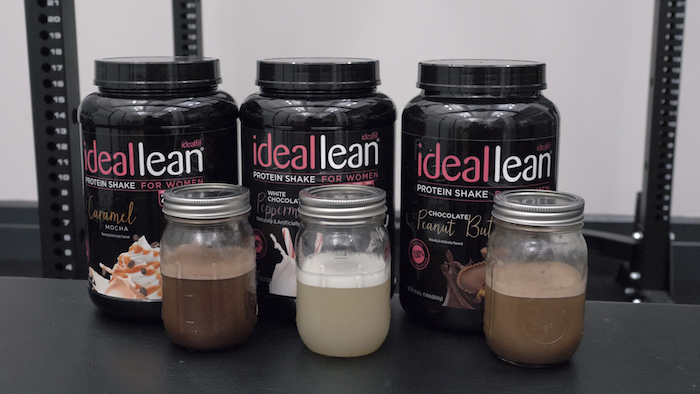 IdealLean Protein Shake Taste
IdealLean has achieved a rare feat: all of their protein shakes taste excellent with water.
Chocolate Peanut Butter: Heavier on the peanut than the chocolate, this one actually contains roasted peanuts yet it's sweet enough to taste pretty darn close to a Reese's cup.
Caramel Mocha: Legitimately tastes like a caramel mocha. The coffee makes it earthier than the other flavors, but there's a rich, brown sugar-y caramel flavor that's laid over the top.
Strawberries N Cream: Probably our least favorite of the four, it's tasty, but tastes more like melted down strawberry candy than strawberries and cream. If you don't have a sweet tooth, you may want to sit this one out.
White Chocolate Peppermint: We normally don't love minty protein but this is a great balance. The peppermint flavor isn't overwhelming and there's no mistaking the sweet, creamy white chocolate flavor either. We call this one "Christmas in a glass."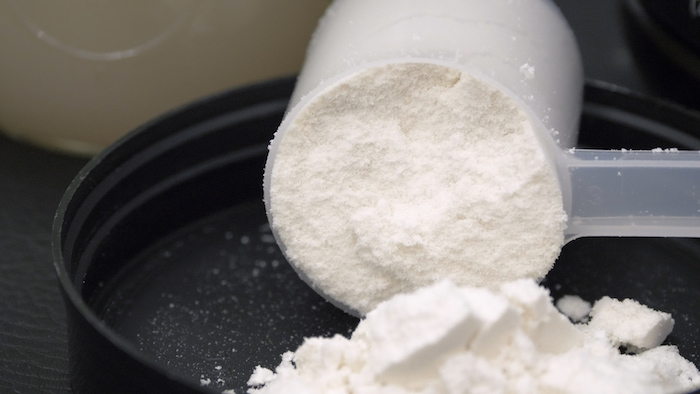 IdealLean Protein Shake Price
34 to 39 dollars for 30 servings
That's roughly $1.27 per scoop, or 6.3 cents per gram of protein.
That's on the pricy side, but it's worth remembering that it has sunflower lecithin and it doubles as a Vitamin D supplement, so you may find that price worth it.
IdealLean Protein Shake-Broken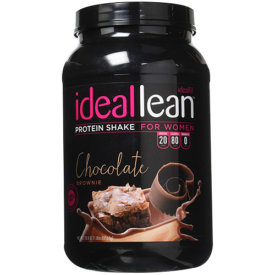 IdealLean Protein Shake Pros & Cons
Pros
Delicious
Added Vitamin D
No fat, no cholesterol, few carbs
Cons
A little pricy
Contains artificial sweeteners
No info about folic acid or chromium picolinate content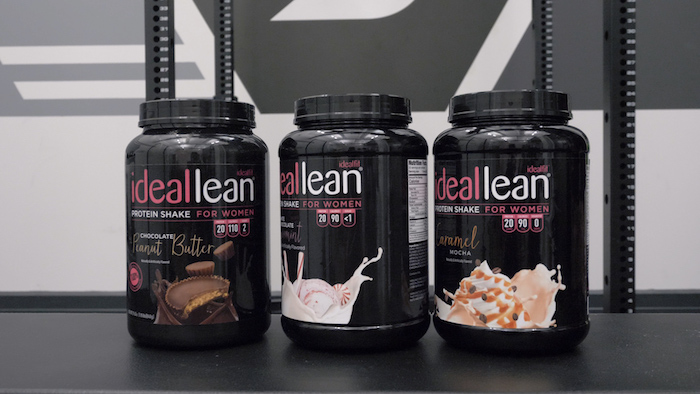 IdealLean is one of the most consumed protein shakes at the BarBend office because it tastes phenomenal, it's got a lot of protein per calorie, and it doubles as a Vitamin D supplement. It could be a little more transparent with the dosages and it's not the cheapest protein powder on the market, but IdealLean has certainly come out with a solid product — for men and women alike.
Other Great Protein Powders Reviews
Related Best Protein Powders Content
References
1. Nair R, et al. Vitamin D: The "sunshine" vitamin. J Pharmacol Pharmacother. 2012 Apr;3(2):118-26.
2. Lips P, et al. The effect of vitamin D on bone and osteoporosis. Best Pract Res Clin Endocrinol Metab. 2011 Aug;25(4):585-91.
3. Shelke N, et al. Folic Acid Supplementation for Women of Childbearing Age versus Supplementation for the General Population: A Review of the Known Advantages and Risks. Int J Family Med. 2011;2011:173705.
4. Pittler MH, et al. Chromium picolinate for reducing body weight: meta-analysis of randomized trials. Int J Obes Relat Metab Disord. 2003 Apr;27(4):522-9.
IdealLean Protein Shake
Per Serving: ~$1.30