This podcast was brought to you in paid partnership with Gravitus. We receive commissions on purchases made through our Gravitus program links. See our disclosure page for details.
As BarBend's Fitness Editor, Jake Boly has written literally thousands of articles helping people train smarter. But there's a buzzy term in strength he thinks deserves a closer look: powerbuilding. (Yep, that's "powerlifting" and "bodybuilding" mashed up into one term.) We discuss the methodology and logic behind powerbuilding, specific training elements to keep in mind for maximum impact, and why some folks can have the best of both worlds.
This episode is brought to you by Gravitus, an interactive mobile app that lets you track and record workouts written by the top minds in the strength industry.
In this episode of The BarBend Podcast, guest Jake Boly and host David Thomas Tao discuss:
What does it take to be an "accomplished" powerlifter (2:30)
Ranking powerlifting competitions (5:00)
Misconceptions and buzz around powerbuilding (6:54)
Powerbuilding as an "offseason" for strength athletes (8:27)
Famous powerbuilders on social media (10:47)
Why are strength athletes focusing more and more on hypertrophy? (14:00)
Could powerbuilding principles apply for weightlifters? (17:30)
What powerlifters and weightlifters share in common (20:20)
Specific principles in powerbuilding programs (21:49)
Selecting accessory movements (24:40)
Where powerbuilding goes from here (27:45)
Making "bro programs" smarter (29:29)
More powerbuilding principles and targeting specific muscle groups(31:00)
BarBend 10-Week Powerbuilding Program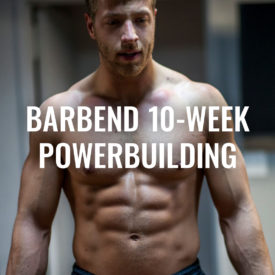 BarBend 10-Week Powerbuilding Program
The BarBend 10-week powerbuilding program is the perfect option for lifters who want to improve their strength, body composition, and overall fitness. 
Relevant links and further reading: