It might not be the halo Beyoncé was talking about, but it'll still give you a glow in the gym. The kettlebell halo may look a little unconventional, but this highly functional kettlebell exercise will be a positive ray of light for your core and shoulders.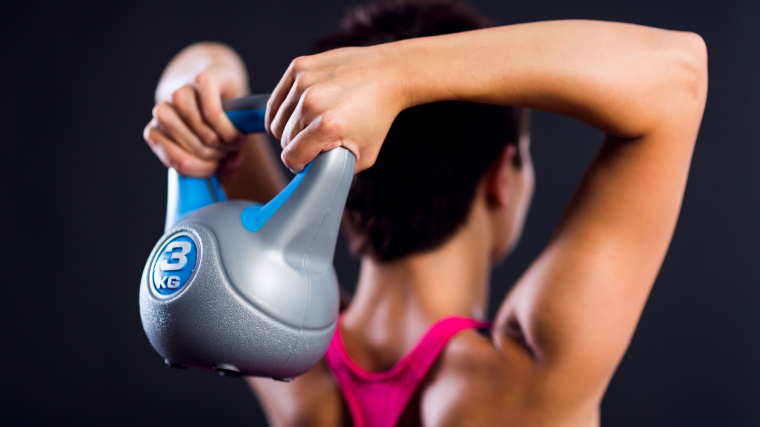 This move is an excellent ab exercise to promote core stability, while it's a solid shoulder exercise to promote steady shoulder stability. Practice the halo for a dynamic stretch, increase strength, and improve your shoulder mobility all at the same time. Here's how to do the kettlebell halo, why you should, and what other exercises can help give you similar gains.
How to Do the Kettlebell Halo
Your goal when performing a kettlebell halo is to move the bell around your head in a circle. This circle forms a halo if performed around the crown of your head, but there are several ways to approach the halo depending on your mobility and fitness goals.
Step 1 — The Set-Up
In a standing position with your feet hip-distance apart, start by holding the kettlebell bottoms-up by its horns in front of your chest.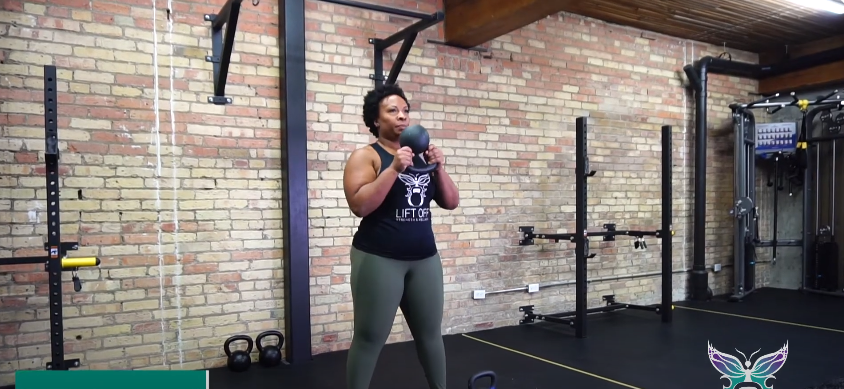 Coach's Tip: Hold the handle as close as possible to the bell with a firm grasp.
Step 2 — Begin
Start the movement by aiming the kettlebell over your shoulder like a sandbag.
Keep your eyes forward with your head and neck still. You will be looking through the space between your arms and the bell as you start.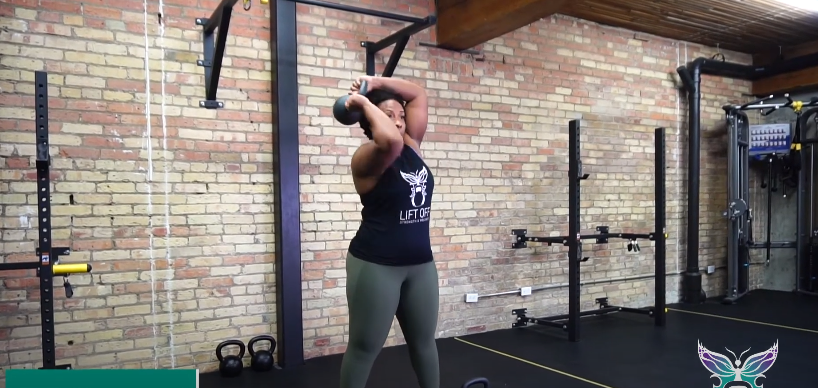 Coach's Tip: Your arms in front of you will be bent at ninety degrees.
Step 3 — Rotate
While keeping your glutes and core tight, move the kettlebell steadily around the back of your head and then pull it back over the opposite shoulder until it's back to the starting position.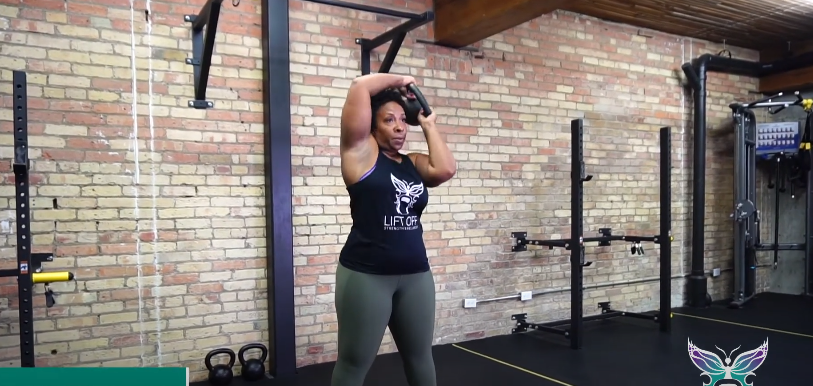 Coach's Tip: Put additional effort into tightening your core as you pull the bell forward for an extra core boost.
Step 4 — Repeat
Repeat this movement in the opposite direction. Keep your head facing forward through the whole movement.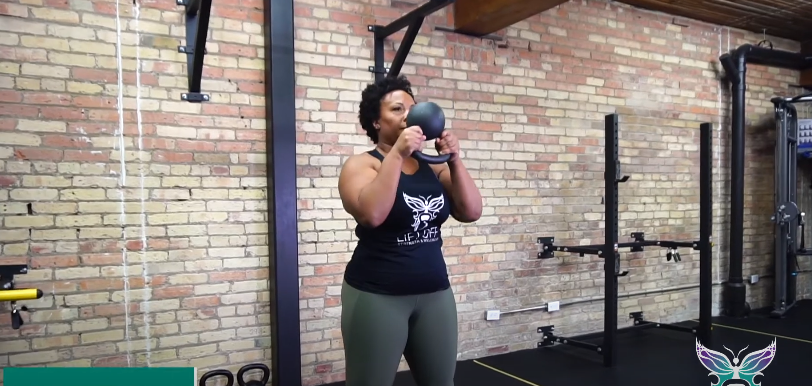 Coach's Tip: Work your way up to progressively tighter and lower circles for more intensity.
Kettlebell Halo Variations
Dynamic warm-ups prepare you to move and can improve your performance while potentially lessening the risk of injury. The kettlebell halo can be an amazing addition to your warm-up and mobility routine for buttery smooth shoulder movement. These variations are great options as you explore the halo, building your skill, strength and shoulder mobility.
High Halo
Give yourself time to get the strength to increase your range of motion in the halo by trying the high halo. You'll create a tight circle over the crown of your head.
[Read More: Learn How to Do Picture Perfect Kettlebell Swings]
Try to keep the movement smooth while moving the bell in a circle motion. Holding the bell higher requires less mobility but will challenge your shoulders, arms, and core.
Half Halo
Get into a deep stretch and start building your range of motion by using this one-side-at-a-time exercise to prepare for the full rotational movement. In the half halo, you will start with the kettlebell held with both hands bottoms up but with the horns in front of your chest.
[Read More: 5 At-Home Workouts for Strength, Muscle Growth, Power, and More]
Here, your focus is on pointing the base of the bell over your shoulder like you're throwing a bucket of water. No need to go fast — take your time and move with control. Once the kettlebell is over your shoulder, you'll pull it back to the front of your chest and repeat on the other side. Essentially, you'll be performing a halo (as in the video above), but only on one side at a time.
Seated Halo
Using this seated variation will increase your core strength while providing additional support. Sitting on a chair or bench, your feet should be hip distance apart and feet planted on the ground.
Sit tall with your back straight and tighten your core while you practice moving the kettlebell around the circumference of your head.
Kettlebell Halo Alternatives
Improve your mobility, build core stability, upper body, and rotational strength with these alternatives to the kettlebell halo. The best kettlebell workouts can be performed anywhere: in the gym, at home, at the park. All you need is you and a kettlebell. Try these exercises as a progression toward confidently exploring the kettlebell halo.
Kettlebell Around the Body
With your feet hip-width apart, use a suitcase deadlift to lift the bell off the ground. Think about wrapping your arms around your body as you pass the kettlebell from hand to hand. Keep your feet rooted and your knees soft as you build up momentum and speed.
[Read More: The 10 Best Multivitamins for Men]
Kettlebell Chop
Start this movement from a half-kneeling position. Plant your front foot in front of you, bent at ninety degrees, and bend your back leg behind you with your foot flexed and toes tucked under.
Hold the kettlebell by the horns bottoms up at chest level. Use the bell like an ax and chop down diagonally across your body from your upper shoulder down to the opposite hip. Rotate through the waist without bending forward at the hips. Bring the kettlebell smoothly back up to your shoulder across the body and repeat.
Pull Over
This is for you if you have a wide range of overhead mobility in your shoulders. Try this from a standing position.
With two hands on the kettlebell horns at chest level, press the kettlebell overhead. Once the kettlebell is overhead with straight arms, drop the kettlebell with control down toward the back of your head.
[Read More: The Best Upper Body Workouts for Strength, Muscle, Bodyweight Training, and More]
Try not to let your elbows move position. Maintain a strong posture, brace your core, and keep your glutes tight. Then pull the kettlebell back to the overhead position with a triceps extension. Reverse the press, returning the kettlebell back to chest level.
Kettlebell Halo Tips
The way to a stronger and more confident kettlebell halo is to keep it simple and be very intentional about your movements. These are some quick and easy tips for a strong kettlebell halo.
Use a Tight Grip
Hold the kettlebell with a firm grip. This will improve your grip strength, and will also increase your core engagement.
Try Multiple Kettlebell Positions
Holding the kettlebell bottoms up makes the halo much harder, as the kettlebell rotates around the back of your head. But switching it up can add variety and engagement of different stabilizer muscles while you practice.
Don't Go Too Heavy
This exercise might seem like a piece of cake, but lifting too heavy too soon or rushing the movement and then losing track of the technique can lead to muscle strains or serious injury.
Who Should Do the Kettlebell Halo
The kettlebell halo is a versatile exercise that can benefit you at any stage of your fitness journey. As a beginner, use it to build foundational core stability and improve shoulder mobility. Or maybe you're an experienced lifter. You can also use it for improved shoulder health and recovery.
Beginners
During the kettlebell halo, you will move the kettlebell in a circular motion around your head. This rotational movement helps you as a beginner to develop core stability and control, which is fundamental for more advanced movements.It also helps improve your shoulder mobility and flexibility at the same time. Learn to control the kettlebell in a circular motion to help you increase your shoulder joint stability.
CrossFitters
Do you love crossfit? If yes, then the kettlebell halo loves you. CrossFit is all about functional training, and the kettlebell halo is a functional exercise that engages the core, shoulders, and upper body. You'll need that combination of stability and mobility in your CrossFit workouts.
Olympic Lifter
Listen up, Olympic lifters. Your explosive overhead movements require a ton of stability and can put a lot of stress on your shoulders and upper body. The kettlebell halo is a useful tool for maintaining shoulder health and mobility.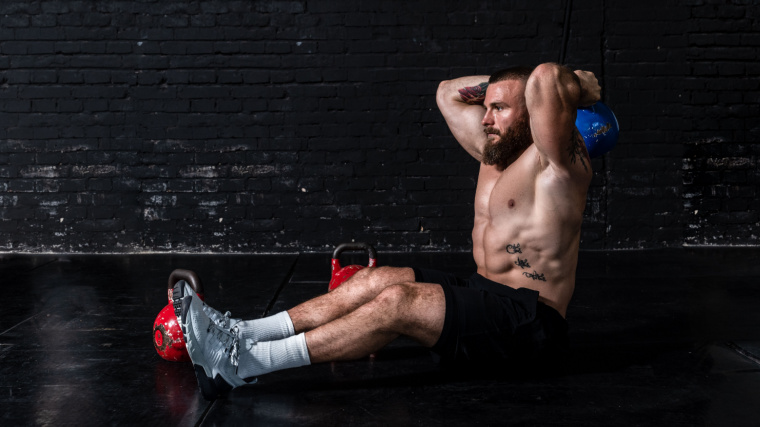 [Read More: The 12 Best Supplements for Muscle Growth]
It can help you counteract the stress from repetitive overhead lifts. Incorporate halos as part of a warm-up or cool-down routine, the kettlebell halo can aid in recovery by increasing blood flow and reducing stiffness in your shoulders and upper body.
Kettlebell Halo Sets and Reps
With the kettlebell halo, you don't want to train to failure without a spotter. Moving through multiple planes of motion with the kettlebell halo makes it challenging and great for warm ups or cool-downs. It can also be used for overall strength and endurance with the right programming.
For Warm-Ups: Do one to two sets of five to eight reps with minimal to no rest between sets. Use a light kettlebell. Focus on smooth, controlled movements and not on pushing your limits.
For Strength: Do three to five sets of five to eight reps with one to two minutes between sets. To increase your strength, you need to use a heavier kettlebell that challenges your strength but allows you to complete your reps without losing your form. Move with intention, making sure that each rep is performed with the proper technique. Emphasize the engagement of your core and shoulders.
For Endurance: This is about volume, so do three to five sets of 12 to 20 reps per set. Rest 30 seconds to one minute between sets. Use a lighter kettlebell that allows you to perform higher reps without reaching failure. Keep a steady, rhythmic pace. Your goal is to challenge your muscular endurance and maintain proper form throughout the set.
Benefits of the Kettlebell Halo
You wake up in the morning and reach your arms to the ceiling with a big yawn. It's a welcome morning stretch, but then you hear some very particular sounds, sort of like a crack-crack, pop-pop, or a squeaky hinge.
This is the moment you need to start to assess why the kettlebell halo is not a staple in your life. The kettlebell halo is like oiling those hinges, making those shoulders stronger and potentially reducing low-back pain with more core stability. (1)
Improved Mobility
If you find your shoulder joint tight, the kettlebell halo may be a solid exercise for you. The circular motion of the movement allows you to move through many ranges of motions, supporting joint health while maintaining or increasing your range of motion. (2)
Improved Core Stability
The rotational forces placed on your torso during the kettlebell halo require core engagement to stabilize your torso and maintain your upright posture while moving the kettlebell. This can lead to improved core strength and stability, which is essential for both barbell exercises and daily activities.
Increased Strength
Moving through the full range of motion of the shoulder joint makes the kettlebell halo a great exercise for strengthening the rotator cuff muscles. It is an isometric exercise that increases your time under tension.
[Read More: Nail the Front Squat for Leg Muscle and Power]
Spending more time under tension gets your muscles working for a longer period of time, which leads to muscle hypertrophy. With the right amount of rest and proper nutrition for recovery, you can build muscle for greater strength.
Muscles Worked by the Kettlebell Halo
The kettlebell halo works your shoulders, core, and back muscles. Incorporating this move into your strength training routine can help you reap the benefits of improved shoulder mobility, core strength, and enhanced mind-body connection. You do that all while simultaneously working multiple muscle groups. How's that for a little gravy on top?
Shoulders
The primary muscles worked during the kettlebell halo are your deltoid muscles. They are responsible for shoulder abduction and rotation. The anterior, lateral, and posterior deltoid heads are all engaged when you perform this exercise, making it a comprehensive shoulder workout.
Back
While the primary focus is on the shoulders and core, the triceps (the muscles on the back of your upper arms) and the upper back muscles — specifically, the upper trapezius — are also engaged to a certain extent as they assist in controlling the kettlebell's movement and maintaining proper arm position.
Core
Your core muscles, including the rectus abdominis and obliques, are heavily engaged when you perform the kettlebell halo. They play a crucial role in stabilizing your torso and preventing excessive movement, helping you maintain proper form throughout the movement.
Common Kettlebell Halo Mistakes
This is a functional kettlebell exercise where the interplay of quality and quantity makes for a fun and demanding training experience. Keeping your form intact throughout the variations and alternatives is crucial to seeing the benefits of this exercise.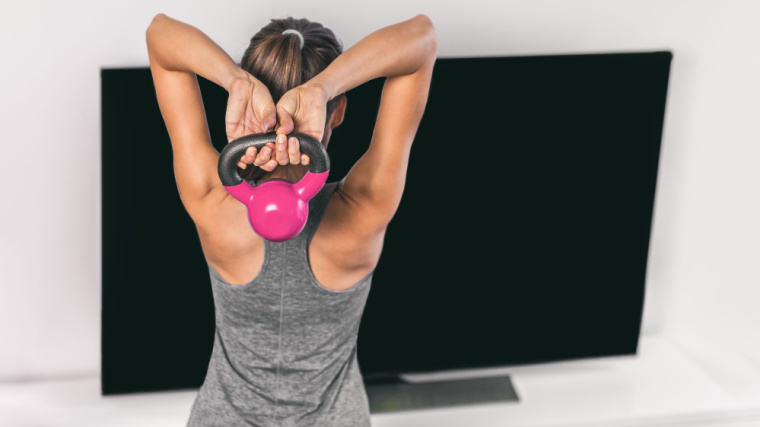 [Read More: The 12 Best Women's Multivitamins]
Don't short-change yourself with minor mishaps. Here's how to make sure you're not getting off on the wrong foot with this exercise.
Too Much Bending the Torso
Try not to bend at all during this move. The circular motion of the kettlebell creates rotational forces throughout your upper body. When you lean and sway with those forces, you no longer reap the benefits of resistance training in your core.
Resting the Kettlebell on the Body
This movement may not look like it, but it's tough. You might be tempted to pause by resting the kettlebell on your chest. Give it your best effort not to rest the bell on your body. The strength you gain for holding the kettlebell comes from time under tension while engaging your core.
Listen to your body and rest by putting the kettlebell down all the way for complete recovery between sets.
Prioritizing Speed Over Form
As your skill improves, picking up speed and building momentum is a fun way to spice up the kettlebell halo. But when you first start using this exercise, your focus should be on slow and controlled movements.
As you progress, you might start to speed up. That's fine, but even then your focus should be on smooth and controlled movements. In all cases, always ensure that each rep is performed with proper technique, emphasizing the engagement of your core and shoulders.
Form a Halo
The kettlebell halo is a fun functional exercise that can benefit everyone. Whether it's a dynamic warm-up or workout finisher for shoulder endurance, always start with a weight that suits your current fitness level and progressively increase the load as you become more comfortable with the exercise.
Consider consulting with a professional trainer or kettlebell coach to ensure that your kettlebell halo form is correct and safe, especially if you are new to the exercise or have any pre-existing conditions.
Frequently Asked Questions
This is a move that might look easy but packs in so many benefits you don't want to leave it out of your training. Here are some of the most frequently asked questions to help you enjoy exploring the kettlebell halo.
Should I do kettlebell halos with shoulder impingement?
Opt for resting your shoulder and getting medical attention from a physician and/or physical therapist. They may recommend the best way to return to light exercises to stretch the muscles in the arm, shoulder, and chest in conjunction with strengthening your rotator cuff. Ask about being cleared specifically for this particular exercise.
Can I do the kettlebell halo without a kettlebell?
Absolutely! Try it with a dumbbell, weight plate, or even household items like a jar of pasta sauce. The kettlebell adds a challenge because of its unique shape, but you can get similar benefits using other tools.
What weight should I start with?
You want to start with a light weight that you can press overhead with one arm. Your goal is to complete the movement with proper form to reduce the likelihood of injury. To get the most benefit, the weight needs to feel heavy enough that it is challenging. A little sweat goes a long way.
References
Salik Sengul Y, Yilmaz A, Kirmizi M, Kahraman T, Kalemci O. Effects of stabilization exercises on disability, pain, and core stability in patients with non-specific low back pain: A randomized controlled trial. Work. 2021;70(1):99-107.
Çelik D, Kaya Mutlu E. Does adding mobilization to stretching improve outcomes for people with frozen shoulder? A randomized controlled clinical trial. Clin Rehabil. 2016 Aug;30(8):786-94.
Featured Image: y3s0rn0 / Shutterstock