Thanks to its rugged steel frame, powerful motor, and high-tech features, the Life Fitness Elevation Series Treadmill is an outstanding solution for any home gym. Yet, some of the features you might expect in a home treadmill may be missing since this piece is designed for commercial gyms. We still think this machine's positives overshadow the amenities that are lacking.
Main Takeaways
The optional Discover SE3HD console is among the best in the industry with compatibility with Life Fitness On Demand instructor-led classes, countless apps, and more.

The powerful motor allows you to run up to 14 mph, making it ideal for

HIIT

.

The FlexDeck with DX3 lubricant-infused belt system helps protect your joints and reduces maintenance needs.
Elevation Series
Life Fitness Elevation Series Treadmill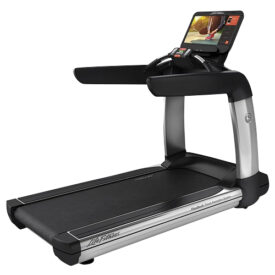 Life Fitness Elevation Series Treadmill
With top speeds up to 14mph, a quiet motor and a frame built to last, the Elevation Series treadmill is meant to be a long-lasting piece of machinery for the serious home gym owner. 
Life Fitness Elevation Series Treadmill Highlights
When it comes to features and quality, there are few treadmills that compare to the Elevation. However, there are a few omissions. If you like instructor-led classes and an enjoyable running experience, this is the treadmill for you. But, if fans, speakers, and foldability are top priorities, you'll want to pass on this unit.
Who Should Buy the Life Fitness Elevation Series Treadmill
Someone who wants an incredibly strong motor.

Anyone who is looking for premium high-tech features

Athletes who need an impressive, spacious display for watching media or tracking workouts.
Who Shouldn't Buy the Life Fitness Elevation Series Treadmill
Anyone who needs a basic treadmill.

Consumers who are shopping for a unit that doesn't take up much room.

Runners

who can't afford to own the best.
Price
There's no getting around the fact that the Life Fitness Elevation Series Treadmill is an expensive machine. The MSRP is $11,995, but you can enjoy Life Fitness On Demand's instructor-led classes for no additional charge. The treadmill is also on the pricier side because it goes faster than most, clocking in at 14 mph at its top speed. And, this model is outfitted with top-quality parts, including a rugged steel frame, powerful motor, and durable shock-absorbing deck. Additionally, the treadmill is sometimes offered at a discount, especially if you choose the Discover ST console over the Discover SE3HD.
Overall Build and Quality
The Elevation Series treadmill is a smart choice when you want a heavy-duty steel frame and strong motor. While operating quietly, the motor offers some of the fastest speeds in the industry.
Features
This model offers compatibility with Android and iOS devices, internet, television, and each of the fitness apps. Yet, it does not have a fan or speakers. On the bright side, you can join the Life Fitness On Demand classes, program your own workouts, or pick from the many pre-programmed options. You'll find all you want whether you're interested in jogging or running.
Incline range
With an incline range of zero to 15 percent, the Life Fitness Elevation Series Treadmill can help you build muscle in your legs. And, the quick button controls next to the handles allow for fast adjustments.
Speed range
The speed range is 0.5 to 14 miles per hour, and you can adjust the speed in 0.1 increments. With speeds like this, you can easily do sprint workouts on your treadmill.
Included workouts
The Elevation Series treadmill comes with a long list of workouts. Choose from the rolling hills, random hills, and manual goal classic workouts; healthy heart workouts, performance workouts for achieving your 5K and 10K goals; goal workouts based on calories, time, distance, and more; and evaluative tests, such as armed forces fitness tests.
Display
With the Elevation treadmill you have two display options: the Discover SE3HD Console, which we recommend, or the Discover ST. Both are available with 16-inch or 22-inch screens and can be used to access a broad range of interactive training courses. The main difference is the SE3HD is compatible with the AppleWatch and Samsung Galaxy Watch along with streaming apps and other entertainment options.
Speakers
The Elevation treadmill does not come with speakers. However, there is an audio jack so you can plug in your headphones or connect via Bluetooth.
Fans
This unit also doesn't have personal cooling fans. However, for a few bucks, you can pick up a fan that will likely do a better job of helping you beat the heat than the fans typically found on treadmills.
Heart Rate Monitoring
You can monitor your heart rate a couple of different ways with the Elevation. The handles can gauge your HR when you hold onto them. Or, you can use telemetry as measured with a chest strap for a more accurate reading.
HDMI, USB and Other Inputs
This model doesn't have an HDMI port. Yet, there are USB and audio jack ports so you can keep your devices charged or listen to your favorite tunes.
Bluetooth and Audio Options
In addition to the audio jack, the Elevation has Bluetooth. So, you can link your tablet, smartphone, or other mobile devices to hop in on an instructor-led class, catch up on TV, or rock out.
Water Bottle, Cup Holders, Tablet and Phone Holders
And, while you're streaming media, you can rest your tablet on the built-in rack. There are also two removable cup holders so your water or protein drink will never be far away.
Product Specs
The Life Fitness Elevation Series Treadmill comes with a powerful motor, cushioning to ease up on your joints, compatibility with most apps and streaming media, and a roomy running area. But, you need dedicated space for it since it does not fold. Plus, since it weighs 425 pounds, don't count on moving it anytime soon.
Motor Size
Whether you like long runs, interval training, or other types of workouts, the 4.0 CHP motor of the Elevation will support your goals. The AC motor featuring a MagnaDrive motor controller has a peak of 8.0 horsepower.
Running Area
The massive 22-inch-wide by 60-inch-long running surface is more than enough for unique workouts, such as side shuffling.
Weight Capacity
One of the best ways to amp up your run is to wear a weighted vest. Fortunately, the Elevation is heavy-duty enough to support 400 pounds of weight on its frame.
Folding Options
The Elevation does not fold due to its solid construction.
Footprint While In Use vs Folded
The only dimensions worth noting are the in-use footprint since this unit does not fold. It's 83 inches long by 37 inches wide by 63.5 inches high. Keep in mind that you'll want to give yourself a few feet in each direction when deciding where to install your treadmill.
Max Speed and Incline Range
The nice thing about the Elevation Series treadmill is that it can accommodate users of all types from walkers to sprinters thanks to the broad speed and incline metrics. The speed ranges from 0.5 to 14 miles per hour, and the incline is zero to 15 percent.
Electrical Requirements
You just need a grounded outlet that's 120 volts, 15 amps, and you're all set. Most outlets meet these requirements.
Warranties
Compared to other high-end treadmills, the warranty of the Elevation is relatively weak. The frame comes with a seven-year warranty. And, you get a one-year warranty on labor and mechanical.
Belt Information and Roller Size
The Elevation uses a Seigling E8 multi-ply polyester belt and features FlexDeck technology. The rollers are 3.5 inches and feature precision crowns.
Cushioning and Feel
If you have a history of knee issues, then you'll appreciate the enhanced comfort and decreased stress of the DX3 FlexDeck. It's been shown to reduce the stress put on your joints by up to 30 percent.
Workout Apps and Compatibility
When you choose the Discover SE3HD console, you'll find your Elevation Series treadmill works with FitBit, RunSocial, Jawbone, and all of the other popular fitness apps. It also has integrated TV and internet. The console works with Android and iOS devices.
Subscription Options
The treadmill comes with Life Fitness On Demand, which doesn't have any monthly fees. The instructor-led classes come in a wide array of music styles, durations, program types, difficulty levels, and instructors.
Places to Buy
While there are plenty of resellers offering refurbished Elevation Series treadmills, there are few places to track down the unit. However, you can contact Life Fitness directly for purchasing information.
Company Information
The first electronic stationary bike was developed by Life Fitness more than 40 years ago. To this day, the company continues to supply commercial and home gyms with some of the best treadmills.
Return Policy
Life Fitness lets you return products within 30 days for a refund. But, a $500 restocking fee is deducted from your refund.
Contact
Dial 800-351-3737 if you need to contact Life Fitness.
FAQs
Should I get the Life Fitness Elevation Series Treadmill or the Platinum Club Series Treadmill?
Many of the features of the two treadmills are the same. However, the Elevation Series Treadmill is able to go faster (14 mph vs. 12), but it also costs more and is a little bit larger.
Is the Life Fitness Elevation foldable?
You are not able to fold the Elevation because the deck is constructed solidly. Consequently, you might want to look at other treadmills if your home's space is limited.
What colors does the Elevation treadmill come in?
There are four colors to choose from: Arctic Silver, Titanium Storm, Black Onyx, and Diamond White.