We receive free products and receive commissions through our links. See
disclosures page
.
Nowadays, high-end treadmills might have contemporary features like a touchscreen display, Bluetooth compatibility, and a subscription to unlimited and interactive workouts. The great thing about NordicTrack's Commercial 2950 is that it offers those modern conveniences and basic functionality for everyday home use. The 2950 might cost more than some of the standard treadmills on the market, but its durability and features should make it a great investment to any home gym.
Main Takeaways
This treadmill comes with 40 pre-installed workouts and a free one month subscription to iFit's library, which features thousands of live and interactive classes. 

The 2950 is equipped with a 4.25 horsepower motor that provides runners top speeds of 12 miles per hour and both incline and decline gradients.

While it will give users a spacious running area, this treadmill can be folded to save space in your

home gym.
NordicTrack Commercial 2950 Treadmill Highlights
With 40 pre-loaded classes and an iFit subscription with endless running programs, the 2950 gives its users many opportunities to vary their runs. Its 4.25 hp motor is one of the more powerful in NordicTrack's line of treadmills and can help to support many users no matter how long or how fast they run. The 2950 is built with an all-steel frame to sustain up to 300 pounds and a cushioning system that can be switched on or off with the simple turn of a lever.
Commercial 2950
Nordic Track Commercial 2950 Treadmill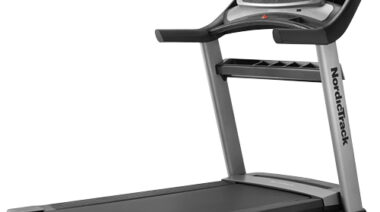 Nordic Track Commercial 2950 Treadmill
Whether they're selecting a class already included on the treadmill or from the iFit app, runners can enjoy the sleek and sharp graphics of this treadmill's 22-inched HD touchscreen display. 
Who Should Buy the NordicTrack Commercial 2950
If you live in a house full of runners. NordicTrack designed this home treadmill with commercial use in mind and the iFit subscription allows for up to five user profiles.

Athletes training for

marathons

and outdoor competitions as the option to decrease the cushioning of the belt can help the treadmill's surface mimic different terrains.

People who prefer

working out at home

.
Who Shouldn't Buy the NordicTrack Commercial 2950
Folks who want a more standard treadmill and don't need to spend the extra money on high tech features.

Runners wanting a treadmill with a higher weight capacity.
Price
The 2950 is available on NordicTrack's website for $2,999 and can be bought from other sellers on Amazon for up to $4,738. Most standard treadmills will range between $1,000 to $2,000 but the price of the 2950 takes into account all of its high-tech features and its powerful motor.
Overall Build and Quality
The 2950 is a solid treadmill built to be stable. Its all-steel frame is powder-coated to resist rust and its uprights are supported by two arms that sit under the deck for more security. The side rails are textured and angled in so that runners can get on and off the tread safely.
Features
The NordicTrack Commercial 2950 is a treadmill that serves many different runners. With so many variables to choose from like incline range to whether they want to set their fans on high or low speed, this treadmill can help users create a running experience that best meets their needs and goals.
Incline Range
The 2950 allows runners to set their treadmill in both incline and decline modes. The incline can be set as steep as 12% or at a low gradient of -3%. Having the ability to create both uphill and downhill training can help users engage their glutes and hamstrings for a leg workout sure to burn more calories in comparison to running on a flat surface. Adding inclines to this treadmill will definitely come in handy throughout many of the exercises the 2950 offers.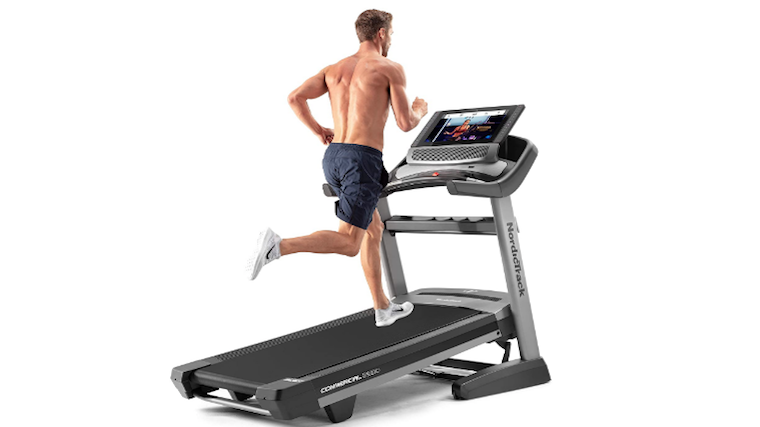 Speed Range
This treadmill provides users with many speed options. With a 4.25 hp motor, the 2950 can hit top speeds of 12 mph for sprinters wanting to boost their metabolism and stamina. It can also accommodate those looking to use the treadmill for walks or light jogs, as the 2950 can run as low as 0.5 mph.
Included Workouts
Aside from the iFit subscription, the 2950 already comes with 40 pre-installed workouts. Runners can select outdoor routes created through Google Maps with images of the actual landscape. The treadmill is programmed to mimic all of the routes' peaks and valleys so the user can feel like they are actually running on the terrain.
The 2950 also includes some of the classic routines avid runners might be used to like a fat burn program, interval training, and speed workouts. Users can also create their own routines through manual mode.
Display
NordicTrack wants to create a truly immersive experience for runners and they do so with the help of this treadmill's display. The 22″ touchscreen display is vibrant, and crisp. It's easy to use and placed front and center so the runner feels even more engaged in the classes. A white bar across the top of the screen will provide readouts of the runner's metrics that include incline, vertical feet climbed, elapsed time, time remaining, calories burned, distance, ¼ mile track, lap number, speed, pace, and heart rate.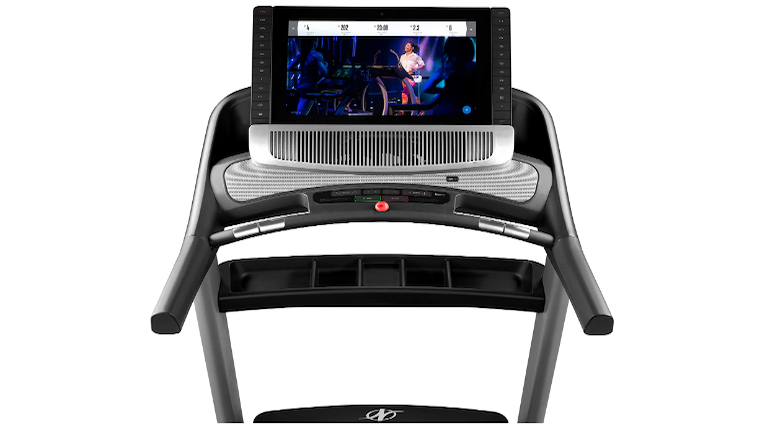 For those sweaty workouts that might make the touchscreen display a little difficult to use, runners can utilize the OneTouch buttons on the side of the display or the control panel located below the speaker to adjust their incline and speed. The quick select controls on the side of the display will change the incline and speed by full levels while the control panel will help runners increase and decrease the treadmill's incline by 0.5% increments and speed by 0.1%. The control panel also includes buttons for volume, fan, start and stop, and an emergency key.
Fans
The 2950 provides not one, not two, but three cooling fans. Two of the fans are located below the display while the other is part of the accessory tray under the console. The fans can be set to low, mid, high, and auto speed.
Heart Rate Monitoring
Runners can monitor their heart rate by grabbing EKG pulse grips on the 2950. This grip monitoring system is located on the bar right below the control panel. This model also includes a chest strap heart rate monitor while older versions of this treadmill will require you to buy the accessory separately.
HDMI, USB, and Other Inputs
Unfortunately, this treadmill does not provide a USB port. Runners will have to make sure they have a fully charged phone when they workout on the 2950, especially if they want to use Bluetooth or the AUX cord included on the treadmill to play music through the speakers.
Bluetooth and Audio Option
The 2950 allows runners to use Bluetooth to sync music playing from their smart devices through the treadmill's soundbar. The latest upgrade also enables runners to listen to the audio of the workout videos playing on the 2950 through Bluetooth compatible headphones.
Water Bottle, Cup Holders, Tablet and Phone Holders
There are two water bottle holders on each side of the display, as well as a very slim shelf in front of the display where users can place their phones or tablets if they want to watch a show or read while they run. For even more storage, an accessory tray is located below the console.
Product Specs
With a motor more powerful than those found on basic treadmills and a belt designed to resist consistent foot impact, the 2950 is a treadmill runners can depend on. The option to fold the treadmill will serve many homeowners who want a durable piece of fitness equipment that won't take up too much space.
Motor Size
The 2950 is equipped with one of the strongest motors in NordicTrack's line of treadmills. Its 4.25 hp motor is just like the motors found in NordicTrack's incline trainers and allows the treadmill to provide both incline and decline modes for runners.
This powerful motor is also implemented with heavy use in mind. It is designed with self-cooling technology so the 2950 can withstand long sessions and heavier runners without overheating. This can result in reduced vibration and noise for a much smoother and quieter run.
Running Area
This treadmill offers users a generous amount of running space. Its 22" belt is wider than some other treadmills on the market that have treads that range from 18" to 20". This wide belt can provide runners some wiggle room to try different lateral movements. At the same time, its 60" length can benefit runners with long strides and to help prevent foot contact with the motor's hood.
Weight Capacity
The 2950 can support up to 300 pounds. Shoppers looking for a higher weight capacity might be interested in the Sole F65 since it is also a foldable treadmill and offers a 22" x 60" running area.
Folding Options
With all its running space and hefty build, this treadmill can be folded to create more living space. Folding the treadmill is made easy through the EasyLift Assist feature. Users can grab a bar under the deck to lift it, while hydraulics help the platform fold and lock in place. The hydraulics will also lessen the deck's speed as it unfolds so it can gently land on the floor. Users can unlatch the treadmill by pressing their foot against a release bar under the deck.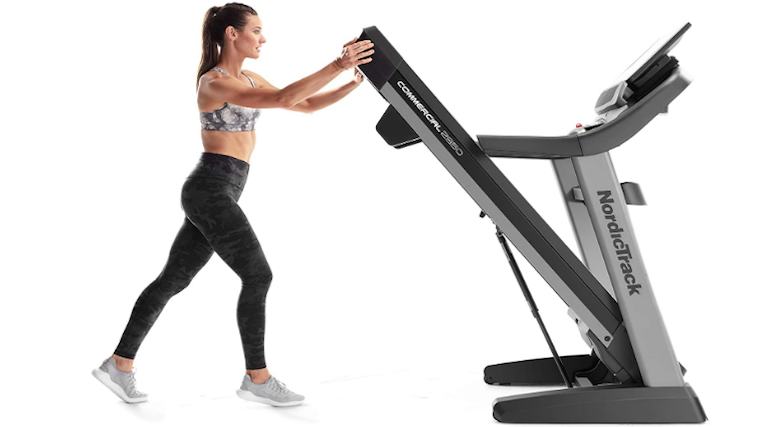 Footprint While In Use vs. Folded
While in use, the 2950 has a footprint of 79.5" x 39.2" x 66.6". When folded, the footprint is reduced to 41.9" x 39.2" x 70.7". Its folded footprint can create more floor space in your home gym so that you can perform other movements like squats, situps, and kettlebell workouts.
Electrical Requirements
This treadmill requires a 120-volt outlet. While this type of outlet can be found in many homes, it is recommended to use a surge suppressor to help prevent damage to the treadmill.
Warranties
NordicTrack offers coverage on the frame, parts, and labor of the 2950. The frame is protected for 10 years, while the parts have a two-year warranty. Buyers also get labor coverage for one year.
Belt Information and Roller Size
This tread is made out of two-ply material that creates a nice textured running surface. This durable belt will glide over a 2.5-inch roller located at the top and bottom of the deck. Big rollers such as these can help extend the life of the belt and reduce wear and tear.
Cushioning and Feel
Runners can control how much cushioning they want on the belt of the 2950. This treadmill is designed with a RunnersFlex cushioning system that can be turned on and off. When it's on, a metal bar across and underneath the deck will reinforce the platform so that it doesn't give so much flex. When it's off, the bar will unlock its hold so the deck can provide more bend. Having the cushioning system turned off can reduce foot impact and help runners prevent injuries. Turning it on will create a surface similar to running outdoors and can benefit those looking to train for a marathon.
Workout Apps and Compatibility
Buyers of the 2950 can maximize the use of their treadmill with the iFit subscription. Runners can sign up for live classes or select a program from the thousands included in the iFit library. Runners can choose an in-studio class led by a personal trainer, or they can follow them as they run along an outdoor route anywhere in the world (technically, of course). Users can walk, hike, jog, and sprint throughout many of the running programs that include a beginner's incline series, walking tours, and a featured workout of the day, just to name a few.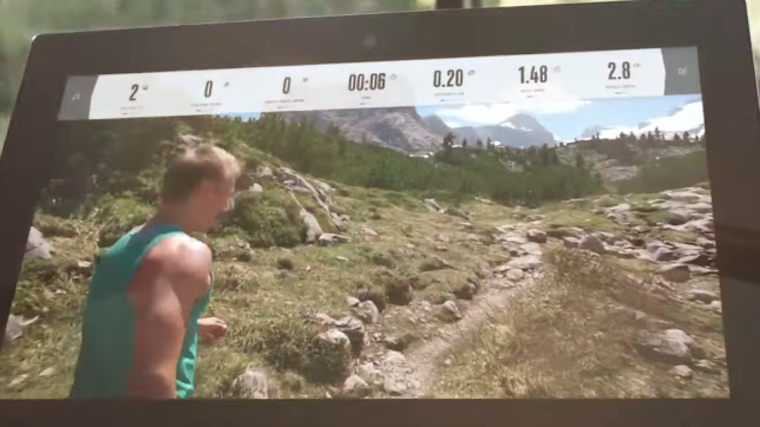 iFit will provide users with plenty of running programs and give them more variety with cross-training classes that incorporate strength training, HIIT, yoga, and stretching. This can be an easy way for runners to shock the body so that it doesn't plateau and to implement active recovery. In addition, users will be able to see a log of their workouts, stats, and where they land on the leaderboard compared to other runners taking the same classes as them on iFit.
Subscription Options
iFit is free and included with the purchase of the 2950 for 30 days. If buyers want to continue their subscription after the month is up, it will cost $39 per month.
Places to Buy
This treadmill can be purchased online from NordicTrack and Amazon. Best Buy's website states they can have the 2950 in stock but potential buyers might have to contact a location to see if they have it available for purchase since it can't be bought online.
Company Information
NordicTrack wants to reinvent how people workout from home. They specialize in creating high-quality fitness equipment with interactive classes and modern features.
Return Policy
Buyers will have 30 days to test the 2950 and see if it's the best treadmill for them. If they're not satisfied, they can return the treadmill and pay a $250 shipping fee and a 10% restocking fee.
Contact
NordicTrack can be contacted at 1-888-308-9616. Buyers can also chat with a NordicTrack representative on their website's messaging system.
Wrapping Up
NordicTrack's Commercial 2950 treadmill combines modern features and everyday functionality to serve runners whether they're going for a quick run or want to be immersed in a walking tour across the world. While the 2950 might be pricey for some budgets, its tech and overall build make it a top contender amongst many of the best treadmills and will provide many runners with a long-lasting treadmill they should enjoy for a long time.
FAQs
Why does the NordicTrack 2950 cost more than the 2450?
While both the 2950 and the 2450 include a free iFit subscription for one month and a running area measuring 22"x60", the 2950 has a bigger screen and a more powerful motor than the 2450. It is also compatible with Bluetooth headphones which the 2450 is not. 
Is the 2950 easy to move?
This treadmill weighs 337 pounds so it is a bit heavy. It is easier to move once it is folded and the wheels in front of the deck are engaged.
Is the iFit app only available on the treadmill?
No. You can download and use the same iFit subscription on your phone. This way you can access all of its workouts and your stats anywhere and anytime.