The Life Fitness Platinum Club Series Treadmill brings the gym experience to your home with several high-tech features designed to enhance your running experience as well as a durable motor and frame built to last. With its commercial focus, it doesn't have some features you find in other home treadmills, but positives far outweigh the negatives with this heavy-duty machine.
Main Takeaways
The Platinum Club's FlexDeck Shock Absorption System reduces the stress put on your joints.

The treadmill is compatible with most fitness apps to allow you to track your workouts and stats. 

The 19-inch screen can be used to stream Netflix, follow built-in workouts, tune in to instructor-led Life Fitness On Demand workouts, and more. 
Life Fitness Platinum Club Series Treadmill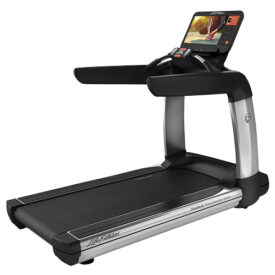 Life Fitness Platinum Club Series Treadmill
The Platinum Club is the treadmill for you if you want a powerful motor, smart compatibility, easy stat tracking using an array of apps, cushioning for your joints, and more.
Life Fitness Platinum Club Series Treadmill Highlights
The Platinum Club offers a lot in the way of quality and features, but there are a few notable features that are absent. This treadmill will fit the bill when you're looking for a workhorse that's enjoyable to use and has access to instructor-led classes. However, you may want to look elsewhere if you need a unit you can fold up or want speakers and fans.
Who Should Buy the Life Fitness Platinum Club Series Treadmill
Athletes who want premium high-tech features.
Anyone who needs an extremely powerful motor.
Someone who is looking for a large, impressive display screen for tracking workouts or streaming media.
Who Shouldn't Buy the Life Fitness Platinum Club Series Treadmill
Runners who are shopping for a basic, no-frills unit.
Consumers who are susceptible to sticker shock – this is an expensive machine.
Anyone who has limited space since the Platinum Club doesn't fold.
Price
The Life Fitness Platinum Club Series Treadmill is on the pricier side. It retails for $9,449 and offers the performance and technology you'd expect from a commercial treadmill you might find at a gym. And, as you might expect with such a price, you can stream instructor-led classes with Life Fitness On Demand.
Overall Build and Quality
If you're looking for a powerful treadmill with a rugged steel frame, the Platinum Club is an outstanding solution. The motor is one of the strongest in the industry and offers typical speed and incline ranges without loud operation.
Features
Though it's missing speakers and a fan, the Platinum Club more than makes up for it with compatibility with all popular fitness apps, TV, internet, iOS, and Android. You can choose the preprogrammed workouts, program your own, or join the instructor-led classes with Life Fitness On Demand. Whether you're going for a short jog or a long run, this machine has all you need.
Incline range
The Life Fitness Platinum Club Series Treadmill has an incline range of zero to 15 percent. One of the cool features is that you can program the machine to remember up to three of your favorite incline positions for quick adjustments.
Speed range
This model gets up to 12 mph. And, like with the incline, you can program it to remember the walk, jog, and run speeds that you use most often, which is nice when you're exhausted and just want to press one button to adjust the speed.
Included workouts
The Platinum Club comes with 42 workout programs preloaded as well as eight custom workouts. The built-in workouts include goal-setting, interval, calorie-burning, timed, distance, manual, and standard hill workouts. Or, you can try fitness tests, such as physical efficiency battery and armed forces fitness tests.
Display
The Platinum Club Series has one of the best displays on the market. The Discover SE3 HD Console features a 19-inch touchscreen display that you can use to access apps, the internet, and TV. Plus, it tracks all of the standard workout metrics, such as heart rate, time, speed, and calories burned.
Speakers
Since the Platinum Club is a high-end treadmill designed for use in gym settings, it doesn't have speakers. However, you can plug in or use Bluetooth to hear your favorite jams, listen to the latest episodes of your shows, or to catch what instructors are saying.
Fans
Another feature this model is missing is fans. If you want to cool down while putting in the miles, you'll have to use your own.
Heart Rate Monitoring
You can either use the Polar telemetry chest strap or the handlebar sensors to track your heart rate. Of the two options, the chest strap is more accurate. The company's Lifepulse technology uses digital signal processing to perform frequency and filtering analysis for more reliable measurements.
HDMI, USB and Other Inputs
The built-in USB port lets you charge your devices while on the run, and since there aren't any speakers, you can plug into the audio jack.
Bluetooth and Audio Options
Whether you need your favorite video streaming service or pump-up music to get through your workout, you can sync your tablet, phone, or other mobile device to the Platinum Club's Bluetooth. And, there's an audio jack for plugging in the old-fashioned way.
Water Bottle, Cup Holders, Tablet and Phone Holders
The Platinum Club Treadmill comes with two removable water bottle/cup holders, an accessory tray for holding your devices, and a reading rack for perusing your latest mags or checking out a personal development book.
Product Specs
The Platinum Club comes with cushioning to reduce your joint stress, a large running area, a powerful motor, and compatibility with a broad range of media and apps. However, it doesn't fold so you'll need to dedicate significant space for it. And, once it's installed, don't plan on moving the massive 444-pound unit anywhere as it may well be the cornerstone of your home gym.
Motor Size
The Platinum Club is a beast with its 4.0 CHP motor that can support interval training, long runs, and more. And, when it's at its peak, it can get up to 8 HP without making excessive sound. This is a must when you live in close proximity to others or want to sneak in a morning run before your housemates or family wake up.
Running Area
If you need a little extra space when side shuffling or performing other workouts, this model's spacious 60-inch by 22-inch running area should suffice.
Weight Capacity
This machine can handle a hefty 400 pounds, which makes it ideal for hauling heavy weights with you as you put in the steps or if you are a larger individual.
Folding Options
The Platinum Club is solidly built and does not fold.
Footprint While In Use vs Folded
Since this treadmill doesn't fold, the only dimensions to note in this category is its in-use size: 37 inches wide by 80 inches long by 62.25 inches high. When thinking about where your Platinum Club will live, remember to give yourself a few feet in all directions.
Max Speed and Incline Range
The strong frame of the Platinum Club can support speeds of up to 12 mph and inclines up to 15 percent. Only world-class runners will need something more powerful.
Electrical Requirements
If you have the usual 120-volt, 15-amp grounded outlets in your home, then you're all set. This is all the electrical requirements this machine needs.
Warranties
The Platinum Club comes with a solid warranty: lifetime on the motor, shock absorbers, and frame; 10 years for parts; three years for the console; and one year for labor. For additional cost, you can extend the warranty on the console and labor.
Belt Information and Roller Size
Whether you're going for a stroll or busting out sprints, the 3.5-inch rollers keep the sturdy deck steady and rolling without the need for regular waxing.
Cushioning and Feel
The FlexDeck Shock Absorption System is designed to provide improved comfort and decreased stress on your knees and other joints by up to 30 percent. This is a godsend if you've previously injured your knee and want to build your strength through running workouts.
Workout Apps and Compatibility
The Platinum Club is compatible with all of the most popular fitness apps, including RunSocial, FitBit, Jawbone, etc. It has integrated internet and television. And, you can use it with all the latest iOS and Android devices.
Subscription Options
The Life Fitness On Demand offers all of the benefits of subscription services without the additional monthly charges. You can enjoy on-demand classes on your schedule. There's a wide variety of classes that cover different difficulty levels, program types, durations, instructors, and music styles.
Places to Buy
You can buy the Platinum Club at the Fitness Outlet, Exercise Warehouse, or through Life Fitness directly.
Company Information
With over 40 years in the industry, Life Fitness developed the first electronic stationary bike. Since then, it's become one of the top names in treadmills for commercial and personal use.
Return Policy
Life Fitness offers a 30-day money-back return policy. However, the company does deduct a $500 restocking fee from your refund.
Contact
To get in touch with Life Fitness, you can call 800-351-3737.
FAQs
Is the Platinum Club foldable?
Due to the heavy-duty construction of the deck, the Platinum Club is not foldable. So, if you have limited space in your home, you may want to consider a different treadmill.
Is the Platinum Club worth it?
Our short answer is yes. With its long warranty, quality construction and materials, history of reliability, and suite of technology features, including the 19-inch screen, there's a lot to love about the Platinum Club. However, if you are on a budget and only plan on using your treadmill casually, you may want to look elsewhere.
Does the Platinum Club come fully assembled?
This depends on where you live. For the most part, the Platinum Club doesn't come assembled. However, for a fee, which may be built into the price of the unit depending on where you order from, professionals will come into your home and put the unit together for you. If this is available in your area, we strongly encourage you to use this service.