Old School Labs is one of the fastest growing supplement companies online and as the name suggests, they're pretty dedicated to an old school manliness vibe. Their logo is a moustachioed dude with a '70s haircut and the brand sponsors boxers, NFL athletes, and Golden Era bodybuilders.
We've tried their preworkout but here we're taking a look at their "3-in-1 Essential Muscle Builder" called Vintage Blast. Here's what's in it.
Best All-Natural
Old School Labs Vintage Blast Preworkout
Old School Labs Vintage Blast Preworkout
This two-stage pre-workout also doesn't contain any artificial ingredients and comes ina delicious Blueberry Lemonade flavor.
Old School Labs Vintage Build Ingredients
There are three main ingredients in one serving: three grams of creatine monohydrate, two grams of glutamine, and five grams of branched chain amino acids. The BCAAs are in a 2:1:1 ratio, meaning there are 2.5 grams of leucine and 1.25 grams each of isoleucine and valine.
The other ingredients are mostly natural flavorings like malic acid and stevia, plus some cherry red powder for coloring and silica as an anti-caking agent.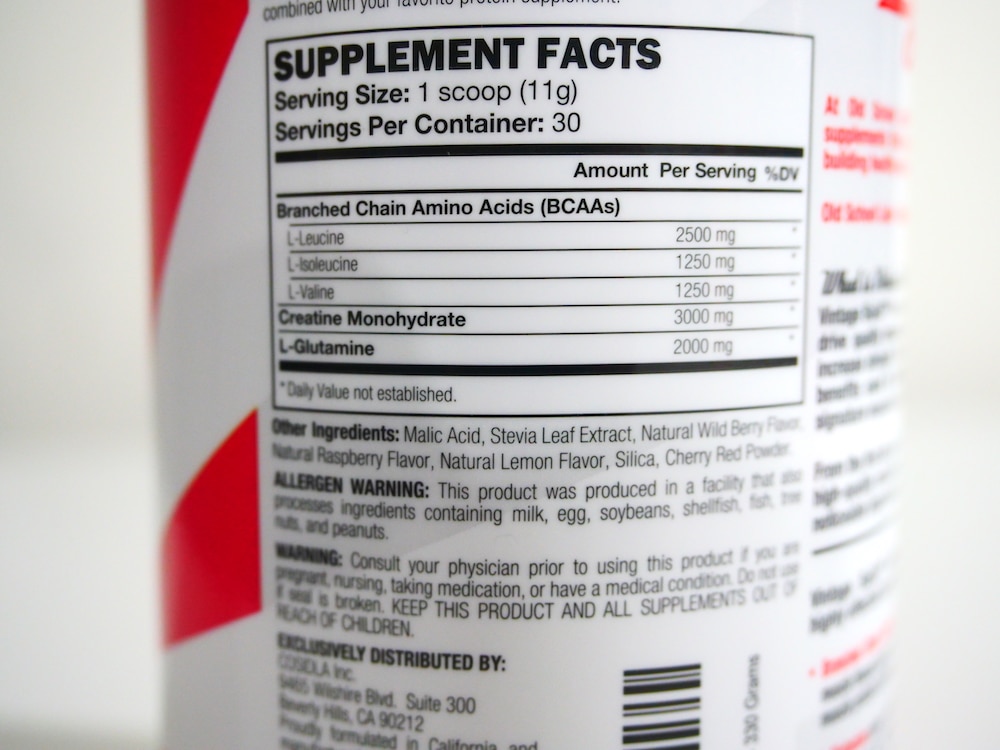 Old School Labs Vintage Build Benefits and Effectiveness
This creatine brand is perhaps the most well known ingredient in the mix. It's widely used for its effects on muscle size, power output, and endurance, in addition to potential mental benefits. Creatine monohydrate is the most popular and well-researched form of the stuff.
Then there are the branched chain amino acids, which may help to stimulate muscle protein synthesis and preserve muscle. They may be especially useful when taking long breaks between meals or when exercising on an empty stomach. During workouts, they may also enhance endurance and focus.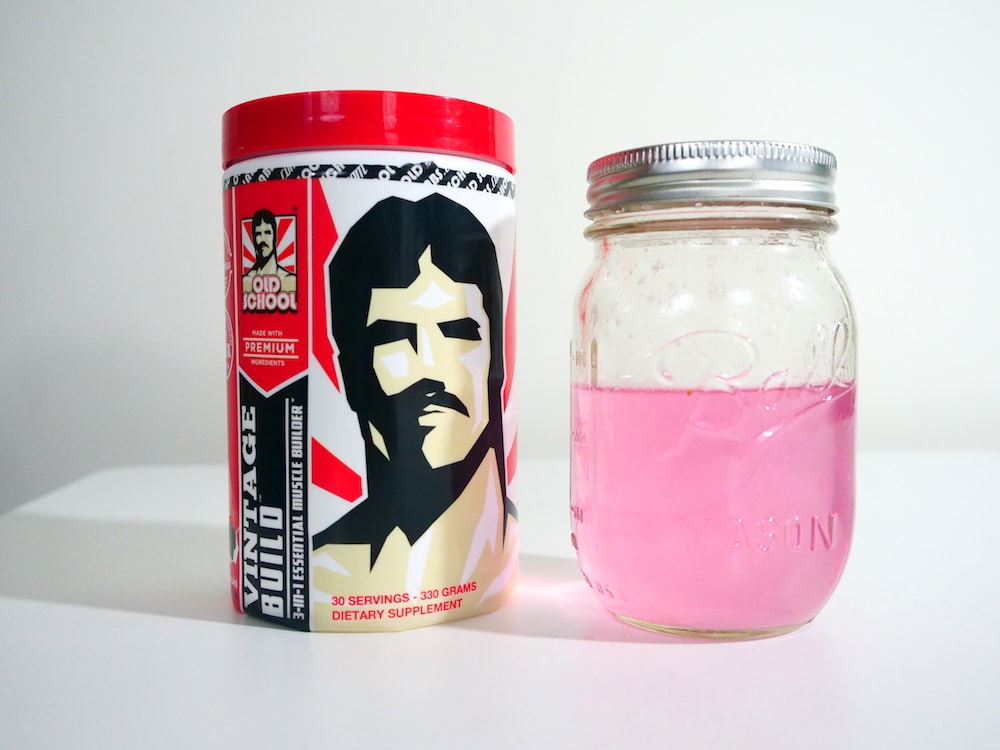 The glutamine is a little more controversial. Vintage Build's packaging claims that it "reduces muscle breakdown, supports cells, and acts as a muscle protector." A potential issue is that there's not really good data to support this among healthy humans. It might improve performance in really long workouts, as in two or more hours, but it's already the most abundant amino acid in the body and when you consume it as a supplement most of it gets stored in the gut and doesn't make its way to muscles, at least not for your upcoming workout.
It's worth pointing out that the dosages are also pretty low in this product. A standard dose of creatine is five grams (as opposed to three) and BCAAs are more effective in doses of seven grams (as opposed to five). This issue can be solved by taking a larger dose, of course.
It's also notable that this product was produced in a certified Good Manufacturing Practices facility, meaning the manufacturing is meant to abide by processes outlined by the FDA to ensure purity, plus it's third party tested for purity and banned substances by Eurofins Scientific and they're certified by NSF. As far as quality control goes, Old School Labs is among the best of the best.
That said, the packaging emphasizes that the facility also handles common allergens like peanuts and shellfish, so people with extremely sensitive allergies may want to steer clear.
Old School Labs Vintage Build Price
You can pick up 30 servings for $40, or $1.33 per serving. That comes to 44 cents per gram of creatine, which is expensive — it's not hard to find creatine for 4 cents per gram. Of course, you're paying extra for the BCAAs and the glutamine, but these are both very cheap supplements and it's hard to see why one scoop is so expensive. That is, unless you really value the natural flavorings.
Old School Labs Vintage Build Taste
I tried the Fresh Berries flavor, and I wasn't a huge fan. Despite the stevia, malic acid, and flavorings, it's not at all sweet — if anything, it's bitter. I wasn't expecting an overwhelmingly candy-like flavor as I would with a product that has artificial sweeteners, but I was still thoroughly underwhelmed by the taste.
The Takeaway
I wasn't super crazy about Vintage Build. It's relatively expensive, the doses are low, and the taste is subpar. It's made in a cGMP facility and it's third party tested so there's a lot of quality control, and I did like that there were extra BCAAs.