The world's most popular whey protein powder versus the top selling bodybuilding supplement company in the United States. Who comes out on top?
At this point, Optimum Nutrition's Gold Standard is more or less the default protein powder. It's sold in about 10,000 locations in the United States alone, is distributed to dozens of countries worldwide, and is available in dozens of flavors as well. It's owned by the cheesemaking giant Glanbia — which is why they get access to so much inexpensive whey — and gets great marks by third party testers for label accuracy.
MuscleTech, meanwhile, is the nation's top selling bodybuilding supplement company and it has the unusual tactic of running many different kinds of products under different product lines. They have the Performance Series, Lab Series, Essential Series, and Pro Series, all of which have their own whey powder. For this comparison, we decided to go with their Premium Gold Whey from their Pro Series.
Both brands came up with Double Rich Chocolate flavors. Here's what we thought.
Optimum Nutrition Gold Standard Whey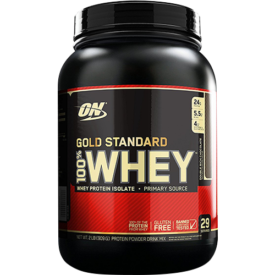 Optimum Nutrition Gold Standard Whey
The market's most popular whey lives up to its reputation as a solid all-rounder with a huge variety of flavors to choose from. It includes 24 grams of protein in each round scoop and mixes well with milk or water.
MuscleTech Pro Series Premium Gold Whey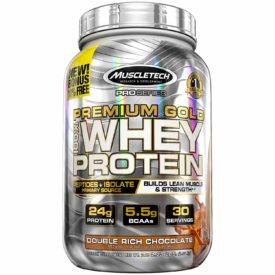 MuscleTech Pro Series Premium Gold Whey
A blend of three types of whey protein that's surprisingly tasty with water.
How We Decide the Best
So what's our methodology — how do you weigh whey? We don't just taste it and call it a day, we fully immerse ourselves in all the specs so that you can make the right decision for your needs.
Nutrition
The actual protein content of your protein powder is pretty darn important, so we like to refer to how much protein you get per calorie — the closest you can get to "pure protein" is 4 calories per gram, and many brands aim for that number.
Then, of course, there's everything else: the carbs, the fat, the saturated fat, the sodium, and other vitamins & minerals. Some folks like a lot of cholesterol, others none at all. You'll have enough info to make the right pick for you.
Ingredients
The type of whey is important: whey concentrate will keep the cost down, but it's got plenty of carbs and fat. Whey hydrolysate might be better for athletes that work out at a high frequency, but boy is it pricy!
Then there are the additives: soy, gums, artificial sweeteners, and digestive enzymes, all of which have their own pros and cons based on your goals and sensitivities.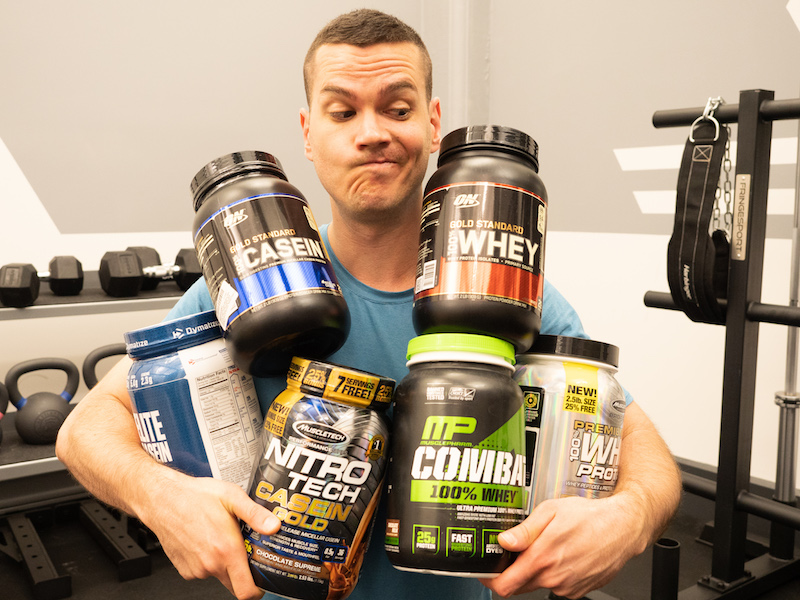 Price
Since products vary considerably in not just how much protein they provide but the size of the scoop, we judge these supplements based on cents per gram of protein. After all, protein is usually what people buy protein powders for.
Taste
Here at BarBend, we go beyond "yum" and "yuck." Is it creamy? Is it chalky, gritty, sticky, clumpy, bitter, earthy, sweet, sickly? There are a lot of ways to like and dislike low-cal products and boy, we've experienced them all.
Nutrition 
Note that the nutrition can vary slightly depending on which flavor you're looking at, but this is the information for the Double Rich Chocolate flavors.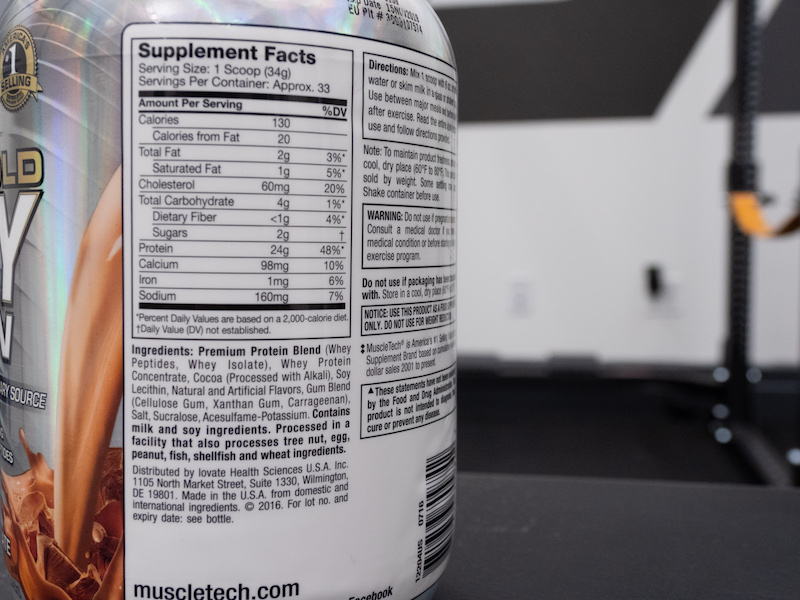 MuscleTech
One scoop has 130 calories: 24 grams of protein, 4 grams of carbohydrates (2 grams of sugar), and 2 grams of fat (1 gram saturated). That's 5.4 calories per gram of protein.
There's also 20 percent of the RDI of cholesterol, 7 percent of your sodium, 10 percent of your calcium, and 6 percent of your iron.
[Read our full review of MuscleTech Premium Gold here!]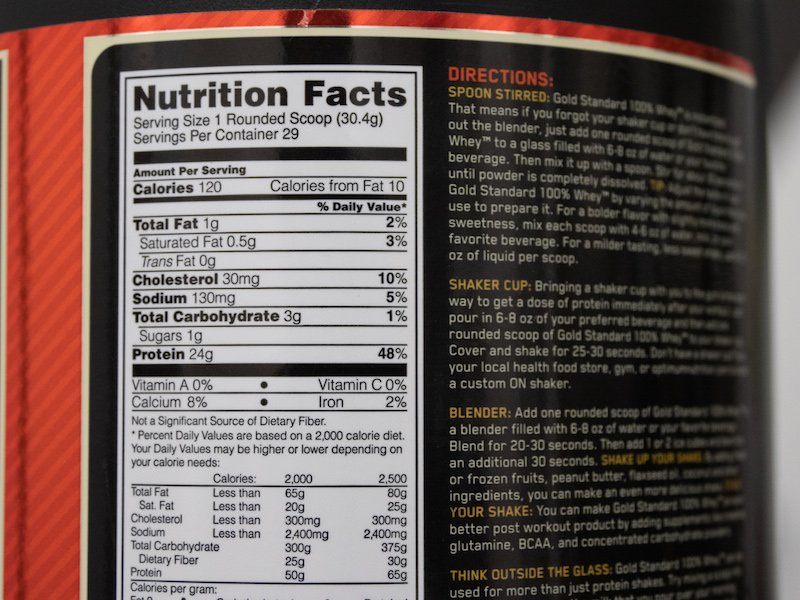 Optimum Nutrition
One scoop has 120 calories: 24 grams of protein, 3 grams of carbohydrates (1 gram of sugar), and 1 gram of fat (half a gram of saturated fat). That's 5 calories per gram of protein.
There's also 10 percent of your cholesterol, 5 percent of your sodium, 8 percent of your calcium and 2 percent of your iron.
So Optimum Nutrition delivers more protein per calorie and it wouldn't be hard for some to see it as "winning" this category. MuscleTech twice the carbs, sugar, fat, saturated fat and cholesterol, plus it also has 50 percent more sodium. Now, we are really just talking about an extra gram or two here and there, so you should remember not to make a huge deal about these differences. Plus MuscleTech does have three times the iron and 25 percent more calcium, which you may like. As always, it depends on your goals. 
[Don't miss our complete review of Optimum Nutrition Gold Standard Whey!]
Ingredients
 Both of these products contain blends of three kinds of whey, they both have artificial flavors and sweeteners, and they both contain soy lecithin for mixability. But there are still some interesting differences.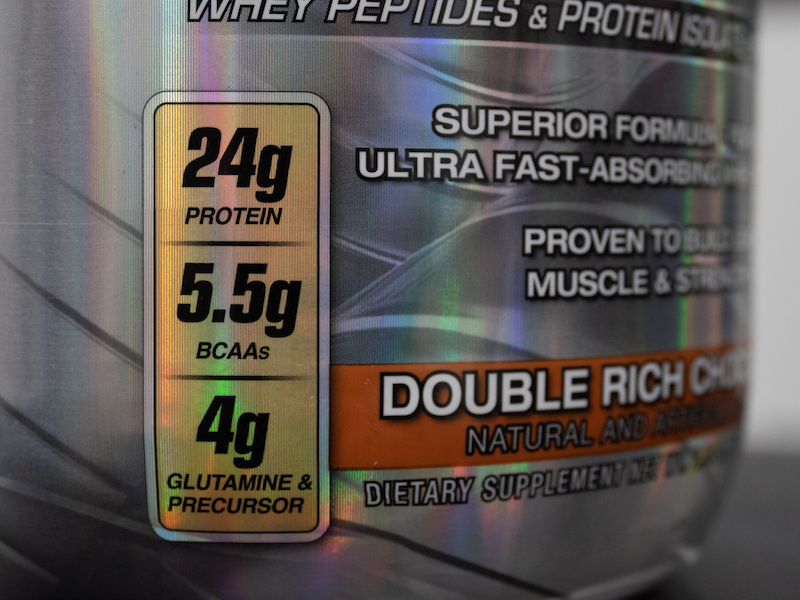 MuscleTech
On ingredient labels, you're meant to put the items in the order of how much of them your product contains. MuscleTech is a bit harder to read: the first ingredient is a Premium Protein Blend of whey peptides and whey isolate, followed by whey concentrate. The concentrate isn't in the Premium Protein Blend so it's hard to tell whether or not the concentrate is the primary form of protein.
After that there's cocoa, soy lecithin, natural and artificial flavors, a gum blend (cellulose, xanthan, and carrageenan), salt, and the artificial sweeteners sucralose and acesulfame potassium.
[Does soy actually, really lower your testosterone? Find out in our guide to athletes, testosterone, and soy!]
Optimum Nutrition
The protein blend goes whey isolate, whey concentrate, and whey peptides — so there's more isolate than anything else, which may explain the lower fat- and carb-content.
After that there's cocoa, soy lecithin, natural and artificial flavors, acesulfame potassium, and the digestive enzymes Aminogen® and lactase.
There are three important differences here: Optimum Nutrition only has one type of artificial sweetener, it has no gum — which can cause digestive upset in a small subsection of consumers — and perhaps most importantly it has digestive enzymes. The lactase could make this more digestible for folks with lactose sensitivities, plus the Aminogen® may increase the amount of protein you absorb, according to a 2008 study in the Journal of the International Society of Sports Nutrition.(1)
[Before you avoid sucralose, take a look at our complete guide to artificial sweeteners and your health.]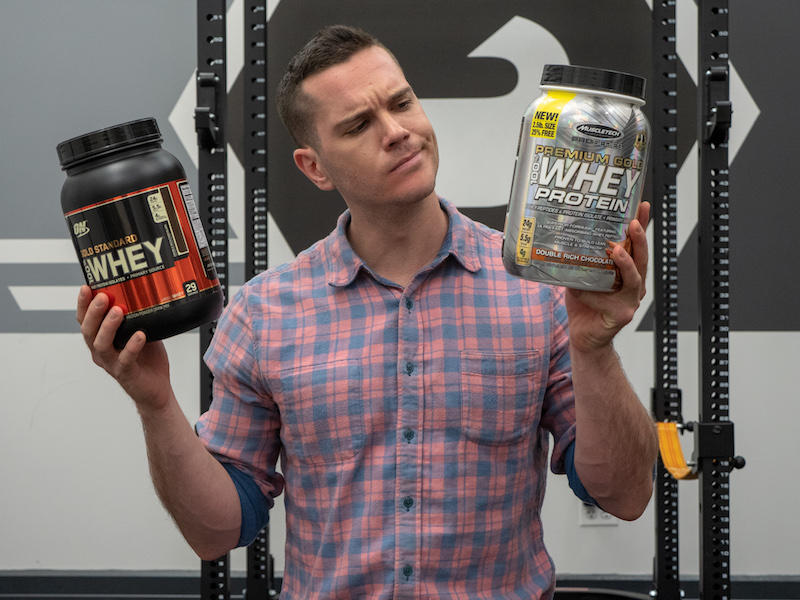 Price
MuscleTech
While it changes based on their promotions, the default size is about 2.2 pounds for between $18 and $26. That provides about 30 servings, so you're looking at between 3 and 3.5 cents per gram of protein. 
Optimum Nutrition
Your standard 2-pound tub costs between $25 and $25, so it comes out to about $1 per scoop or roughly 4 to 4.5 cents per gram of protein.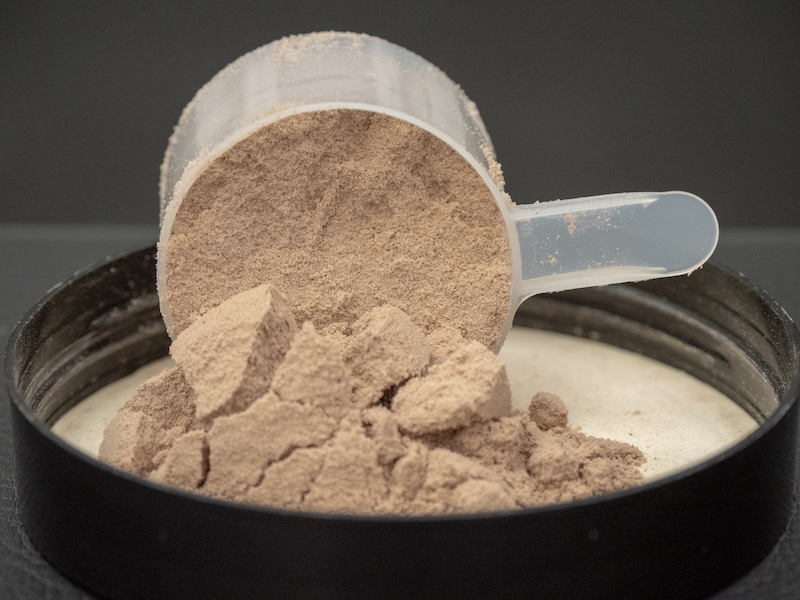 Taste 
MuscleTech
This Double Rich Chocolate flavor is great. It's one of the few protein powders that tastes great with water and when combined with 6 ounces of water, per the instructions, it makes for a surprisingly rich, thick shake that isn't far from a chocolate milkshake. Sure, it has a slightly artificial taste but it's far less noticeable and offensive than many of its competitors. This product is quite a lot higher in carbs and fat than Optimum Nutrition and the big upside is a more rewarding taste.
Optimum Nutrition
For something called Double Rich Chocolate, and for the most popular protein powder on Earth, and for something with artificial flavors and sweeteners, I was pretty underwhelmed with the flavor. Sure, it's great mixed with milk — mild, sweet — but when added to water it really tastes like water with a teaspoon of cocoa added to it. MuscleTech has an easy win here, but given it's so much lower in fat, carbs, salt, and cholesterol, you might find that worth it. Especially if you stick to drinking it with milk.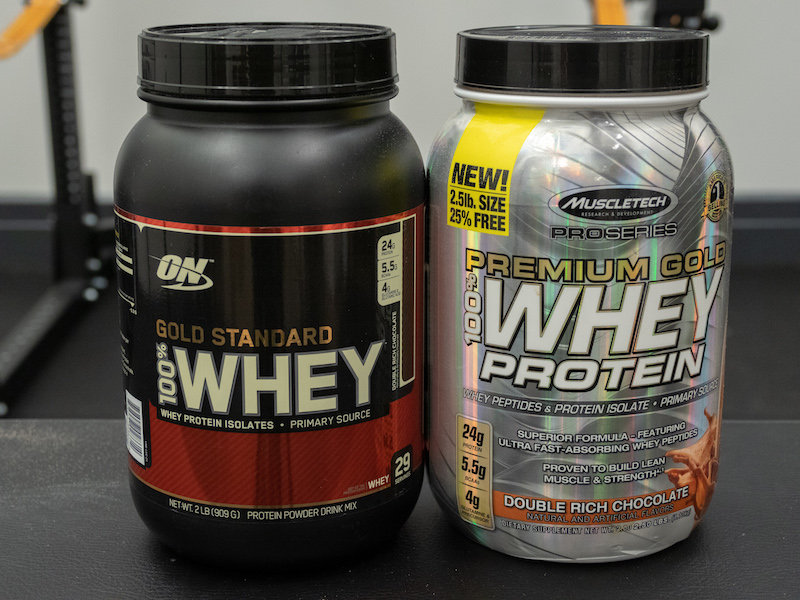 MuscleTech Vs. Optimum Nutrition: The Takeaway
Here are the main points to keep in mind, and keep in mind these are closer to potential pros and cons, depending on your own goals and sensitivities.
MuscleTech Pros & Cons
+ Cheaper
+ Tastier
– Twice the carbs, fat, cholesterol
– Contains gum 
Optimum Nutrition Pros & Cons
+ Contains digestive enzymes
+ More protein per calorie
– Blander taste
– More expensive 
Let's be honest: for most people, the conclusion that MuscleTech is both cheaper and tastier is what will seal the deal. If you have a more sensitive stomach or you want a wider variety of flavors, then Optimum Nutrition may be a better bet.
We need to make it clear that one product containing one or two extra grams of fat or carbs doesn't usually have much of a practical difference beyond the flavor unless you're rigorously tracking your calories and macronutrients. Nonetheless if protein per calorie or optimal digestion is important, there's an argument to be made that Optimum Nutrition is better. If neither of those matter and you just want something cheap, tasty, and packed with protein, we like MuscleTech.
References
1. Oben J, et al. An open label study to determine the effects of an oral proteolytic enzyme system on whey protein concentrate metabolism in healthy males. J Int Soc Sports Nutr. 2008 Jul 24;5:10.