PlantRise is one of the newest and most comprehensive additions to the greens powder pantheon. Also called greens powder and superfood powder, the term refers to a broad variety of supplements that are characterized not so much by their vitamins and minerals, but by, well, everything else. Probiotics. Enzymes. Adaptogens. Antioxidants and phytonutrients.
PlantRise's Supergreens72 delivers all of these… and it actually has a lot of vitamins and minerals to boot.
The product promises to increase energy, improve exercise recovery, help digestion, provide antioxidants, and it promises to support your gut health, immune system, and neural function. Here's what we learned when we tried it out.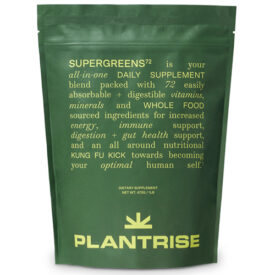 A greens powder with a huge variety of ingredients. Also has a pleasant, creamy taste and gets high marks in vitamin content, which some competing products leave out.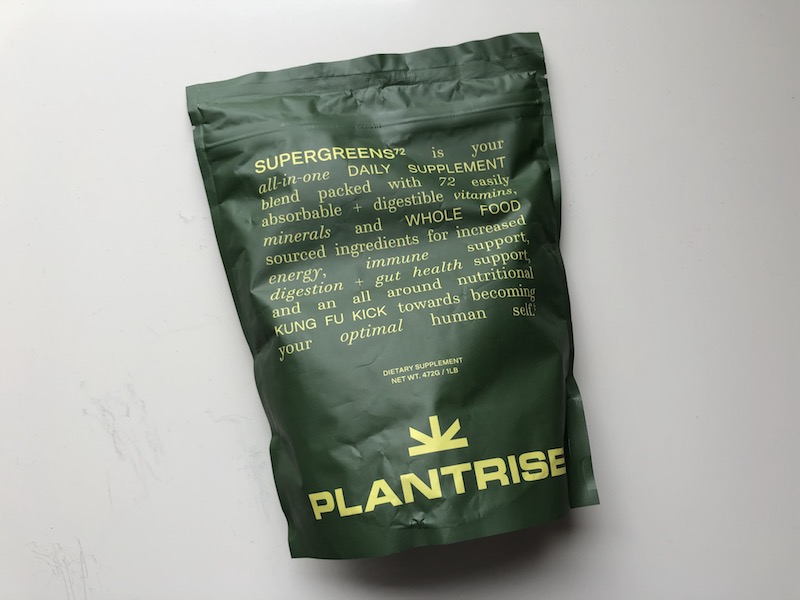 PlantRise Supergreens72 Nutrition
Before we get into the ingredients and the benefits they may confer, here are the vitamins and minerals you'll find in one serving, followed by the percentage of the recommended daily intake:
Calories: 25
Carbohydrate: 4g (2g fiber, <1g sugar)
Protein: 4g
Vitamin A: 133%
Vitamin C: 478%
Vitamin E: 447%
Vitamin B1 (Thiamin): 250%
Vitamin B2 (Riboflavin): 250%
Vitamin B3 (Niacin): 144%
Vitamin B6: 176%
Vitamin B9 (Folate): 100%
Vitamin B12: 1,167%
Vitamin B7 (Biotin): 1,100%
Pantothenic acid: 80%
Calcium: 8%
Iron: 44%
Phosphorus: 9%
Iodine: 20%
Magnesium: 7%
Zinc: 164%
Selenium: 49%
Copper: 52%
Manganese: 196%
Chromium: 71%
Sodium: 2%
Potassium: 3%
Many greens powders emphasize their ingredients while neglecting their micronutrients, but PlantRise stands out for being unusually high in vitamins and minerals. Interestingly, the ingredients list includes Vitamin K2, but there's no amount listed on the nutrition label.
Then again, as noted above, the real star of these products is the ingredients.
[Check out our complete list of the best green superfood drinks!]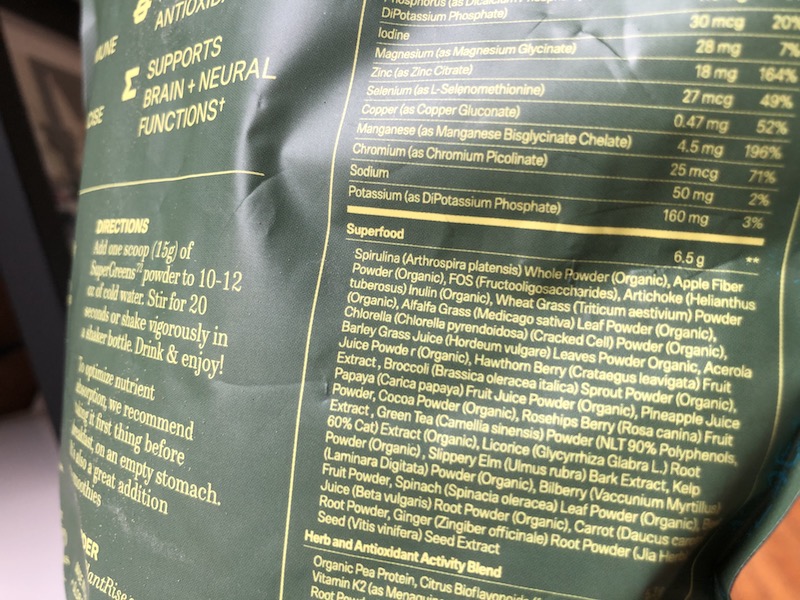 PlantRise Supergreens72 Ingredients
There are seventy-two ingredients here, split up across five categories. That's among the most we've ever seen.
Each ingredient blend is proprietary, so it's unclear as to how much of each ingredient it contains. That's something we would have liked to have seen. But we do know that in each blend there's more of the first ingredient than the second ingredient, and so on.
Superfood Blend (6.5g)
Spirulina, apple fiber, fructooligosaccharides, artichoke inulin, wheat grass, alfalfa grass leaf powder, chlorella (cracked cell) powder, barley grass juice powder, hawthorn berry fruit extract, broccoli sprout powder, papaya fruit juice powder, pineapple juice powder, cocoa powder, rosehips berry fruit extract, green tea powder extract (NLT 90% polyphenols), licorice root powder, slippery elm bark extract, kelp powder, bilberry fruit powder, spinach leaf powder, beet juice root powder, carrot root powder, ginger root powder, grape seed extract.
Note that everything in this blend is organic. The product is also BSCG Certified Drug Free.
Herb and Antioxidant Activity Blend (5.3g)
Pea protein, citrus bioflavonoids fruit powder, Vitamin K2, rhodiola rosea root powder, eleuthero root extract, rosemary leaf powder, coenzyme Q10, ashwagandha root powder, milk thistle powder extract, dandelion root powder, alpha lipoic acid, policosanol, beta glucans, goji fruit powder, gotu kola whole herb extract.
Digestion & Wellness (145mg)
Astragalus root powder, reishi mushroom whole powder extract, bromelain, burdock root powder, shiitake mushroom powder.
Probiotics (38mg)
Lactobacillus Acidophilus (15 billion CFU/serving), Acidophilus Lactobacillus w/Bifidobacterium Bifidum (2.5 billion CFU/serving).
Other Ingredients
Sunflower lecithin, natural flavors, stevia leaf extract.
The company also provides a long list of things the product is free from: GMOs, nuts, soy, corn, allergens, preservatives, pesticides, herbicides, animal products, artificial flavors, artificial sweeteners, added sugar, and so on.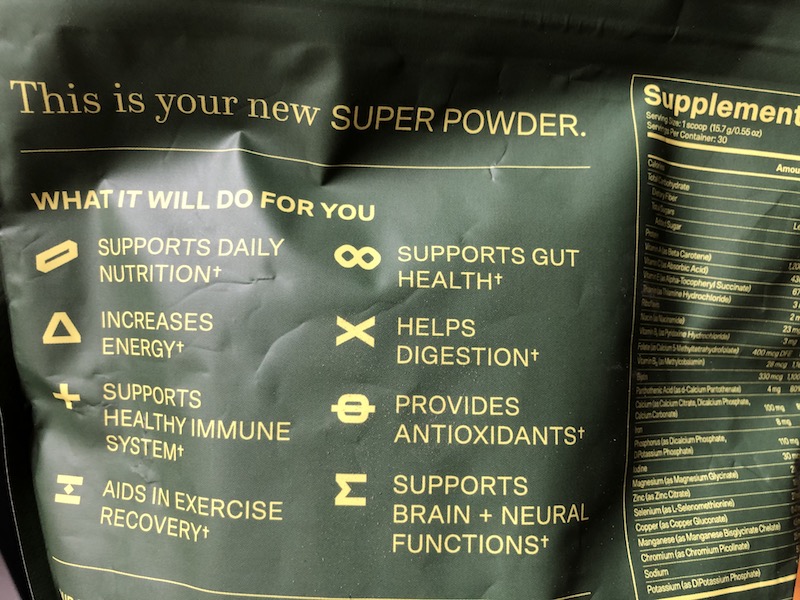 PlantRise Supergreens72 Benefits & Effectiveness
That's a lot of ingredients. Let's take a look at the claims the product makes and see if it has ingredients linked to this effect.
Increase Energy
The B-vitamins in particular are linked to energy production in the body, plus the considerable dose of chromium has been seen in some research to help stabilize blood sugar.(1)
Improve Exercise Recovery/Support Neural Function
There's a wide variety of adaptogens in this product, which appear to help the body to manage the effects of stress — like the stress from a tough workout. Certain ingredients in Supergreens72, like rhodiola rosea and ashwagandha, have been seen in some research to reduce muscle damage after exhaustive workouts.(2)(3)
Adaptogens also appear to improve focus and reduce fatigue, so in conjunction with the B-vitamins and the inflammation-fighting antioxidants, there are several fronts on which the product supports brain function.
Help Digestion/Support Gut Health
An important component of any greens powder worth its salt, Supergreens72 has three categories that work in this manner: probiotics, prebiotics, and enzymes.
Probiotic bacteria is the name given to the trillions of bacteria in the digestive tract that help to break down food and absorb nutrients. Prebiotic fiber — the artichoke inulin in the ingredients — acts as food for this bacteria, improving gut health. Digestive enzymes —bromelain, in this instance — also help to break down and absorb nutrients.
[Related: 5 things most athletes miss about digestive health]
Provide Antioxidants
There are plenty of antioxidants in this product, from Vitamins C and E (yep, those are antioxidants) to ingredients that are known to be very high in them like spirulina, chlorella, wheat grass, and barley grass.
Support Your Immune System
A healthy gut does have links to better immunity, so the ingredients for supporting digestive health can be said to support immunity.(4) On the same note, the aforementioned antioxidants also play a significant role in improving certain immune responses.(5)
The same has been said for the product's beta glucans coenzyme Q10, milk thistle, and the adaptogens, among others.(6)(7)(8)(9)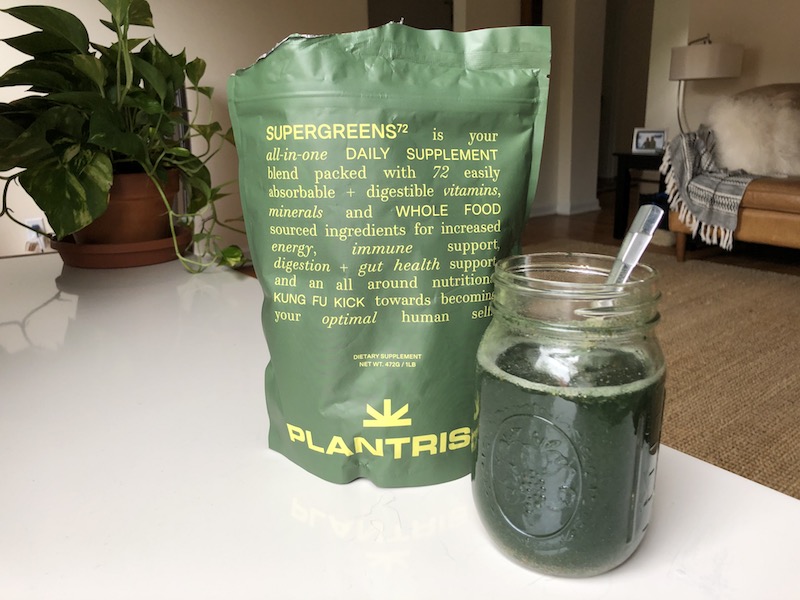 PlantRise Supergreens72 Taste
We were very surprised how tasty this product was. Your standard superfood powder tastes like, well, dirt, but Supergreens72 somehow tastes a bit lie a strawberry milkshake. It's creamy and fruity and we actually enjoyed savoring the taste.
It's true that there's a tiny bit of a peppery flavor in the background, likely because of the naturally earthy flavor of the greens. Nonetheless, I really enjoyed the sweet, creamy flavor.
PlantRise Supergreens72 Price
One bag is $95, so it's $3.16 per serving. However, if you subscribe to monthly shipments, the price drops considerably to $75.05, or $2.50 per serving.
We'll be honest: that's the most expensive greens powder we've ever seen. Then again, we've also never seen a greens powder with this wide a variety of ingredients, so you may find the price worth it.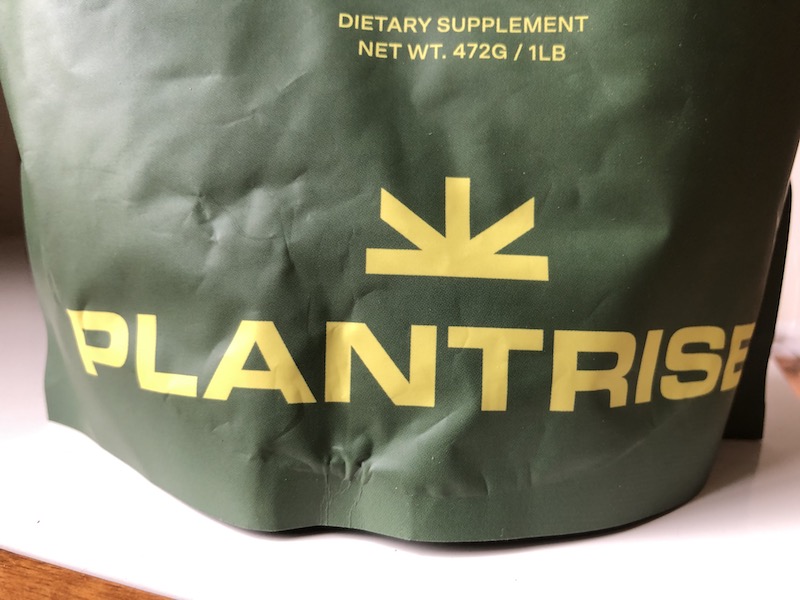 Who Should Buy PlantRise Supergreens72
Folks who want to increase their antioxidant intakes; Plantrise claims there are as many antioxidants in one serving of this product as there are in twelve servings of fruits and vegetables.
People interested in improving their digestive health; the combination of enzymes, probiotics, and prebiotics is impressive.
People who want to increase their vitamin intake.
Folks who are curious about the potential stress-reducing benefits of adaptogenic herbs, like rhodiola rosea.
People who want to consume nutrients that are linked to a healthier immune system.
Who Shouldn't Buy PlantRise Supergreens72
Penny pinchers; this is a pricy greens powder, one of the most expensive on the market.
People who value transparency in their supplements will be disappointed in the proprietary blend; it's impossible to know if you're getting an effective dose of any of the ingredients.
Folks who want a supplement that focuses on bone health; there's no Vitamin D and very little calcium and Vitamin K.
Anyone who wants a greens powder because they don't want to eat their vegetables; this doesn't provide anywhere near as much magnesium, calcium, Vitamin K, and many other nutrients as eating real food. It's a great supplement, but don't fall into the trap of thinking it can replace vegetables.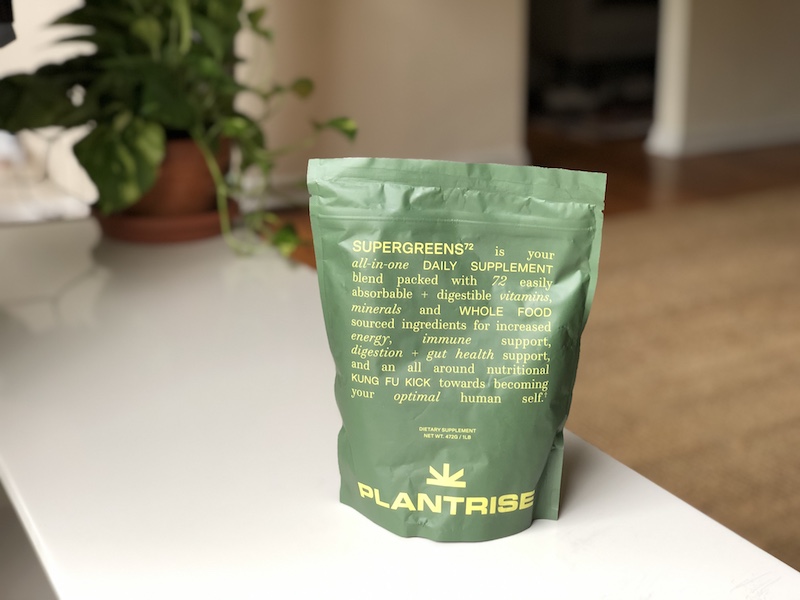 Wrapping Up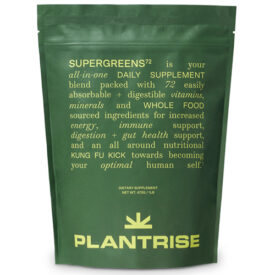 A greens powder with a huge variety of ingredients. Also has a pleasant, creamy taste and gets high marks in vitamin content, which some competing products leave out.
All in all, this is an impressive product that packs a huge variety of ingredients that offer a ton of nutritional benefits beyond vitamins and minerals. We would have liked a little more transparency as far as the doses of each ingredient. Nonetheless we've tried dozens of greens powders, and this is one with a huge number of ingredients with research linked to their benefits.
References
1. Frauchiger, MT et al. Effects of acute chromium supplementation on postprandial metabolism in healthy young men. J Am Coll Nutr . 2004 Aug;23(4):351-7.
2. Parisi, A et al. Effects of chronic Rhodiola Rosea supplementation on sport performance and antioxidant capacity in trained male: preliminary results. J Sports Med Phys Fitness . 2010 Mar;50(1):57-63.
3. Wankhede, S et al. Examining the effect of Withania somnifera supplementation on muscle strength and recovery: a randomized controlled trial. J Int Soc Sports Nutr. 2015; 12: 43.
4. Wu, HJ et al. The role of gut microbiota in immune homeostasis and autoimmunity. Gut Microbes. 2012 Jan 1; 3(1): 4–14.
5. Bendich, A et al. Physiological role of antioxidants in the immune system. J Dairy Sci . 1993 Sep;76(9):2789-94.
6. Akramiene, D et al. Effects of beta-glucans on the immune system. Medicina (Kaunas) . 2007;43(8):597-606.
7. Saini, R et al. Coenzyme Q10: The essential nutrient. J Pharm Bioallied Sci. 2011 Jul-Sep; 3(3): 466–467.
8. Wilasrusmee, C et al. Immunostimulatory effect of Silybum Marianum (milk thistle) extract. Med Sci Monit . 2002 Nov;8(11):BR439-43.
9. Liu, MW et al. Rhodiola rosea suppresses thymus T-lymphocyte apoptosis by downregulating tumor necrosis factor-α-induced protein 8-like-2 in septic rats. Int J Mol Med. 2015 Aug; 36(2): 386–398.