Position USA weightlifting shoes are relatively new to the lifting world, but have already become a very recognizable shoe in the U.S.. Unlike Adidas, Nike, and some of the larger brands, Position takes a minimalist approach to their shoe line and have only three available models on their website.
A few things that make this shoe a little different than others on the market is how they're made, the type of heel they use, and the final construction of their shoe. First, their shoes are all hand crafted from scratch. Second, they utilize a wooden heel, which isn't new (and very familiar in the history of weightlifting), but is definitely sparse in modern big brand shoes. Third, they have a full leather suede finish with a large mid-foot strap.
How do the Position USA Weightlifting Shoes stack up against other hybrid lifting models and Olympic lifting specific shoes?
How Much Do the Position USA Weightlifting Shoes Weigh?
The Position USA Eastwood/Redford shoes weigh around 17.7 ounces, while the P2.1 New Blue Suede Shoes 2.1 hover around 18 ounces. These shoes are definitely on the heavier end of the spectrum for lifters, and could be comparable to the Reebok Legacy Lifters and Adidas Leistung 16 IIs in weight.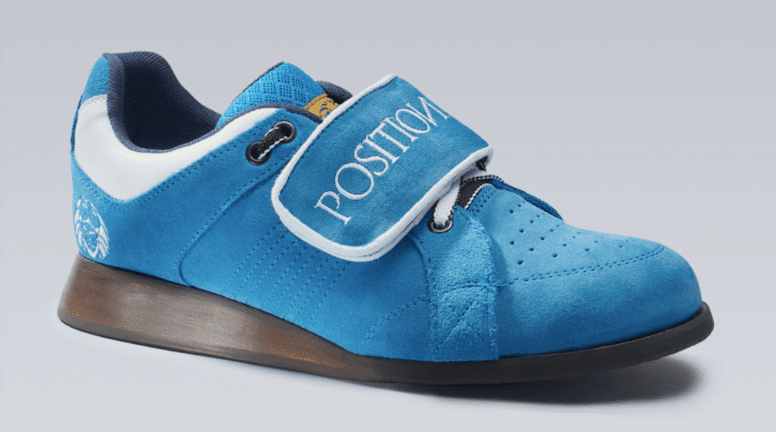 Image of Position USA P2.1 New Blue Suede, courtesy positionusa.com. 
A heavier shoe can be both a good and bad thing for strength athletes. We'll start with the good that comes with a heavier shoe. First, foot stability, a heavier shoe can be better for lifters who struggle with maintaining a stable base. Sometimes an increase in a shoe's weight can subconsciously cue a lifter to plant their foot. Second, a heavier shoe can benefit lifters with overactive feet.
On the opposing side of the argument, a heavier shoe can slow down foot turnover. As mentioned above, it benefits athletes with overactive feet, but slows down those with consistently slow turnover. Additionally, a heavier shoe will limit the activities you can do with the shoe. This is an Olympic lifting specific shoe, but its weight makes it even tougher to use in other forms of lifting (if you wanted to).
[Get 10% off Position USA shoes with code BARBEND10!]
Position USA Weightlifting Shoes Effective Heel Height
The effective heel height for Position USA Weightlifting Shoes (P2.1 New Blue Suede, Eastwood, and Redford) is 1 inch or 25.4 millimeters, which qualifies and puts their models in the 1″ heel category.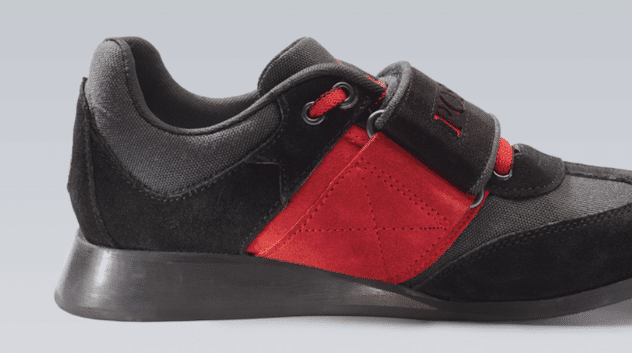 Image of Position USA Redford, courtesy positionusa.com. 
The Position USA shoes (P2.1 New Blue Suede, Eastwood, and Redford) have a slightly higher heel than most modern lifters. This is beneficial for what the shoes aim to do, which is support Olympic lifting specifically. A higher heel will allow a lifter to keep their foot planted in multiple postures. Additionally, a higher heel can be beneficial for those who need a little help achieving depth, while maintaining a stable upright torso, and avoiding any form of legs collapsing in.
[Don't invest in a pair of lifting shoes without knowing exactly what you need. Check out our Ultimate Guide to Lifting Shoes!]
The downside of the higher heel is the lack of versatility and anthropometric differences in lifters (limb lengths) that don't need extra mobility. A 1″ heel isn't ideal for versatile strength movements, such as functional fitness styled workouts. In addition, if you already have good mobility, or trouble sitting into your hips, then you may find the higher heel pushes you forward too much in the hole, and during the first and second pulls.
Heel Construction
The Position USA Weightlifting Shoes have a hand carved wood heel, which is designed to provide a durable stable base with an old school look and feel.
Every Position USA shoe offers a hand carved stained wooden heel, which make them different than almost all of the modern models offered by bigger companies. The Position heels also have a trapezoid design like other modern lifters (thin to wide from the heel to floor).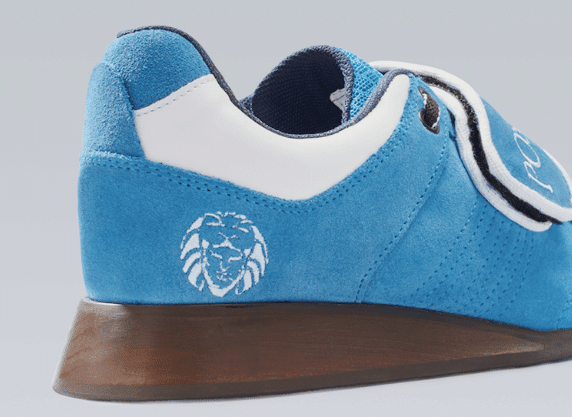 Image of Position USA P2.1 New Blue Suede, courtesy positionusa.com. 
A lot of Olympic lifters are proponents of the wooden heel for multiple reasons. First, the feeling it provides on the platform. Wooden heels can allow you to feel the platform better, as opposed to some of the synthetic EVA and TPU options out there. Second, this heel provides a harder base for a lifter to sit back on, which can be beneficial for avoiding any heel compression. Third, they're durable and provide the old-school weightlifting look and feel.
[Want to find the best weightlifting shoe for you? Read our full rundown of the lifting shoes on the market to find the perfect model!]
The downfalls of this heel come down to its weight, one's personal preferences, and possible durability issues. Wood heels can be notorious for being slightly heavier than some of the lightweight TPU heels. Additionally, some lifters don't enjoy the harder wooden option, but that's up for your own discretion. Last, wood may not be as durable (in the long run without upkeep) compared to the newer TPU heels.
Upper Shoe Material
The Position USA models feature a suede leather covered in a polyurethane finish with some areas of cotton mesh. Their newest models (Eastwood and Redford) are a re-vamped version of the P2.1 New Blue Suede model and have a little tighter stitching around the toe box. A lot of lifters like the suede leather because they provide the shoe with a flexible finish, along with the old school, simplistic look. Additionally, the leather is easy to clean and maintain, but it does require upkeep if you want them to last.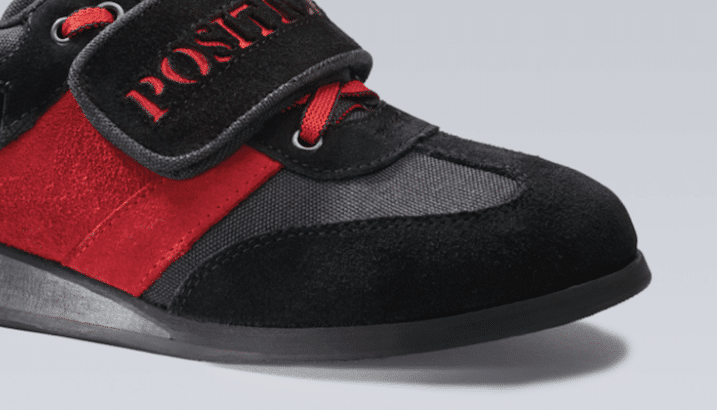 Image of Position USA Redford, courtesy positionusa.com. 
This material comes with a few downsides, which include their upkeep (as mentioned above) and the possibility of them fraying. They'll require some levels of upkeep over the course of your lifting, so if you want a minimalist shoe, then this may not be a good choice for you. There's also the issue with material fraying from times of friction with metal and other gym equipment, but this isn't a huge issue for many because if you're conscious of it, then it can be avoided.
Foot Straps
Besides their wood heel, another aspect that make Position's shoes different is their mid-foot strap. Unlike most modern lifters, their shoes utilize one larger sized mid-foot strap to provide shoe security. This strap provides ample security, which is a plus for those who want a ton of foot security. The larger, heavy duty nature of the strap makes up for the lack of double strap and BOA system.
Image of Position USA Eastwood, courtesy positionusa.com. 
The only difference between their model's straps are the lengths. If you look closely, you'll notice that the original Blue Suede shoes had more overlap and sometimes the strap hung off the side when pulled tight. The P2.1 New Blue Suede, Eastwood, and Redfords all have a shorter strap that remedied this problem.
Positions USA Weightlifting Shoes' Price
I feel that the price for Position USA shoes are pretty fair for what they offer. You can expect to pay $179 for the P2.1 New Blue Suede shoes, and $189 for the Eastwood and Redford models. These are cheaper than the bigger companies and every shoe is individually handcrafted (significantly cheaper than the handcrafted NOBULL Lifters). For lifters interested in a unique Olympic specific shoe with a wooden heel, then the price is definitely fair.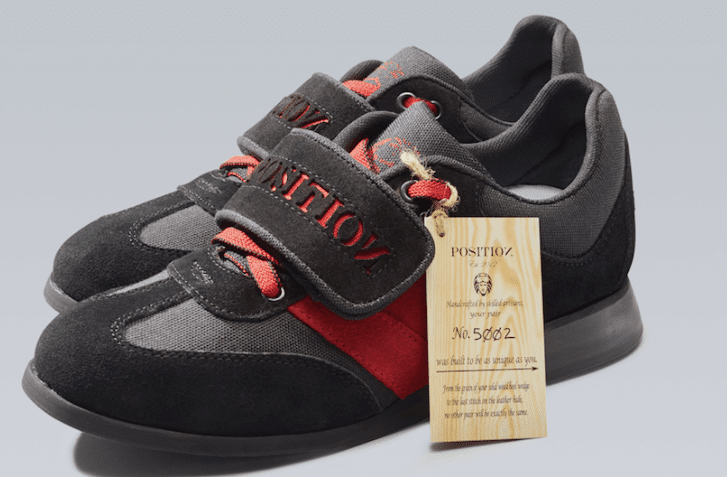 Image of Position USA Redford, courtesy positionusa.com. 
An Athlete's Take
Below are a few thoughts from athletes and coaches who use this shoe. Keep in mind, the athletes/coaches below work with or really enjoy Position USA, or have a formal relationship with the company. Their opinions may not be unbiased.
Jared Enderton – Nationally Ranked Weightlifter & 2x CrossFit Regional Athlete
Before providing his thoughts, Enderton pointed out that he's a sponsored Position USA athlete, "I am a sponsored athlete of PositionUSA so I'm slightly biased. However, I do own 20-25 pair of other weightlifting shoes so I've worn about every pair you can imagine."
Enderton explained what it took before fully committing to Position, "When I accepted the sponsorship I told them I had to wear them for 3-6mo before I could give them an answer so I could give a full review on them. Giving up the option to wear 20-25 pair of shoes to only wear 1 meant the shoe had to be good and it was."
He also explained that their shoes have grown and developed since their first model. "The first PositionUSA shoes were very stiff. However, every pair after that (2.1's, Eastwood's, Redford's) have been amazing."
When it comes to pros of the shoe, Enderton stated, "Great flexibility throughout the shoe even with the 1″ heel height. I like the higher heel height & think it is more beneficial to a majority of the population. A ton of international lifters actually add a small piece of wood to the bottom of their .75″ heels to get it to a 1″ effective heel height. Overall, as you might expect, I love my PositionUSA shoes."
Final Word
The updated Position USA Weightlifting Shoes (P2.1 New Blue Suede, Eastwood, and Redford) all have similar characteristics, but differ slightly in their final construction. Since their beginning, Position has made a point to continually improve upon their models, which has helped them grow in popularity.
If you're interested in an Olympic lifting shoe with a higher 1″ wooden heel, then these shoes are a great modern option for you (since Adistars are impossible to find). Additionally, their price is fair for the amount of craftsmanship they offer. The downfalls of their shoes lie in their versatility and long-term durability issues with lack of upkeep.
For lifters interested in a handcrafted old-school looking shoe, then the Position USA Weightlifting Shoes may be a good fit for you.
Feature image shoes P2.1 New Blue Suede, Redford, and Eastwood, courtesy of positionusa.com.