The ProForm Carbon T7 Treadmill is a smart solution for any home gym with its affordable price tag and array of useful features. The treadmill includes a cooling fan, full-deck cushioning with shock absorbers, and foldability to save space when you aren't using it. Plus, the dual speakers allow you to enjoy the free one-year family membership to iFit without using headphones.
Main Takeaways
The ProForm Carbon T7 comes with a one-year family iFit membership, which gives you access to countless interactive instructor-led classes.

ProForm prides itself on its ISO Flex cushioning system that offers comfort throughout the belt's surface.

You can easily fold the treadmill with the EasyLift Assist shock that does most of the work for you.
ProForm T7
ProForm Carbon T7 Treadmill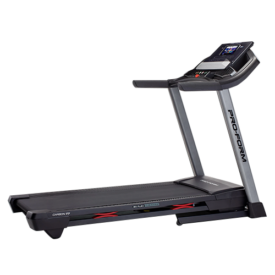 ProForm Carbon T7 Treadmill
The ProForm Carbon T7 treadmill is affordable, solid and comes with a free one-year membership to iFit, making it a great value for those looking to buy an entry-level treadmill that will last. 
ProForm Carbon T7 Treadmill Highlights
There are many reasons to love the ProForm Carbon T7, but it may not be for everyone. This treadmill is a smart buy if you want a model that is cost-effective and can supplement your weightlifting. However, you might want to splurge on something more expensive if you have a long stride or are tall.
Who Should Buy the ProForm Carbon T7 Treadmill
Runners who want to be challenged by trainers in interactive classes.

Anyone looking for a high-quality treadmill for under $1,000.

People with

joint

pain who need good cushioning while putting in the miles.
Who Shouldn't Buy the ProForm Carbon T7 Treadmill
Someone looking for built-in workout programs.

Athletes who are looking to compete in the top levels of

5K races

.

Individuals with longer strides and heavier people.
Price
When looking at the features included with the ProForm Carbon T7, you may be surprised to find it only costs $999. Included in the price of the treadmill is a one-year family iFit membership, which has a $468 value.
Overall Build and Quality
The frame is built-to-last and guaranteed with a 10-year warranty. Plus, it's foldable and has wheels for easy movability. While running quietly, the motor achieves speeds of 10 mph. And, the 10 percent incline will push you to your limits.
Features
In addition to basic features, like speakers, a fan, and more, the Carbon T7 also comes with a seven-inch HD display, which is enough to follow the interactive iFit workouts and to keep track of your calories burned, time, distance, and more while you go for a long jog.
Incline range
When you want to give your legs a real challenge, a wide incline range is a must. With a range from zero to 10 percent, the T7 has enough of an incline for most workouts. Plus, you can make easy adjustments using the quick button controls.
Speed range
The speeds range from zero to 10 miles per hour on the T7. This is a somewhat low upper limit, but it should be enough for most home gyms. And, as with the incline range, you can make instant adjustments using the quick buttons.
Included workouts
One of the biggest negatives of the ProForm Carbon T7 Treadmill is that it doesn't come with any built-in programs. Fortunately, you get a free one-year iFit membership so you can pick from an array of interactive classes to help you lose weight, build muscle, or achieve other fitness goals during your first year of ownership.
Display
You can effortlessly view your workout stats with the seven-inch high-definition touchscreen that comes with the T7. This allows you to watch instructor-led classes and stay motivated.
Speakers
Listen to music or videos with the built-in dual 2-inch speakers. You can connect your mobile device through the audio auxiliary port or via Bluetooth. The speakers are a must if your earbuds tend to fall out from the jostling of jogging.
Fans
You can keep your workout comfortable with the built-in fan. The fan features two speed settings for optimal climate control.
Heart Rate Monitoring
When you use the T7, you can monitor your heart rate using the EKG grip pulse heart rate sensor. This isn't the most accurate way to gauge your heart rate, but it's easy – simply grip the handlebar until you get a reading.
HDMI, USB and Other Inputs
Other than the audio auxiliary port, the T7 doesn't have any other inputs. Fortunately, with the audio port, you can plug in your headphones or mobile device.
Bluetooth and Audio Options
You can use Bluetooth connectivity to listen to your favorite music or stream shows on the treadmill's speakers. Or, you can connect using the audio auxiliary port.
Water Bottle, Cup Holders, Tablet and Phone Holders
On either side of the display, there are nooks for holding cups, water bottles, or any other accoutrements you may need during your workout. Also, the T7 has a spot for your tablet or phone located just above the bottom controls.
Product Specs
The ProForm Carbon T7 Treadmill has an outstanding list of specs for its affordable cost. It comes with an iFit membership, has a small footprint, and offers patented shock absorbing technology. Additionally, folding the deck is hassle-free. Plus, the wheels along the bottom make it easy to move around.
Motor Size
The 2.6 CHP Mach Z motor is designed from quality components to keep it from overheating and to provide you with a smooth conditioning workout.
Running Area
With a running area of 20 inches wide by 55 inches long, the ProForm Carbon T7 is long enough for you to reach your stride while providing plenty of room for side shuffling and other non-running activities.
Weight Capacity
Most users don't need to worry about surpassing the T7's 300-pound weight capacity. Yet, you may want to look for something a little more rugged if you're heftier and like to sport a weighted vest on your runs.
Folding Options
When you're finished with your workout, the T7 folds up and out of the way. And, if you're beat after a particularly intense HIIT workout, the easy-assist shock can help you lift the deck with just a push.
Footprint While In Use vs Folded
While in use, the T7 has a footprint of 35.2 inches wide by 73.5 inches deep by 57.5 inches tall. We reached out to ProForm for the dimensions of the unit in its folded position and have not heard back as of this writing.
Max Speed and Incline Range
The 2.6 CHP motor of the Carbon T7 only supports inclines up to 10 percent and speeds up to 10 mph. Most users will find this is enough for their needs. However, you might want to shell out extra bucks for a more powerful treadmill if you are a competitive runner or do CrossFit.
Electrical Requirements
All you need to operate the T7 is a grounded/three-prong 120-volt, 15-amp outlet in your workout area.
Warranties
A 10-year warranty covers the frame of the T7. And parts and labor are covered for one year.
Belt Information and Roller Size
ProForm tests each of its belts for one million cycles at twice the user weight before testing them so you can count on durability. The rollers are 1.9 inches and precision balanced, non-flex. This causes minimal wear and tear, reduces the noise, and improves the grip.
Cushioning and Feel
ProForm states that its top goal is to offer a comfortable run. To achieve that aim, they provide cushioning throughout the deck area. The treadmill also features shock absorbers for low-impact running, which translates to less stress on your knees and other joints.
Workout Apps and Compatibility
The Carbon T7 is not directly compatible with any fitness apps. However, you do get free access to the iFit program during your first year of ownership.
Subscription Options
The ProForm Carbon T7 comes with a one-year iFit family membership, which has a $468 value. iFit is one of the top interactive training programs available. The program tracks your training and automatically records your sessions for you. You can also stream studio class workouts or run through trails and cities across the globe. Plus, you have the option of the trainers controlling the incline and speed of your T7.
Places to Buy
The Carbon T7 Treadmill appears to only be available for purchase directly from ProForm.
Company Information
ProForm is one of several brands owned and operated by Icon Health & Fitness, the largest manufacturer of exercise equipment in the world.
Return Policy
ProForm has a relatively strict return policy. You can return your treadmill within 30 days of receipt, but a 10 percent restocking fee and return shipping fee of $250 will be deducted from your refund. You may also incur charges for damage or wear and tear.
Contact
You can reach ProForm's customer service team by calling 1-888-742-0128.
FAQs
How loud is the ProForm Carbon T7?
The treadmill's motor is designed to run quietly, which makes it ideal for at-home workouts
Is the treadmill easy to assemble?
Consumers report that assembly is easy with the included detailed assembly instructions. You should plan on it taking 60 to 90 minutes. You can also choose to have white-glove assembly and leave the hard work to the pros.
How much does it cost to ship the ProForm Carbon T7?
When you order from the ProForm website, shipping is included in the cost of the treadmill. This makes the Carbon T7 an excellent, affordable solution.