We receive free products and receive commissions through our links. See
disclosures page
.
A high-caliber barbell is a staple of any home gym, and the REP Fitness Colorado Bar could be the only one you need. Since it's a multi-use bar, the Colorado has traits you'll find with both powerlifting and Olympic barbells. This means it has both IPF (International Powerlifting Federation) and IWF (International Weightlifting Federation) knurl markings, as well as a moderate yet grippy knurling. But instead of the typical bronze bushings in the loading sleeves, this barbell features composite bushings that provide a quieter experience.
The price depends on which of the two finishes you choose and whether you want the 15- or 20kg version, but you won't spend more than $330 — which is an excellent price point. And with a loadable weight capacity of 1,500 pounds and a tensile strength of 190,000 PSI, the Colorado can handle whatever you can throw at it. This is one of our favorite barbells at the moment, and due to its versatile nature, competitive price tag, and durable build, we think the Colorado can be the one true Excalibur in your home gym — now let's dive into a full breakdown.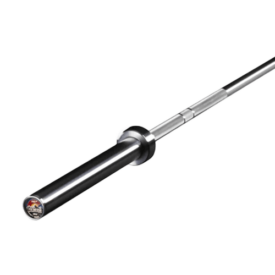 The REP Fitness Colorado Bar is designed for all-around use, thanks to its high weight rating and multiple coating and knurling options. For Olympic weightlifters, the composite bushings provide a smooth collar spin with just a touch of friction.
Main Takeaways
The REP Fitness Colorado Bar is available in 15kg and 20kg options with a hard chrome or cerakote finish.
The composite bushings in the loading sleeves provide a solid spin rate for Olympic lifting. Plus, they're designed to last longer than bronze bushings.
The Colorado has a 1,500-pound weight capacity and a tensile strength rating of 190,000 PSI. Since tensile strength refers to the overall toughness of a barbell, those in the 99th percentile may want to target a bar that's a bit stronger, but this is right in the sweet spot for most athletes.
REP Fitness Colorado Bar Video Review
Our Reviews Writer, Jake, got his hands on the Colorado bar to put it to the ultimate test. Follow along with his detailed review as he highlights his pros and cons, breaks down the value, and determines who should or shouldn't add it to their home gym.
https://www.youtube.com/embed/nPLORe-YCT0?si=a_nIdZtXUMm1OJJp
REP Fitness Colorado Bar Highlights
Price: 15kg — $270 for hard chrome, $280 for cerakote; 20kg — $320 for hard chrome, $330 for cerakote
Weight Capacity: 1,500 pounds
Tensile Strength: 190,000 PSI
Coating: Chrome or Cerakote
Intended Use: Can be used across all lifts
Size: 15kg — 79 inches long, 12.4-inch loading sleeves, 25mm diameter; 20kg — 86.6 inches long, 16.1-inch loading sleeves, 28.5mm diameter
A lot goes into finding the "perfect" barbell for your home gym, and things we tend to look for are the materials, the weight capacity and tensile strength rating, and its intended use. This is REP's new flagship barbell, and it's designed to match up with the "big dogs" like the Rogue Ohio Bar, but it's a little bit cheaper. While $320 might be a little too expensive for those looking for a 20kg bar, we think the price is more than justified due to the overall caliber of this barbell — and quite frankly, we think they could charge a bit more.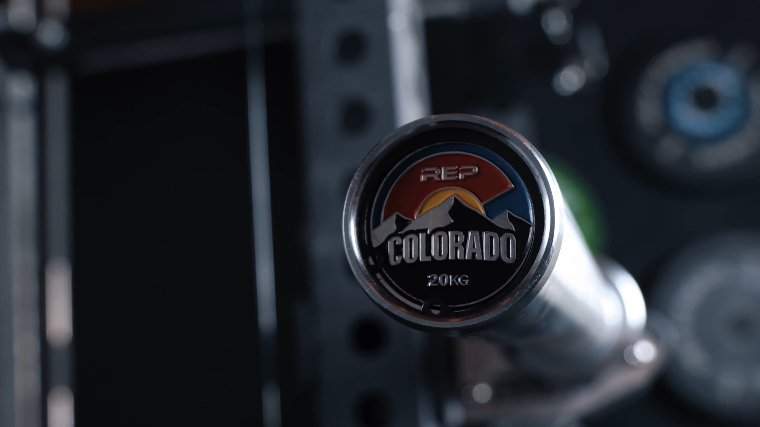 The 1,500-pound weight capacity and the 190,000 PSI tensile strength rating are both pretty average compared to similar barbells. However, since the tensile strength determines the overall toughness of a bar, upper-echelon athletes may want to target a stronger bar — you can find some with a 230,000 PSI rating if you want extra strength. The option to purchase a 15- or 20kg bar allows more athletes to scoop it up, and the fact that you can use it across all of your lifts means there's no need to purchase a specialty bar — unless you just want to.
The Colorado Bar also comes in hard chrome and multiple colored cerakote finishes, adding some customization to your purchase. For those who are unaware, after stainless steel, cerakote offers the highest level of protection against corrosion and is the ideal solution for those who don't have a climate-controlled gym. Hard chrome offers a decent amount of protection (better than standard chrome), but you'll still need to clean your bar more frequently to keep it in top condition.
Pros
The Colorado Bar comes in both hard chrome and cerakote. This allows you to choose the coating that best suits your needs regarding corrosion resistance.
Due to its versatility, the Colorado Bar can serve as the only barbell in your home gym.
The option to purchase the 15kg version opens the door for novice and smaller athletes to train with this barbell.
Cons
Despite the ability to be used every day across all lifts, the Colorado Bar is not the ideal choice for dedicated powerlifters or Olympic lifters. If you fall on either end of the spectrum, you're better off targeting a specialty bar specifically designed for your lifting style.
$320 for the 20kg version may be too expensive for some folks.
Elite lifters may need a barbell with a higher tensile strength rating than 190,000 PSI.
Training With the REP Fitness Colorado Bar
There is a lot to like about the Colorado Bar, and we've been thrilled with how it's performed when put to the test. The composite bushings in the loading sleeves offer a smooth and steady spin; plus, they're quieter than bronze bushings. We also found the volcano-style knurling pattern on the Colorado to provide a super grippy feel.
Knurling
If you aren't familiar, the knurling of a barbell is the crosshatch pattern found where you grip the bar, and it's designed to increase the amount of friction between your hands and the bar. While barbell knurling varies across the market in abrasiveness, multi-purpose bars like the Colorado tend to be pretty moderate.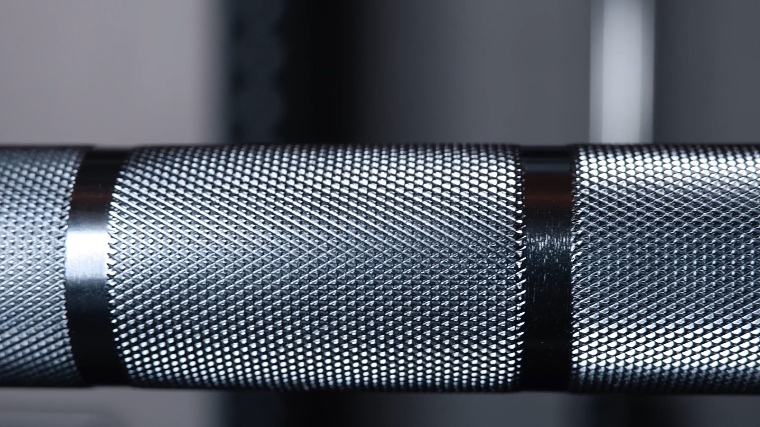 You want this because you don't want to rip up your hands when performing an explosive movement like a power clean. Don't let that fool you, though; the volcano pattern here provides a firm grip on the bar and won't slip out of your hands even on a heavy deadlift. To expand, volcano knurling is typically the favorite of most athletes, and it's produced by cutting the tops off the pattern to resemble a volcano. Since there are four points of contact on each marking, you can have more contact with your hands, which leads to a better overall grip.
Loading Sleeves
While you may not realize it, a barbell's loading sleeves are crucial to determining what it's best suited for. While mixed-use bars tend to feature bronze bushings since they offer a respectable amount of spin, Olympic bars feature bearings to create even more spin since you're only performing lifts like the clean & jerk.
REP, on the other hand, designed this barbell with composite bushings. Composite bushings are meant to last longer than bronze bushings and bearings, and they're quieter, which we noticed during our training.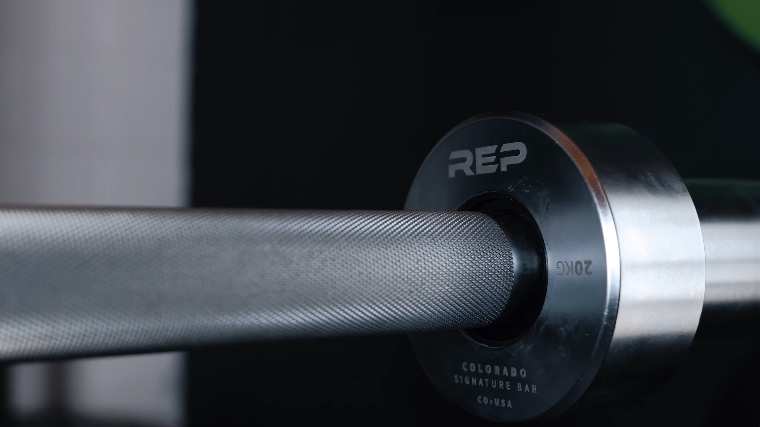 You'll also notice that the sleeves are smooth as glass rather than having a grooved pattern. This isn't always the case with a multi-use bar, as those grooves are designed to help keep your weight plates in their intended position when the bar is repeatedly dropped. We haven't noticed much of a difference with the Colorado, and besides, we recommend using some barbell collars no matter what.
Finish
Since REP offers the Colorado Bar in hard chrome and cerakote, you can essentially customize this bar to meet your specific needs best. The hard chrome offers a pretty solid amount of protection from rust and corrosion, but unless you're working out in a gym with temperature control, you'll be better off with cerakote. The cerakote version also features duracoat loading sleeves, a chemical process that hardens the steel's outside, increasing the protection and making the steel tougher.
What to Consider Before Buying the REP Fitness Colorado Bar
Like all home gym essentials, you must consider a few factors when deciding whether to purchase this barbell. Money is typically the most important for people, but we also think you need to consider this bar's coating, workout style, and tensile strength.
Price
It's no secret that the "best" equipment also tends to be the most expensive. While $320 might seem like a lot of money for a barbell, we think this is an excellent price point. In fact, we think REP could charge a bit more for this barbell — but that's just our opinion. If you're working with a tighter budget, some high quality bars (like the Living.Fit Barbell) will save you around $100 or so. That may not seem like it would make much difference, but that extra money could go towards a new weight bench, a power rack or squat rack, or your trusty weight plates.
Finish
Choosing between hard chrome or cerakote might not be the biggest deal to everyone, but it certainly matters. If you're not looking to have to clean your barbell once or twice a month, we suggest opting for the cerakote version, as cerakote offers the second-highest corrosion resistance.
Workout Style
Not everyone has the same training goals, so it's essential to understand your specific needs before purchasing a barbell. Not every home gym owner finds themselves repping out some hang cleans like they typically squat or bench, but it's nice having the option to spice things up if you want.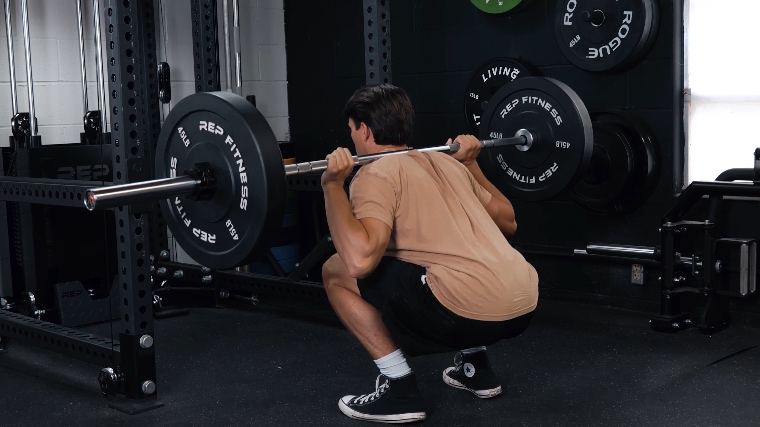 That said, the Colorado is not the best at any one lift. So if you only want to perfect your powerlifting or Olympic lifting movements, you'll be better off with a specialty bar. REP has two solid options in the Double Black Diamond Bar (power bar) and the Alpine Bar (Olympic bar) you might want to consider.
Knurling
Texture is always a personal preference, but nobody wants a barbell that leaves much to be desired regarding the grip. That's not something you have to worry about with the Colorado. Thanks to the volcano-style knurling on this bar, we don't think your grip will be compromised whether you're perfecting the snatch or hitting a new deadlift PR.
Tensile Strength
For those who are unaware, the tensile strength rating of a barbell ultimately determines how strong it is and how much punishment it can withstand before it begins to be permanently bent. Granted, it takes a lot of punishment to actually damage a barbell, but elite-level lifters who are deadlifting 700 pounds or more will want to pay close attention to this number.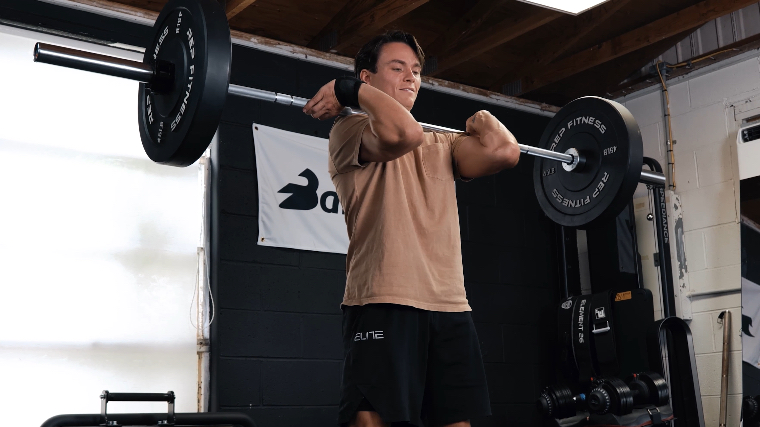 So if you're in that category and want a stronger bar, one that comes to mind is the Force USA Gunner Barbell, which totes an impressive rating of 235,000 PSI. That said, the 190,000 PSI rating of the Colorado is plenty strong enough for most athletes, especially since it has a max weight capacity of 1,500 pounds.
REP Fitness Colorado Bar Vs. The Competition
It's always helpful to compare equipment to similar options on the market, so we figured we would put the Colorado Bar head-to-head with the ever-popular Rogue Ohio Bar, our current favorite Living.Fit Barbell, and the REP Double Black Diamond Bar for powerlifters.
REP Fitness Colorado Bar
Rogue Ohio Bar
Living.Fit Barbell
REP Fitness Double Black Diamond Power Bar
Price

$320 for chrome, $330 for cerakote

$350 for cerakote, $370 for stainless steel

$200 for chrome, $220 for cerakote

$330 for cerakote,

$450 for stainless steel

Tensile Strength

190,000 PSI

190,000 PSI for cerakote, 200,000 PSI for stainless steel

200,000 PSI

200,000 PSI

Weight Capacity

1,500 pounds

1,500 pounds

1,500 pounds

1,500 pounds

Loading Sleeve Construction

Composite bushings

Bronze bushings

Brass bushings

Bronze bushings

Type of Barbell

Multi-purpose

Multi-purpose

Multi-purpose

Powerlifting
As you can see, the prices for these barbells are pretty similar, but the Living.Fit Bar is hands down the best budget-friendly option. Plus, it performs really well, so if you want to save some cash but still land on a solid bar, it might be your best bet.
While the Colorado Bar has a weaker tensile strength rating than all of these bars other than the cerakote Ohio Bar, we don't think the gap is big enough to say it's more prone to bending than the others. The weight capacity for all of these is identical, so you can't go wrong with any of them in that regard, and while the REP Double Black Diamond still has bronze bushings, it's the last bar on this list you want to attempt to hit a power clean with due to the abrasive knurling. But if you're not interested in the multi-purpose nature of the other three, then it's your best bet.
However, if you're looking for longevity, the Colorado Bar might be tough to top since the composite bushings are designed to last longer. At the end of the day, all of these barbells are worth adding to your home gym; just be sure to factor in all of these aspects to find the best fit for you specifically.
Places to Buy
You can purchase the REP Fitness Colorado Bar directly through the REP Fitness website.
Warranties
REP offers a lifetime warranty covering any manufacturing defects on this barbell, but that doesn't cover negligent use, such as using damaged bumper plates.
Company Information
REP Fitness offers a wide range of fitness equipment from cardio to strength training, and as long as they're still in usable condition, they offer a full refund on products within 30 days of purchase. If you want to speak to a team member, you can email their support team at info@repfitness.com, or call them at 720-420-1731.
In Conclusion
The REP Fitness Colorado Bar is one of our favorite options available. While it may not be the absolute best at any one lift, it's versatile enough to handle all your fitness needs, and the price tag is pretty competitive when stacked against the rest of the market. The volcano-style knurling provides a grippy feel, the composite bushings offer a quiet experience, and it's strong enough to take a beating. With all these aspects wrapped up into one, we think this barbell could provide excellent value to your home gym.
FAQs
How much does the REP Fitness Colorado Bar cost?
This bar comes in four different price points determined by the size and your choice of coating. The 15kg version will cost you $270 for the hard chrome version and $280 for the cerakote, while the 20kg will cost you $320 for the hard chrome and $330 for the cerakote. Regardless of what you choose, these prices are pretty competitive compared to the competition.
What workouts can I do with the REP Fitness Colorado Bar?
The best thing about this barbell is that you aren't limited to any one style of lifting. You can seamlessly switch between powerlifting and Olympic lifting, which is why it's one of our favorite bars.
What is the weight capacity of the REP Fitness Colorado Bar?
No matter which size you purchase, this bar has a max weight capacity of 1,500 pounds, meaning it's plenty strong for most recreational athletes.