When building a home gym, versatility is key. Some power racks are affordable but can't handle a lot of weight. Some have the ability to add extra features, but take up entirely too much space. The REP Fitness PR-1100 is designed to handle more weight than the average power rack, fits in the majority of spaces you may choose to use for a home gym, and is capable of add-ons for more exercises. The utility of the REP Fitness PR-1100 Power Rack accommodates pull-ups and dips, as well as your standard squatting and benching.
The PR-1100 is able to withstand up to 700 pounds, which is great for most recreational weightlifters — excluding powerlifters who may want or need more weight than that. The 84" x 48" x 47.5" framework may also allow this rack to fit in a garage without taking up all of your parking space. The PR-1100 can accommodate a wide variety of add-ons, but still leaves a fairly small footprint, making it a great option for homeowners who are looking to add a personal gym at a reasonable price point, but are limited on space.
Main Takeaways
The multi-grip pull-up arch is built for the four grip variations for doing pull-ups, and equipped with a 1.25" bar in the front as well as a 2" bar in the back — plus, the pull-up band attachments allow assistance with progressions, mobility, and even resistance.
The dimensions of the PR-1100 can make it a great fit for the majority of home gym spaces. At just 7 feet tall, and 4 feet wide, this rack can squeeze into pretty much any room.
Rated at 700 pounds, this power rack can be a good option for recreational athletes — many racks share this same max weight, but not at the same low price point.
REP Fitness PR-1100 Power Rack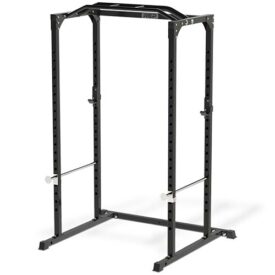 REP Fitness PR-1100 Power Rack
This power rack is sturdy, compact, and a great choice for adding multiple kinds of pull-ups to your workout regimen. It's designed to accommodate low ceilings, so if you've got a low-hanging garage or room to work in, this power rack is made for you.
REP Fitness PR-1100 Power Rack Highlights
Whether you're a beginner looking to lift weights for the first time or a lifetime gym rat, this power rack offers the ability to meet a lot of the goals you may set. Priced at just under $400, this rack is right around the average cost compared to its competition, possibly more on the lower end of the spectrum.
There are many add-ons you can purchase to maximize the potential of this equipment. In addition to the standard benches, barbells, and plates, you can add dip handles and a landmine attachment. You also have the option to add attachments for lat pulldowns and rows, enabling you to perform cable curls, leg extensions, and more. Adding weight storage horns or the full weight storage add-on allows you to keep your equipment organized and save space. This isn't entirely necessary though, and could actually take up too much space for those who are really limited. Be sure to have your personal space measured so you don't run into any problems with the dimensions of this rack.
Who Should Buy the REP Fitness PR-1100
Anyone who wants the ability to pick and choose what attachments to add to their power rack at an affordable price point.
Those who want their rack to have high durability, functionality, and stability will appreciate this build and steel frame.
Anyone looking for added safety features. This rack includes safeties and has a flat rack, meaning you don't need to bolt it down.
Who Shouldn't Buy the REP Fitness PR-1100
Powerlifters who need more than 700 pounds of weight at their disposal — this rack cannot accommodate more than that.
People who do not have enough space to fit this equipment in their home. The dimensions of this rack are 84" x 48" x 47.5".
For those who are on a strict budget, at-home gyms can be very expensive. This is a more affordable rack, but if you were to purchase all of the optional attachments, you would still be spending over $1,000.
Price
The REP Fitness PR-1100 is listed at just under $400, but that price does not include any attachments. Individual attachments can be priced as low as $200, with bundles priced at over $1,000. These prices can vary based on brand and the website you are ordering from. REP Fitness does give you the option to add their own brand of attachments while checking out. If you were to add the lat row and pulldown, weight storage and horns, and dip attachment, your checkout total could increase by over $500 (before taxes, and shipping and handling).
While these prices are high, they are standard for power racks, and are similar to most competition. This rack itself (without attachments) is even on the lower end of the pricing spectrum for power racks. REP Fitness does offer the option to pay four interest-free payments every two weeks for those who want to spread their purchase cost out over time.
Overall Build and Quality
With a 84" x 48" x 47.5" frame, the PR-1000 is built to fit in the majority of home and garage gyms. Highlighted by its versatility, you are able to customize the rack to meet your fitness goals by adding attachments — like the landmine attachment to train multiple muscle groups, and the lat pulldown attachment, allowing you to target your arms and legs. Holding up to 700 pounds, the REP Fitness PR-1100's weight capacity is average for home gyms. Some can only handle 500 pounds, while the strongest can hold up to 1,200 pounds. To put that into perspective, power racks at professional gyms usually hold over 1,000 pounds.
Features
With seemingly endless attachment options, the PR-1100 allows you to target every muscle group in an effective way. Highlighted by the multi-grip pull-up arch, and the ability to add lat row and pulldown attachments to go along with your standard squat and bench, the PR-1100 really offers the potential to ramp up your workouts.
Multi-Grip Pull-Up Arch
Built for traditional, neutral, close, and wide-grip pull-ups, the PR-1100 comes equipped with a standard 1.25" bar in the front to go along with a 2" bar in the back. The inverted design accommodates not only low ceilings, but also athletes of various heights — you should be able to use this rack unless you are standing eye-to-eye with the top of the pull-up bar (which is about seven-feet). With the addition of band attachment points, you can also potentially see an increase in progression, as well as mobility and resistance.
Laser Engraved Numbered Uprights
There is no need to worry about whether your J-hooks are in the correct spot on this rack — engraved numbers allow you to make quick and accurate adjustments when switching from squatting to benching.
Plastic-Lined J-Cups
The inside of the J-hooks are lined with UHMW (ultra-high-molecular-weight-polyethylene) plastic, ensuring your barbell stays quiet and scratchless. This plastic has the highest impact strength out of any other thermoplastic available on the market. Its durability is ideal since you will be repeatedly placing a barbell on it — plus, it's common practice with power racks.
Storage Attachments
With chrome plated safety bars that extend from the rack, you are able to store an extra barbell. You can also add weight storage horns, or the full weight storage add-on to store your extra plates in an organized manner.
Add-Ons
There is plenty of versatility with this power rack — the addition of dip handles and a landmine attachment, as well as the lat pulldown and row attachment allow you to train different muscle groups. With these additions, exercises like cable curls and leg extensions are readily available. In total, you can add over 20 separate attachments to this power rack.
Product Specs
At 84" tall when the pull-up arch is attached and an inside cage dimension of 44" x 45.5", you can fit this rack most places in your home without compromising range of motion — ideally, your ceilings should be at least nine feet tall, as it is recommended you have two feet of extra space above your power rack. As for width, you just need four feet of space.
The PR-1100 is safe and stable rated up to 700 pounds, and it's built from 14-gauge steel. The pull-up arch and optional dip bars are rated for 400 pounds while the lat pulldown attachment can accommodate 250 pounds. As long as you're not an elite level athlete, these numbers should be just fine to accommodate your training.
Materials
The PR-1100 is built from 14-gauge steel, which is plenty sturdy for home use and falls in the average range for power racks (you'll typically find 11- to 15-gauge is the norm for these types of racks).
Dimensions
At 84" tall 48" wide and 47.5" deep, the PR-1100 is able to fit in most home and garage gyms. The inside dimensions being 44" wide and 45.5" deep ensure the ability to properly perform your workouts. Nine-foot ceilings and a four-foot width/depth should be enough to house this rack.
Weight Capacity
The REP Fitness PR-1100 is rated to support up to 700 pounds total. This includes the weight from all possible attachments, not just weighted plates. Individual attachments are rated for less weight though individually, so be sure to check those specifications as well before you buy.
Warranties
REP Fitness offers a lifetime warranty on the frame, and their warranty on parts/attachments ranges from one-year to a lifetime depending on which add-ons you buy.
Places to Buy
The PR-1100 is available through the Rep Fitness website, as well as Amazon Marketplace.
Company Information
REP Fitness, started by two brothers in 2012 in a 1,200 square foot garage, now employs over 100 people in a 300,000 square foot facility. They maintain a focus on innovation and high-quality gym equipment at an affordable price. Rep Fitness offers full refunds if you return your product within 30 days, but a 15 percent restocking fee will apply to items returned without the original packaging or in used but sellable condition. For assistance, you can call 720-420-1731 or email [email protected]
Final Word
The RepFitness PR-1100 is a versatile rack for those building out their home gym. It's built from high-quality 14-gauge steel, and its dimensions enable it to fit in most spaces, with the exception of homes or apartments that do not offer high enough ceilings (nine feet is recommended). With the ability to add over 20 extra attachments from Rep Fitness' selection of rack attachments, you are able to work your full body within a small space.
If you are looking to build your own personal gym, a rack of this size and flexibility is a good place to start. A solid choice for both beginner and expert level weightlifters, this rack can meet the needs of most recreational athletes. However, if you're a powerlifter who needs a power rack that can support over 700 pounds, or if you are on a strict budget (as a full at-home gym may cost you over $1,000 after purchasing attachments) you may be able to find better alternatives.
FAQs
Can the PR-1100 be bolted to the ground?
No, neither of the Rep Fitness 1000 series power racks can be bolted down. However, there are alternative Rep Fitness power racks that can be bolted if you're looking for a rack that you can secure.
What is the difference between the PR-1100 and the PR-1000?
The PR-1000 offers an extra 2" of workable space inside the rack. Weight horns are also included with the PR-1000. The PR-1000 is a little more stable and has 2" hole spacing while the PR-1100 has 3" hole spacing, and slightly less workable space. 
Is a squat rack the same as a power rack?
No, a squat rack is just a half rack without the ability to add the same attachments as a power rack. Power racks offer more versatility, but squat racks can be a great option if you're working with a smaller space.