Go into nearly any commercial gym, and you're likely to find a Smith machine or two in a corner somewhere. More often than not, you might find it deserted in favor of lifting platforms and highly-muscled folks deadlifting 500 pounds. Indeed, the popularity of barbell exercises from the back squat to the clean & jerk has made the humble Smith machine seem obsolete.
But if you're training alone and aiming to push yourself through failure on the bench press, you might want to reconsider the next time you ignore the oft-neglected apparatus. The Smith machine bench press is an outstanding exercise that offers significant yet untapped upper body gains.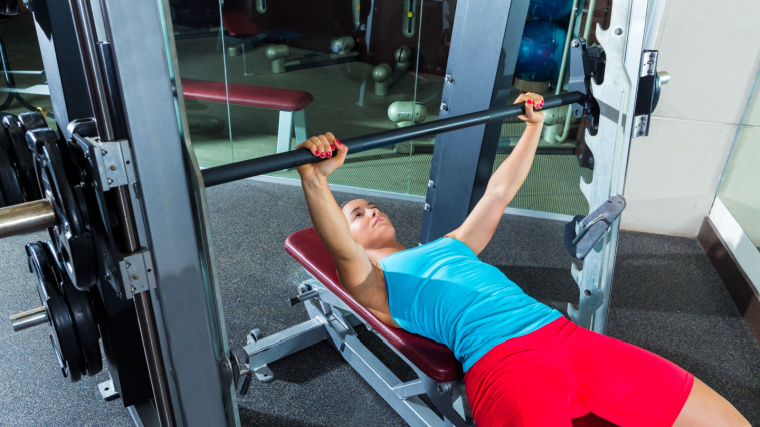 Countless lifters from years past have made the Smith machine bench press a staple in their routines. Here's how to do it, why you should try it, some alternatives, and common mistakes to avoid.
How to Do the Smith Machine Bench Press
The Smith machine bench press is performed similarly to your standard bench press, but there are some unique differences. Here's how to do it.
Step 1 — Setting Your Base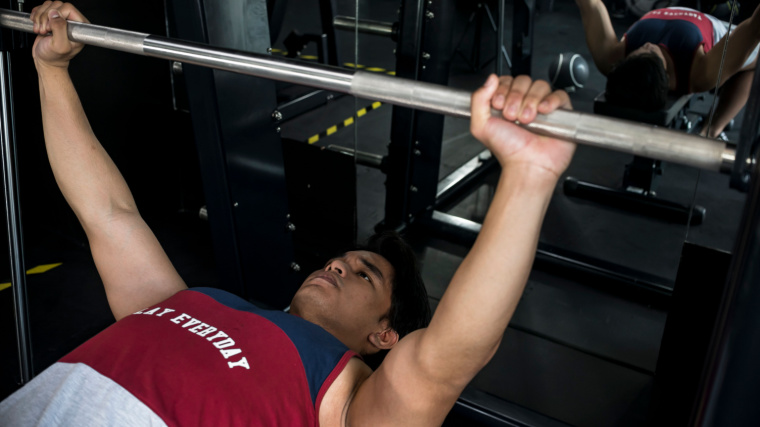 Place an adjustable bench in the Smith machine rack. Lie down flat on your back with the bar lined up approximately midway between your collarbone and your belly button. Make sure your feet are flat on the floor and that you're able to unrack the bar.
Coach's Tip: Remember to take advantage of the safety bumpers. Line them up at approximately chest height when you're lying on your back.
Step 2 — Setting Your Grip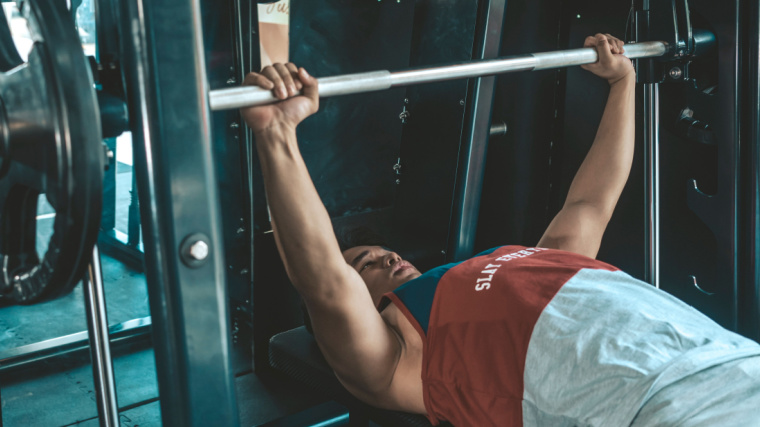 Tuck your shoulder blades back and down, engaging your lats with your arms fully extended in front of your body. Grip the bar evenly between each hand, taking care to stay dead center on the bench and the machine. Maintain this grip width with your shoulders back and down for the duration of the set.
Coach's Tip: If your Smith machine bar doesn't have any markings, create your own. Try draping a lifting strap in the middle of the bar before you set up.
Step 3 — Arch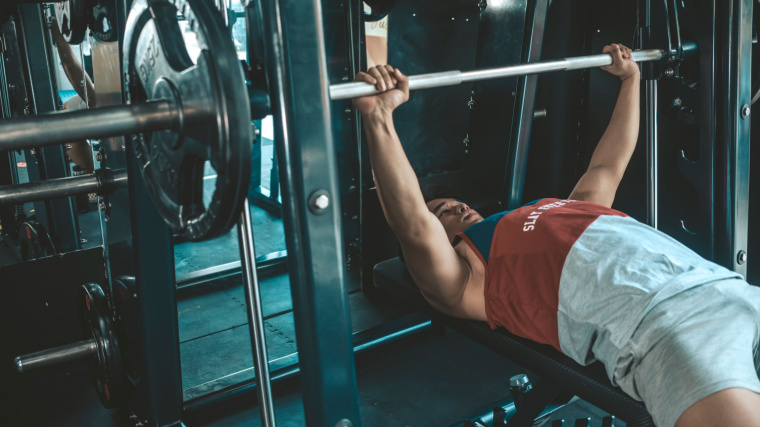 Keep your hands on the bar and create a tight natural arch through your thoracic spine. Pull your upper back toward the bar, keeping your lats engaged. Plant your feet flat on the floor where your body has moved to create the arch to maintain this new position.
Coach's Tip: The bar should now be directly above the highest part of your chest due to your arch.
Step 4 — The Descent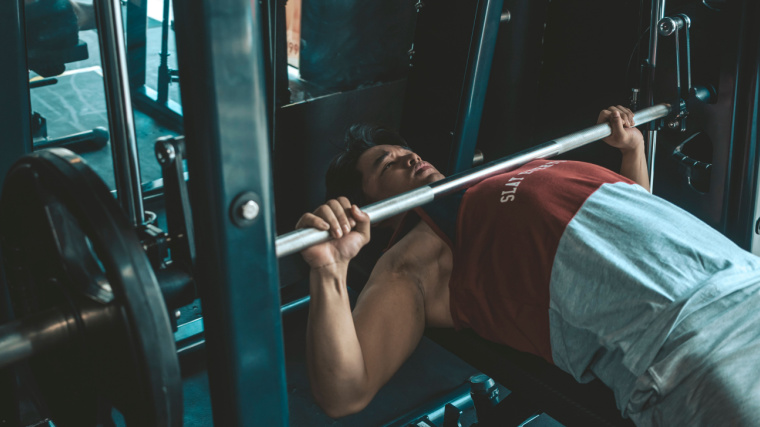 Maintain five points of contact — both feet on the floor, your butt, upper back, and head on the bench. Begin a slow and controlled descent through the first repetition, making micro-adjustments to your grip to accommodate your body type and mobility. Stop once the bar reaches your chest or you feel your hands, wrists, elbows, or shoulders starting to lose position.
Coach's Tip: The Smith machine bench press may not reach your chest on each repetition, and that's okay! The full range of motion (ROM) is going to be unique to your body.
Step 5 — Press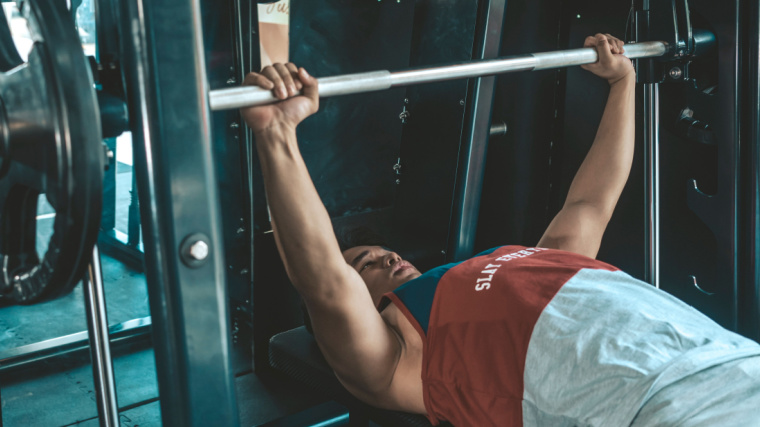 With your feet flat on the floor, create huge leg tension by pushing into the ground. Maintain your arch and use this leg drive to stay as tight as possible. Push the bar back to the starting position, making sure to stop before you untuck your shoulders.
Coach's Tip: Think of performing a quad extension to engage your leg drive.
Smith Machine Bench Press Variations
The Smith machine bench press is a great asset for building your upper body strength. There are also a handful of useful variations to complement your chest workouts further — here they are.
Close-Grip Smith Machine Bench Press
[Read More: 5 Bench Press Programs to Build a Bigger, Stronger Chest]
Set up your close-grip Smith machine bench press in the same way as your standard setup.
Adjust your grip an inch or two closer than normal on either side.
Perform repetitions, emphasizing your triceps by keeping your arms tucked closer to your body.
Paused Smith Machine Bench Press
[Read More: The Best Online Workout Programs For Coaching, Cardio, Value, And More]
Set up on the Smith machine as you normally would, getting tight before you unrack.
Lower the bar under control, reaching your chest or the point where you feel you would begin to lose position any lower.
Pause the bar for one to two seconds before driving it back to the starting position.
Incline Smith Machine Bench Press
[Read More: The Best Back Workout for Men, Women, Strength, and More]
Set up on the Smith machine and adjust your bench to the first or second inclined position.
Sit down on the bench. Set your grip by placing your shoulder blades back and down and grabbing the bar.
Drive your body into the bench by pushing with your legs.
Descend the bar until it touches your chest or where you feel like you'd lose position. Drive the bar back to the starting position and perform for repetitions.
Smith Machine Bench Press Alternatives
If you're looking to swap out the Smith machine bench press for some helpful alternatives, look no further than the Smith machine push-up, chest press machine, and Smith machine JM press.
Smith Machine Push-Up
[Read More: Build a Titanic Torso with These Bodybuilding Chest & Back Workouts]
Set the height of the Smith machine bar to accommodate your strength or repetition goals. The higher the bar, the less load you press.
Set your shoulders back and down to find your grip, place your hands evenly on the bar, and lean your body weight into the machine.
Control your descent by slowly bending your elbows. Use the ball of your foot to create a pivot point on the ground. Press yourself back to the starting position once your chest has reached the bar.
Chest Press Machine
[Read More: Get Freakishly Strong With the 5×5 Workout Program]
Choose the chest press machine of choice: either flat, incline, or decline. Converging machine orientations work best here.
Adjust the seat so the hand grips align roughly with your armpit height.
Push yourself into the bench using your feet, grip the handles tightly, and drive out until your elbows are fully extended. Control the descent back to the starting position, and perform for repetitions.
Smith Machine JM Press
[Read More: How to Do the Lat Pulldown for a Wider Back and Better Pull-Ups]
Set up on the Smith machine similar to how you would do your close-grip bench press.
Initiate your descent by bending your elbows, but keep your arms tucked close to your body.
Each repetition will be a combination of a skull crusher and a close-grip bench press. The bar path should be roughly over the top of your nose.
Lower the bar as you would with a skull crusher, keeping your upper arms in place but bringing your forearms down with the bar toward your face. Maintaining that same position, press the bar up as you would with a close-grip bench press.
Reset and repeat for reps.
Benefits of the Smith Machine Bench Press
Although the Smith machine bench press gets a lot of negative attention from those would prefer a barbell, it is extremely beneficial. This lift allows you to perform one of the best upper body exercises using an extremely stable machine. This makes building muscle extremely straightforward — and less risky when you're training alone.
High Stability
Free weights are a huge asset in the gym. They are easy to use for progressive overload as you increase strength and build muscle over time. However, before a free weight is as effective as it should be, you first need to groove the pattern. Learning to stabilize an exercise is a prerequisite to safely and effectively executing it for your goal.
With the Smith machine, the bench press pattern itself is maintained in a very specific position. The restricted range of motion makes the exercise extremely easy to execute without running into stability plateaus. This higher level of stability makes it a lot easier for you to simply hop in and sprint towards gains.
[Read More: The Ultimate 10-Week Powerbuilding Workout Routine for Mass and Strength]
It should be noted that if you're a powerlifter, you might want to avoid using this as a training tool since you'll want to train as specifically as possible for the barbell bench press. That said, if you're in the offseason and want to train without a spotter — or concern for stability — you're in luck here.
Upper Body Strength With Less Fear
The Smith machine bench press is a subtle twist on your standard bench press. Both recruit a ton of muscle mass and are some of the most highly loadable upper body exercises in the gym.
The higher you're able to load an exercise the more top-end strength you'll unlock. Add in the high stability benefit of the Smith machine and your upper body strength can skyrocket.
If you're training alone, this is a tremendous asset. When you don't know anyone who can spot you in the gym, the Smith machine comes with built-in safeties. A quick twist of your wrist, if you start failing a rep, can save you from a disaster. This way, you can load up feeling confident that you can safely miss your lift.
Muscle Gain
Similar to building strength, the Smith machine bench press makes it easy to chase major muscle gain. Squeezing out those last few repetitions — the ones that are the hardest and really challenge your progress — is a bit more intimidating on a free bench.
You're going to need to push yourself, preferably with an experienced spotter, to accomplish progressive overload. The Smith machine helps reinforce your technique, safety, and confidence in training hard enough for muscle gain.
Muscles Worked by the Smith Machine Bench Press
Like any horizontal upper body pressing exercise, the Smith machine bench press primarily targets your chest, triceps, and shoulders.
Chest
The chest is the clear motivator behind nearly every horizontal pressing exercise. Your chest (or pectoralis major) is a fan-shaped muscle that attaches between your collar bone, sternum, and upper ribs to a small groove in your upper arm.
Any exercise that flares your elbow away from your body or slides your upper arm alongside it will put a nice stretch (and strength demands) on your chest.
Shoulders
The shoulders, particularly your front deltoids, are nearly impossible to separate from chest gains during bench press exercises. Although they have distinct attachment points on your body, they help accomplish a similar task.
[Read More: The 15 Best Shoulder Exercises for Building Muscle]
The anterior (front) deltoid is found between your outer collar bone and a small bump on the upper arm called your deltoid tuberosity. Any exercise that draws your arms together in front of your body will harness the anterior deltoid.
Triceps
Similar to the shoulders, the triceps are a key part of pressing exercises. The triceps comprise the meaty muscle mass found on the back side of your upper arm. They primarily work to extend your elbow, which is one of the major prerequisites for a good strong Smith machine bench press.
Who Should Do the Smith Machine Bench Press
The Smith machine bench press brings great value to plenty of lifters. Particularly, beginners, bodybuilders, and anyone struggling with a busy gym should be doing the Smith machine bench press.
Beginners
When you're a beginner, it's all hands on deck for gains. You certainly want to log some quality time with several training tools, from calisthenics to free weights to build up your skill. You'll also want to find a few key staples that allow you to simply go to town and work hard.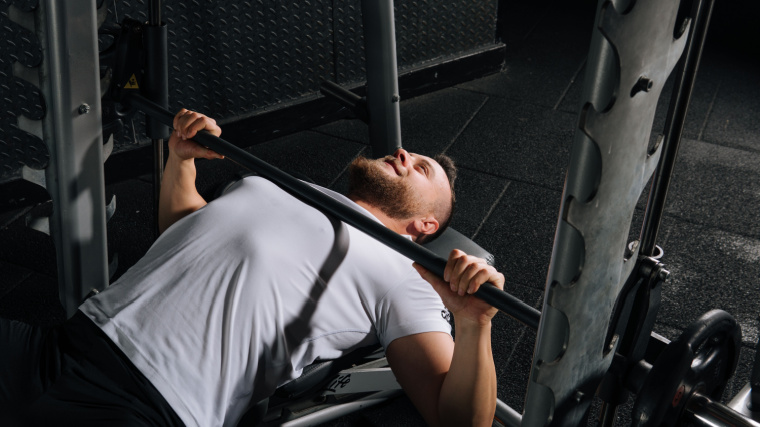 The Smith machine bench press is just that staple. It allows you to build some great baseline strength and muscle mass without struggling with skill development or stability first.
Bodybuilders
Bodybuilders are masters of building muscle, and a highly stable exercise that's safe to take to failure (or beyond) is very alluring. The Smith machine bench press is inherently stable because it is locked in the rigid bar path.
The move also allows you to train to failure safely due to the bumpers and fail-safe locks each one has. This combination makes the Smith machine bench press a stand-out candidate for making long-term gains.
Lacking Equipment
If your gym is packed to the gills when your next chest workout rolls around, try the Smith machine bench press. Although the Smith machine bench press provides a huge amount of value, it still tends to be on the more neglected side of things.
[Read More: 5 At-Home Workouts for Strength, Muscle Growth, Power, and More]
When everyone else is lining up for the machine or free-weight pressing variations, sneak away to the Smith machine. It truly is one of your gym's best-kept secrets.
Common Smith Machine Bench Press Mistakes
The Smith machine bench press is not the same exercise as the free-weight version. Although similar, there are some common mistakes you should actively seek to avoid.
Too Much ROM
The Smith machine places your bench press in a fixed range of motion, so the bar moves in a very linear fashion with minimal side-to-side or front-to-back movement. However, your own body rotates.
This means that as you move through the normal pressing ranges of motion, your shoulders will eventually want to move more than the machine will allow. Therefore you'll be looking to hit a sweet spot — use just enough range of motion for gains but not enough to lose position.
Too Little ROM
On the flip side, sometimes the stability and fixed range of motion of the Smith machine bench press make loading it up very attractive. When you do this prematurely, your range of motion may turn into a progressively shorter, less effective range of motion.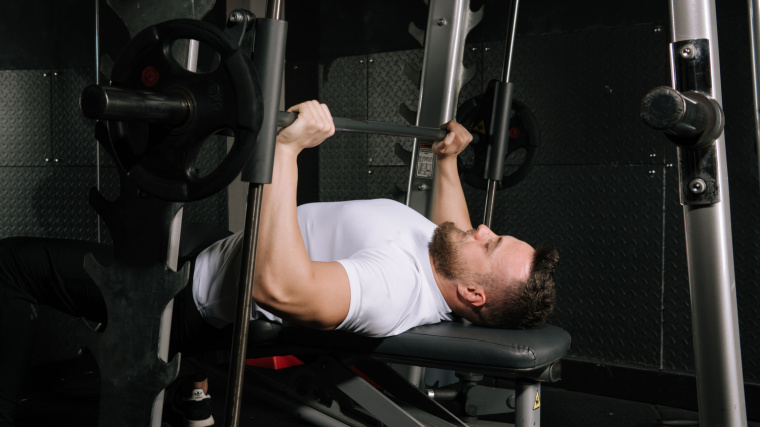 Although high stability and load help to build strength and muscle, if you find yourself barely unlocking your elbows to complete each repetition, your range of motion has gotten too small.
Adjusting to the Bar
The touch point of a bench press is where the bar comes in contact with your body. A standard bench press often employs a "J-curve" where the natural rotation of your shoulders causes the bar to touch slightly lower on your torso. When you press, it then moves back up towards your face at lockout. The Smith machine is a fixed bar path and thus cannot accommodate the same thing.
Once you set up on the Smith machine bench press, test drive your repetitions. Depending on your body size and limb length you might be able to reach your chest in a completely straight bar path. If not, your personalized range of motion may stop just shy of touching your chest. When you feel like you'd have to move to accommodate the bar, stop — your repetition is complete.
Don't Pass Up the Gains
It makes sense to be a barbell and weight bench purist — what's not to love about some good old-fashioned free weights? But if you only have access to a Smith machine (or simply want to give your chest a different stimulus), don't dismiss the power of the Smith machine bench press.
With this lift, you'll be able to push yourself harder, safer, and without a spotter. This can lead to some pretty serious muscle gain. Go the extra mile with the Smith machine, and your chest is bound to go in the direction you want it to.
FAQs
Since the Smith machine bench press is a less commonly performed exercise, here are a few common questions that should clear things up.
Featured Image: lunamarina / Shutterstock