If you told a powerlifter that they could push more weight by benching with a closer grip, they would probably tell you to get lost. They would, of course, be right. The close-grip bench press has an increased range of motion when compared against the standard barbell bench press which usually limits how much weight you can work with. But that's no reason to throw out the baby with the bathwater and discard the exercise entirely.
Whether you've been searching for a new way to grow your triceps, or you're pushing through a plateau on the bench press, look no further. The close-grip bench press can help improve stability while also enhancing triceps strength and hypertrophy.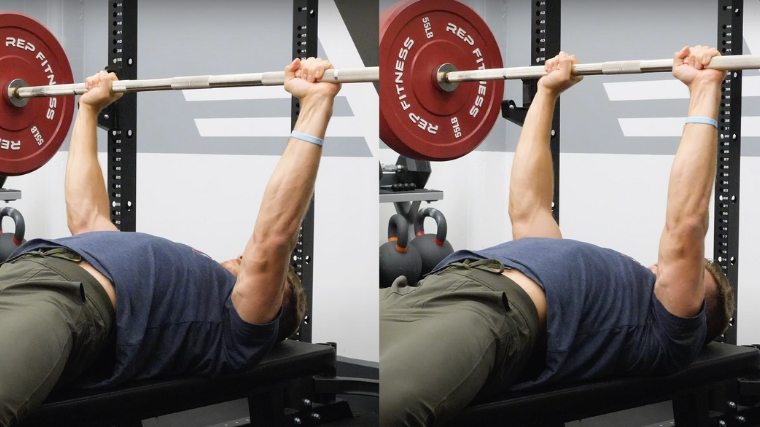 In addition to challenging your triceps, this exercise can provide strength gains that improve your bench press performance and even carry over to other push movements like the overhead press and the jerk. Here's how to do the close-grip bench press properly, and what you stand to gain along the way.
How to Do the Close-Grip Bench Press
For those who are already familiar with the barbell bench press, the close-grip variation should be a relatively straightforward endeavor. To get the most bang for your buck from the exercise, all you'll need is a barbell and a bench.
You may also consider slapping on a pair of wrist wraps if this is your first time benching with a different grip to avoid any undue joint stress, but it's far from mandatory.
Step 1 — Set Up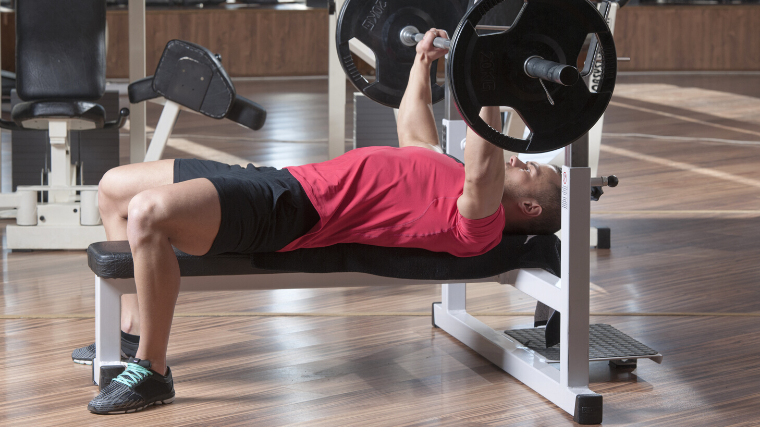 Lying flat on the bench, set your points of contact. Keep your feet on the floor, and your butt, upper back and head on the bench. Place your hands on the bar at exactly the width of your shoulders, if not slightly narrower. Pull your shoulder blades back and down to stay tight and protect your scapula.
Coach's Tip: Experiment with your grip before loading up any serious weight to ensure you'll adequately engage your triceps during the lift.
Step 2 — Unrack the Barbell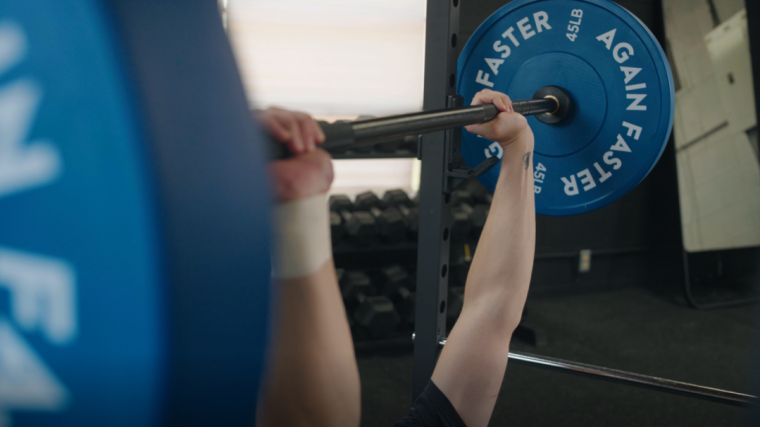 Take a deep breath and brace for the lift. Without losing tension or protracting your shoulder blades, lift the bar from the rack. In the starting position, the bar should be directly over your clavicles.
Coach's Tip: Think about pressing your feet hard into the floor to prime your legs and keep your body tight.
Step 3 — Lower the Bar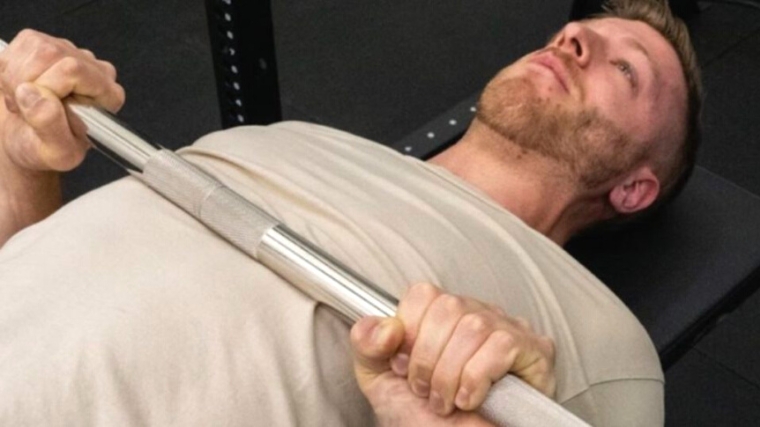 Stay tight as you guide the barbell down toward your chest. Think about pulling your elbows in towards your torso as you descend to maximize the load on your triceps. Lower the bar until it gently touches your torso — the point of contact will probably be a bit lower than you're used to.
Coach's Tip: Don't try to make the barbell travel in a straight line. Most likely the bar will make contact with your chest near the base of your sternum.
Step 4 — Press Back Up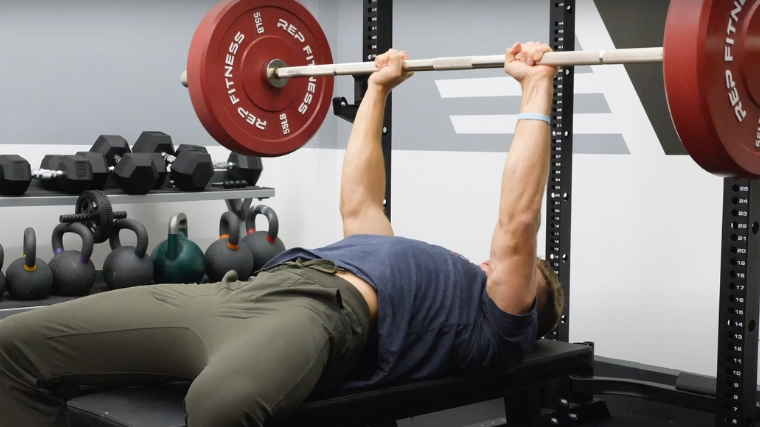 Once the bar has come to a full stop on your chest, press back up towards the lockout position. Make sure to keep your legs tight and your scapula packed into the bench to isolate your chest and triceps.
Coach's Tip: To avoid elbow flaring, try to reverse the motion of the descent on your way back up.
Close-Grip Bench Press Sets and Reps
Regardless of how you train, your close-grip bench press probably won't ever be as strong as when you bench press with a standard grip. As an accessory, how you choose to implement the lift depends on your goals.
Whether you're interested in pressing more weight, or you're trying to pack some mass onto your arms, here are a couple of ways you can incorporate the exercise into your routine.
For Muscle Mass: Perform 3-4 sets of 8-12 slow and controlled reps.
For Strength: Perform 2-3 sets of 5-8 reps.
For Stability: Perform 2 sets of 10 with timed eccentrics.
Common Close-Grip Bench Press Mistakes
All bench press variations carry with them a certain degree of risk when performed with improper technique. Besides the mistakes common to the larger group of exercises, the real challenge most people will have with the close-grip bench is performing the lift in a way that maximizes the advantages of the lift.
Incorrect Hand Placement
It's easy to go either too close or too wide and avoid the specific benefits that the close-grip bench press has to offer. If you set up too wide, you'd effectively just be performing a barbell bench press. If you set your hands too close, you may place unnecessary strain on your wrists or shoulders. Too far in either direction will keep you from maximally loading your triceps during the lift.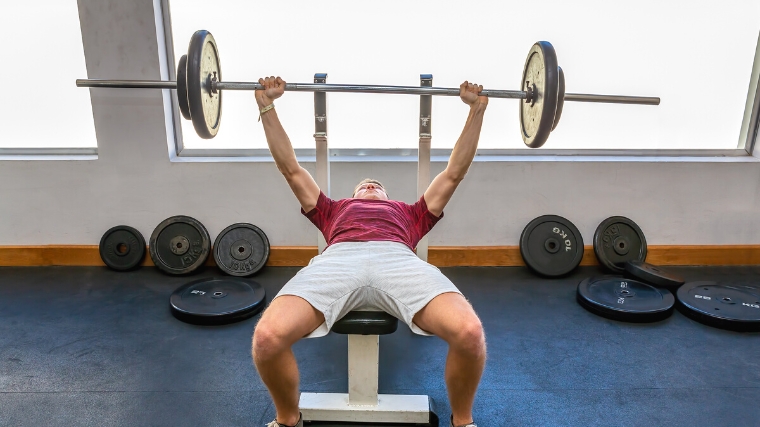 Experiment with your grip by practicing with an empty bar prior to performing the lift to find what works best for you. Most lifters find that placing their hands just inside of shoulder width provides them with the most comfort while performing the lift, but anatomical differences from person to person mean that you might find it easier to move your hands slightly closer or wider than that.
Flaring Your Elbows
There's a good chance that you'd experience this if you've placed your hands too close together, but even with correct hand positioning you can still wind up with elbow flare. If, either on the descent or the ascent, your elbows flare out, you risk putting unnecessary and avoidable strain on your shoulder joint. Keeping your scapula down and focusing on pulling your elbows in towards your body should help fix this.
Going Too Heavy
A lot of people have an ego when it comes to bench pressing. Going too heavy too quickly with a close-grip could lead to a breakdown in technique. It also means your pectorals will end up doing the brunt of the work instead of your triceps.
To sidestep this issue before it impacts you, make sure you're performing your close-grip bench presses with a light weight to begin with while you learn the technique. Once you have an understanding of how to execute the movement properly, load up.
Close-Grip Bench Press Variations
If there's a variation on a barbell bench press, it can probably be applied to the close-grip bench too. Consider the following variations in setup and equipment to tailor the lift to your goals.
Close-Grip Incline Bench Press
Some will tout the close-grip bench press as superior to a traditional bench press for hitting your upper pectoralis. In theory, combining the close-grip bench press with the incline bench press should do even more to build your upper chest.
Plus, the technique of the close-grip incline press is so fundamentally similar to the standard close-grip press that you should be able to flow from one to the other with no pain at all.
Close-Grip Dumbbell Bench Press
Just because the close-grip bench press is named for the hand position you take relative to a traditional bench press doesn't mean a barbell is required equipment. Working with dumbbells can be a great way to build familiarity with a new movement pattern, and the greater range of motion required comes with unique challenges and benefits.
You'll have to really focus on keeping your elbows tucked, but by bringing the dumbbells together as you press upwards you can more effectively isolate your triceps.
Close-Grip Cable Press
Thanks to an extended range of motion, and the constant tension cables keep on the pecs, this lift is a great accessory for isolating your chest. Set up with dual cables at roughly shoulder height.
Take a step forward to engage the weight, then, keeping your elbows inside of your shoulders, press straight out.
Close-Grip Bench Press Alternatives
If you find yourself short on equipment, time, or you're just looking to change up your routine, consider these alternatives to the close-grip bench press that can provide similar benefits.
Close-Grip Push-Up
No equipment required here. Start by getting down on all fours, placing your hands roughly shoulder width apart. Straighten your legs, brace your core, and tuck your butt down. As you lower yourself down, keep your elbows tight against your sides.
Both your chest and your hips should touch the ground when you reach the ground. Then push back up to the starting position.
Close-Grip Floor Press
If you're looking for the benefits of the close-grip bench press but you don't want to wait for a bench to open up, the floor press can be a great option. Lying flat on the floor, set up with the bar near the base of your sternum.
Find a grip slightly wider than shoulder-width apart. With your shoulder blades properly tucked, press the weight upward.
Board Bench Press
Like with the floor press, the board bench press can help isolate the triceps by restricting the range of motion at the bottom of the bench press.
Find either a bench press block that can attach to the barbell, or a wooden block that will lie on your chest, then perform the lift like you would any other bench press.
Muscles Worked by the Close-Grip Bench Press
Not sure where to incorporate the close-grip bench press into your program? Here are the muscle groups utilized by the lift.
Triceps
Fill out those shirt sleeves. Your triceps constitute almost 70 percent of the mass in your upper arms. Responsible for elbow extension during pressing movements, the triceps are one of the primary muscle groups utilized during the close-grip bench press.
Anterior Deltoid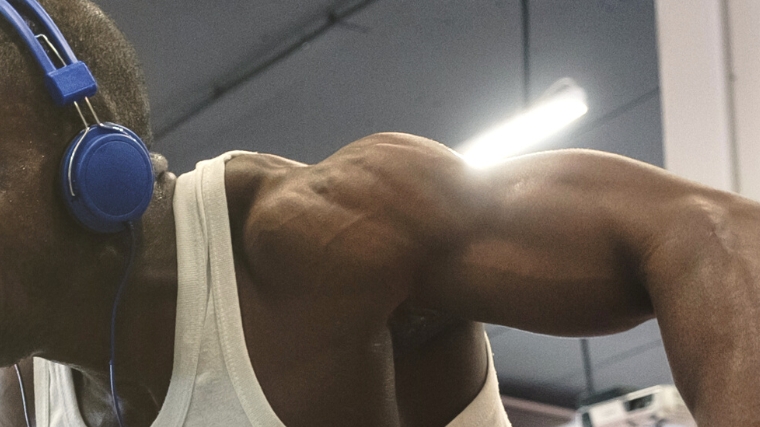 Your anterior deltoids have a role to play any time you hold your arms out in front of you. The anterior deltoid originates at the lateral clavicle and helps with internal rotation, which in turn helps you keep your elbows tucked.
Pectoralis Major
Inexorably linked to the bench press, the pec major is the largest muscle on the anterior chest wall. If you have a preference for the close-grip bench press over a traditional bench press, fear not – a closer grip won't kill your chest gains. In fact, nothing suggests that a close grip results in muscular recruitment than in a traditional bench press. (1)
Teres Major
One of the primary muscles responsible for internal rotation of the shoulder, the teres major has a huge part to play in stabilizing all bench press variations. Like the anterior deltoid, the teres major helps internally rotate the shoulder joint.
Benefits of the Close-Grip Bench Press
The grip you take during the bench press ultimately comes down to personal preference. But if you fall into one of the following categories, it might be time to reconsider or incorporate the close-grip bench press into your routine as an accessory.
Builds a Stronger, More Stable Bench Press
For more experienced lifters, incorporating bench press variations can help push through plateaus. Conjugate training systems like the Westside Barbell Method incorporate variations like the close-grip bench press to help improve lockout performance, reduce elbow flaring, and increase emphasis on the triceps.
Offers Aesthetic Benefits
You'd be hard-pressed to find a lifter that doesn't want bigger arms. Since your triceps make up most of the overall size of your upper arms, a bench variation that can recruit more triceps could be a great addition to your arm day if you're shooting for size.
It's Easier On Your Shoulders
If performing a bench press causes you pain or discomfort in your shoulders, changing your grip could be the only adjustment you need to make to push forward and start making gains again. A closer grip leads to less shoulder abduction during the lift and could potentially provide relief for a cranky shoulder.
Has Sport-Specific Carryover
The bench press is the predominant upper body lift for most sports-specific strength programs, despite limited carryover to the sports themselves. In both football and rugby, players tend to keep their hands positioned closer to their torsos during pushing movements.
These mechanical similarities suggest the close-grip bench press may be better than the traditional bench press for sports-specific strength training.
Who Should Do the Close-Grip Bench Press
The bench press has become near universal across the world of strength training in part thanks to its versatility. If you don't fit into one of the groups described below, the close-grip bench press could still be a great addition to your routine if you're looking for a compound lift that builds your triceps, or if bench pressing has been causing you discomfort.
Powerlifters
Lifters who train to compete in the bench press can find tremendous value in incorporating the close-grip bench press into their routine as an accessory. Improvements to lockout performance and tricep strength can help more experienced powerlifters who struggle with a high sticking point at maximal or near maximal loads.
When you add the convenience of an accessory that requires no additional setup or equipment after bench press, it's easy to see how this could be a great addition to your lifting toolbelt.
Bodybuilders
If you're looking to really feel your triceps and your upper chest, the close-grip bench press could be a great way to start your workout. It's a compound, multi-joint movement that blasts your chest, shoulders, and triceps all at once: A perfect way to start off your next push workout for muscle growth.
Athletes
If you're an offensive lineman engaging in run or pass blocking, a basketball player performing a chest pass, or a boxer throwing a jab-cross combo, your arms tend to stay closer relative to your torso than a traditional bench press. Studies suggest that the close-grip bench press may be a better lift for developing strength specific to actions required in certain sports. (2)
Press Onward
Small changes can make a world of difference when it comes to strength training. Adjusting your grip on the bench press can flip the script on your standard pressing workouts and open up a whole new avenue for gains.
Through strength plateaus, lagging triceps, or shoulder discomfort, the solution is simple — press onward (after you adjust your grip, of course).
FAQs
The close-grip bench press may seem like a slight tweak on the traditional bench press, but that doesn't mean that it should be implemented in the same way. Here are some common questions for anyone still wondering what makes this lift unique.
References
Saeterbakken, A., Mo, D., Scott, S., & Andersen, V., (2017). The effects of bench press variations in competitive athletes on muscle activity and performance. Journal of human kinetics. 57, 61-71.
Lockie, R., Callaghan, S., Moreno, M., Risso, F., Liu, T., Stage, A., Birmingham-Babuta, S., Stokes, J., Guiliano, D., Lazar, A., Davis, D., & Orjalo, A., (2017). Relationships between mechanical variables in the traditional and close-grip bench press. Journal of human kinetics, 60, 18-28.