History was made this weekend at the 2017 Arnold Classic. The first all Pro division of Strongwoman competitors battled it out on Friday and Saturday in Columbus, Ohio at the 3 day expo.
We have talked about how the Arnold is arguably the biggest stage in Strongman in general (Brian Shaw's win was its own momentous occasion), and this was a highly anticipated event that many hope will result in more high level women's competitions. Ten women competed for the first Arnold title for the newly formed Pro division.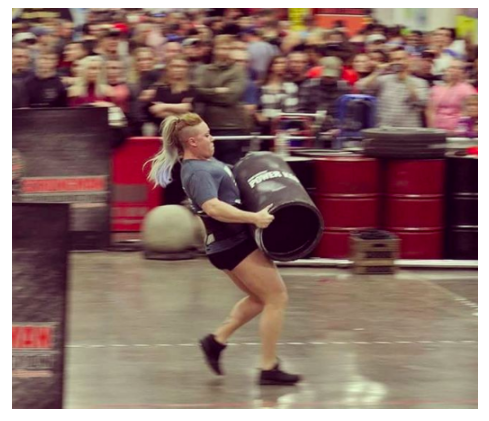 Winner Liefia Ingalls during the keg run medley
The competitors had all recently achieved pro status from Strongman Corporation in the last year. (Strongman Corporation established their women's Pro division in 2016, and hosted their first all women's prize-money awarding competition this past July at Strongest Woman in the World in Jacksonville, Florida, which was won in each weight-class by Leslie Hofheins (LW), Dani Schwalbe (MW), and Britteny Cornelius (HW).)

The new pro division of the Arnold is not divided by weight class, so it saw lightweights going up against heavyweights in an impressive throwdown that featured the following competitors:
Brittney Cornelius
Julie Rader
Brooke Sousa
Kaitlin Burgess
Kristin Johnson
Kimberly Lawrance
Liefia Ingalls
Leslie Hofheins
Jessica Kite
Jamie Popp Christenson
First place went to Liefia Ingalls, 2 x California's Strongest Woman and 4th Place Middleweight Arnold Amateur Champion 2015. She was tied for 2nd place going into Day 2.
She held her own getting second on the tire deadlift with 6 reps at 500 lbs (Cornelius won this event with a staggering 10 reps), and Ingalls won the Big Top Circus Dumbbell with 8 reps at 125 lbs, securing her win.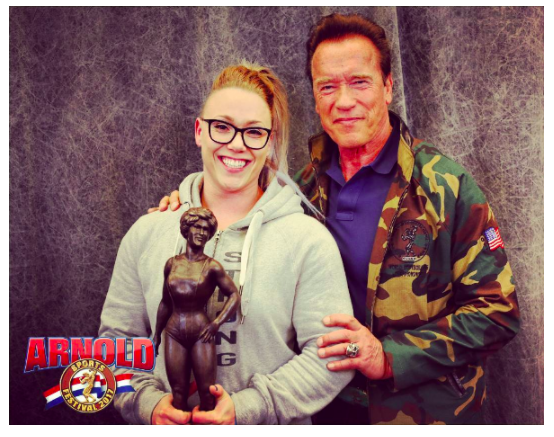 Winner Liefia Ingalls with Arnold Schwarzenegger
Kaitlin Burgess and Julie Rader took 2nd and 3rd place, respectively. In the past, Burgess has competed as both a middleweight and a heavyweight, and Rader as a heavyweight. Burgess won the stone series with a blistering 27 second run and Rader won the "Hammer of Strength" (literally a giant hammer the athletes had to shoulder and push up notches to attempt to raise the implement up).
2nd place winner Burgess's winning Stone of Steel series:

4th Place Winner Britteny Cornelius' deadlift:
The competition also featured a keg run medley for fastest time. The competition was held on Rogue's main stage — the athletes competed on a backdrop of a sea of cheering fans, friends, and supporters. The future of Pro Strongwoman seems bright.