We receive free products and receive commissions through our links. See
disclosures page
.
The Titan Fitness Lat Tower was designed with home gym owners in mind, from the footprint to the competitive pricing. Having a specialized piece of equipment for each body part can help to make training smooth and transitions quick when working out at home. Space and budget often prohibit such luxuries though, and historically, you've had to pay a pretty penny and have a ton of extra space — until now. This lat tower combines a lat pulldown and low row machine in one to maximize utility.
It comes with a heavy 300-pound weight stack. The stack increases in 10-pound jumps starting at 10 pounds and going all the way up to 300 pounds. This allows you to grow with the machine as few will top out the stack on many exercises. The heavy-duty 3×3-inch 11-gauge steel which makes up the structural elements of the machine is made to stand the test of time. This is the same size and thickness of steel found in many top-tier power racks. You can perform a variety of back exercises with this machine, such as pulldowns, bent-over rows, seated rows, and more. Pick up some additional cable attachments and the exercise possibilities are numerous. If you're looking to add a lat tower to your gym and don't want to break the bank, the Titan Lat Tower is a premium option at a budget price.
Main Takeaways
This lat tower has selectorized weights with options from 10 through 300 pounds in 10-pound increments, which is heavy enough for even the

strongest lifters

.

You can perform not only

lat pulldowns

, but a host of other exercises, such as low rows, triceps pushdowns, and pretty much any other cable exercise, as long as you work around the built-in seat and footplate. 

The cables travel smoothly and the weight feels steady thanks to a combination of 10 pulleys in this machine.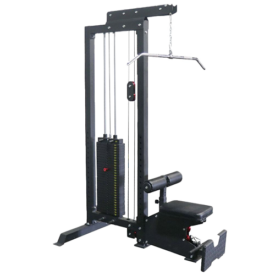 Spread your lats and fly with the Titan Fitness Lat Tower and up to 300 pounds of weight available. This tower is of similar quality to other competitors at a fraction of the price and takes up minimal real estate for the utility it provides.
Titan Fitness Lat Tower Highlights
The Titan Fitness Lat Tower has everything a home gym or limited-space commercial gym owner could want in a lat tower. It's cost-effective, has a smaller footprint than many other lat towers, and has a brutally heavy weight stack that goes up to 300 pounds in 10-pound increments. The dimensions of the tower measure 87 inches tall by 41 inches wide and 57 inches deep, so it's easy to place in a corner, so it stays out of the way of your free weights.
In total, the machine weighs 530 pounds, largely due to the 300-pound weight stack and heavy, high-quality steel used for the frame. Titan used 3×3-inch, 11-gauge steel, which is what many high-end power racks are made from due to its enormous weight capacity and stability. Despite being a budget item, the Titan Lat Tower has the make and feel of a premium piece of equipment. It's worth noting that some people did have a problem with the quality of the vinyl used for the seat cover, so keep that in mind and try to regularly clean and take care of the seat's vinyl.
Who Should Buy the Titan Fitness Lat Tower
Those who like to train back. This is an easy way to add extra back volume to your workouts and potentially help get those wings growing.
Home gym owners who are somewhat tight on space but want a machine that offers a good amount of versatility for the space it occupies.
People who are looking for a budget-friendly lat tower with a weight stack built in. This one is about half the price of similar options from different manufacturers.
Who Shouldn't Buy the Titan Fitness Lat Tower
Those who are very limited on space may want to opt for a rack-attached lat pulldown if their rack can accommodate that.
Anyone who is working with a limited budget may consider a simple cable pulley system that mounts on their pull-up bar.
Folks who already have a cable system built into their racks may find this redundant and not necessary.
Price
The Titan Fitness Selectorized Lat Tower is priced at around $1,870 before tax with free shipping. This is about half the price of similar products from their major competitors — not to mention the money you'll save on shipping such a heavy product. Titan does offer financing through Bread™ pending a credit check if this price is too much to pay all at once.
Overall Build and Quality
The Titan Lat Tower is made from heavy-duty 11-gauge steel for the structural elements, and anodized aluminum is used to manufacture the pulleys and weight stack pin. You'll find the cable wires are aircraft-grade and meant to hold up to 1,000 pounds, but you'll only be pulling 300 pounds at the most here. A semi-gloss black powder-coat is used to finish the steel surfaces to help prevent wear and oxidation. Some people have reported that the vinyl on the seat isn't the best quality, so keep an eye out for early signs of wear there. Another aspect of the machine that some may not like is that the height can feel short for taller lifters — a trade-off with the space-saving size.
Features
The two things that stand out right from the jump with the Titan Fitness Lat Tower are the heavy weight stack that's included and the relatively modest footprint the machine occupies. For the weight stack, Titan seemingly wanted to ensure you don't run out of resistance with a 300-pound stack and band pegs for even more of a challenge. The cables and pulleys are all high quality and provide a smooth glide thanks to upgraded bearings. The included lat bar is sufficient for beginners, but most advanced lifters will likely want to upgrade to a more heavy-duty bar. When performing low rows, you can change the distance of travel with eight different adjustment points.
Heavy Weight Stack
Most selectorized machines stop somewhere around 200 pounds, but the Titan Lat Tower keeps on going all the way to 300 pounds. It's clear that Titan designed this machine to be effective for everyone, from the beginner with a starting weight of 10 pounds all the way to the elite strength athlete. Even if the 300-pound stack isn't enough for you, there are built-in band pegs for an added challenge with resistance bands. With such a heavy weight stack, you can really grow with this product without having to worry about upgrading.
Seat
Similar to many other lat towers, the seat for the Titan Lat Tower uses rollers with six adjustment points to brace your thighs when performing lat pulldowns. The seat itself is made from a single high-density foam layer, which is wrapped in vinyl. The seat is pretty straightforward and solid, but we don't recommend sitting down and cracking open a book to read there. Something to note is that some people have had the vinyl tear or rip quicker than expected, but Titan has since stated that they are working on improving the quality of vinyl used in this product.
Cables and Pulleys
A heavy-duty, aircraft-grade cable wire smoothly glides around a system of 10 pulleys thanks to upgraded bearings similar to those you'll find in machines double or triple the cost. The pulleys are red anodized aluminum to help prevent oxidation when stored in a garage or basement. Despite being cost-effective, the pulleys and cable included are high-quality, and you won't have to worry about them wearing out for years. The weight stack pin is also made from red anodized aluminum and is magnetic for increased convenience when selecting a resistance level.
Lat Pulldown Bar
Though the Titan Lat Tower can be used to perform both lat pulldowns and low rows, only a lat pulldown bar comes included with the tower. The lat bar measures 42 inches long (which is a normal length for a lat bar) and is made from aluminum. It measures about 25mm thick, so many people may find it a bit on the thin side. We'd recommend purchasing an upgraded lat bar made from stainless steel with a thicker handle for a more comfortable and long-lasting attachment.
Footplate
Though Titan doesn't designate it on their website, this is technically the Titan Lat Tower V2, or version two. With this upgrade, Titan fixed one of the biggest complaints of their first version — the footplate. Now the footplate attaches much more securely with a horizontal bolt through both sides of the metal and can be moved to eight different adjustment points.
Product Specs
The Titan Lat Tower is quite a beefy piece of equipment despite its relatively low profile since it's designed to support a ton of weight. Uprights made from 3×3-inch 11-gauge steel (which is what you might find on a power rack) help to give the Titan Lat Tower a sturdy feel. Coming in at just 41 inches wide and 57 inches deep, the footprint here won't take up your entire workout space. Thanks to the solid build and despite its space-saving frame, this lat tower can support quite a bit of weight — likely over 400 pounds on top of its own 530-pound weight.
Materials
The steel, structural parts of the machine are manufactured with 3×3-inch 11-gauge steel. This is the same size and thickness of steel you're likely to find in high-end power racks, which ensures this machine can handle the weight. The cables are aircraft-grade, and the pulleys as well as the weight stack pin are made from anodized aluminum, which is resistant to oxidation. The steel is powder-coated with a semi-gloss black finish to help potentially protect against oxidation and wear. A common complaint though is the lack of quality of the vinyl used for the seat, so you may want to keep that in mind and pay extra care in cleaning it regularly.
Dimensions
This machine takes up a small amount of space as far as lat towers are concerned measuring 87 inches tall by 41 inches wide and 57 inches deep. Similar lat towers from competitors can take up almost double the space. The Titan Lat Tower was designed with home gym owners — who typically are working with limited space — in mind.
Weight Capacity
This product weighs a total of 530 pounds thanks largely to the 300-pound weight stack. Despite Titan not giving an official weight capacity for this piece of equipment, we're confident that, thanks to the solid materials, it can likely support up to and over 400 pounds. The cables are aircraft-grade and rated to 1,000 pounds.
Warranties
The Titan Fitness Lat Tower comes with a one-year warranty, which protects against manufacturer defects or unusual wear.
Places to Buy
You can purchase the Titan Fitness Lat Tower through the links above or directly through the Titan Fitness website.
Similar Titan Products
Titan does make similar products to this, each with a different twist and person who they might be best for. They offer a plate-loaded version of their lat tower, as well as a wall-mounted pulley tower, which can be used to achieve similar goals at varying prices and dimensions.
Titan Plate-Loaded Lat Tower
The Titan Plate-Loaded Lat Tower offers the functionality of a lat tower and low row machine with the cost savings of a plate-loaded machine. This lat tower can accommodate both standard and Olympic plates and has a thigh pad with four adjustable positions. Dual 13-inch weight posts on either side of the tower can be loaded to 200 pounds each for a total weight capacity of 400 pounds.
Titan Fitness Plate-Loaded Lat Tower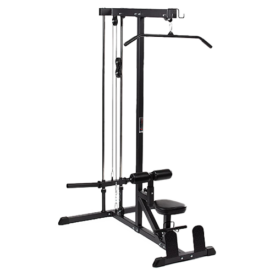 Titan Fitness Plate-Loaded Lat Tower
Add a lat tower and low row machine to your gym at a fraction of the cost of selectorized machines with the Titan Fitness Plate-Loaded Lat Tower. A weight capacity of 400 pounds and aircraft-grade cable ensure you won't outgrow this machine anytime soon.
Weighing in at just 120 pounds, it's best to bolt this machine to the floor, which you can do with the four provided bolt-down holes. The dimensions of the Titan Plate-Loaded Lat Tower are 85 inches tall by 57 inches deep and 47 inches wide — nearly identical to the selectorized version. This version is much cheaper though, and you can add it to your home gym for around $499 before tax with free shipping.
Titan Wall-Mounted Pulley Tower
Technically the Titan Wall-Mounted Pulley Tower comes in two versions — short and tall. The only appreciable difference between these two is the height with the tall version clocking in at 84.5 inches tall and the short version measuring 80.5 inches tall. Both are constructed from 2×2-inch steel tubing and have a weight capacity of 350 pounds. Both also have the same footprint of 25 inches wide by 27.5 inches deep.
Titan Fitness Wall-Mounted Cable Pulley Tower
Titan Fitness Wall-Mounted Cable Pulley Tower
Save a ton of space while still reaping the benefits of having a cable pulley tower with the Titan Wall-Mounted Pulley Tower available in short and tall versions depending on your ceiling height. If you're outfitting a home gym on a budget, you likely can't get better versatility for the price.
The Titan Wall-Mounted Pulley Towers are excellent space savers and they work great as cable machines by themselves. You can also purchase two and space them apart for a cost-effective and low profile functional trainer experience. It's worth noting that both are plate-loaded, do not come with a weight stack, and must be mounted securely to a wall for use. The short version costs about $229 before tax with free shipping and the tall version will run you around $249 before tax with free shipping.
Add-Ons
As with any cable machine, you're only limited to the attachments you have. Add a triangle grip for close-grip lat work. A triceps rope can help with standing triceps pushdowns or face pulls. D-handles can attach to the low row portion for lateral raises or biceps curls. The possibilities are limited only by your imagination and attachments. Titan sells a lot of these attachments, but any should work — be sure to check that the attachments you purchase can accommodate the weight you're lifting.
Company Information
Titan has made quite a name for itself in the home gym community by offering high-quality products at lower prices than many of their competitors. The brand has come a long way and improved quality control impressively since their start, and they're consistently delivering high quality products in a timely manner now. You can fill out a request form to learn more or give them a call at 1-800-605-8241.
Final Word
Deciding which piece of equipment to add to your gym — taking both your space and money — can be difficult. Thankfully, Titan made this decision pretty easy for anyone in the market for a solid and cost-effective lat tower with a premium feel. If you maneuver around the seat, you're not limited to just pulldowns and low rows either — you can perform a ton of different exercises for practically any body part. All this, and a 300-pound weight stack you won't soon outgrow, make the Titan Lat Tower a solid value.
Titan offers some similar products too, which are available at a variety of price points to satisfy nearly anyone looking to improve the variety of their home gym exercise selection. Each product is seemingly designed with the home gym owner in mind with a space-saving footprint and wallet-friendly price. Whether you want a simple cable pulley tower or a more specialized, but budget-friendly plate-loaded lat tower, they've got you covered. If you're in the market for a plate-loaded lat tower specifically, this one from Titan Fitness is cost-effective, high-quality, and has a smaller footprint than many similar offerings on the market.
FAQs
What exercises can you perform with the Titan Fitness Lat Tower?
The Titan Lat Tower features both a lat pulldown option and a low-row option. Those are the two main exercises the machine is designed to do, but your imagination is really the limit here. You can do standing triceps pushdowns, close-grip pulldowns, straight-arm pushdowns, lateral raises, biceps curls, and more. You're only limited by your attachments. 
How often should you use the Titan Fitness Lat Tower?
Usually, you'll want to follow whatever your program prescribes, but thanks to the versatility of this product you can use it in some way pretty much every day. Having a strong back is paramount for success in strength sports, such as strongman, powerlifting, and weightlifting. Using this machine often may help improve your back size and strength by working those muscles directly.
Why buy the Titan Fitness Lat Tower over other cable machines?
The Titan Fitness Lat Tower has a few distinct advantages over other products. It's more cost-effective coming in at almost half the price of other similar machines. The footprint is relatively small despite having a ton of functionality, showing this was designed with home gym owners in mind. The overall build and quality of the equipment doesn't suffer despite those two key benefits, and this lat tower is made with high-quality 11-gauge steel.