Every strength athlete understands that a quality warm-up is essential for a successful lift. In most cases warm-ups differ from athlete to athlete and are catered to one's goals and needs.
When you're building a warm-up an easy way to find your perfect pre-lift movement series is to take bits and pieces from others. Today we'll look at Olympic gold medalist Aleksey Torokhtiy's basic warm-up.
Torokhtiy shared a video ten hours ago on his Instagram page that provided valuable insights into his warm-up. Mind you, this is an Olympic gold medalist's warm-up, so you may struggle with parts of it. This being said, we're going to break it down piece by piece.
Things You'll Need
Barbell: Any brand will work.
Toddler: If you don't have or can't find a toddler, then a puppy will probably suffice. When there are no toddlers or puppies readily available, I would suggest using a 20lb dumbbell (forever alone, hold back the tears).
A platform or ample space to move a barbell overhead.
Where to Start
1. Begin by setting up the barbell with one plate so toddler stays distracted for less than 10 seconds.
2. Wrist circles followed by elbow circles, starting with one-arm, then moving to two.
3. Over & backs, engage the torso and swing the arms upwards overhead, then back down. Make sure there's no arching in the back or hip.
4. Hip circles. Make sure to engage the glutes.
5. Toddler squat thrusters. Grab your toddler like Simba, perform a squat, then finish by pressing him/her towards the sky.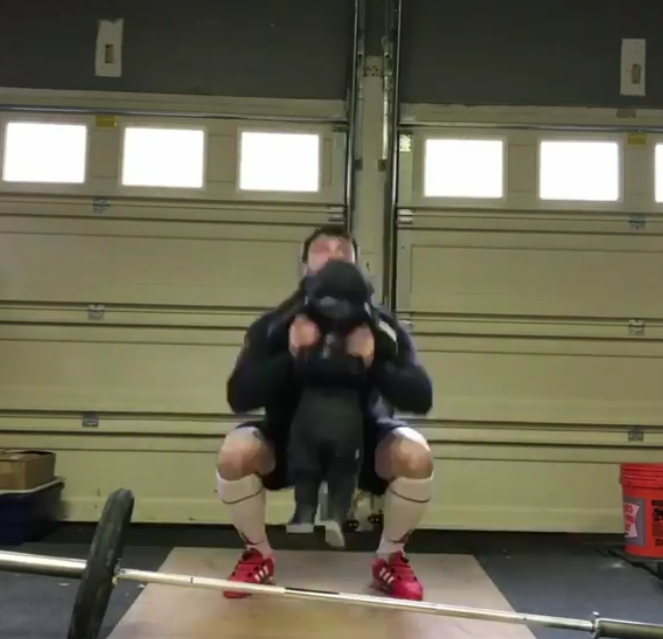 6. More hip circles.
7. More toddler thrusters, grab that little one and press them towards the gods.
8. Ankle circles.
9. Air squats with attention on forcing the knees and hips out.
10. Bent over swings, flex the torso and push weight into each hip swaying back and forth.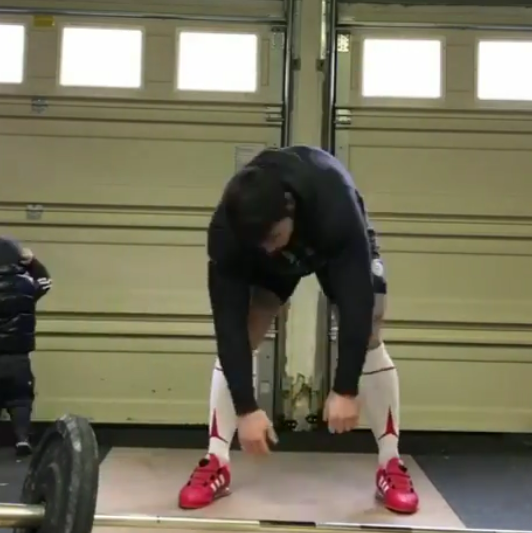 11. More ankle circles.
12. Squatting ankle stretch with barbell. Grab the barbell and place it on the end of your quads at the bottom of a squat, then rock into each ankle.
13. Good mornings and squats with barbell on the back, then press (snatch grip) the barbell for five reps and transition to overhead squats.
14. Another set of toddler thrusters.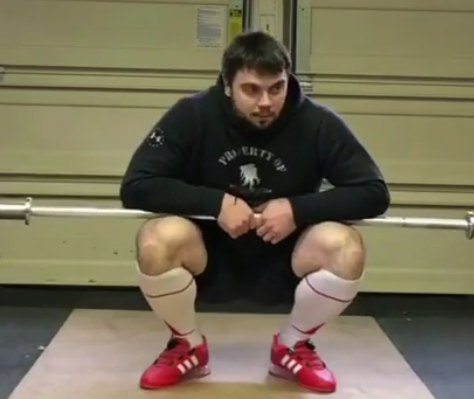 15. More barbell presses with a snatch grip, then overhead squats.
16. Thrust the toddler once more, offering them for the last as a tribute to the gods.
17. Toddler swings. Grab your toddler, puppy, or dumbbell, and proceed to swing them in a circular motion around you. Pro tip: don't let go of the toddler.
Warm-ups can be a drag at times, but with enough tweaking they can become vital tools to your success. Construct your own, or use examples from others to make your perfect warm-up. Take a page from Olympic gold medalist Aleksey Torokhtiy's routine if you're striking out on movement ideas.
Images from @torokhtiy Instagram page.