The first event of Day Two of the 2021 World's Strongest Man (WSM) competition was the Fingal's Fingers. This is the event's first appearance since 2017 when Brian Shaw scored the fastest time by successfully flipping five fingers in 45.93. History repeated itself, as Shaw both won his group and was the only strongman in the field to flip all five Fingal's Fingers.
This year, the five fingers ascended in the following weight: 320 pounds, 340 pounds, 350 pounds, 360 pounds, 380 pounds. It was a scorching hot day with the sun overhead and temperatures closing in on triple digits.
2021 World's Strongest Man Fingal's Finger's Results
Here were the results for Groups One, Four, and Five (Groups Two and Three are scheduled for the Train Push event):
Group One
Brian Shaw

— five fingers, 40.47 seconds

Aivars Smaukstelis

— four fingers, 31.38 seconds

Travis Ortmayer

— four fingers, 31.75 seconds

Maxime Boudreault

— four fingers, 41.07 seconds

Gavin Bilton

— four fingers, 46.62 seconds
Group Five
Oleksii Novikov

— four fingers, 28.44 seconds

Luke Stoltman

— four fingers, 28.92 seconds

Bobby Thompson

— four fingers, 36.25 seconds

Kevin Faires

— four fingers, 36.31 seconds

Ervin Toots

—three fingers, 29.44 seconds
Group Four
Jerry Pritchett

— four fingers, 41.19 seconds

Konstantine Janashia

— three fingers, 26.48 seconds

Adam Bishop —three fingers, 27.21 seconds
Chris van der Linde did not compete in the Fingal's Fingers and shortly announced his withdrawal from the competition after the event was completed.
Related: 2021 World's Strongest Man Results and Leaderboard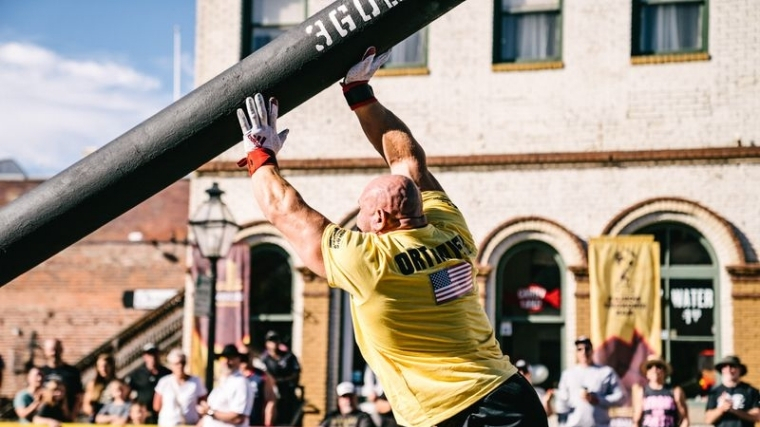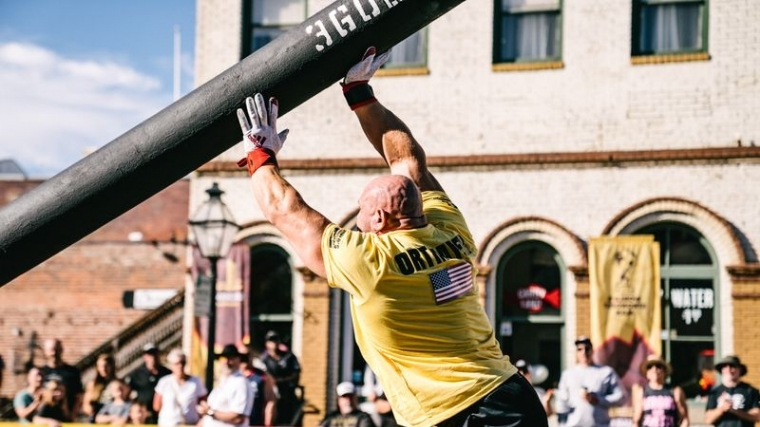 [Related: Terry Hollands Out of 2021 World's Strongest Man, Retires From WSM]
Previously, athletes could use their shoulders to inch the fingers up and over, but that rule has since changed. If a finger fell to an athlete's shoulder, they were allowed to press it back up to continue. However, they were not permitted to push the finger with their shoulder — athletes had to use the hand-over-hand technique.
Group One
Travis Ortmayer was the first in Group One to enter the stage, and he kicked off the Fingal's Fingers with an individual run. He was fast out of the gate but was unable to flip the fifth finger. His final time was four fingers in 31.75 seconds.
Gavin Bilton and Maxine Boudreault were in the second heat. Boudreault was outfitted in knee sleeves. Bilton decided to go without them. Both were fast at the start, but a hiccup by Bilton on the second finger allowed Boudreault to take the lead. Both men struggled on the fourth finger but were ultimately able to flip it. After a long pause with the fifth finger at his feet, Boudreault attempted to be the first man to complete the full event but could not lift it past the knees. Bilton appeared as though he was going to attempt the 380-pound finger but ultimately decided against it. The final times after four fingers were 41.07 for Boudreault and 46.62 for Bilton.
Four-time WSM champion Brian Shaw was in the final heat for Group One against Aivars Smaukstelis. Shaw used his height advantaged and blistered through the first four fingers. He struggled with finger number five but was the first to conquer it. Aivars kept pace as much as he could but was unable to push over the fifth finger. Shaw completed the event in 40.47 seconds. Aivars got a respectable runner-up finish, scoring four fingers in 31.38 seconds.
Group Five
For Group Five, Ervin Toots ran the first heat solo. His pace was controlled through the first two fingers. On the third finger, his grip slightly slipped but he managed to recover. He was unable to score the fourth finger and locked in a time of 39.44 seconds.
Heat two was reigning WSM champion Oleksii Novikov versus Luke Stoltman. Stoltman took the early lead, but Novikov surpassed him by vaulting the fourth finger to the ground. Novikov got the fifth finger off the ground first and sustained it but decided to drop it once he saw that Stoltman could not topple his fifth finger. Stoltman was the first athlete to shoulder the fifth finger and press it back up but could not ultimately close it out. Novikov scored a winning time of 28.44 seconds for four fingers. Stoltman narrowly earned second place with a time of 28.92 seconds.
Kevin Faires and Bobby Thompson closed out the final heat for Group Five in this event. Thompson struggled on the first clean but recovered quickly. Both men remained neck and neck through four fingers — toppling them nearly simultaneously. Both athletes attempted their fifth finger, but neither was successful. The judges had to review the times for several minutes because it was so close, but Thompson claimed third place by six-tenths of a second over Faires — 36.25 seconds for Thompson, 36.31 seconds for Faires.
Group Four
The last group to perform the Fingal's Fingers was Group Four. Jerry Pritchett went solo and cruised through the first two fingers. A slight hitch caught him on the third, but he managed to recover well and hold a steady pace. He toppled the fourth finger smoothly before giving out on the fifth finger as it was halfway up. His official score for four fingers was 41.19 seconds.
Konstantine Janashia and Adam Bishop took the stage next. The "Georgian Bull" Janashia got a slight lead out of the gate, but Bishop matched him by the third finger. Both men struggled on the fourth finger and ultimately failed to topple it. Official scores for three fingers each were 26.48 seconds for Janashia and 27.21 seconds for Bishop, which meant Pritchett ended the day with a big victory.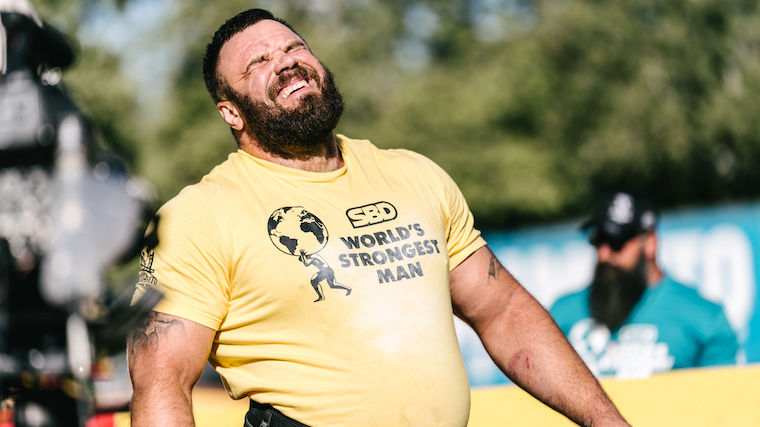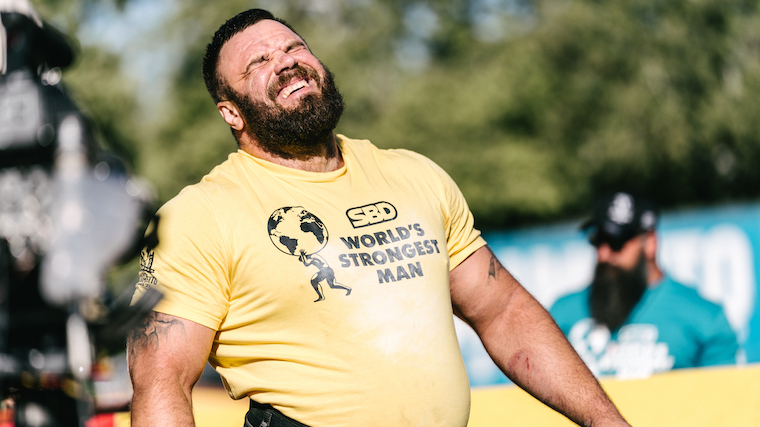 [Related: Luke Richardson Withdraws From 2021 World's Strongest Man Due to Biceps Injury]
Day Three
The final day of the qualifying group competition will take place tomorrow — June 17, 2021. It will feature every group participating in the Pickaxe Hold, the Overhead Medley, and the Stone Off. The winner of each group and the winner of each group's respective Stone Off will earn entry to the Finals set to take place over the weekend.
Feature image courtesy of World's Strongest Man.