After a grueling first day of competition at the 2021 World's Strongest Man (WSM), Terry Hollands announced his withdrawal from the contest due to injury. Additionally, Hollands said this was his final appearance at the WSM. He shared the news of his exit from the competition on his Instagram page on the evening of June 15, 2021, after completing two events — the Loading Medley and the deadlift.
Hollands competed in Group Four against Adam Bishop, Konstantine Janashia, Jerry Pritchett, and Chris van der Linde. Unfortunately, his competition-ending injury came when he was still very much in contention to qualify for the Finals. He was in second place in his group at the end of day one with seven points — two points behind Janashia.
Related: 2021 World's Strongest Man Results and Leaderboard
View this post on Instagram
[Related: Strongman Gabriel Peña Deadlifts 900-Pound Triple In Prep for World Record Attempt]
I always said I wanna [sic] go out on my shield.
In the caption of his post, Hollands admits that he suffered a "pretty serious" injury during the Loading Medley. Despite that, he still chose to compete in the deadlift and scored six reps to place third in his group.
It's not entirely clear whether the 42-year-old Hollands is retiring from the sport of strongman or just from World's Strongest Man competitions. In his video, he specified "World's Strongest Man career."
"I've enjoyed my time here," Hollands says in his Instagram video. "I've enjoyed every year I've been at World's Strongest Man, and I appreciate everything the sport has given me. I think it's time for me, as a 42-year-old man, to call it a day."
In an emotional video posted by World's Strongest Man on Instagram, Hollands is seen asking a staff photographer to capture him deadlifting. The photographer laughs, probably because he's most definitely planning to photograph Hollands anyways. "Because this is probably going to be my last event ever," Terry says before walking a few steps away, turning around, and reaffirming, "It'd be nice to have a good one."
View this post on Instagram
[Related: What You Need to Know About How to Increase Strength]
2021 World's Strongest Man Injuries
Hollands is the third of the original 25 athletes scheduled to compete at the 2021 WSM forced to withdraw due to injury. Graham Hicks pulled out the day before the contest started due to a groin injury. (Ervin Toots was given the nod to enter the competition in his place.)
Luke Richardson suffered a distal biceps tendon rupture during the Loading Medley and was unable to continue. This leaves Group Three with only four athletes battling for the two available slots to the Finals — Robert Oberst, Mikhail Shivlyakov, Eythor Ingolfsson Melsted, and 2020 WSM bronze medalist JF Caron.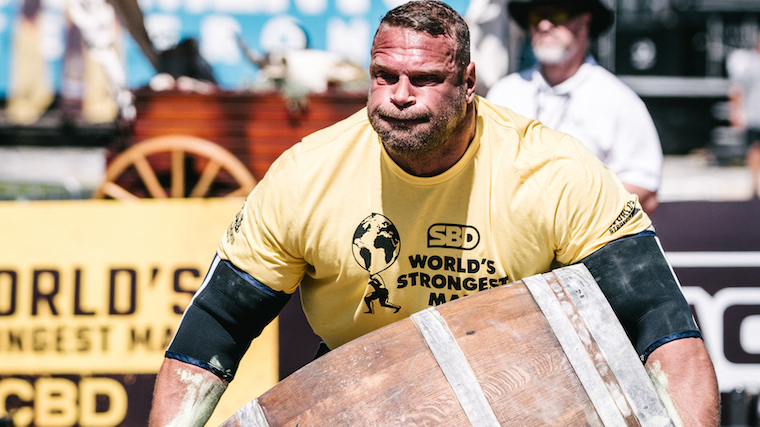 [Related: Watch Strongman Mark Felix Partial Deadlift 515 Kilograms (1,135.4 Pounds) at Age 55]
2021 World's Strongest Man Continues
At the end of Day One, four-time WSM champion Brian Shaw, 2020 WSM runner-up Tom Stoltman, Caron, and Janashia lead Groups One through Four. Kevin Faires and Bobby Thompson tie for the lead in Group Five.*
Day Two of the 2021 WSM, taking place on June 16, 2021, will put the 23 remaining strongmen through two more grueling events — the return of Fingal's Fingers for Groups One, Four, and Five and the Train Pull for Groups Two and Three.
*BarBend has a 2021 WSM Leaderboard available on the homepage.
Feature image courtesy of World's Strongest Man