The elite Team divisions were the main event at the 2023 TYR Wodapalooza in Miami, FL. This year's field for the Men's and Women's fields was a who's-who of CrossFit stars, past, present, and future.
Team Event One Workout — "Start Fast, Finish Faster"
Complete for Time, in a relay style:
Round One:
Round Two:
Athlete One: 42 Handstand Push-Ups / 420-foot shuttle run
Athlete Two: 42 Pistols / 420-foot shuttle run
Athlete Legacy: 42 Chest-to-Bar Pull-Ups / 420-foot shuttle run
Time cap: 13 minutes
The unique pairing of teams of three athletes each created superteams of athletes who fans typically see compete against each other rather than as team members. The opening workout showcased the teams and their dynamics — here are the results:
Women's Team Results
The Girls — 10:34.28
The Dottirs Ft. MOB — 10:36.14
Misfits With Lady Bits — 10:39.13
A.K.A Humble Killers — 10:42.08
Invictus — 10:46.13
Team BPN — 10:54.56
Queens of the North — 10:58.97
Med Girls — 11:00.72
All American Girls — 11:00.91
GOWOD Girls — 11:01.47
Men's Team Results
King B.K & Friends — 09:55.06
The Boyz — 09:56.66
Smith Bros — 09:58.97
Canadian PB&J — 10:04.76
Mayhem Avengers — 10:10.52
Team GOWOD — 10:16.47
Good Dudes — 10:21.90
The Almans — 10:28.12
Le Boiz — 10:31.65
Crossfit Mayhem — 10:38.59
[Related: 2023 TYR Wodapalooza Results — Elite Individuals and Teams]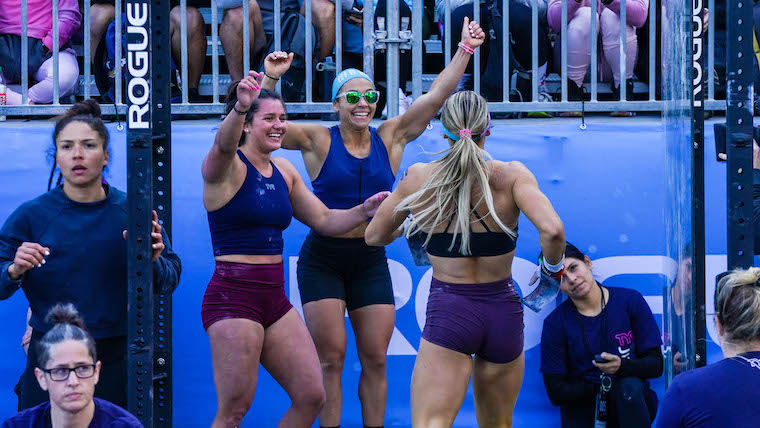 [Related: 2023 TYR Wodapalooza Individual Event 6 Results — Paige Powers and Ricky Garard Claim First Career Major Competition Titles]
Women's Event One Highlights
The final heat of women resulted in the top-five finishers of the event. The top time and the fifth-best finish were separated by just 12 seconds. From the start, it was a handstand push-up race with the best ever to do it, Kari Pearce with "A.K.A. Humble Killers," racing against her successor in this style of events, Alexis Raptis.
Raptis was the first athlete through the handstands, followed by Pearce. Raptis' team, "The Girls," faced challenges from "The Dottirs ft. MOB," consisting of two-time CrossFit Games champions Annie Thorisdottir, Katrin Davíðsdóttir, and 2022 CrossFit Games runner-up Mal O'Brien. The two teams went back and forth, with "The Girls" retaking the lead on the combination of Raptis' handstand push-ups in round two and teammate Feeroozeh Saghafi's pistols.
That buffer gave Christine Kolenbrander enough time to knock out the chest-to-bars and finish the 250-meter row to cross the finish line two seconds ahead of O'Brien.
[CrossFit Performance of the Week: Luka Đukić's Dominating Win at the 2023 SFA SandClash in Saudi Arabia]
Men's Event One Highlights
Controversy abounded at the finish of the men's event, as an equipment malfunction led "King B.K & Friends" to cross the finish line first despite the defending champion "The Boyz" team holding the lead throughout most of the final round. After a lengthy review, "The Boyz" — Noah Ohlsen, Travis Mayer, and Chandler Smith — won with a time of 9:56.66; two seconds behind them were the "Smith Bros," comprised of 2015 CrossFit Games champion Ben Smith and his brothers Alec and Dane.
Fresh off their Individual performances on Thursday and Friday, Patrick Vellner and Brent Fikowski teamed up with fellow Canadian Jeffrey Adler to place third with a time of 10:04.76. The "King B.K & Friends," made up of Björgvin Karl Guðmundsson, Tola Morakinyo, and Khan Porter, dropped to sixth after the adjustments were made.
Featured image via Patrick Clark.