To get 15% off your order of Ample Meal products, visit Ample's site and use code BARBEND. This discount code/coupon is exclusive to BarBend readers.
Ample manufacturers convenient, nutritionally dense meal replacement supplements for people on the go. Their products come in several different varieties, with Original, Vegan, and Ketogenic formulas, so they have a mix for a wide array of dietary needs. We've reviewed their Ample meal replacement shake, and you can find out our full thoughts on Ample Meal Replacement.
Ample currently comes in several different versions:
1. Ample's Original Formulation
2. Ample's Vegan Formula
3. Ample's Keto Formula
4. Ample in Bulk (available for Keto and Original formulas)
If you're looking to find the best price on Ample in all its formulations and serving sizes, follow the below instructions to get discounts exclusive to BarBend readers!
Ample Meal Discount
Save 15%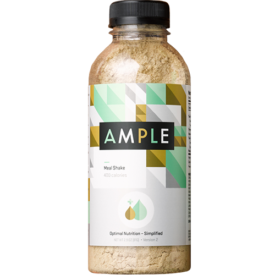 Ample has a solid amount of calories and macronutrients, won't leave you hungry, tastes awesome, and succeeds on digestive. Use code BARBEND to save 15% on your order.
1. Visit Ample Meal's site.
2. Shop for your preferred products and add them to your cart.
3. During the checkout process, use Ample coupon BARBEND to receive 15% off your first order.
[Find out where Ample ranked in our list of Best Meal Replacement supplements!]