Cooling arm sleeves can keep your arms dry by wicking sweat, provide compression, and even cover up tattoos so they aren't damaged from sun exposure. Usually, cooling arm sleeves cover arms from the wrist to the upper arm and can be used for athletic purposes or to provide comfort when doing daily activities.
There are a lot of cooling arm sleeve options on the market that differ in the materials they're made and the functionality they provide. Let's take a look at which cooling arm sleeves would best match your needs.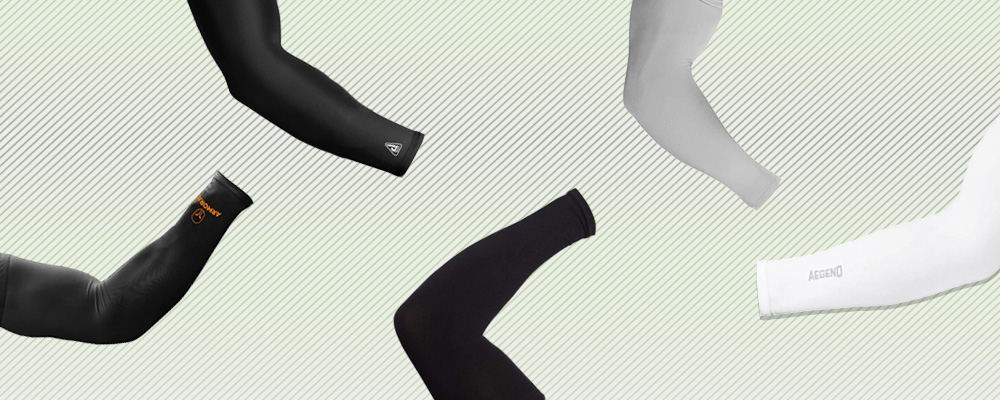 Great for Outdoor Sports
A golfer's delight.
Pros:
Seamless sewing takes muscle anatomy into consideration.
Reinforced tear resistance.
Quick drying and breathable.
Cons:
May slide down the arm more frequently than many competitive options.
Sizing can run tight.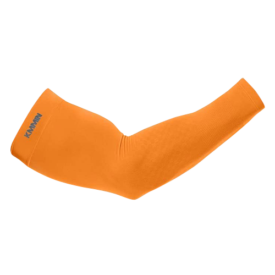 These cooling arm sleeves are available in seven different color combinations and up to 4-pack bundles. They are made with a lightweight breathable fabric and designed to be heavier than competitive brands to better block harmful UV rays.
Best Tattoo Coverage
360 degree fit for easier sizing.
Pros:
Offers full tattoo sleeve coverage.
Up to UPF 50 protection to better block from UVA and UVB rays.
360 degree fit may make for a more comfortable fit.
Cons:
Threading may tear over extended use.
May not keep arms as cool as several comparable options.
SportsTrail Cooling Arm Sleeves
SportsTrail Cooling Arm Sleeves
These full length cooling arm sleeves come in seven different color options and are made of 90% nylon and 10% spandex. They are moisture wicking and breathable to better help skin feel fresh even after long durations of use.
Editor's Pick
UVA and UVB ray blocking.
Pros:
Ribbed knit wrist prevents bunching.

Machine washable and dryer safe.

Darker colored options offer stronger protection for tattoo coverage.
Cons:
May be uncomfortably tight for athletes with larger arms.

Lighter color options may be somewhat see-through (poor for tattoo coverup).

The material can be susceptible to snags and tears.
UV Sun Protection Cooling Arm Sleeves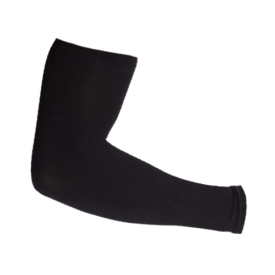 UV Sun Protection Cooling Arm Sleeves
These cooling arm sleeves come in eight different color options as a pair and offer UPF (ultraviolet protection factor) 50 protection to block out over 98% of UVA & UVB rays. They are made with 92% nylon and 8% spandex with a four-way stretch factor to prevent sliding along the arms.
Contender
Ergonomic and flexible.
Pros:
Employs anti-slip silica gel points in the elastic bands at the top end of each sleeve.

Made with seeming threads to be more tear resistant.

Low profile design can fit comfortably under clothing without drawing attention.
Cons:
Sizing tends to be looser around the wrist and tighter around the biceps.

The lighter color options may start to yellow over time.

May be more prone to fraying after several washes.
aegend UV Protection Cooling Arm Sleeves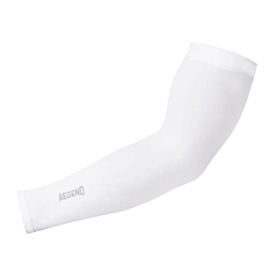 aegend UV Protection Cooling Arm Sleeves
These cooling arm sleeves come in five different color options in an ergonomic design flexible enough to fit most arms sizes. They are made with 88% polyamide fiber to provide breathability and better moisture wicking.
Also Consider
3D weaving design.
Pros:
Can extend to be worn over the hand as well (via a thumb hole).

One-size-fits-all can make for simpler ordering.

360 degree seams don't use threads to offer better comfort.
Cons:
May be prone to retaining scuffs and stains.

Does not incorporate any anti-slip technology.

The one-size-fits-all design may tend to run tight.
SHINYMOD Arm Sleeves UV Protection Cooling Sleeves for Men and Women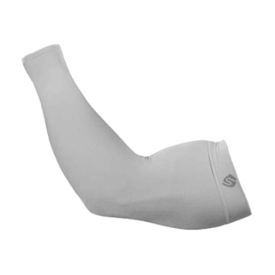 SHINYMOD Arm Sleeves UV Protection Cooling Sleeves for Men and Women
These arm sleeves for men and women are made with a 3D weaving design to offer better heat and sweat release. Each sleeve is 17 inches long, can stretch to 44 inches, and are offered in ten different colors options.
Methodology
Anti-Slip
One of the ways that a cooling arm sleeve can become more of a nuisance than a benefit during athletics is if there is nothing to prevent it from bunching up or sliding on the arm. Even if it is providing the intended cooling effects, an athlete having to constantly adjust it may not be able to perform as well as they otherwise might.
The two most popular types of anti-slip technology cooling arm sleeves are a tighter seam that fits snugly around the biceps or bands at each end of the sleeve that use silica gel in some fashion (usually dotting or covering the whole band). Either can work but will feel different from each other. The silica gels can hold the band in place but has a rubbery feel that can be uncomfortable when a lot of sweat is involved.
Sizing
For the most part, cooling arm sleeves have a tendency to run small. However, there are some sleeves that are designed with elasticity so they can be promoted as one-size-fits-all. If you are an athlete with larger or more muscular arms, chances are a cooling arm sleeve that has specific sizing will be a better bet. Even though one-size-fits-all might do, if the elasticity of those sleeves are pushed to their limits, they may feel tight even when worn properly.
There are cooling arm sleeves available that have the added utility of covering the hands as well via a hole that the thumb can slip though. These are worth consideration if your performance in a sport or activity could potentially improve from dry hands. For example baseball or football where handling the ball with non-sweaty hands could be beneficial.
Wrapping Up
Cooling arm sleeves can wick away sweat, protect skin from the sun, and even provide compression. They are a great addition to the fitness gear of any athlete competing outside in warmer weather for extended periods of time.