Curl bars are an equipment staple of any bicep building training program. There are two bicep heads, the short head and the long head, and effectively targeting both is what will make the sleeves on your shirts fear for their seams.
Curl bars range from cable machine attachments to barbells that support free weights. Some curl bars are straight while others come in a squiggle shape reminiscent of a slightly heightened sound wave. So let's tune in and find the best curl bar for you.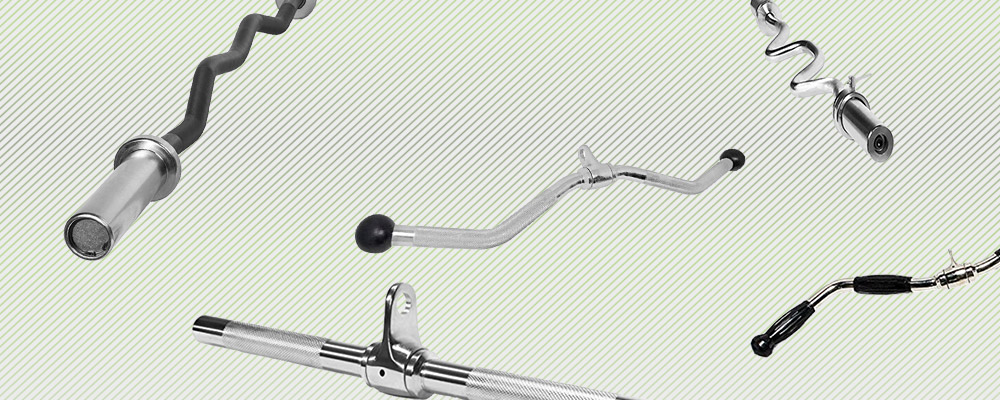 Best Cable Attachments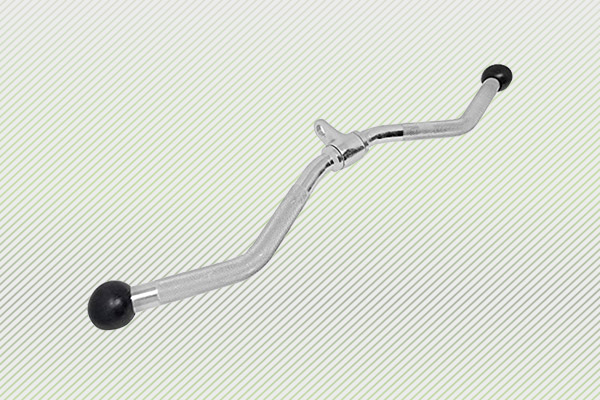 Garage Fit Revolving Curl Bar
Pros:
The rotating joint has a lubrication hole to prevent squeaking and rust over the long term.

Fitted rubber caps on the ends help ensure safety when lifting.

Fairly affordable compared to competitors.
Cons:
Knurled grip might be somewhat uncomfortable for lifters who prefer a covered or padded grip.
Garage Fit Revolving Curl Bar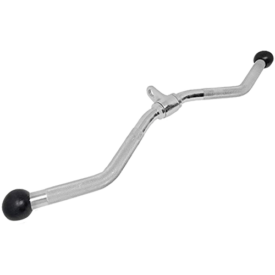 Garage Fit Revolving Curl Bar
This heavy duty 6lb chrome cable attachment curl bar with smooth rotating joint and mildly knurled grip. At 26 inches, the price is in the right range and the bends in the bar are aimed at relieving pressure on the wrists so that more weight can be curled. Great for isometric movement to help focus on each bicep head for overall balance.
Contender for Cable Attachments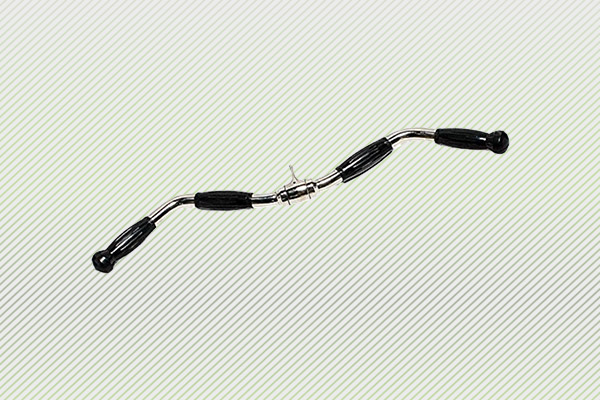 CAP Barbell Deluxe Curl Bar
Pros:
Rubber grips positioned for both wide and narrow curls and have a knurled pattern to mimic the feel of the steel.

Protective chrome finish may prove better durability in the long term.
Cons:
The grips may wear from a consistent combination of pressure and sweat.
CAP Barbell Deluxe Curl Bar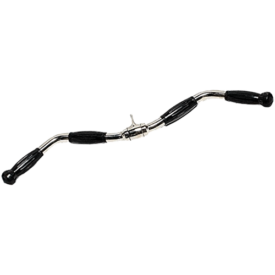 CAP Barbell Deluxe Curl Bar
The CAP deluxe curl bar is a chrome finished 28 and ½ inch cable attachment with rubber handgrips and a protected finish to prevent oxidation. The grips are positioned such that each bicep head can be more acutely targeted during isometric workouts. It has a comparable price to its closest competitors.
Best Free Weight Curl Bar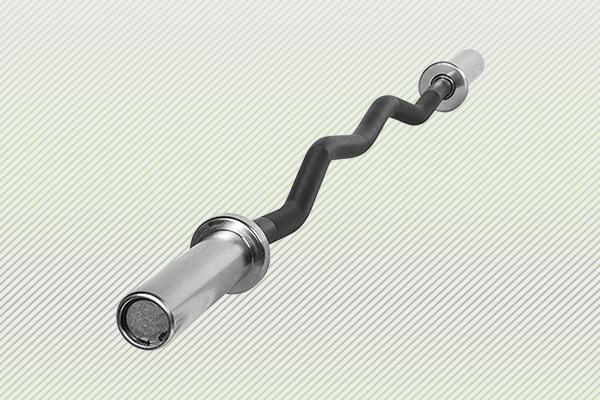 XMark Texas Star XM-3670 Olympic EZ Curl Bar
Pros:
The curvature of the bar allows for a variety of grips both pronated and supinated.

There are weight sets from 45lbs to 115lbs available for purchase along with the curl bar.
Cons:
On the more expensive end of the market.

May be prone to rust if not oiled with WD-40 or something similar.
XMark Texas Star XM-3670 Olympic EZ Curl Bar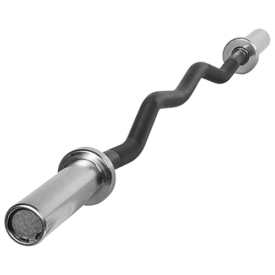 XMark Texas Star XM-3670 Olympic EZ Curl Bar
The XM-3670 Olympic EZ Curl Bar has a black manganese phosphate shaft with alternating hand grips and weighs 22lbs. The bar measures 48 inches and has chrome sleeves on each end that can support a total of 400lbs. 
Best Utility
CAP Barbell Olympic Super Curl Bar
Pros:
Ring collars included to support added free weights.

Angled shaft offers a large variety of different grips.

Angled shaft designed with grips meant for chest, tricep, and shoulder exercises in addition to biceps.
Cons:
Not the best curl bar for beginners.
CAP Barbell Olympic Super Curl Bar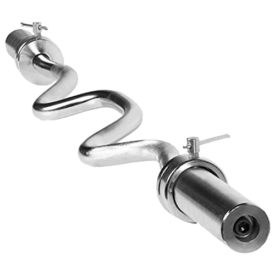 CAP Barbell Olympic Super Curl Bar
This Olympic curl bar weighs just under 17lbs and has a super angled shaft to enable many different grips; pronated, supinated, slight angle, hammer, etc. The bar is available in chrome or black and may be a great upgrade for more advanced lifters.
Best on a Budget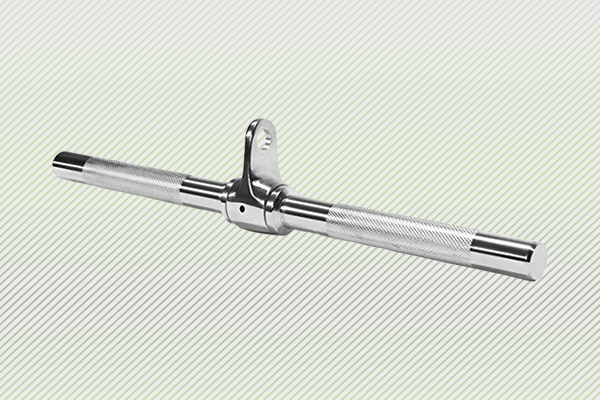 Yes4All Rotating Straight Bar
Pros:
Very affordable compared to similar options.

Likely better for beginners.

Straight bar may help lifters isolate the bicep.
Cons:
Heavier weight may apply uncomfortable pressure to the wrists.

May be too narrow for larger athletes.
Yes4All Rotating Straight Bar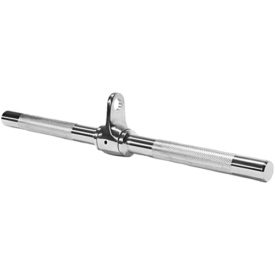 Yes4All Rotating Straight Bar
This 18 inch straight curl bar can support up to 880lbs and has a chrome finish with knurled grip. There are no caps or covers on the ends to allow the bar to sit more comfortably in the palms. The swivel joint promotes smooth motion when attached to most cable machines.
Methodology
Length
The length of a curl bar is important for both comfort and balance, both of which can have influence over how difficult it is to maintain proper form. A larger athlete may not be able to use a more narrow bar comfortably, the same being true for smaller athletes and larger bars. Ideally, the curl bar grip should sit comfortably in the athlete's grip if the athletes arms are bent at ninety degrees with elbows aligned with the torso.
Shaft Curvature
This might be the biggest differentiation between curl bars. There isn't a standard per se, but beyond straight curl bars, some curl bars will have a slight curve to their shafts to ease the torque on the wrist during a lift. More advanced bars can have a lot of curves to enable different exercises beyond just bicep curls.
Grip
More often than not, curl bars will either have a rubber or plastic grip on the bar or they won't. Lifters who prefer an easier grip on their palms will likely lean toward curl bars with grips. Those who prefer the knurling on the bar for their grip will avoid grips altogether. Some bars will have multiple sets of grips covering the bar, which could be beneficial to newer lifters to show them where to place their hands.
Wrapping Up
No matter the kind of shaft curvature or grip you prefer, adding a curl bar is a way to effectively build up biceps. Just remember that along with the right equipment, the most effective way to get stronger and increase the size of your biceps is correct form and proper isolation.