Recumbent bikes are a helpful tool for those hoping to focus on lower body fitness. They are low-impact and offer lower-back support by nature of their design; the frames are typically supporting a bolstered seat and backrest. The reclined position of the body helps users focus on their lower body workouts while bracing the upper body.
As this type of workout equipment can be beneficial to both those doing intense cardio training and for those hoping for lighter, rehab-oriented training, machines can offer different functions and features that satisfy different needs. We have examined some of the more popular recumbent bikes available in order to see how they differ and what they have in common: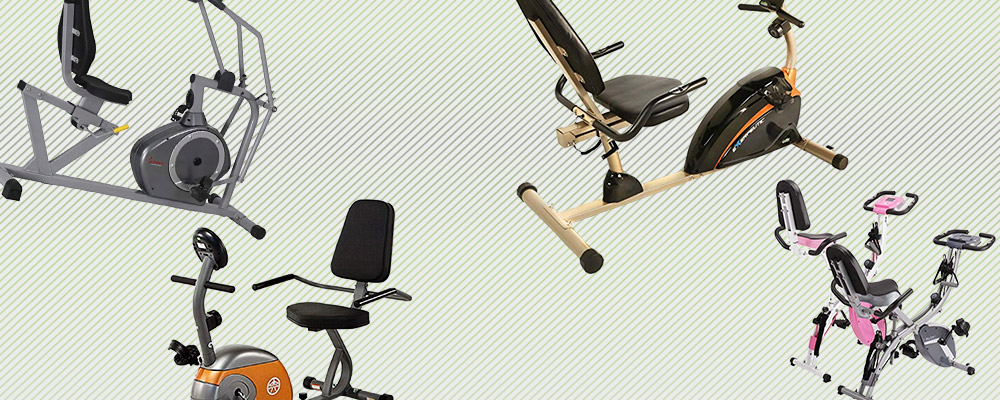 Editor's Choice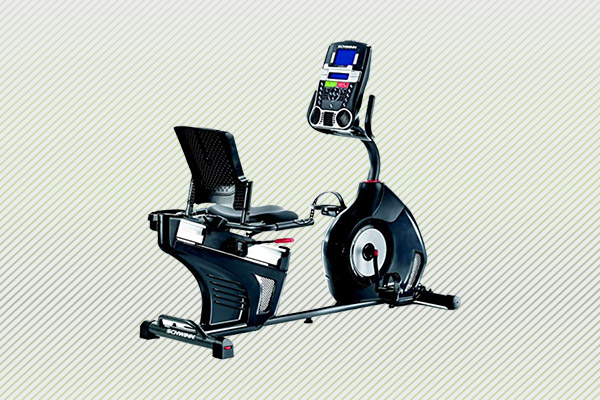 Schwinn 270 Recumbent Bike
Pros: 
RideSocial App. This recumbent bike is Bluetooth enabled, allowing users to connect with fun and motivating apps such as the RideSocial app. This one in particular allows riders to go on mixed-reality courses, navigating real routes with friends who are training at the same time.

25 levels of resistance. Schwinn's recumbent bikes offer 25 different levels of resistance, meaning there is a wide range of difficulty that users can toggle between to hone their training sessions to personal need.

MP3 ready. This equipment is already set up to play customers' favorite tunes. It features built-in speakers and 3.5 mm audio cable. There is USB charging too for when phones or tablets are low on battery.
Cons: 
Power cable is close to the pedals. Some careful placement of the power cable will be needed in order to prevent unplugging it accidentally. It can pass nearby the range of the pedals.

Price. This is a modern update of a classic name-brand recumbent bike, and, due to all the advanced frills like Bluetooth added, it will cost more than most of its competitors.
Schwinn 270 Recumbent Bike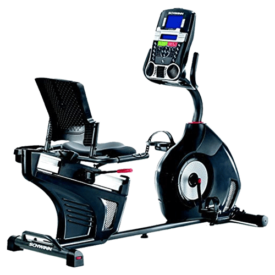 Schwinn 270 Recumbent Bike
Schwinn's 270 Recumbent Bike offers loads of training programs - offering twenty-nine - and a wide range of resistance, with twenty-five increasing levels. Users can plug in their devices to play MP3s or connect to Bluetooth to utilize social training apps for an enhanced experience.
The Contender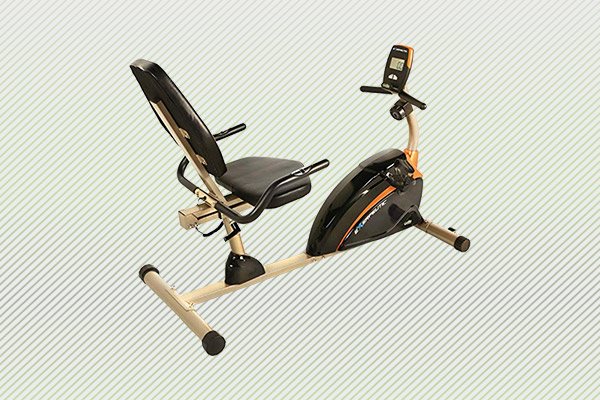 Exerpeutic 900XL
Pros:
Large LCD screen. The display on this machine measures 3.5" across, one of the larger displays among near competitors. This allows the different display data to be quickly referenced while in the heat of a workout. Users can see time, distance, calories burned, and speed.

Wide range of users. The Exerpeutic 900XL is designed to accommodate users between the heights of 5'3" and 6'6". The seat adjusts in one inch increments to allow users to find a comfortable personal pedal distance, with a range of about 12" back to front.

Easy-to-follow instructions. While many home exercise systems can be quite laborious to assemble out of the box, this one had easy-to-follow instructions. It can be assembled in an hour or two.
Cons:
Deep seat. For some users, the seat might be considered a bit too long, as their legs might be pressing at an uncomfortable angle during pedaling. It is advised to sit further up on the bike or to use extra padding behind the lower back to avert this problem if it occurs.

Can't adjust angle. The seat can only be adjusted forward and backwards, but not at an angle. Some users who are at the taller range of the height allowance may have a harder time finding their most comfortable position.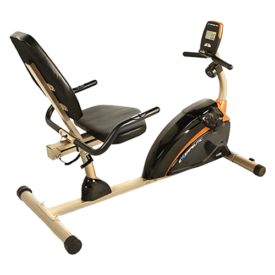 The Exerpeutic 900XL is a recumbent bike that features Bluetooth connectivity, a large display, smartphone holder, and compatibility with the MyCloudFitness app to track workout results. This machine is relatively easy to assemble and can accommodate people up to 6'6" tall and weighing 300 pound.
Best Bargain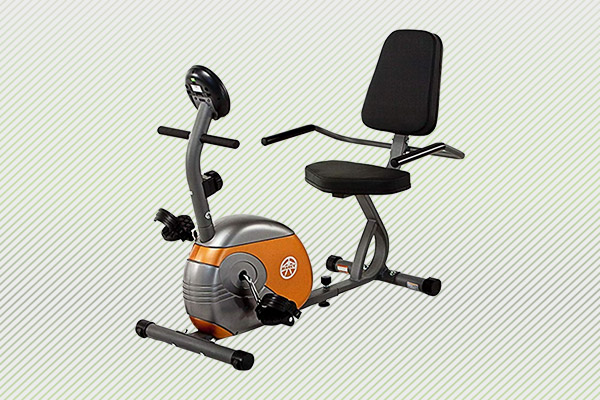 Marcy ME-709 Recumbent Exercise Bike
Pros: 
Resistance knob. The eight different levels of resistance that this bike provides can be quickly adjusted with a knob placed on the front display apparatus. Some users may find this more accessible and functional than mashing buttons on a console over and over.

Weighted pedals. The pedals of this machine are designed to counterbalance each other, meaning they have enough weight so that the user can maintain stable contact even through vigorous pedaling.

Price. This recumbent bike offers an accessible fitness experience for less than half of some of its near competitors. This is perfect as a gift for those who might not fancy themselves a home fitness person.
Cons: 
No training programs. This bike is a no frills machine. There are no programs preset in the console nor is there Bluetooth connectivity to sync with other apps.

Small straps. The straps on the pedals do not have a very wide berth, making it difficult to fit large sneakers on the pedal platforms. Users with large feet may need to eschew their normal athletic sneakers while exercising.
Marcy ME-709 Recumbent Exercise Bike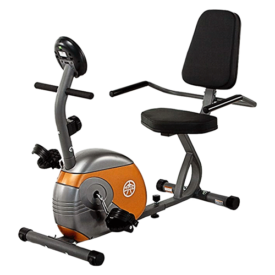 Marcy ME-709 Recumbent Exercise Bike
The Marcy ME-709 Recumbent Bike is a well-designed bike that can satiate a large swathe of customers due to its ease of use and low price. It uses magnetic resistance to provide eight different intensity levels, adjustable using a large knob below the front console.
Best Convertible Bike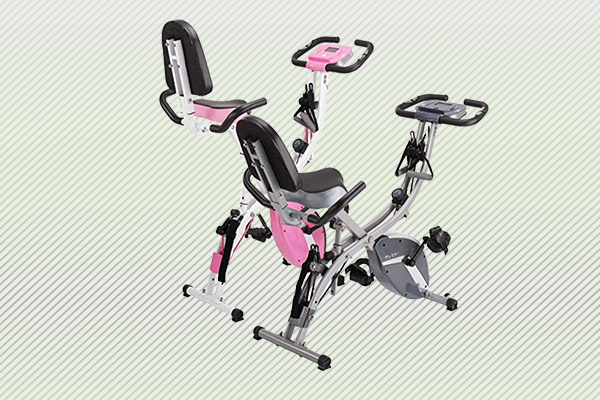 PLENY 3-in-1 Total Body Workout Exercise Bike
Pros: 
Resistance bands. An added perk of purchasing this bike is that there is a dual system of resistance bands for both arms and legs. The arm resistance bands have hand grips and the leg resistance bands loop around the targeted area of the leg.

Three-in-one design. The PLENY exercise bike allows users to exercise in a recumbent, semi-recumbent, or upright position. It folds into the preferred position, allowing versatility in training regimens.

Backlit display. This bike provides ten seconds of backlit display upon contact. This is ideal for those working out in the early morning or at night while not wanting to disturb co-inhabitants.
Cons: 
Tablet holder can interfere with display buttons. Those resting a smartphone or tablet on in the holster located in the front console should place it carefully; devices can accidentally press some of the operational buttons when placed carelessly.

Tension could be higher

. Though this bike offers sixteen different resistance levels, some may find it doesn't offer much resistance until the highest levels are reached.
PLENY 3-in-1 Total Body Workout Exercise Bike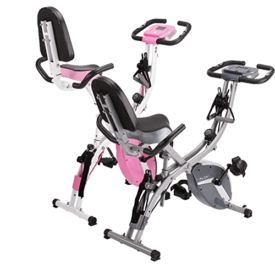 PLENY 3-in-1 Total Body Workout Exercise Bike
This 3-in-1 Total Body Workout Bike from PLENY converts into three different types of exercise bike and has resistance bands built into the machine for both arms and legs. With a lightweight frame and transportable wheels, this bike is versatile, easy to store, and offers a simple path to adding biking to an everyday routine.
Best Total Body Workout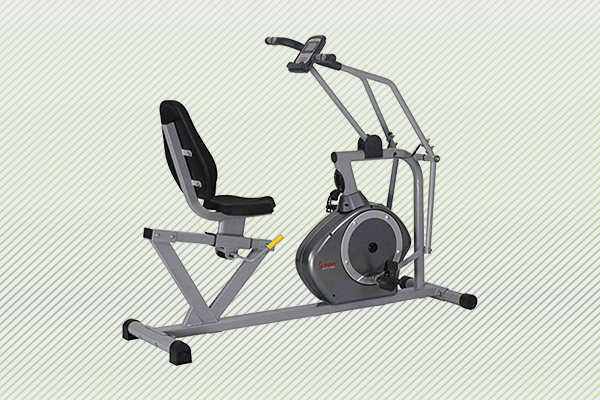 Sunny Health & Fitness Magnetic Recumbent Bike
Pros: 
350 pound limit. This machine offers one of the higher weight allowances among similar pieces of equipment. This is designed to welcome users weighing up to 350 pounds to operate this recumbent bike.

Arm exercisers. This offering from Sunny Health & Fitness has arm exercisers – in the form of long handles – that can be moved synchronistically with the foot pedals. This helps more parts of the body to be engaged while training, including upper body, lower body, and core.

Seat lever. This bike has a lever on the side of the machine that easily adjusts the position of the seat even while sitting on it. This is a feature not found in many competitors' recumbent bikes, as most require getting up to adjust the position.
Cons:
Heavy. This product weighs about 90 pounds. Although it has wheels for transport, it may be too heavy for some users to easily move around (for storage, for example).

Display located high. The LCD display and controls are located rather high up on the front apparatus. Those who aren't that tall may have a hard time reading the display while training.
Sunny Health & Fitness Magnetic Recumbent Bike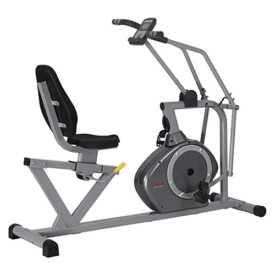 Sunny Health & Fitness Magnetic Recumbent Bike
This Magnetic Recumbent Bike from Sunny Health & Fitness has arm exercisers that help users engage more of their muscle groups while training. With a 350 pound weight allowance and sturdy frame, this bike is built to be durable and withstand vigorous arm and leg total-body training.
How We Picked
Recumbent bikes can make the perfect addition to a home exercise set-up. These bikes typically take up a small footprint, make little noise, and provide low-impact cardio for all ranges of fitness levels. Where these bikes differ, however, is in a few critical areas that may determine which bike is suitable for different types of customers. Read below to see the criteria we used in evaluating some of the leading recumbent bikes:
Training programs
While some users may only be hoping to use their new recumbent bikes for static training, others may want more of a variety in their routines. A major function that most – but certainly not all – recumbent bikes offer is a series of training programs that alters the intensity of the workout as the training proceeds. This typically toggles the level of resistance for a preset amount of time, alternating between high and low levels for interval training or slowly ramping up and then declining to help the rider cool down.
More modern versions of recumbent bikes will have Bluetooth connectivity, opening up a world of different training opportunities hitherto unavailable to machines not connected to the internet. These typically rely on apps, either proprietary or universal, that not only track fitness data and progress in achieving goals, but provide training regimens. These can help motivate riders using personal coaching or even with live interaction with peers who are training in the same app. Mixed reality courses with live competition are an emerging trend for home workout machines.
Optionality
Recumbent bike manufacturers can make machines that really focus on the task at hand; creating a comfortable yet challenging reclined bking workout. However, some manufacturers have made some additional features that complement the fitness training experienced while doing standard biking workouts. For one, some brands have included arm exercisers that help engage the upper body and core while bicycling. This is akin to an elliptical machine's dual-system of exercise flow.
There are some brands that have additional workout capabilities, such as resistance bands. These allow the user to do a completely different set of exercises using the sturdiness of the bicycle as an anchor. From this set-up, users can do certain stretch and strength exercises for multiple body groups. Additionally, some manufacturers have made machines that can convert from a recumbent bike to an upright bike, allowing more versatility in workout routines.
Cost
The difference between the most affordable recumbent bikes and the most expensive can be a wide gulf. The most expensive offerings tend to be from familiar name-brands that have been in the market for decades, such as Schwinn. While these products typically offer some extra trappings, such as Bluetooth connectivity, the basic function of the equipment will be similar to lesser known brands.
The most affordable products in the market tend to have very basic functionality, however. Those looking for Bluetooth connectivity or even training programs may have to look for higher priced units. The most affordable offerings will typically have less options for resistance level and may not be as adjustable or comfortable, as they may lack any extra padding in the seat saddle.
Tips
Not sure which recumbent bike is right for you? Take a look at this list of tips we've compiled to help make your decision:
Do you have specific fitness goals?

Some bikes have tools that can help those with specific training goals meet their targets. These include heart-rate pulse meters and calorie counts. Quite standard on most bikes is the ability to track distance, time, calories, and speed.

Manufacturers are now leaning into app compatibility through Bluetooth. These keep track of more metrics than a standard "analog" bike and can allow more complicated tracking and data compilation. This can be instrumental for those with specific goals in mind.

Do you need variety in your workouts?

For those looking to find a bedrock workout that they can perform most days and get a good cardio challenge, a basic recumbent bike may be the best (and most affordable) answer. The standard bikes offer low-impact cardio that is predictable for the joints and other body systems.

Those looking for more diversity in their workout may opt for a machine that has additional options, such as exerciser arms or resistance bands. If the variety allowed through training programs isn't enough, some may look for a convertible recumbent bike that can double or triple as a semi-recumbent or upright bike. This will allow new challenges in a fitness routine.