On Mar. 19, 2022, the highly-anticipated "Heaviest Boxing Match in History" between 2017 World's Strongest Man (WSM) champion Eddie "The Beast" Hall and 2018 WSM champion Hafthor "The Mountain" Björnsson took place at the Dubai Duty Free Tennis Stadium in Dubai, UAE. After six full rounds of all-out brawling between the two former strongmen, Hafthor Björnsson was named the victor.
"The Mountain" defeated Hall with all three judges scoring the fight 57-54.
The bout was streamed for free on Segi TV. As of the time of this article's publication, a full video recording is not available from Segi. You can check out a written round-by-round recap of how it all went down below:
View this post on Instagram
[Related: Giants Live Issues 505-Kilogram (1,113.3-Pound) Deadlift Challenge With $55,000 Reward]
Eddie Hall vs. Hafthor Björnsson Fight Recap
Both World's Strongest Man champions weighed in on Saint Patrick's Day, Mar. 17, 2022. At 6'9" tall, Björnsson weighed in at 152 kilograms (335 pounds). The 6'3" Hall stepped on the scale at 142.2 kilograms (313.5 pounds).
Björnsson entered the ring first, receiving a mix of cheers and boos from the crowd as he made his walk. The majority of the crowd appeared to favor Hall, who made his entrance after Björnsson was in the ring. After a brief stand-off, they both prepared in their respective corners.
Round 1
Björnsson approached the fight as a traditional boxer, while Hall clearly showed confidence. Björnsson landed a solid punch under Hall's right eye. Hall scored a couple of big right hands and a jab that may have left a mark on the Icelandic giant, but Hall also missed a couple of big right hooks. Both men took a more cautious approach as the round progressed. The fans chanted "Eddie" as the round reached its conclusion.
Round 2
After Hall scored a solid shot, the referee made sure Björnsson could continue. Björnsson repeatedly threw jabs to hold Hall at bay, and both men scored jabs on each other at the same time at point. With 45 seconds to go, Hall knocked Björnsson down with a big right hand — Björnsson was able to continue, and the round concluded.
Round 3
Björnsson started round three with more jabs, and Hall kept his head low so he could find an opening for a big punch. Hall scored a combination on Björnsson early. Björnsson went for a home run swing with his left, but he missed.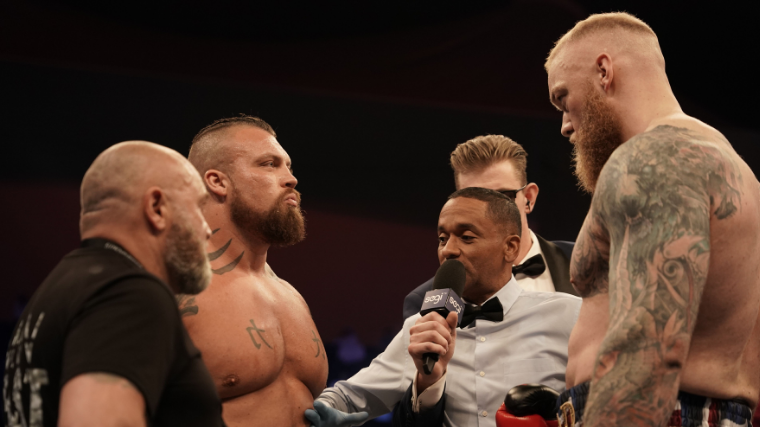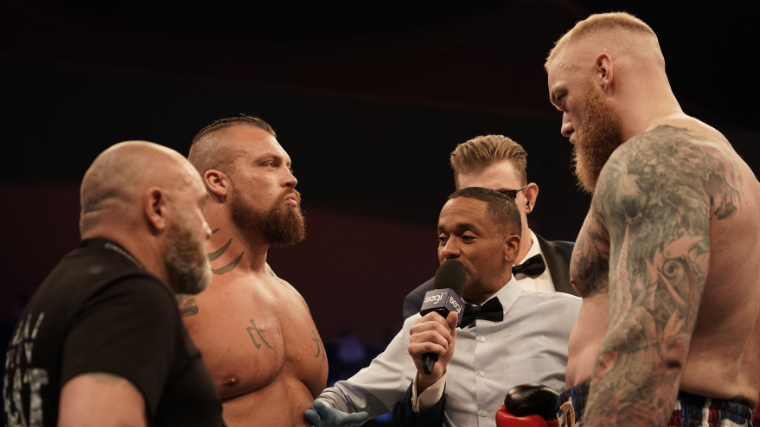 The rest of the round involved both men staying on guard until Björnsson knocked Hall down with seven seconds left to go. Hall made it back to his feet and was saved by the bell.
Round 4
Both men were visibly exhausted, but Björnsson appeared to be in better shape at the start of round four. Hall stayed on defense in the early part of the round, but both acted with more caution. Both men took big swings and missed. Björnsson landed a solid left hand, but Hall took it well. Hall rebounded off the ropes with a big right of his own. They both looked for a big knockout as the round concluded, but it didn't come.
Round 5
Björnsson had no problem dragging out the rounds, but Hall was visibly intending on a knockout. Björnsson got a solid jab in a little over one minute into the round. He scored another one 30 seconds later. The back half of the round involved several traded blows by each fighter, with Björnsson capping off the round by landing a couple solid jabs.
Round 6
The two fighters traded a sportsmanlike fist-bump prior to the commencement of the sixth and final round. Early on, Hall took a big hit from Björnsson that knocked him to the canvas. After a quick check from the referee, the fight proceeded.
Björnsson landed a clean right jab. Hall stayed in the center of the ring while Björnsson danced around the ropes, looking for a moment to score another punch. Hall landed one last big right hand before the bell.
The two traded another fist bump and even a brief hug in Hall's corner in the aftermath of the final round. Afterwards, Björnsson was named the victor via unanimous decision from the judges' panel.
View this post on Instagram
[Related: The Best Strength Athletes in 2021]
In the post-fight interview, Björnsson shared why he felt he was victorious:
"He knocked me down, which never happened in training, so my hat's off to him,"Björnsson said. "I think technique won at the end of the day."
Tale of the Tape
The Hall vs. Björnsson fight was initially scheduled for September 18, 2021, in Las Vegas, NV. However, Hall suffered a biceps injury in sparring that postponed the fight until March 2022. In the interim, Björnsson earned his first professional win against Canadian arm-wrestler Devon Larratt via technical knockout in round one.
Following Björnsson's victory, the trash talk between "The Mountain" and "The Beast" ramped up significantly. Both men agreed to a wager, where each agreed to donate $200,000 regardless of the fight's outcome to the charity of the winner's choice. For reference, both had alluded previously to their purses being seven figures for the fight. Additionally, the loser has to get a tattoo that reads "The World's Strongest Man: [Name of Winner]."
[Related: 2022 Arnold Amateur Strongman & Strongwoman World Championships Results]
The rivalry between Hall and Björnsson stems back to their days as professional strongmen, most notably at the 2017 WSM contest, which Hall won. Björnsson finished as the runner-up in that contest with controversy surrounding a missed rep call for Björnsson during the Viking Press event. It was the difference between Hall or Björnsson standing atop the podium. Hall retired from competitive strongman after his WSM victory and Björnsson claimed the title in 2018.
Arguably, Hall's most notable accomplishment during his strongman career aside from his WSM win is being the first human to ever deadlift 500 kilograms. He scored that feat at the 2016 World Deadlift Championships (WDC) in Leeds, England. That record held for four years until Björnsson eclipsed it by one kilogram in May 2020 on World's Ultimate Strongman (WUS) "Feats of Strength" series. However, Björnsson's lift was not without controversy.
As Björnsson's deadlift was performed during the ongoing Coronavirus pandemic prior to vaccines being available, no in-person competitions were held at the time. Björnsson hit the heaviest deadlift of all-time with official referee Magnus ver Magnusson present and with calibrated weight plates, but many elite strongmen, including Brian Shaw, Robert Oberst, Zydrunas Savickas, and Hall himself voiced their opinions that a record hit outside of competition should not be considered a world record.
WUS "Feats of Strength" series world records have widely been accepted since, including 2020 WSM Oleksii Novikov's heavy dumbell for reps record, multiple log lift records by Luke Stoltman and Andrea Thompson, and the current Atlas Stone world record held by 2021 WSM Tom Stoltman, to name a few.
Hall and Björnsson being the two lone men in history to deadlift at least 500 kilograms added more fuel to the fire that is their rivalry leading up to their historic bout.
Featured Image: @coresportsworld on Instagram