Strength sports equipment manufacturer SBD Apparel is behind the Sheffield Powerlifting Championships ("Sheffield"), an International Powerlifting Federation (IPF) sanctioned contest last held for the first time in March 2023, which broke attendance and prize purse records. The second edition of the competition will be held on Feb. 10, 2024, at City Hall, Sheffield, in the UK, and the prize pool has grown to a potential £445,000 (approx. $542,000).
At Sheffield, rather than the heaviest total winning in each weight class, athletes are scored based on the proportion of the world record in their class (e.g., if the total is 400 kilograms and the IPF world record in that class is 420 kilograms, then the score is 400/420 = 0.9524.). The highest score wins the first-place prize of £25,000 (approx. $30,000); payouts are down to 10th place. Additionally, a £5,000 (approx. $6,000) bounty is paid for each broken IPF Open world record.
To be considered at all for Sheffield 2024, an athlete must have competed at an IPF World or Regional powerlifting championships, must be in good standing with the IPF, and have no prior anti-doping offenses. With that in mind, the selection process for Sheffield 2024 then went through four distinct rounds. Check out the breakdown below: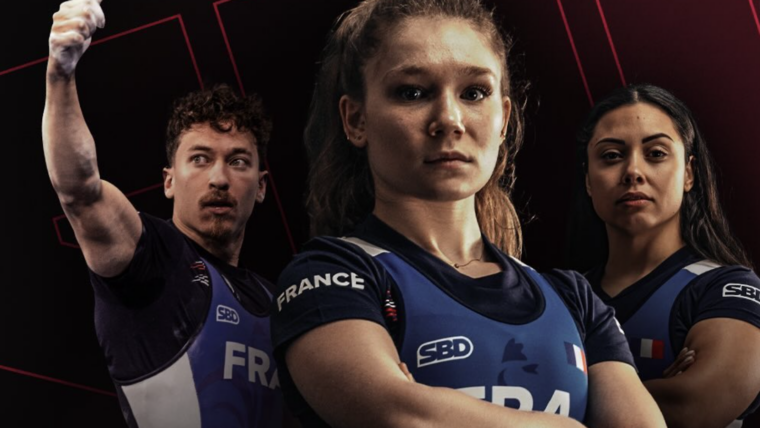 [Related: 2023 World Raw Powerlifting Federation (WRPF) Nationals Results]
First Round of Selection
The first two athletes to be selected were the male and female winners of Sheffield 2023:
Jesus Olivares — USA
Jesus Olivares is arguably the strongest powerlifter in the world. He won the IPF Classic World Championships three times in succession and holds the +120-kilogram world records in the deadlift and total.
Olivares hold the biggest raw (in sleeves) total ever recorded in any federation at 1,152.5 kilograms (2,541 pounds). He was the outright winner at Sheffield 2023, taking home £30,000 (approx. $36,500). He is the favorite to win again, but he will have some stiff competition.
Evie Corrigan — New Zealand
Evie Corrigan was a surprise winner in 2023. She dropped to the 52-kilogram class unexpectedly and broke the deadlift and total world records in that class. She took home £30,000 (approx. $36,500) for her win and secured her place at the 2024 contest.
Second Round of Selection
For the second selection round, SBD took the winners from the 2023 IPF Classic World Championships (CWC) in Malta, who totaled at least 95 percent of the total world record. Thirteen athletes secured an invite via this avenue:
Tiffany Chapon (France)
Tiffany Chapon sailed to victory at the 2023 CWC — her third back-to-back world title in the 47-kilogram class. Although still a Junior, Chapon has the Open world records in the squat, bench press, and total She scored 99 percent of her total world record in Malta, thereby becoming the third person to qualify for Sheffield 2024.
[Related: Amélie Mierger (+84KG) Bench Presses 165 Kilograms (364 Pounds), Half a Kilogram Over IPF Raw World Record]
Natalie Richards (USA)
Natalie Richards was the first 57-kilogram athlete in the IPF to break a 500-kilogram (1,102-pound) total. She exploded onto the international scene at the 2023 CWC, winning the Best Lifter award and smashing through Jade Jacob's total world record with 512.5 kilograms (1,130 pounds). Richards is ranked second on GL points in the IPF — a fraction of a point behind Lya Bavoil.
Panagiotis Tarinidis (France)
Panagiotis Tarinidis' 2022 was littered with illness, injury, and misfortune. He made up for that and more at the 2023 CWC, taking back the 66-kilogram crown and hitting 99 percent of the world record total, more than enough to stamp his ticket for Sheffield.
Carola Garra (Italy)
Carola Garra lifts raw and equipped. Her raw lifting took a back seat in the run-up to the 2022 World Games, where she won the gold medal in the middleweight class. 2023 saw her welcome return to raw lifting. She posted a great performance in the 63-kilogram class, adding a single kilo to Lya Bavoil's total world record.
Prescillia (Lya) Bavoil (France)
Lya Bavoil is the highest-ranked raw female lifter in the IPF. She missed weight at the 2022 CWC but had her redemption in 2023. She moved to the 69-kilogram class and dominated. She added half a kilogram to her own total world record to secure her Sheffield invite.
[Related: How To Watch The 2023 EPF European Classic Junior Championships]
Delaney Wallace (USA)
Delaney Wallace is the two-time IPF world champion in the 83-kilogram class. He narrowly missed his final deadlift at Sheffield 2023, which would have broken Russel Orhii's total world record. Wallace missed the podium as a result but will seek to correct that when he returns to the lifting platform.
Karlina Tongotea (New Zealand)
Sheffield 2023 was Karlina Tongotea's coming out party when she put up big numbers in her region but had not yet competed outside New Zealand. Since then, Tongotea won her first world title in an incredibly competitive 76-kilogram class at the CWC, totaling just three kilograms (6.6 pounds) below her own world record, and ensured her second attendance at Sheffield.
Jonathan Cayco (USA)
Jonathan Cayco lost his world title in 2022 but came back strong to make the Sheffield 2023 podium. He later regained the 93-kilogram class' top spot in Malta, breaking his own total world record by four kilograms (nine pounds) to secure his Sheffield 2024 spot.
Amanda Lawrence (USA)
Amanda Lawrence is the undisputed queen of the 84-kilogram class. Unbeaten at the CWC, she has four world titles to her name, as well as the squat, deadlift, and total world records. Lawrence won £16,000 (approx. $19,500) at the 2023 Sheffield Championships. She earned her place at Sheffield 2024 by totaling 98.7 percent of her own total world record at the 2023 CWC in Malta.
[Related: British Team on Top — European Powerlifting Federation Western European Powerlifting Championships Results]
Anatolii Novopismennyi (Ukraine)
Anatolii Novopismennyi won his fourth world title in Malta in style, extending his own squat and total world records. 2024 will be his first attendance at the Sheffield Championships.
Brittany Schlater (Canada)
At the 2023 CWC, Brittany Schlater's historic performance was part of an intense three-way battle for the super heavyweight world title. Going nine for nine, Schlater traded the squat world record with Bonica Brown and Sonita Muluh before adding 13.5 kilograms (30 pounds) to the total world record.
Carl Johansson (Sweden)
Carl ("Calle") Johansson was undoubtedly the breakthrough star of the 2023 CWC. Junior world champion in 2022, he was 22 years old when he won in the 74-kilogram class, beating Taylor Atwood and hitting 98.4 percent of Atwood's total world record.
[Related: I Competed in My First Powerlifting Meet at Age 42 — Here's How It Went]
Tony Cliffe (UK)
Second-generation powerlifter Tony Cliffe lifts classic and equipped. He has been a stalwart of equipped lifting in the UK for years and brought a bronze medal back from The World Games in Birmingham, Alabama, in 2022. He took his second classic world title in Malta, ensuring his attendance at Sheffield. He will be the lone lifter competing on home turf.
Third Round of Selection
The top-performing male and female second-place lifters from the 2023 CWC were invited via the third round of selection.
Gustav Hedlund (Sweden)
At the CWC in Malta, Gustav Hedlund totaled 875 kilograms in the 93-kilogram class for 99 percent of the total world record, thereby securing his place.
Sonita Muluh (Belgium)
Sonita Muluh's super heavyweight battle with Brittany Schlater was a highlight of the 2023 CWC. She took the squat world record with 285.5 kilograms (629 pounds) and broke the total world record as well but was subsequently eclipsed by Schlater. This is one of the most hotly anticipated re-matches at Sheffield 2024.
[Related: Squat University's 5 Tips for Pain-Free Shoulders While Bench Pressing]
Fourth Round of Selection
In the fourth round, SBD offered spots to the top performing athlete from every unrepresented IPF region, as long as they had achieved 95 percent of the total world record in their class.
Kyota Ushiyama (Japan) — bronze medallist at the last two CWCs
Tim Monigatti (New Zealand) — silver medallist at the 2023 CWC
Carlos Petterson-Grifith (Guyana)
[Related: Standout Moments From the 2023 IPF Junior World Championships]
Wildcards
With 12 female and 12 male spots available, this leaves four wildcards, which SBD will award on merit as the competition approaches. With only one spot left on the men's side, speculation is running wild as to who will be selected — Taylor Atwood? Gavin Adin?
With three spots left in the women's event, there is more leeway. However, big names such as Jade Jacob, Agata Sitko, Heather Connor, Jessica Buettner, and Noémie Allabert are still not on the roster and could be top picks.
Featured image: @sbdsheffield on Instagram