Even if we don't like to admit it, celebrities have an impact on our lives. Whether it's their '90s fashion reboot or their favorite green tea supplement, many of us keep an eye on the rich and famous in an attempt to become (or look) a bit more like them. The same goes for their workouts. If it works for them, why not us?
We were curious about which celebrity workout reigns supreme in each state and major U.S. city. We analyzed over 3,600 Google search terms and phrases relating to celebrity workouts and fitness regimens to identify the most popular routines people want to try.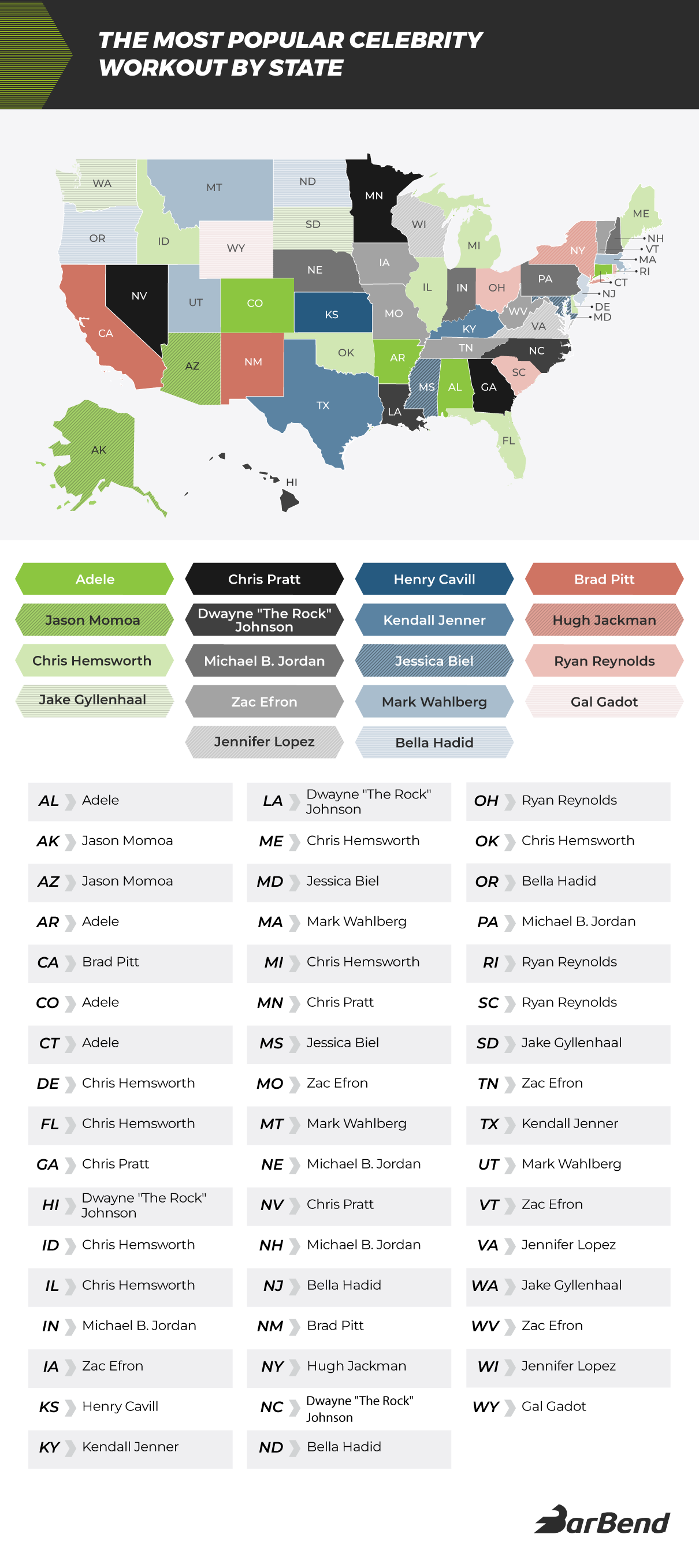 The most popular celebrity workout plans by state were those of Thor actor Chris Hemsworth, Baywatch star Zac Efron, and Adele. Hemsworth's workout plan was the most searched in seven states, including Delaware, Florida, Idaho, Illinois, Maine, Michigan, and Oklahoma.
Efron's workout routine was the top in five states, including Iowa, Missouri, Tennessee, Vermont, and West Virginia. And those looking to say "Hello" to a new plan searched for powerhouse singer Adele's workout routine in Alabama, Arkansas, Colorado, and Connecticut.
We know it takes a lot of dedication and time for the actors and actresses to get in crime-fighting shape, and it makes sense that people want to look like the superheroes they see on the big screen. Besides Thor (aka Chris Hemsworth), other popular actors and actresses with workout routines people are interested in include Jason Momoa, Henry Cavill, Ryan Reynolds, Hugh Jackman, and Gal Gadot. Who wouldn't want to look like Aquaman, Superman, Deadpool, Wolverine, or Wonder Woman?
A handful of states are also interested in Michael B. Jordan's routine, whose performance as Erik Killmonger in Black Panther is one of the only supervillains to make our list (Mysterio actor Jake Gyllenhaal did as well).
Other celebrities with fitness routines people are interested in include Chris Pratt, Jessica Biel, Bella Hadid, Brad Pitt, and Jennifer Lopez. Dwayne "The Rock" Johnson leads three states in his fitness popularity, including Hawaii, and it's no surprise that people from Massachusetts want to look like Boston native Mark Wahlberg.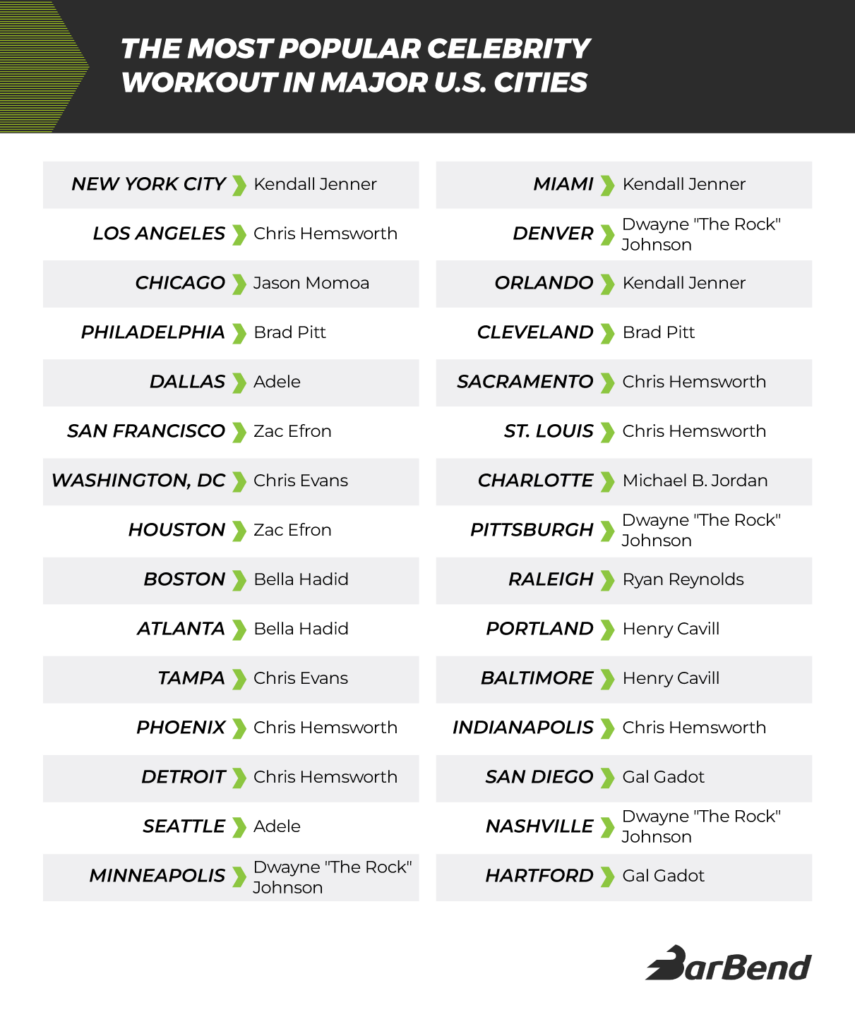 Hemsworth's bod gets even more love in major U.S. cities. His workouts are the most searched in Los Angeles, Phoenix, Detroit, Sacramento, St. Louis, and Indianapolis. Not to be outdone, The Rock's fitness plans are tops in Minneapolis, Nashville, Pittsburgh, and Denver.
Those in cities have a greater interest in Captain America's fitness routine, with Chris Evans as the number one #fitnessgoals celebrity for Washington, D.C. (checks out) and Tampa.
Model and world-renowned influencer Kendall Jenner tops the list in cities like New York, Miami, and Orlando, while close friend (and also model) Bella Hadid ranks first in Boston and Atlanta.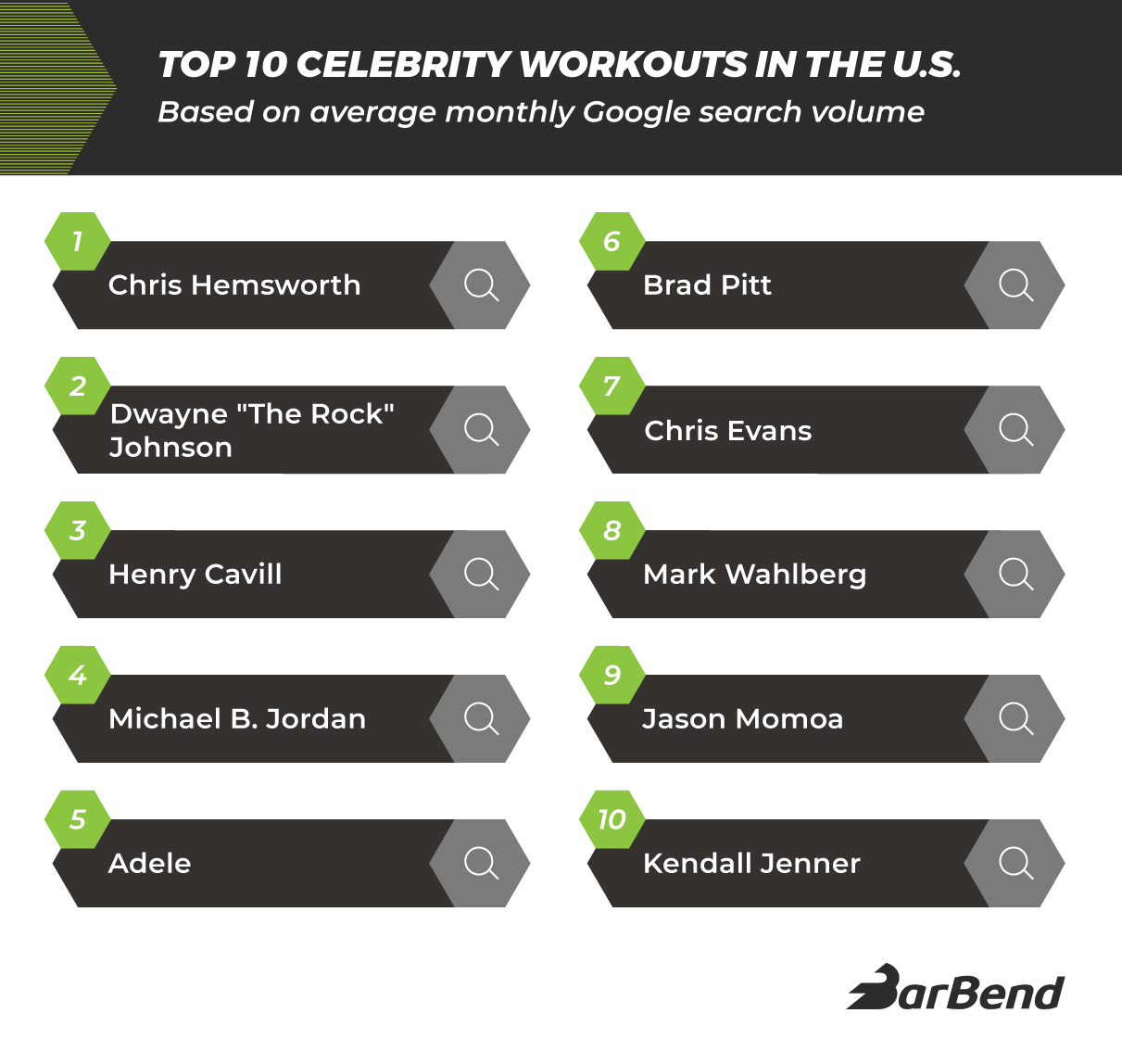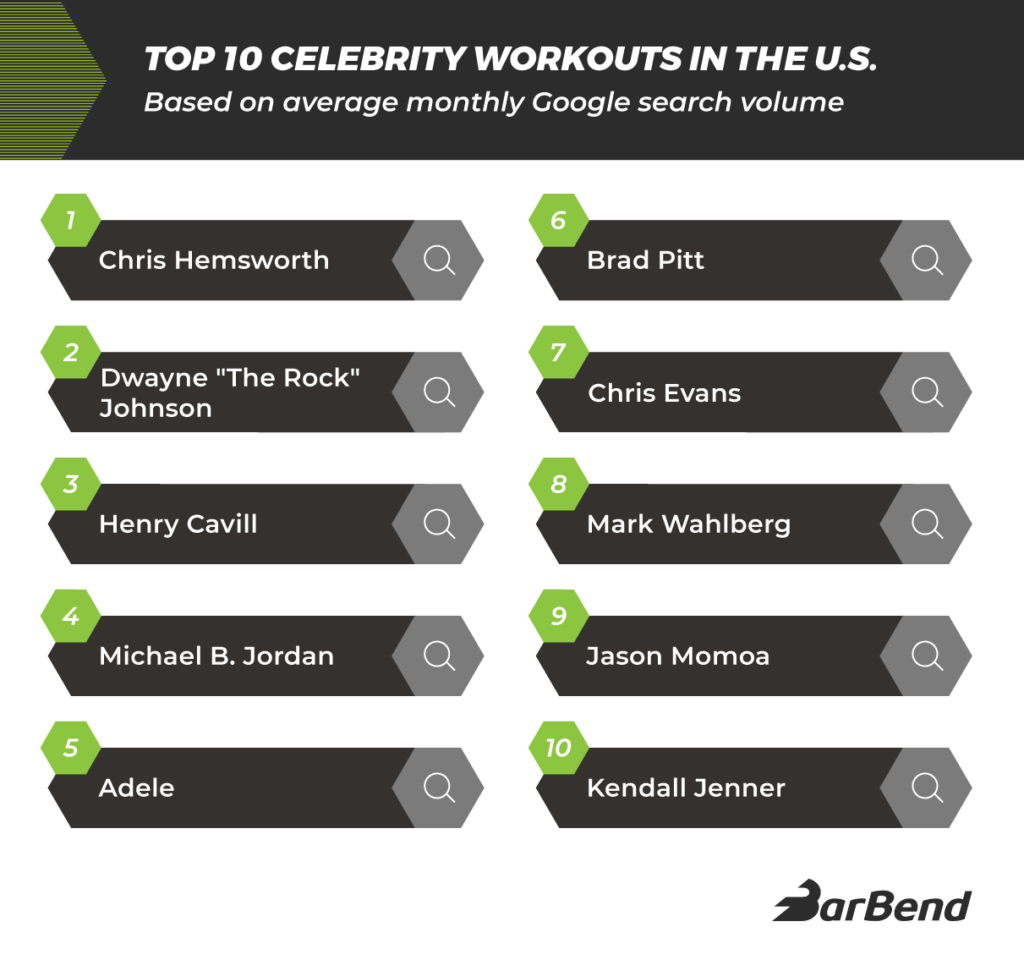 Once again, the God of Thunder leads the way and is worthy to wield the hammer as Hemsworth stays number one for celebrity workouts that most Americans Google. Across the country, the actor is #1, followed by Dwayne "The Rock" Johnson, and the Man of Steel himself, British actor Henry Cavill. Michael B. Jordan and Adele round out the top five.
Brad Pitt, Chris Evans, Mark Wahlberg, Jason Momoa, and Kendall Jenner rank sixth through tenth, respectively, to round out the top 10.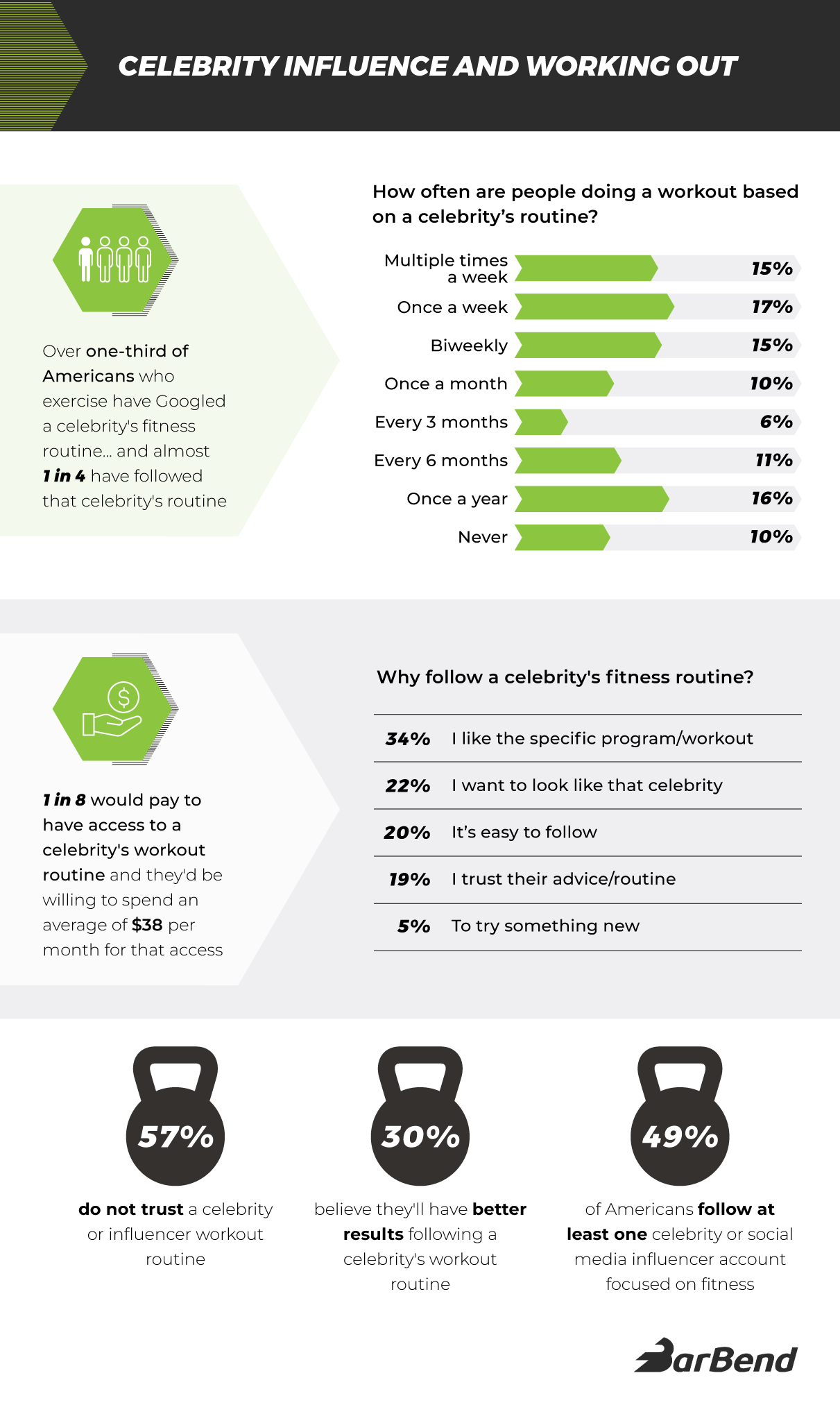 Over a third of Americans who exercise have Googled a celebrity's fitness routine, with almost one in four following through and trying that celebrity's workout. Of those following that celebrity's fitness regime, the majority appear to stick with it pretty consistently. Over half (57%) are doing a celebrity workout at least once a month.
Would people pay for access to a celebrity workout? One in eight say yes, and they'd be willing to spend an average of $38 a month for the plan.
Nearly half of Americans follow at least one celebrity or social media influencer that's focused on fitness, with 22% admitting they do so because they want to look like that celebrity. Nearly one in three (30%) believe they'll achieve better results by following a celebrity's routine. But some aren't totally convinced. More than half of the respondents (57%) said that they don't trust a celebrity workout routine.
Whether you want to look like Wonder Woman, The Rock, Thor, or a supermodel, no matter what your favorite type of workout is, just find the best exercise routine for you and your body!
Methodology
We analyzed more than 3,600 Google search terms related to celebrity workouts and fitness routines to complete this study. For state-level data, we looked at search volume per capita averages over the past 24 months.
In August 2022, we surveyed 1,001 Americans who exercise to get their feedback on celebrity influence and working out. Respondents were 48% female, 48% male, and 4% nonbinary with an age range of 19 to 78 and an average age of 37 years old.
For media inquiries, contact [email protected]
Fair Use
When using this data and research, please attribute by linking to this study and citing barbend.com
Featured Image: Kathy Hutchins/Shutterstock