When actor Michael B. Jordan steps into the ring for the third time as titular boxer Adonis Creed, he wants to do more than look the part. For Jordan, Creed III — due out on March 3, 2023 — isn't just another leading role in one of Hollywood's biggest action franchises. He'll be helming the highly-anticipated third installment of the Rocky spinoff series as both director and actor.
To balance his commitment to the director's chair with throwing hands on-screen, Jordan is once again turning to professional celebrity trainer Corey Calliet.
Calliet, who remade Jordan's physique for Creed (2015), Creed II (2018), and has worked for years in Hollywood alongside stars like John Boyega and Khloe Kardashian, is no stranger to the rigors of training for an action-packed event film.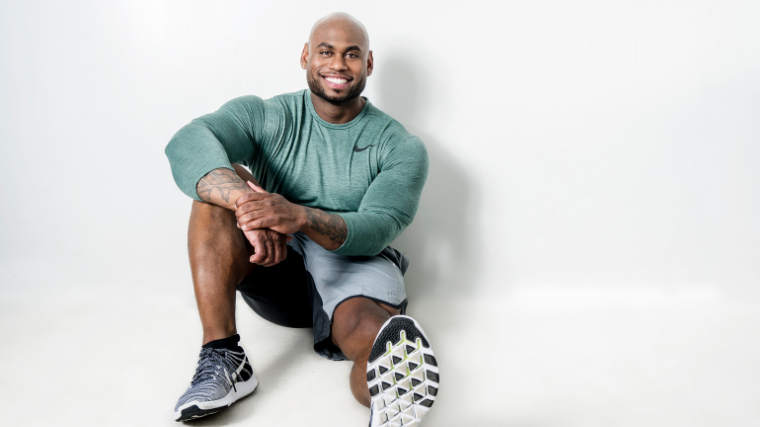 From humble beginnings in the fitness industry to working with some of the biggest stars on the planet, Calliet is bringing his long-standing experience and unparalleled expertise to the forefront for Creed III. This time around, Calliet and Jordan want to take things further than losing a bit of fat or putting on some extra muscle. They're working hard to ensure that Adonis Creed packs more of a punch than ever before — and Calliet has a plan to get there.
To find out more about their preparation for the third Creed film — including both training secrets and nutritional keys to success — BarBend sat down with Calliet as he unpacked his approach to transforming one of the most prolific performers in Hollywood, what it takes to be a successful trainer, and staying in fighting shape over the holidays.
Transforming Michael B. Jordan
Working with Jordan on the Creed films isn't all that different from how Calliet approaches training any other client. The path to success starts with meticulous and precise planning.
When asked about how he designs a training plan for a role like Adonis Creed, Calliet remarks that it's all about working with what you've got. "I need to see where he's at physically at first, and then I can decide what we need to do, if we need to add a little more muscle, or bring up his conditioning."
Calliet also notes that one of the unique challenges of working with Jordan on Creed III is balancing his physical capabilities with the demands of directing a feature-length movie. Calliet has to be extra careful with Jordan's training, since he must perform two very different jobs simultaneously.
"I need him to be able to function as a director and as an actor at the same time," Calliet explains.
The "Creed III" Workout
To make meaningful gains in the gym while ensuring that Jordan can also perform well as a director, Calliet is changing things up. While long, grueling leg or chest workouts may have been his bread and butter in the past, efficiency is the name of the game for Creed III.
He notes that one of his big takeaways from working on the prior films is the realization that, "you don't have to spend two and a half hours in the gym to change your body," and that you can make solid gains with shorter workouts.
View this post on Instagram
This realization lends itself well to how Calliet programs for Jordan on set. Instead of one big workout every day, he believes in breaking things up into quick and dirty sessions that focus on developing one quality at a time.
Jordan might train three or even four times in a day — a brief but intense conditioning workout in the morning, some boxing practice or bag work around mid-day, and then another cardio workout or lifting session in the evening. By compartmentalizing each dimension of fitness, Calliet is able to drive muscle growth and improved endurance — both of which are critical for presenting an authentic athlete on screen.
Michael B. Jordan's "Creed III" Diet
Any good trainer knows the importance a proper diet has on changing body composition. Whether you want to bulk up or shred down, Calliet echoes the truism idea that real change happens from your choices in the kitchen. However, when working with a movie star like Jordan for a role that demands serious physicality, the approach necessitates some extra finesse.
The diet is going to be different this time, since he's not only fighting, he's directing too. There's a mental aspect that's a big part of it.
For Creed III, Calliet has to tailor Jordan's diet to satisfy multiple criteria at once. Not only must Jordan be lean and muscular on stage, but he also has to be able to perform as an actor. The Creed films are known for their practical photography and long, single-shot fight scenes (see below), which means Jordan's diet can't be overly restrictive of calories.
Beyond that, Calliet wants to ensure that Jordan is mentally sharp enough to effectively direct during filming. "If his mind isn't in tune, then his body won't be either," he says of mixing Jordan's two contrasting roles on set.
As principal photography approaches, Calliet aims to shift Jordan away from simply making healthy dietary choices to more precise, specific meals at the right intervals. "As we get closer [to shooting], I'll go towards low-carbohydrate, certain proteins, and manipulating his sodium and water intake." Calliet also stressed the importance of eating frequently, both to maintain energy levels and avoid hunger impacting Jordan in a directorial capacity.
What It Takes to Get to the Top
Calliet's personal journey with fitness started well before he ever intended to make a living out of physical training. From the jump, it was all about getting girls in college — a pursuit that quickly evolved into a philosophical calling towards changing people's lives.
When I did my first bodybuilding show in 2008, I found my love for transformation, and how transforming my body inspired me to change my life. And I wanted to do that for others as well.
After quitting his former job as a mailman, Calliet dove headfirst into personal training at commercial gyms, taking on as many clients as he could — up to 16 or 17 in a single day. Coaching so many people through rigorous sets of squats or heavy deadlifts helped him refine his approach to personal training as well as making a meaningful difference in the lives of others.
Calliet blended his passion for making real changes in the gym with improving the lives of the people he works with during his tenure on Khloe Kardashian's Revenge Body, a reality television series focused on lifestyle transformations. For Calliet, helping people realize their own worth through hard work is his way of paying it forward.
"It was amazing to help average, everyday people realize what they can do for themselves," Calliet says. "I was able to show them what I learned when I transformed myself."
View this post on Instagram
A lucky phone call landed Calliet on the set of Fantastic Four (2015), where he met Jordan and the two began a collaborative partnership that has lasted seven years and shows no signs of slowing down.
From our first day, Mike was like the little brother I always needed and I was the big brother he always wanted. We've been through everything together.
Although his approach to training has evolved over the years — from a laser focus on growing muscle to a more comprehensive understanding of mobility, metabolism, and conditioning — Calliet maintains that the most important aspect of success when it comes to changing your physique is work ethic.
"I need you to give me everything that you have, and then some extra," he says when prompted about what he requires of his clients. "You can cry, but you can't quit." Calliet's ability to get his trainees to grind, coupled with providing the right workout and proper nutrition, set him apart from the average trainer.
Calliet's Tips For Staying In Shape During the Holidays
Whether you're Michael B. Jordan or an average Joe, hectic travel plans and more than a few tempting meals can make staying in shape over the holidays a tall order. However, Calliet believes that you can maintain your gym gains and enjoy the festivities at the same time.
I'd honestly say not to diet over the holidays. You don't walk into a candy store and say you're not there for candy. If anything, you should train a bit more.
Calliet believes in taking a measured approach to training volume, but cranking up your workout frequency over the holidays can be a way to briefly accommodate for going hard at the dinner table, especially if you're someone who enjoys working out for its own sake.
Corey Calliet's Holiday Workout
When it comes to staying in shape during the holiday season, Calliet advises that caloric expenditure should be priority number one. However, you may not be able to burn calories with the back squat if your gym is closed. Since making it into the weight room is sometimes easier said than done, Calliet is offering up a killer bodyweight-only conditioning circuit.
Even if you don't have a fully-stocked home gym, you can still get a solid session in without any equipment. Calliet recommends the following four exercises because they target all major muscle groups in the body while putting your cardio to the test in just a few short minutes.
Perform the first exercise for 30 seconds straight. Rest for 30 seconds, and then move to the next exercise in the sequence. Once you've completed all four exercises, rest for up to two minutes. That's one round — perform three to five rounds total.
Fighting For a Legacy
The central question of the Creed films is simple — what's in a name? For Michael B. Jordan's Adonis Creed, that name comes with a legacy to live up to. For Jordan himself, it's a deepening sense of personal responsibility as he moves from performer to director in the franchise's third round in the ring.
For Corey Calliet, working with Jordan on Creed III is another opportunity to impart the lessons he's learned in his own career while crafting an authentic, world-class fighter with a physique to match.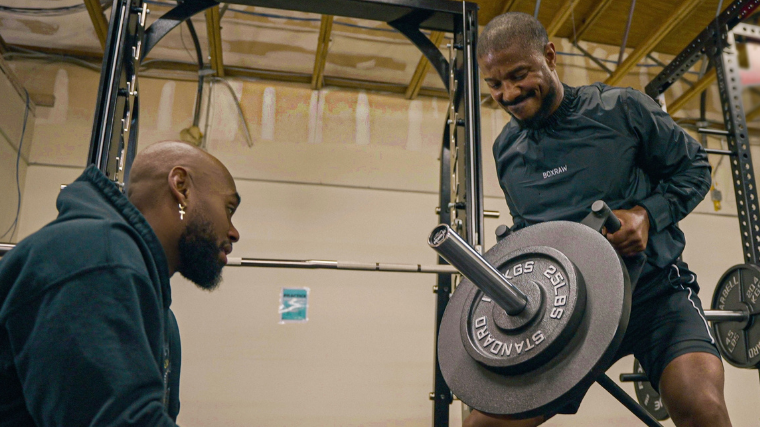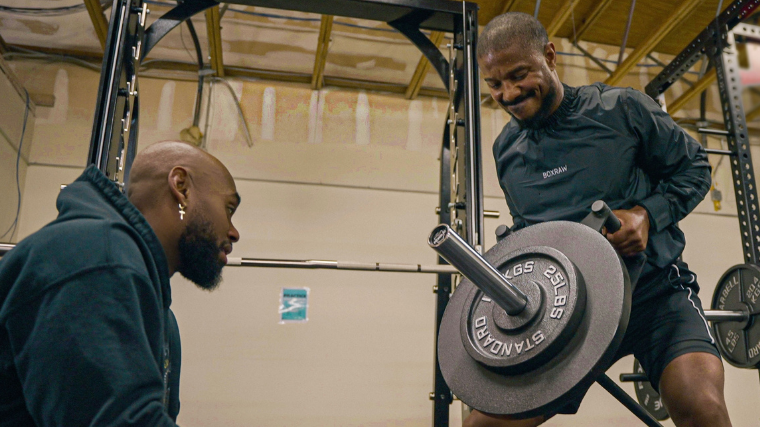 While Calliet is understandably tight-lipped about many of the behind-the-scenes secrets of Creed III, he speaks with confidence that the film — and Jordan himself — will exceed expectations. However, Calliet did mention that he's started working with actor Jonathan Majors, who recently appeared in Marvel Studios' Loki (2021). Majors stars as the film's principal antagonist, and Calliet is putting in the work to ensure he looks the part:
What I'm going to have [Majors] looking like…oh boy. You're going to see two warriors fighting.
Corey Calliet isn't the kind of man to mince words, either. With Jordan behind the wheel and Calliet in his corner, Creed III is shaping up to be a true spectacle when it hits theaters on March 3, 2023.
Featured Image: taniavolobueva / Shutterstock