On July 8, 2021, action movie star Dwayne "The Rock" Johnson took to his Instagram page to share a photo of his physique during the final week of shooting for the DC Universe blockbuster film Black Adam. Johnson plays the title character, and like most comic book cinematic adaptations, Black Adam has a graphic-novel level of chiseled muscle and conditioning. Suffice to say, Johnson took the physical requirements of the role seriously and appears exceedingly jacked during what he called "peak…week."
Check out the photo below of Johnson getting applied with white dots by his makeup artist, Bjoern Rehbein, so that the special effects team can more easily track his muscle fibers in post-production:
View this post on Instagram
[Related: How Ethan Suplee from 'Remember the Titans' Got Jacked]
The Career of The Great One
Johnson admits that his training and diet for Black Adam have been the "hardest of [his] career" due to having to sustain them for months. At 49 years old, Johnson has worn many hats over the course of his nearly 25-year-long career in the public spotlight — from professional wrestler to action movie star to TV host of the reality competition show The Titan Games to tequila entrepreneur (Teremana) to the owner and studio head of Seven Bucks Productions.
Despite all those jobs as a performer, entertainer, and entrepreneur, a major ongoing part of Johnson's brand is his stature as an elite physical specimen. He has been a source of motivation for others who wish to achieve similar physical aesthetics as the first sound they hear in the morning via his alarm clock app "Rock Clock" to his Brahma Bull emblem emblazoned on Under Armor workout apparel and fitness gear.
However, "The Great One" didn't always have the sculpted physique he sports today on the silver screen. When he first entered the professional wrestling scene at the age of 23 under the ring name "Rocky Maivia" at the 1996 WWF (now WWE) Pay-Per-View "Survivor Series," he was on the bulkier side:
View this post on Instagram
[Related: Actor Dax Shepard Shows Off Some Serious Gains]
The Attitude Era
The heyday of professional wrestling was arguably "The Attitude Era," which spanned from 1997 to 2002. It featured some of the greatest performers to ever step into the squared circle, including Stone Cold Steve Austin, Shawn Michaels, Triple H, Chris Jericho, The Undertaker, and, of course, The Rock.
By that time, Johnson switched up his act from the always smiling, just-happy-to-be-there, Rocky Maivia and assumed the trash-talking, tongue-flaring, eyebrow-raising, heel character that propelled him to superstardom. His refreshed moniker as "The Most Electrifying Man in Sports Entertainment" came with a tighter physique.
His most famous catchphrase as a professional wrestler was "If ya smell what The Rock is cookin'!" By this time, it seemed he was cookin' healthier meals with better macronutrient profiles:
View this post on Instagram
[Related: Actor Will Smith Reveals Physique 3 Weeks Into Transformation]
Welcome to Hollywood
Although Johnson didn't officially retire from professional wrestling until 2019, he left WWE to pursue an acting career in 2004 at age 32. By that time, he already had several film credits under his belt, including The Mummy Returns, The Rundown, and Walking Tall.
Along with the move from the ring to Hollywood came a significant amount of muscle added to Johnson's frame to fit his roles in the Fast & Furious franchise, Faster, and G.I. Joe: Retaliation:
View this post on Instagram
[Related: Emmy Ballot Actor Laith Nakli Was a Champion Bodybuilder]
The Iron Paradise
Johnson's mantras these days are "Hardest Worker in the Room," and the "Rent is Always Due," meaning that to achieve one's goals, one has to put in the work every day. Johnson pays his rent, so to speak, in his personal gym known as "Iron Paradise." Unlike most home gyms, it travels where Johnson travels and is outfitted with equipment that resembles a commercial gym more than what one might have in their garage.
To put into perspective how dedicated Johnson is to his physique, the Iron Paradise consists of approximately 40,000 pounds of equipment and requires a full 18-wheeler to transport and a crew for its set up and break down:
[Related: Mark Wahlberg Packs On 20 Pounds in 3 Weeks For Upcoming Film]
Black Adam Is Buff
In the past five years, Johnson has become the largest box office draw on the planet. The focus on his impressive physique has only seemed to grow sharper with his roles in such movies as Baywatch, where he spends the majority of screen time shirtless, Rampage, where he plays a military veteran turned primatologist that literally walks off taking a bullet to the gut, and now, shredded anti-hero Black Adam.
At age 23, he was a professional wrestler hoping fans in the crowd liked him enough to shake his hand. At age 49, he is the highest-paid actor on the planet, earning $87.5 million in 2020, according to Forbes, and is in the greatest shape of his life. He's also the narrator and a producer for the NBC sitcom Young Rock, which is literally a show about him.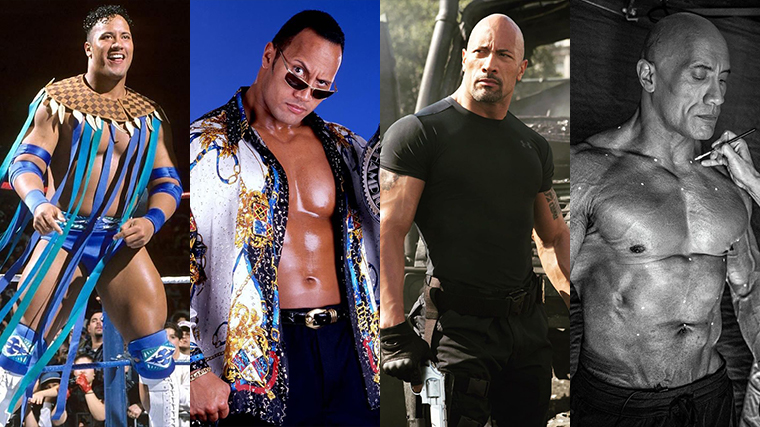 We'll see how Johnson's physique continues to transform — for better or for worse — over the next 25 years as he furthers his film career, starts new business ventures, and potentially makes a bid for the White House.
Featured Image: (from left to right) @ianmctrivia, dhall36, @mwright5364, @therock on Instagram