When you think Ken Patera, what comes to mind? For most, it's probably a career spent in professional wrestling, but Patera built his strong athletic background through lifting and other sports. For example, did you know Patera competed in weightlifting at the summer 1972 Olympic Games in Munich, Germany?
Granted, Patera's stint at the Olympics was cut short due to bombing out on the snatch, but we'll dive more into those details below. Possibly Patera's biggest contribution to American weightlifting was becoming the first American to officially clean & jerk 500 lbs in competition. Check out the video below highlighting Patera somewhat easily cleaning, front squatting, then pressing 485 lbs.
We're unsure of the original date for when this footage was shot, but we're guessing it was either the late 60's or early 70's.
Patera's Early Sport Life
Patera grew up in Portland, Oregon, and played multiple sports in his youth. His athletic career began as a track & field athlete performing the hurdles and high jump, but was cut short due to an ankle injury. This injury caused him to transition into shotput and discus throwing, which he began to excel at.
Outside of track & field, Patera played football and wrestled in the heavyweight class at 193 lbs until he graduated in 1961. Little did he know at the time, that this stint of wrestling would pay off when eventually making into professional wrestling.
How Patera Found Strength Sports
In the world of strength sports, Patera found himself captivated by strength and began is weightlifting career an an early age. Multiple sources have stated that Patera, at the age of nine, originally became interested in weightlifting thanks to watching Norbert "Norb" Schemansky compete in the Olympics on television.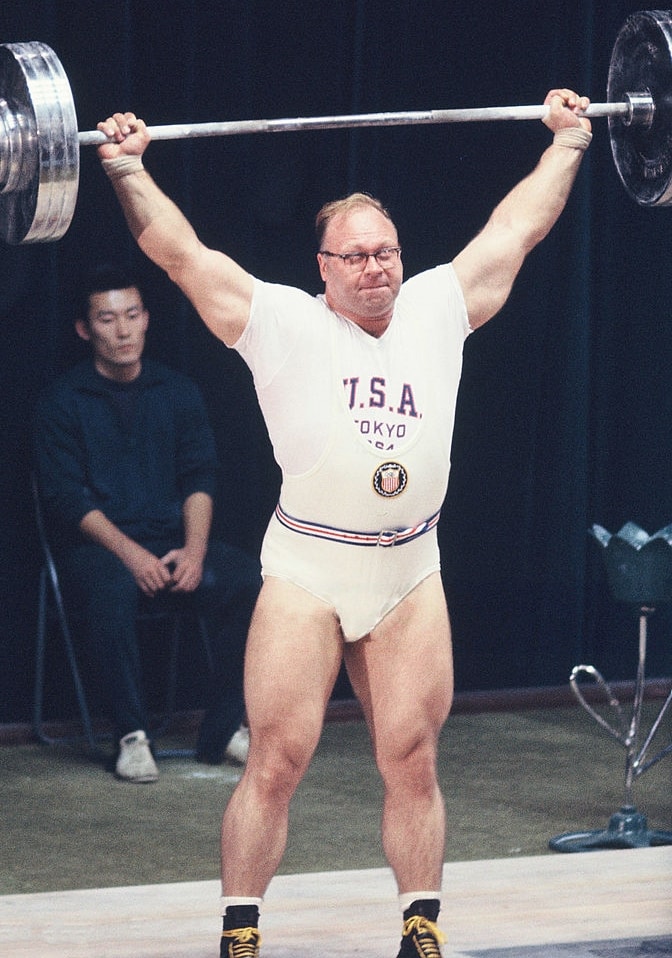 Photo: Norbert Schemansky at the 1964 Tokyo, Olympics.
Schemansky (featured above) was a 4-time Olympic medalist, and was actually the first Olympic weightlifting athlete to accomplish this feat. Without knowing so, Schemansky would inspire Patera to embark on a rewarding weightlifting career for himself.
Strength Sport Career
When Patera was in his youth and teenage years, he didn't have access to a wide variety of lifting equipment and gyms. In fact, growing up Patera only had a gym set at his home that maximally went up to 110 lbs, and would do all of his lifting on that. And at the age 15, it was said that Patera could clean & press the full 110 lbs with each hand.
After middle school, Patera gained access to more weights, presumably from his high school gym, and this is when his lifting truly took off. When he was 16, Patera was able to overhead press 220 lbs and bench press 285 lbs. To top it off, some have noted that he would roll the weight from his hips to his chest before finishing the bench press, not knowing that the bench was meant to be performed with supports.
After he left high school, Patera competed the shotput in college, and his career in lifting started to get more serious. It was around this same time he began working on his Olympic lifting more. He would eventually top Canadian Strongman Doug Hepburn's clean & jerk record with a 374 lb lift.
In 1969, Patera would make a decision that would forever alter his lifting career. He began seriously competing in weightlifting and won his first Junior Weightlifting National Championship. From 1970-1971, Patera won four gold medals competing at 110kg+ in National Championships. In addition, in 1971 Patera would win a silver medal at the World Championships just behind weightlifting legend Vasily Alekseyev.
A few of Patera's best ever lifts are listed below.
Snatch – 386.5 lb (175.3 kg)
Clean and jerk – 505.5 lb (229.3 kg)
Clean and press – 505.5 lb (229.3 kg)
Olympic three-lift total – 1,397.5 lb (633.9 kg)
Press from racks – 551 lb (250kg)
1972 Olympic Games
After his initial years of weightlifting success, Patera found himself at the 1972 Olympic Games held in Munich, Germany. Patera was expected to give Alekseyev a run for his money, and possibly seal a gold medal for the U.S. In fact, sources have quoted Alekseyev admitting that Patera at his peak was stronger than him, as proven by his unofficial 550 lb press off racks.
Unfortunately, shortly after the terrorist attacks struck the Munich Olympics – now known as the Munich Massacre – Patera ended up bombing out and missed his opening snatch three times. Some suggest that the delaying of the Games due to the attacks threw Patera off of his game by messing up his peaking cycle in his training.
Wrestling and World's Strongest Man
Following the 1972 Olympics, Patera arrived home and began contemplating what his next move would be. After receiving multiple offers to wrestle professionally, Patera decided that would be his next career move. In 1973, Patera began professional wrestling as a "strongman". Over the next four years, Patera would continue to build his name in the world of professional wrestling and earn the title of the "Most Hated Wrestler" in 1977.
Also in 1977, Patera competed in the World's Strongest Man and took home third place with 34 points. Not bad for only competing once in his lifetime.
Patera would continue to wrestle and build a name for himself into the 1990's. But it was around the year 1988 when Patera took a step out of the major limelight that came with his professional wrestling name. As he transitioned from wrestling, Patera began to start multiple businesses which included opening a gym, tanning salon, limousine business, and sports nutrition company. Years later in 2000, Patera would end up selling these businesses and began to work as a traveling salesman.
Where's Patera Now?
The now 74 year old Patera continues to function as a salesman for a large industrial company in the Midwest. He's frequently on the road working with clients, and does so to provide for his two daughters.
WWE.com did an interview with Patera few years ago, and he closed their talk with, "What I did in my lifetime, people would die for. I have nothing to regret and nothing to be upset about. I'm happy and I'm content." We'd have to agree that Patera has lived an exceptional life in the world of strength sports and sports entertainment.
Feature image screenshot from The Worlds Strongest Man YouTube channel.