NOBULL continues to innovate their shoe line with new models to tackle more and more activities. They came to market with their signature cross-trainer and have since branched into weightlifting shoes, high-top trainers, running, and even formal wear.
In this review, I put the new NOBULL Mesh Runners to the test to assess their viability for running, working out, and daily wear. I was curious to see how these performed compared to both hardcore running shoes and NOBULL's cross-trainers since I'm already a fan of those. For this review, I tested this model's performance, looked at its construction, and much more to come up these shoes' pros and cons.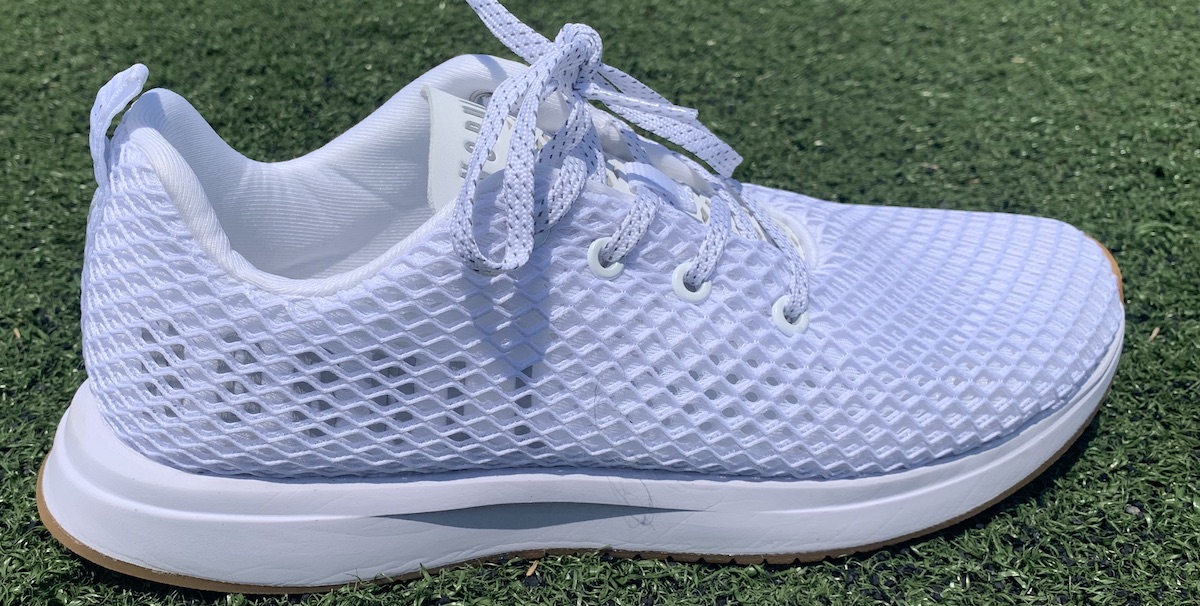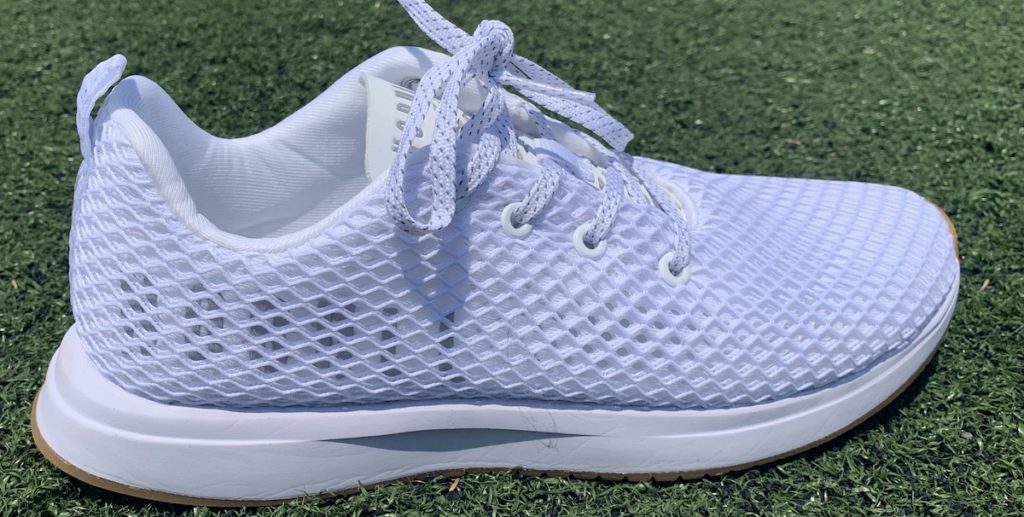 NOBULL Mesh Runner Pros
Lightweight construction with a breathable outer mesh layer that keeps feel cool.
Midsole is made of Phylon and is very reactive and provides a lot of feedback on ground contact.
Internal material is soft and comfortable for runs and everyday wear.
NOBULL Mesh Runner Cons
Outsole is relatively flat, so it may not be the most comfortable for flat footed individuals.
Not great for heavy lifts, so try to use them primarily for running, jumping, and every wear.
Performance
For my performance tests in this model, I made sure to cater the testing protocol for what this shoe is designed to do. Basically, I took out some of the heavy lifting tests that I do for our normal cross training shoe reviews.
Since this shoe is designed for running and cardio-based activities, I put more miles in this shoe than I do most cross-trainers. Overall, I was a fan of this model and how it performed for running. On multiple occasions I did 5-7 mile bouts or running in these and pushed different speeds to gauge comfort and reactivity.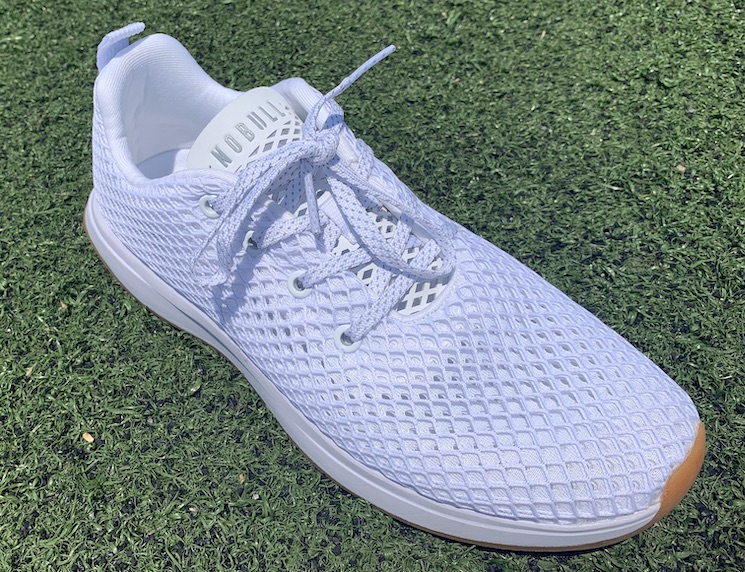 On shorter runs, I loved these shoes. Their lightweight construction made them a joy to have on and they breathed well, which is big for myself since I'm often running in an urban area (NYC). I also enjoyed how reactive the midsole was for shorter and quicker bouts of running.
I don't know if I'd recommend this model for longer runs (13+ miles), but I think they would do fine for them. I'm just not sure if they'd be optimal and provide enough support for some athletes due to the flatter outsole.
When it comes to agility and explosive workouts, these shoes did a fair job across the board. They're certainly more comfortable to wear for these style workouts than the normal NOBULL Trainers, but I personally thought the midsole might be a little much for lateral cuts and sprints, as a lower to the ground shoe is often preferred for these activities. My ankle would lose stability at top speed, but again, these are not really designed for this type of training.
On a day-to-day basis, these shoes are solid and comfortable, so if you want a casual running shoe to rock for general activities, then I think you'll like this model. In the gym, they're okay and can support lighter lifts, but I'd recommend using a conventional NOBULL cross trainer for heavier lifting.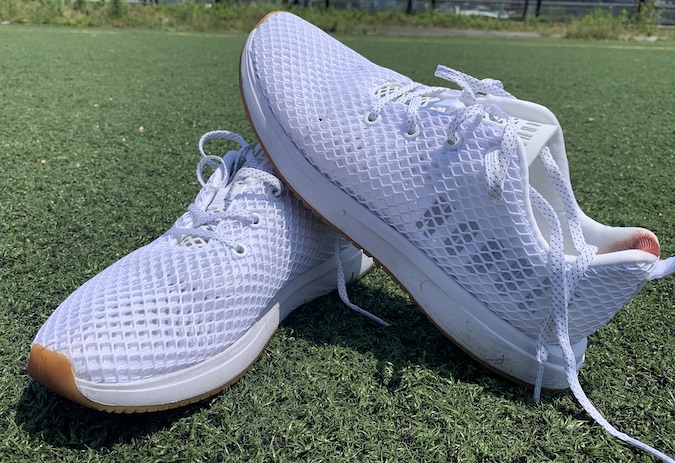 The only warning I have with this model is to wear longer socks when breaking them in because the upper part of the heel will dig into the Achilles slightly. I learned this the hard way…
Construction
The construction for this model is relatively simple, which I feel like is a theme for NOBULL. The outer construction is a layered mesh that has holes throughout the mid-foot and toe to promote breathability. This material also encloses the heel, but the internal layer is slightly thicker and is more supportive in nature.
The midsole is composed a Phylon material, which is a type of foam used in shoe models when the goal is supporting durability and reactivity. There's a lug pattern throughout the outsole and that promotes traction across multiple surfaces, and this stood pretty true when running on turf, gym floors, and pavement.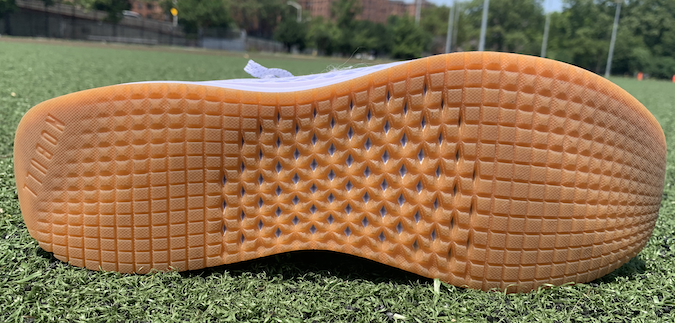 The tongue is a perforated microfiber material so it's lightweight and very breathable. There's NOBULL branding on the lateral heel and a lip to pull the shoes on and off with at the top of the heel.
Sizing and Fit
The sizing for this model fit fairly true. In all honesty, I could probably size down a half size and still have some room in the toe box, so I wouldn't worry about this model running too small if you're thinking about grabbing your normal size here.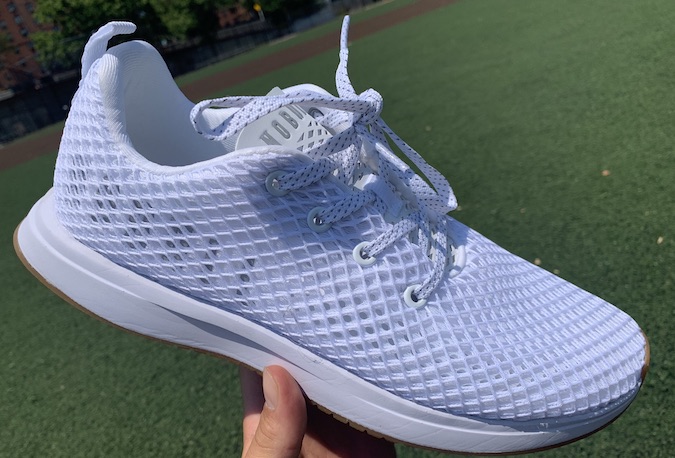 Price
For the NOBULL Mesh Runner, you can expect to pay $139.00. Now, for what it's worth, I think that's a little high for this model, however, it is a comfortable shoe and I do enjoy running in them. In reality, I would spend this much on them as long as they lasted a while because I did enjoy their performance and like this shoe's look.
Wrapping Up
At the end of the day, I enjoyed the time I spent testing the NOBULL Mesh Runner. It's not the most hardcore running shoe, but it does the job for shorter to intermediate length runs. Plus, you can lift in these if it's a lighter day, or wear them on a day-to-day since they're fairly comfortable.