We receive free products and receive commissions through our links. See
disclosures page
.
Founded in 1992 in New Jersey, Planet Fitness is now one of the most recognized gyms in the United States. They boast over 2,300 franchised clubs around the world, and they offer two different types of memberships to appeal to varying athletic needs. Their ultimate goal was to create a judgment-free gym that's affordable to the general population. To create this "judgment-free" space, Planet Fitness instated rules and regulations to build a gym that feels welcoming to all. This includes having a lunk alarm to discourage grunting, only offering certain types of equipment, and enforcing a dress code that isn't intimidating to people who are newer to gym life.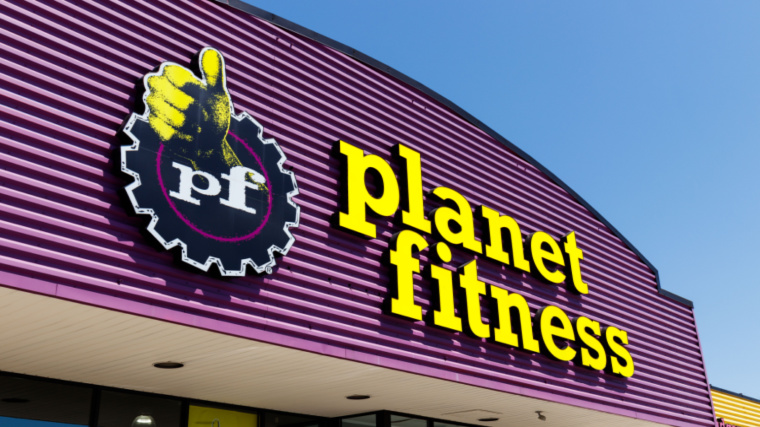 Whether you choose a Classic membership or their Black Card® membership, you'll have the opportunity to work out in a friendly environment that accommodates your cardio, lifting, and recovery needs. With group fitness classes and fitness professionals who can help you customize workout plans, this is a great public gym option for anyone new to fitness or looking for a bit more guidance. It's also a great gym for those who are wanting an inexpensive membership, or anyone who travels often and needs a gym they can work out in no matter where they are — but more on that below.
Main Takeaways
Planet Fitness has two different tiers of their membership. The Classic membership offers unlimited access to your home gym location. The Black Card® allows access to over 2,300 different clubs, and extras like tanning,

massage chairs

, and more. 

There are over 2,300 Planet Fitness locations around the United States, Canada, Australia, and Latin America, and they're branded as judgment-free zones, which means Planet Fitness enforces rules and regulations regarding types of lifting, dress code, and heavy lifting or loud grunting.

Memberships start for as low as $10, which has been true for the last 30 years, regardless of inflation.
Planet Fitness Highlights
If you're looking to go to a gym where you can feel 100 percent comfortable working out, look no further than Planet Fitness. They enforce a lunk alarm, which discourages loud and heavy lifting, inappropriate or distasteful clothing, and certain types of lifting that some may view as intimidating. When you choose the Black Card® membership, you'll have access to over 2,300 Planet Fitness locations across the United States, Latin America, Canada, and Australia, making it an extensive franchised organization.
They offer two types of memberships — Classic membership and Black Card® membership — and you have the opportunity to choose which model fits your fitness needs best. The Classic membership offers unlimited access to your home gym's cardio and lifting equipment, classes, and locker room access. The Black Card® membership offers unlimited access to all 2,300 locations, and perks such as massage chairs, hydromassage chairs, tanning, infrared saunas, and more.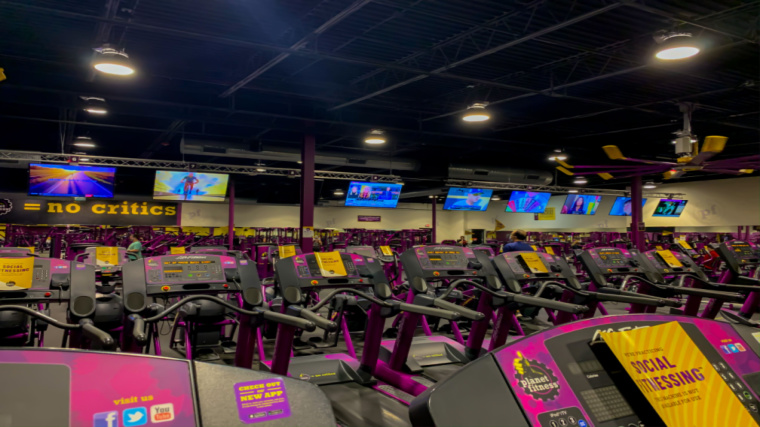 Planet Fitness offers your typical cardio equipment like treadmills, ellipticals, stair steppers, and stationary bikes, and they also offer some upper-body cardio machines, like the hand bike, battle ropes, and a rope pull machine. This can be extremely helpful for those who are dealing with lower extremity pain or injuries. They also offer a plethora of machines, like leg press, lat pull downs and assisted pull up machines, free weights, smith machines, and other various pieces of equipment, such as the Roman Chair. They are open 24 hours a day, making it the perfect gym for those who like to work out at irregular hours or whose schedule is atypical.
Who Should Join Planet Fitness
Those just starting their fitness journey who want a space to work out in that may feel less intimidating than a regular gym. Planet Fitness ensures there aren't extreme weight lifters or loud grunters.
Anyone on a budget who is looking for a fairly inexpensive gym membership with options for different levels of membership. Memberships here start as low as $10 per month.
If you're looking for fairly basic equipment, enjoy group classes, and want customized training help that is included in your monthly membership fee, Planet Fitness is for you.
This gym is open 24 hours a day, which is a great perk for anyone who prefers to work out during off hours.
Who Shouldn't Join Planet Fitness
Price and Membership Options
There are two main choices for membership at Planet Fitness. You can opt for their classic membership or upgrade to a Black Card® membership, which offers added perks. Depending on your needs, one may be better for you than the other, and we detail each membership option below.
Classic Membership Pricing
The classic membership includes unlimited access to your home gym, which means you'll have to decide on a specific location where you would like to work out at. It also includes a few perks, like working with a trainer in small groups, setting up a customized workout plan with a trainer, access to the locker rooms and showers, and group fitness. You'll get access to partner rewards and discounts with companies like Crocs, Sorel, S'well, and Grubhub. The final perk offered through the classic membership is free WiFi at your gym location, so you can use the app, watch instructional workout videos, and stream your favorite music while you work out.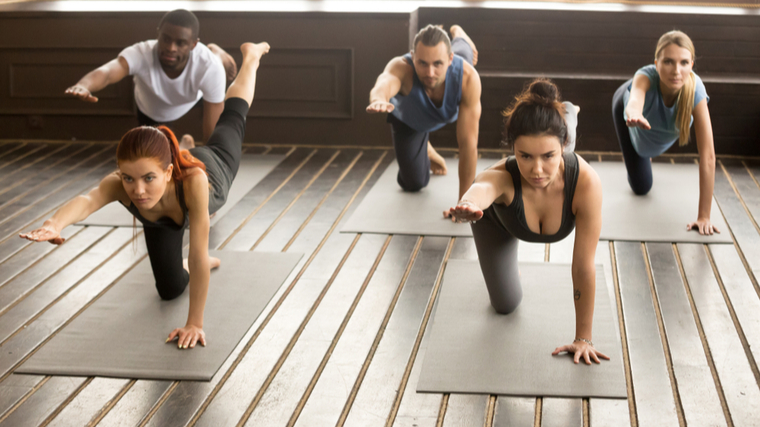 The classic membership is extremely affordable — one of the most affordable memberships we've seen — at $10 per month. This is a seriously sweet deal for anyone, but especially people who want the most bang for their buck, or those who don't want to pay outrageous gym fees when they are only able to hit the gym a few times a month.
Black Card® Membership Pricing
For those who want a few more perks with their membership, enter the Black Card® membership. Not only will you get unlimited 24-hour access to any of the 2,300 clubs across the country, but you'll also receive guest passes, use of the massage chairs and hydromassage chairs, tanning bed access, infrared sauna usage, discount on drinks and Planet Fitness gear, and partner rewards and discounts. This also includes free WiFi, access to classes, and customized training programs. You can expect to pay $25 a month for this membership, which is still extremely affordable and less than most other gym memberships.
Planet Fitness Layout
Although all 2,300 locations aren't carbon copies, they do have a similar feel and are designed to have the same type and amount of equipment and offerings available. Here we will break down the cardio equipment, strength equipment, classes offered, amenities, locker rooms, guided workouts, app perks, and personal training options.
Cardio Equipment
Each Planet Fitness location offers a plethora of cardio equipment to choose from. Whether you enjoy getting your steps in on a treadmill, want a low-impact option like an elliptical or are looking for a stationary bike or stair climber, Planet Fitness has you covered. They also have battle ropes, a rope pulley system, hand bikes, and rowing machines available if you prefer to do a different type of cardio.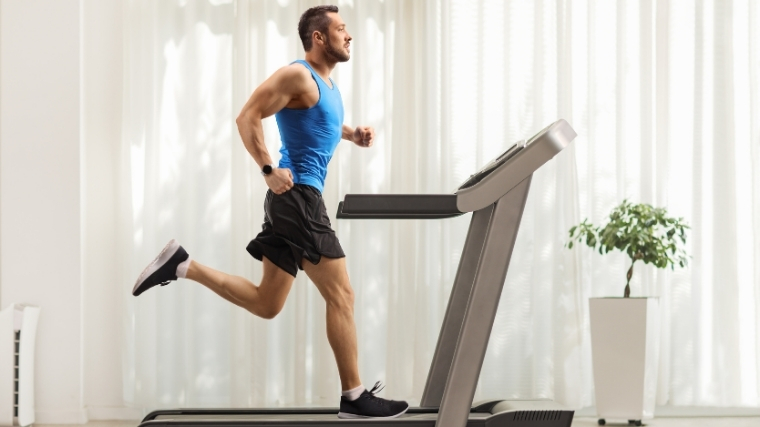 You're always able to get creative with your cardio as well. This may take the form of kettlebell swings, high-intensity interval training (HIIT), every minute-on-the-minute (EMOM), or bootcamp style workouts on your own. You're also welcome to join any of the fitness classes, many of which are cardio-based (but more on that below).
Strength Equipment
Planet Fitness covers all of the basic strength equipment you could desire. There's no lack of free weights, machines for upper and lower body, and cables spread throughout the gym. They even have some fun equipment like monkey bars to work on grip strength or pull-ups. The only barbells you'll find in Planet Fitness are set weight and go up to about 70 pounds. They also offer dumbbells, kettlebells, and a plethora of machines as far as resistance training is concerned. This includes leg press, abduction, adduction, overhead press, bicep curls, lat pull-down, and more. Plus, they have ample floor space for bodyweight workouts.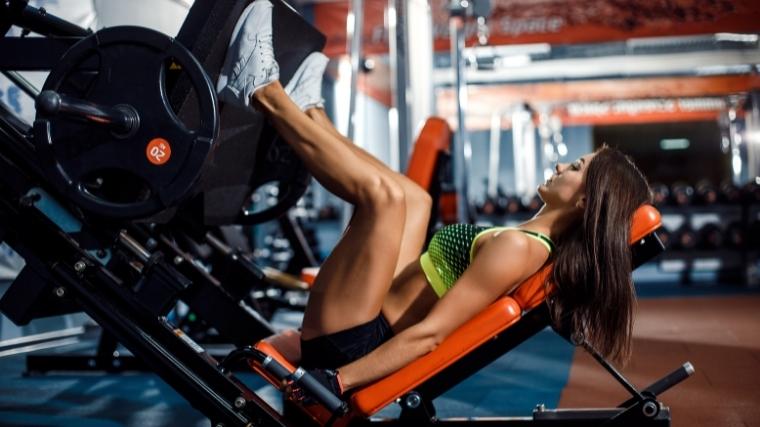 If you're looking to have a heavy squat, bench, or deadlift day, Planet Fitness may not be the gym for you. All of their barbells are fixed weight and can't be adjusted — and they don't have a real squat rack, so you'll have to settle for a smith machine if you're wanting the feel of a back squat. You'll also need to consider that each gym has a lunk alarm, which will go off and disrupt the customers if you're lifting heavy weights and dropping them, or if you're grunting too loudly.
Amenities
Some of the amenities included with a Planet Fitness membership include locker rooms, showers, and an area with tables and chairs to relax. If you're a Black Card Member®, you'll find even more extensive amenities. These include massage chairs, hydromassage chairs, tanning beds, and infrared sauna access.
While Planet Fitness has a pretty amazing list of offerings for a very inexpensive gym membership, it's worth noting that there isn't access to a pool, a multi-person sauna, a hot tub, a basketball court, a tennis court, or any other type of fitness offering outside of the traditional machines and cardio equipment. You'll pay a pretty low price and, in turn, you'll receive a pretty solid, but basic list of amenities.
Locker Room
The locker rooms include showers, bathrooms, changing rooms, and lockers. You'll need to provide your own lock or buy one from the front desk if you wish to utilize their lockers. They also have a no phones policy in their locker rooms, which means no selfies or taking pictures or videos within any of the locker rooms for safety and privacy reasons.
Guided Workouts and Classes
Planet Fitness has a section dedicated to the 30-minute workout, which is a guided full-body workout. This is a good starting point for those who are fairly new to the gym or want a little guidance as they find their stride in a fitness routine.
They have a separate section dedicated to this 30-minute workout where you can either follow along with an in-person instructor or tackle it on your own time outside of class times. Some locations label the machines starting at one, and you can follow the laid-out path. Other locations will put out a workout of the day on a whiteboard that you can follow. In these guided workouts, you'll work through upper and lower-body machine exercises, as well as some cardio-based movements on a step platform.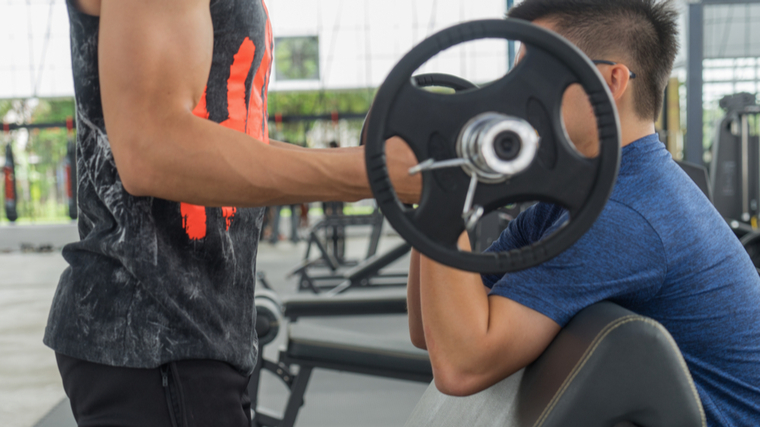 Of course, they have instructor-led classes as well, and some locations have personal trainers to help you customize a plan, which can be helpful for people who are newer to the gym and want to learn more about form and function. Some of the classes that you can take range from stretching to PF360 Burn, which is a cardio-based class. They also offer designated classes for working different muscle groups, like Upper Body, which is a push, pull, and press strength class, Lower Body, which is a fast-paced full-body workout focused on the legs, and Core, which is a core-focused toning class. Design Your Own Program is a class that provides the opportunity to meet with a trainer and design your own workout to help you reach your fitness goals.
Because Planet Fitness is a franchise, each location may vary in its class offerings, and therefore, you should check with your local Planet Fitness to get a better understanding of what will be available to you should you choose to join. That being said, here are a few of the main classes that your location may have available to you.
PF360 Burn
This class is a cardio-focused workout class. It's a quick 30-minute class that may be paired with your own lifting routine before or after the class. Although each session may vary, trainers often break it up into six or so stations with various movements — such as battle ropes, jumping jacks, kettlebell swings, and more — to get your heart racing, blood pumping, and sweat pouring.
Upper Body
The upper body class focuses on push, pull, and press movements. You'll go through a full upper-body resistance workout to help strengthen your back, chest, shoulders, and arms. It is 30 minutes in length and may be a great class for those days when you don't feel like pushing yourself and need a little extra accountability, or if you want to learn the proper form and execution of new movements.
Lower Body
This is technically a full-body workout, but the main focus is on the lower limbs. As the legs are the biggest muscle group and you often need full-body activation to properly work them, this class can be seen as a full-body workout. It is designed to be fast-paced and effective and is also a 30-minute trainer-led class.
Core
Core class is a session meant to strengthen, tighten, and tone your abdominal muscles, including your obliques and low back. This class is 30 minutes in length and the movements will vary from trainer to trainer and location to location. This is a great class if you're wanting to develop a stronger core, which in turn, may improve your other lifts as well.
Stretch
This is a recovery-based class that leads you through a stretching program meant to increase flexibility and improve your range of motion. It's a 30-minute class and may be a great addition to your workout routine before or after you lift.
App Perks
The app offers tons of partnership deals that include discounts on food, delivery services, goods, gym clothes, phones, headphones, flowers, and more. You'll also find guided workouts, short informational clips about the importance of moving your body, video tutorials of their equipment, and an app tracker. The tracker keeps count of how many times you check in at the gym, types of workouts you complete, goals, and body stats like height, weight, and experience level.
Personal Training
Although it doesn't look like the classic personal training, Planet Fitness offers you the opportunity to work with a trainer for free to customize a workout plan and talk through any of your concerns or questions about lifting, starting a program, or finding the workout that fits your needs best. Planet Fitness offers 60-minute classes throughout the week where you are able to customize a plan with a professional, so you have opportunities to constantly change your plan up or set a new focus.
What To Consider Before Joining Planet Fitness
When it comes to deciding if Planet Fitness is the right fit for your gym needs, there are a few things to take into consideration before signing your membership contract. Some of the things you'll want to think about are the types of training, price, and benefits that come with your membership.
Type of Training
This is probably a gym best suited for people who aren't doing extreme training for strongman, bodybuilding, powerlifting, etc. It is best suited to the general population and folks just starting out on their fitness journey. Each location is set to have the same amount/type of equipment, so you can expect consistency throughout each location.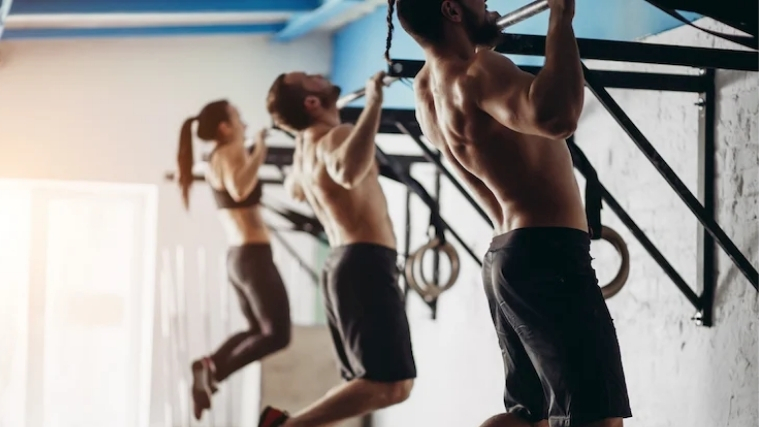 If you're someone who is passionate about squat racks or loading barbells up with 45-pound plates, you'll be disappointed. There are no barbells or squat racks to be found at any location. There is a limited number of 45-pound plates to load up the smith machine, but between that, and the fixed-weight barbells, that's about as close to squatting plates as you'll get at Planet Fitness. If you're someone who is just starting out on your fitness journey, someone who doesn't need fancy or extensive equipment, or just likes to hop on the treadmill or elliptical, Planet Fitness is the spot for you.
Price
Planet Fitness is great for people who travel often and need a wide-spread gym. However, you'll have to be a Black Card® member in order to access Planet Fitness locations outside of your home location. If you're someone who travels often and wants a gym everywhere you go, this should be worth your while though. At a minimum, you'll spend $10 a month for your Planet Fitness Classic membership, while the Black Card® membership costs around $25 per month.
Depending on your needs, one will probably make more sense for you than the other. If you travel often and want the perks of tanning, infrared saunas, massage, and hydromassage chairs, or the ability to bring a guest, you'll probably want to splurge and get the Black Card® membership. If you're okay with only going to a singular location and don't have the desire to utilize the extra amenities, you'll be solid with the Classic membership.
Benefits
For people who like perks, Black Card® members receive access to a few different benefits and amenities with their membership. Some of the perks include access to tanning beds, massage chairs, infrared saunas, hydro massage chairs, and sweet deals with outside affiliates like Crocs, S'well, Grubhub, and more. You'll also have access to over 2,300 Planet Fitness locations, which is the perfect option for those who have busy travel schedules.
Final Word
If you're just getting started on your fitness journey, or are looking for a reasonably priced gym membership, Planet Fitness may be a great fit for you. With over 2,300 locations throughout the United States and beyond, Planet Fitness has created an environment that is designed to feel warm and friendly, and allow you to work at your own pace. They do this by discouraging heavy and intense lifting and loud grunting.
While they keep their prices low, their offerings are fairly abundant. Whether you want to hit some cardio equipment, lift some weights, take a class, or enjoy the perks of massage chairs and tanning beds, Planet Fitness offers a safe, clean, and affordable gym space to find your stride in the gym. This gym is not for those who want to lift heavy, up their one rep max, or train for a CrossFit, bodybuilding or powerlifting meet, as it caps out on weight and doesn't include barbells, squat racks, or a place to practice posing. For those who want an affordable, user-friendly, basic gym experience though, Planet Fitness may be the right fit for you.
FAQs
Who is Planet Fitness best suited for?
Planet Fitness is a gym that is best suited for anyone who wants a pretty standard fitness center at an extremely reasonable price. Planet Fitness is not ideal for anyone who is looking to train intensely, but it is great for beginners and those who don't want extra frills, like a pool, hot tub, or basketball courts.
Is it expensive to become a Planet Fitness member?
Planet Fitness has one of the most reasonable membership prices out there. Starting at around just $10 per month, you can have unlimited access to your home gym location. Their top tier — and most expensive — membership is about $24.99 a month and offers access to 2,300 clubs. No matter which tier you choose, you'll find both to be less expensive than almost any other gym membership on the market.
Does Planet Fitness adhere to a dress code?
Yes, proper gym attire is required for working out at Planet Fitness. That means you can't work out in open-toe shoes, bare feet, jeans, or clothing with hateful or lewd words or messages. You are welcome to work out in crop tops, or sports bras. Stringers, or other appropriate clothing, as they only enforce dress code rules for keeping a safe and healthy gym environment.
What is the lunk alarm at Planet Fitness?
The lunk alarm is a loud siren that Planet Fitness uses to discourage loud grunting and dropping of weights. The lunk alarm is found on the wall of every Planet Fitness location and has become recognized as a way to keep a fairly neutral client base. This helps weed out the people who may not be a great fit for Planet Fitness, such as intense bodybuilders or powerlifters who need excessive weight on their barbells.