Power racks can be as simple or as complex as you'd like depending on the number of attachments you choose to include on your rack. In our assessment, the REP Fitness PR-4000 is one of the most versatile and powerful power racks on the market. Rated at 1,000 pounds, and forged with 11-gauge steel, this rack is built to last and has plenty of versatility with over 20 attachments to bolt on.
The PR-4000 is a fairly large build on its own, but it's fully customizable. With four pull-up bar attachments, plus the ability to add a dip attachment, and leg roller attachment, this is a solid power rack option for those who want the full package and have the budget for it. You'll have the luxury to choose the dimensions of your rack, and the PR-4000 even comes in eight different color options. If you're looking for a customizable, versatile, and lasting rack the PR-4000 could be the last power rack you ever need to buy.
Main Takeaways
The ability to choose the height (80 or 93 inches) and depth (24, 30, or 41 inches) of this rack separates it from competition that is limited by design.
This rack comes with built in storage, and safety features, but the option for more of both make this rack very appealing — you can add over 20 attachments.
Rated at 1,000 pounds, this power rack can accommodate most athletes, beginning and advanced.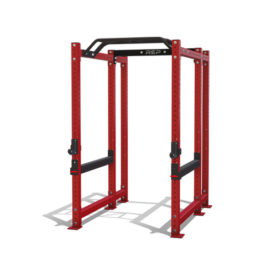 This rack is made of 11-gauge steel, and comes at either 80" or 93" tall, and 24", 30" or 41" deep. While it may be larger than other power racks, it also offers more attachment options, including those for dips, bands, leg rollers, and more.
REP Fitness PR-4000 Power Rack Highlights
No matter if you're a novice or a seasoned vet, the REP PR-4000 is built to withstand a lifetime of use and designed to support the needs of pretty much all users. Priced under $800, this rack comes at a reasonable cost for the functionality it brings, and may pay for itself over a few years if you are looking to avoid crowded gyms. However, it's still considered a more expensive power rack option, as you can find power racks for under $400 (though they may be less versatile). The 11-gauge steel build means this rack is super durable, and can quite possibly be the last rack you ever need.
Attachments are the name of the game when it comes to power racks, and the PR-4000 has your back with the ability to add over 20 attachments. Like many racks, you have the luxury of picking and choosing what attachments you want to build onto your rack. This rack in particular can sustain up to 1,000 pounds, which is above average across the market, but due to this and its customizability, it's also one of the bigger power racks on the market, which means it may not be great for small spaces.
Who Should Buy the REP Fitness PR-4000
Anyone who has a large space for a home gym — though you don't have to get the biggest size available, you will still want that extra space for the additional weights and attachments you can add to this rack.
If you want a rack made from durable 11-gauge steel, this rack is a great option for you.
Advanced athletes who lift heavier will appreciate that this rack is rated at 1,000 pounds.
Who Shouldn't Buy the REP Fitness PR-4000
Elite powerlifters who may need a rack that can withstand more than 1,000 pounds will want to look elsewhere.
People who do not have enough space to fit this equipment in their home. The dimensions of this rack can get up to 93" x 47" x 41" (depending on the height and depth you choose).
Buyers on a budget can find more cost effective options out there for under $400.
Price
Since the REP Fitness PR-4000 is fully customizable, there are multiple pricing options ranging from $785 to $2,400. The $785 base price will continue to increase depending on how many attachments you add, as well as the overall quality of each attachment. These attachments include but are not limited to safeties, weight storage uprights, crossmembers and horns, a dip attachment, a pull-up bar, and J-cup options. You can also purchase the lat row attachment separately for an additional $520.
While this rack has the potential to cost you $2,400, this is not a bad price considering the results you could potentially see, and how long the rack may last you. The PR-4000 is right around the average price compared to power racks that offer the same capabilities. However, if you're looking for a basic power rack with fewer options for customizations, you can find one for almost half the base cost of the PR-4000.
Overall Build and Quality
Since there is more than one size available for the PR-4000, you need to be sure to measure how much available space you have to accommodate for this rack. No matter which option you go with, this is a large piece of equipment so keep that at the front of your mind when making your decision. With 20+ attachments available, you can really deck out this rack to be a beast of a centerpiece in your home gym. The 11-gauge steel and weight rating of 1,000 pounds ranks this rack right up there with power racks that you may find at professional gyms.
Features
There may not be many limitations when it comes to add-ons with the PR-4000 — the 20+ attachment options enable you to focus on pretty much every muscle group. You can add a dip attachment, landmine attachment, lat row and pulldown attachment, and you have your choice of a pull-up bar. What makes this rack stand out compared to their other racks, is that you can add significantly more weight — up to 1,000 pounds compared to the 500- to 700-pound market average — making it more appealing to advanced athletes.
Pull-Up Bar
The PR-4000 allows you to choose between four different pull-up bar options. These variations include the standard 1.25" bar, 2" bar, the multi-grip, and globe grip pull-up bar.
The globe grip is a great option if you are looking to increase strength in your fingers, wrists, and forearms, which can improve your overall grip strength. This attachment features 3" and 4" globes, as well as angled cylinder grips outside of the globes, allowing you to perform wide-grip pull-ups. The multi-grip bar is a good option if you are dealing with lack of overhead space between your rack and the ceiling. It also allows you to change your workout to target different parts of your back, unlike the 1.25" and 2" bars— which only allow you to perform a traditional pull-up.
Laser Engraved Numbered Uprights
The REP Fitness PR-4000 has engraved numbers, allowing you to quickly and accurately adjust your J-hooks while switching from squatting to benching. However, the PR-4000 only features these numbers on the front of the rack, which may potentially create a headache if mounting the safety arms.
Plastic-Lined J-Cups
The REP Fitness PR-4000 features J-cups that are lined with UHMW plastic. This special type of plastic is ideal for keeping your barbell in good condition while racking it. The PR-4000 gives you three options to choose from: the standard j-cups, flat j-cups, and round sandwich j-cups. It all boils down to personal preference, but the round sandwich option may offer the most security for your barbell — the design features a dual lock design, with a narrower resting point than the other options, preventing your barbell from moving while it's racked.
Storage Attachments
A feature that makes this rack stand out from the other racks, is the amount of weight storage at your disposal. When you add the storage horns, this rack can have five different horns on each side to store your weights.
Add-Ons
With over 20 separate attachments, you have the potential to increase both lower and upper body strength and muscle growth. You can add a dip attachment and lat row attachment, as well as a leg roller if you want to isolate your quads and hamstrings specifically. Another safety feature that this rack offers is front foot extensions, which provide increased stability without having to bolt the rack down.
Product Specs
Since there are a variety of sizing options for the PR-4000, you are going to have to be certain of the dimensions of your available space before purchasing. You can choose between 80" or 93" in height, and 23", 30", or 41" in depth. The PR-4000 is stable and built from 11-gauge steel. It's also rated at 1,000, which should accommodate both beginning and advanced athletes alike.
Materials
The PR-4000 is built from 11-gauge steel, which can last a lifetime, and is comparable to the steel frames found in professional gyms. This is one of the sturdiest options you can find on the market, especially with the additional front foot extensions.
Dimensions
This is a large piece of equipment and will require plenty of space to accommodate for its footprint. You can choose between 80" or 93" in height, and 23", 30", or 41" in depth, and no matter the height/depth, your rack will be 47" wide. This will not be able to fit in everyone's available space, so be sure you have around nine-foot ceilings and about five feet in width and depth to accommodate.
Weight Capacity
The REP Fitness PR-4000 is rated to support up to 1,000 pounds. This includes the weight from both the weighted plates and all possible attachments. Each individual attachment is rated for less weight though, so keep that in mind when making your purchase and choosing your attachments.
Warranties
REP Fitness offers a lifetime warranty on the frame, and their warranty on parts/attachments ranges from one-year to a lifetime depending on which add-ons you buy.
Places to Buy
The PR-4000 is available through the REP Fitness website, as well as Amazon Marketplace.
Company Information
An idea for a company that was once a pipe dream of two brothers, REP Fitness now employs over 100 people. To this day, their focus remains on not only high-quality gym equipment, but also innovation, all while keeping prices affordable. You are eligible for a full refund within the first 30 days of purchase. For more information and assistance on their return policy, email [email protected], or call 720-420-1731.
Final Word
The REP Fitness PR-4000 is an extremely versatile rack and one of the most customizable options on the market. This is a great buy for those building out their home gym, regardless of experience level. It's built from 11-gauge steel, meaning it can go toe-to-toe with power racks you would find at professional gyms. Its dimensions are larger than average though, which means you will need a good amount of space to accommodate for the frame and attachments. With over 20 attachments to choose from, you'll have the option to hit pretty much every muscle group in an effective way.
Rated at 1,000 pounds, this is a solid option for anyone looking for a power rack that is going to last them a long time. This rack can meet the needs of most recreational athletes, and even some more advanced powerlifters. As long as your budget and space can allow for this hefty power rack, the PR-4000 may easily be the last home gym purchase you ever make.
FAQs
Can the PR-4000 be bolted to the ground?
Yes, this rack can be bolted, and REP Fitness recommends bolting it down if you plan on using the front spotter arms without the front feet extensions.
Which weight horn size do I need for the PR-4000?
It's recommended that you use 12" horns and bumper plates for plates that weigh 25 pounds and up, while the 6" horns are ideal for plates that weigh 10 pounds or less.
Which form of safeties do I need to purchase with the PR-4000?
There really is not a universal "best option" when it comes to the safeties as each option offers different features. Flip down safeties provide you more space to perform exercises like rack pulls. Strap safeties are designed to prevent damage to your barbell in a situation where you have to drop the bar. Straps are also able to be mounted at different heights, allowing the bar to roll away from you in the event that you do have to drop it. It all boils down to personal preference and what you feel the most comfortable with in your space.