As part of continuous technological advancements within the fitness industry, home gyms — like Tempo Studio — have been revolutionized by the addition of artificial intelligence (AI) technology. Tempo Studio offers personalized instruction virtually for those who may not want to join a mainstream gym. In addition, if you're someone who is limited on space, this home gym has a compact storage compartment that may be able to save you some room. Tempo provides virtual personal training, over 1,000 different workouts, and even comes with its own set of free weights.
The instructed workouts consist of a warm-up, workout, and cool-down, and you have the ability to choose from live or on-demand classes. Tempo also utilizes 3D motion sensing that captures your movements, counts your reps, provides feedback on your form, and will recommend weight based on your form. When making your purchase, you can choose between the Starter, Plus, and Pro packages – the Starter comes with the most basic set of equipment, while the Plus and Pro options come with additional weights and accessories. For those on the hunt for a compact, high-tech home gym to ramp up their workouts, Tempo Studio has you covered.
Main Takeaways
Tempo's virtual training offers 3D motion sensing technology to capture your movements and offer feedback on form. It can also recommend weight based on your form, track performance, and tailor your regimen over time as you progress.
Tempo Studio comes with its own set of dumbbells and weighted plates to go along with a barbell. You can also store all of these beneath your display screen in the cabinet provided.
An interactive touch screen allows you to pick and choose which workout you are wanting to complete, follow along with your instructor, and track your stats.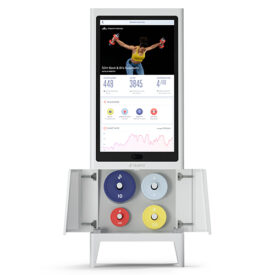 Tempo Studio offers a complete home gym — weight plates, a barbell and dumbbell, and more — plus hundreds of classes led by AI trainers. These trainers can even offer trainees form feedback virtually.
Tempo Studio Home Gym Highlights
The great thing about home gyms like this one is that they can be tailored to fit your specific needs and offer a plan for almost everyone. Tempo Studio is adaptive and over time will offer suggestions on weight, so that you can progressively overload your muscles. The leaderboard function with this product can serve as extra motivation for those who thrive on competition. Your "place" among everyone else in your workout class will change in real-time as you perform each rep, showing how your effort compares to others.
For serious powerlifters or anyone who lifts heavily, you may find that you need to purchase extra weights as the basic package might not sufficiently meet your needs. Even the Pro package only comes with two 45-pound and two 25-pound competition plates to supplement the 75 pounds of weighted plates that you receive with the Starter package — which is likely to be a bit light for elite athletes. However, this product can be the main source of exercise for many customers to not only build strength, but to also increase their overall fitness level thanks to the cardio and yoga classes that are available.
Who Should Buy the Tempo Studio Home Gym
Anyone looking to try virtual training will like Tempo's live and on-demand classes.
Beginners who are looking to perfect their form will enjoy the integration of AI that will correct any improper movements.
The included weights with Tempo are great for those who work out with lighter weights and may eliminate the need for a separate purchase.
Who Shouldn't Buy the Tempo Studio Home Gym
Anyone who wants to work out at home without a monthly subscription fee — a fee is required to use the technology with this product and will cost you about $40 per month.
Athletes who lift heavy weights and are looking to really load up their barbell may be better off looking elsewhere. You can purchase weight plates from other companies for a cheaper price tag, plus the 25-pound barbell can only handle 255 pounds.
Those who want their home gym to be outside or in their garage as this voids the warranty for this product.
Price
The Tempo Studio home gym comes in three different packages — the Starter, the Plus, and the Pro. Each package varies in how much equipment you receive, though all will include dumbbells and weight plates. If you aren't looking to spend the most, you can opt for the Starter package, which will cost you around $2,500 before shipping, and comes with the smallest number of accessories (a 5mm workout mat, two 7.5-pound dumbbells, four collars, and 75 pounds of weight plates). The Pro package offers the most equipment (like an additional bench, squat rack, foam roller, kettlebells, and more), but is also the most expensive option, running you around $4,000 before shipping. The Plus falls in the middle with a price tag of about $3,250.
You have two forms of shipping — standard delivery to your home will cost you $150, and white glove, which includes installation, will cost you $250. Tempo does offer monthly payments through Affirm for those who don't want to pay up front. Your monthly payment will adjust accordingly depending on your package, and you will pay over a 48-month period. You will also have to pay about $40 a month to gain access to the classes that are offered with this equipment. Even with the payment plan, this is not a cheap piece of equipment, but it can be worth your while if you value in-home coaching and virtual training, or you just want to be able to build out a full home gym in one purchase.
Overall Build and Quality
The Tempo Studio is about as compact as it gets when it comes to home gyms. The dimensions are 72" x 26" x 16", and the footprint is 4'2" x 1'4", meaning this equipment can easily be stored in the corner of your living room, even if you live in an apartment. While working out, it is recommended that you have 6′ x 10′ of floor space to properly perform your exercises. The equipment itself is made of high tensile aluminum, which could last you a lifetime as long as you take care of it, and it doesn't collect rust. Tempo voids your warranty though if you don't keep your equipment in a climate-controlled area, meaning you should avoid leaving it outside or in your garage.
Features
Tempo Studio has a lot of unique features, like the ability to easily store your weights and bench within the framework of the equipment. Technology might be the best thing about this piece of equipment though. Bluetooth and Internet capabilities combined with 3D motion sensing and a 42" touchscreen display make this home gym one of the most technologically advanced options on the market today. Over time, Tempo will provide you with feedback on your form and recommend how much weight to lift.
Equipment and Accessories
Depending on what package you decide to go with, you will receive an assortment of equipment with your purchase. Each package comes with a 5mm workout mat, two 7.5-pound dumbbells, four collars — which lock your plates in place while on a barbell — and 75 pounds of weighted plates. The Plus and Pro packages progressively increase the amount of equipment included with your purchase. The nine-piece Plus includes additions like a foam roller, heart rate monitor, and folding bench, while the 13-piece Pro includes a foldable squat rack, extra weight plates, and an adjustable kettlebell system.
Interactive Touchscreen
With Tempo, the ability to choose whatever workout you want is right at your fingertips with its 42" touchscreen display. Tempo provides access to 1,000 different workouts on this screen, and allows you to follow along with your stats like calories burned, heart rate, and more. This 1080P screen offers a clear image of your coach instructing your workout, as well as the leaderboards to show where you rank among your fellow classmates.
3D Motion Sensing Technology
As you exercise, the 3D motion sensing will provide feedback on your form to ensure you get the most out of your workout without injuring yourself. If you are taking a live class with a personal trainer, they will also provide feedback on your form. This feedback includes recommendations on how to increase your weight as you progress. These weight recommendations will pop up on the screen before each workout based on what you lifted prior.
Heart Rate Monitor
When making your purchase, you have the ability to add on Tempo's own heart rate monitor. This monitor is similar to most on the market, delivering real-time readings of your heart rate as you train. However, if you already have a heart rate monitor and don't want to buy another one, you will still be able to track your stats, just as long as you have an ANT+ heart rate monitor.
Bluetooth and Audio
Not only is this home gym compatible with an Apple Watch and ANT+ Heart Monitors to track your fitness goals and progress, but it also offers the ability to play music from your phone on its 60w stereo speakers, which may be perfect for some athletes who want or need music to help them go the extra mile. You can also play the class audio through the speakers, or connect your headphones to the equipment to listen to your instructor that way.
Storage
If you are looking for a home gym that accommodates space as much as possible, you will love the ability to easily store your weights and equipment out of sight with the Tempo Studio. Your weight plates that are under 45 pounds can be stored on weight horns that are built underneath the touchscreen monitor, and are hidden by cabinet doors when closed. Your barbell clamps to the back of the screen with your weight bench easily fitting behind, and you have an external storage box for your weight plates that are over 10 pounds. Plus, all of this storage is the same color, so your home gym space can remain cohesive.
Product Specs
Tempo Studio is one of the most compact home gyms out there. The frame is a little over four feet wide and about a foot and a half deep, standing at six feet tall and weighing 100 pounds without the weights in storage. This is not an easy form of equipment to move, so be sure to strategically pick a place to set it up. While the frame doesn't take up much room, you do need a decent amount of space to perform the workouts — the 3D sensors require six feet between you and the screen, so be sure you can properly accommodate.
Materials
Tempo Studio is constructed from high-tensile aluminum that is built to last and comes in either dark or light gray. The frame and equipment, crafted out of high tensile aluminum, are durable enough to essentially last you forever, as long as you prevent rust from forming on the frame. The 25-pound barbell that is included with your purchase is forged from stainless steel with a max weight capacity of 255 pounds. The Olympic weight plates are made from steel, coated in rubber, and have raised edges to increase durability.
Dimensions
Tempo is pretty space friendly for those who are concerned about their equipment taking up too much room. The dimensions are 72" x 26" x 16" with a 4'2" x 1'4" footprint — this is ideal for those who are limited with their available space, as it is around the width of a tall dresser and the height of an average refrigerator. Though, the 3D sensors do need six feet of space between you and the screen to pick up your movements.
Delivery and Assembly
Tempo offers standard delivery, and white glove delivery and installation for its customers. If you opt for the white glove service, a team will install everything for you upon delivery. This form of shipping does cost $250, which is $100 more than the standard option. Shipping time doesn't vary between the two options — both will arrive in two to four weeks.
Warranties
Tempo offers a one-year warranty on the display, bench, squat rack, weight plate holder, kettlebell, and heart rate monitor. There is a three-year warranty on the frame, weights, barbell, and dumbbells. It's worth noting that Tempo will void your warranty if your equipment is not stored in a climate-controlled environment. So if you plan on working out outside or in a garage, prepare accordingly. Tempo also offers a 60-day risk-free trial on the Studio, so if you aren't satisfied with the product, feel free to send it back at no cost. You will receive your money back, and they will cover the shipping both ways.
Places to Buy
You can buy the Tempo Studio through Tempo's website directly.
Company Information
Tempo aims to give everyone the power to realize their strength and lead a healthy life. Tempo sells both a full Studio product that includes equipment, Move, which is virtual training, plus weight storage, or just their virtual training membership on its own. They offer a full refund for their products within the first 30 days of your purchase. You can learn more about their policies by emailing them at [email protected], or you can call them directly at 415-964-2975.
Final Word
When building home gyms, innovation can be a key factor. Tempo Studio offers the ability to track your progress over time, compete with other athletes who are in the same class as you, and receive instant feedback. It comes with dumbbells, a barbell, weight plates, and even a yoga mat — and that's just the lowest-level package.
The fact that this equipment takes up minimal space in your home means that you have the potential to place it almost anywhere and still get a good workout in, just as long as you have six feet of space to perform your exercises between you and the screen. While this is a pricey piece of workout equipment, it can provide a more personalized at-home workout experience than most home gyms — plus, you can buy a good amount of home gym equipment all in one go, eliminating the need to hunt down a variety of weights on your own.
FAQs
Is a subscription required to use Tempo Studio?
Yes, if you want access to the coaches, classes, and instruction, you have to sign up for a monthly subscription of about $40.
How does Tempo Studio provide feedback?
Thanks to 3D motion sensors, Tempo Studio is able to see your movements and correct your form in real time. But don't worry, it does not have cameras that can see into your home.
How much experience do I need to purchase Tempo Studio?
Tempo Studio can be a great option for athletes of all levels. However, if you are a powerlifter, you may want to explore other avenues. The packages available may not have enough weight for elite powerlifters, meaning you would have to spend additional money for more weights on top of an already expensive purchase.