Phil Blechman here. You might recognize my face from the little circle under the title of many articles on BarBend, as one person in the crowd at the 2021 World's Strongest Man (WSM) contest did (thanks for the water bottle!). I'm on-site at the 2021 WSM contest, and it has been action-packed.
The Train Pull event had to change into a Train Push event due to difficulty with the train's brakes, 55-year-old Mark "The Miracle Man" Felix is still a top-tier strongman competing against athletes half his age, and 2020 WSM champion Oleksii Novikov failed to make it to the Finals by the narrowest of margins. Seriously, I had to do the math over and over to make sure that the scores were correct.
Considering Novikov won't be competing on June 19-20, 2021, to defend his title, a new WSM champion will be crowned to extend the streak of a new champion to five consecutive years. Since I'm in Sacramento, CA covering the event in triple-digit temperatures — no joke, it was 108-degrees during the Stone Off event (not great for tacky) — I thought it would be fun to share who I think are the likeliest strongmen to reach the podium this year based on their performances thus far.
Related: 2021 World's Strongest Man Results and Leaderboard
Phil Blechman's 2021 World's Strongest Man Predictions
Tom Stoltman
Bobby Thompson
JF Caron
Before the deep, dark internet threads and forums come at me, I explain my picks in detail below and discuss which athletes could very likely make me regret writing this piece.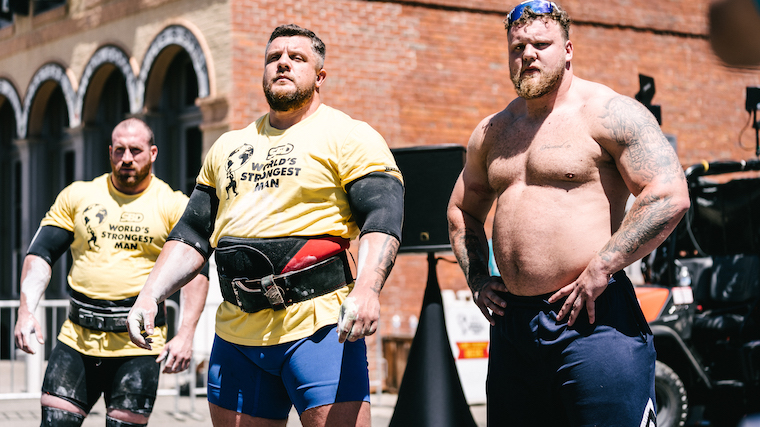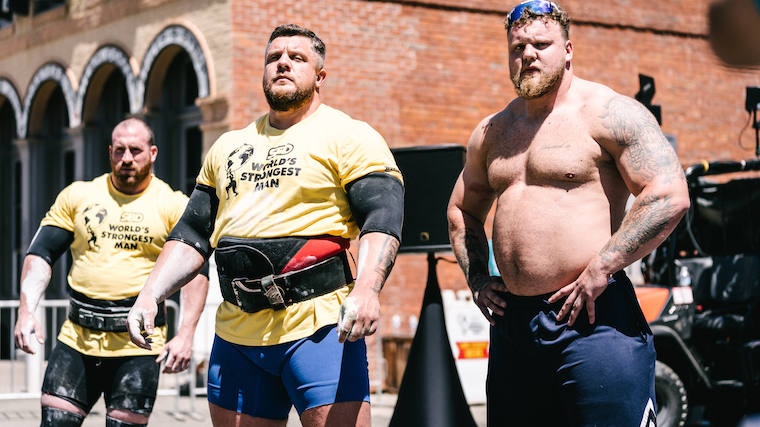 [Related: What You Need to Know About How to Increase Strength]
Behind The Scenes of the Pickaxe Hold
There was an audible gasp from the crowd when it was announced that Novikov fell to fourth place after the Pickaxe Hold event. There was a short period where everyone was confused before the official results were in. Luke Stoltman jumped for joy in the "arena" where the event took place because he presumably thought he won the group. There was a preconceived belief that whoever won the final Pickaxe Hold matchup between Stoltman and Novikov would win Group Five. When Stoltman bested Novikov, it was assumed the Stone Off would be between Thompson and Novikov since Thompson outlasted Kevin Faires in the Pickaxe Hold.
However, since Faires and Thompson had better times than both Stoltman and Novikov, the group ended up with all four men within a single point of each other — Stoltman and Thompson on 18 points, Faires and Novikov on 17 points. The tiebreaker was simply the Pickaxe Hold times — the athletes knew this ahead of time. So the defending champion was eliminated because he did not hold the 60-pound pickaxe for 2.58 more seconds. Okay, on to my definitely accurate podium predictions.
Related: 2021 World's Strongest Man Pickaxe Hold — Results and Recap
Why No Brian Shaw?
Let's talk about this. To determine who will make the podium, one must look at the events that make up the Finals. Here they are:
Final — Day One (June 19, 2021)
Giant's Medley
Titan's Turntable
REIGN Keg Toss
Final — Day Two (June 20, 2021)
KNAACK Deadlift
Atlas Stones
Based on these events, I think Stoltman and Thompson are the best positioned to fight for the title. Thompson is one of several athletes that has surprised me all week. Honorable mentions are Trey Mitchell and Luke Stoltman (more on them below). Looking down the event list one by one, I would rank Tom Stoltman or Bobby Thompson as the winners of most events. It would look something like this:
Predicted Winners by Event
Giant's Medley — Tom Stoltman
Titan's Turntable — Brian Shaw
REIGN Keg Toss — Tom Stoltman
Log Lift — Bobby Thompson
KNAACK Deadlift — Bobby Thompson
Atlas Stones — Tom Stoltman
But Phil, how can you have Shaw as an event winner but not on the podium? He's a four-time WSM champion. He's the only previous WSM champion still left in the field. He dominated his qualifying group. All of this is true, and Shaw has looked spectacular so far. I think Shaw will have a strong run in the Finals but finish just off the podium in fourth place. I could eat my words on this one because Shaw is an absolute spectacle of strength in person, but I said what I said.
Tom Stoltman
Tom Stoltman is a gigantic man. He and Shaw, both of who are 6'8," are the two tallest athletes in the competition. When standing near Stoltman, you wouldn't guess that he is a man of great agility. But when he is in the lifting arena, the man can move. At the 2020 WSM, he won three out of six events in the Finals, and they were all speed events rather than max lift events. The 2021 WSM Finals are set up the same way — the medley, the keg toss, and the Atlas Stones are all events Stoltman is exceptional in because of his speed. He hasn't lost an Atlas Stone event since 2019.
During the Overhead Medley in the qualifying stage, Stoltman missed out on a winning time because of a hiccup when racking one of the heavy dumbbells. Assuming his runs in the Finals are flawless, I think pushing your casino chips on anyone else is asking to go home poorer.
Stoltman's place at the top of the podium, I believe, is also the correct prediction because of the makeup of the rest of the Finals field. Shaw is going to perform well in each event, no doubt. He set a record of 13 consecutive WSM Finals appearances this year. However, his strongest events are also Thompson's strongest events, and Thompson is competing like a man who could lose his spot at any moment.
The TL;DR here is Stoltman's strengths align with the six Finals events in a way that I believe gives him a clear path to the title, assuming he doesn't make any mistakes or get injured.
Bobby Thompson
Putting Thompson in the silver-medal position in only his second WSM appearance is a bit gutsy, for sure. My predictions before the event versus my predictions, having watched the qualifying stage with my own eyes, are vastly different. I originally had Novikov defending the title (his technique is just so smooth). However, Thompson has made me a believer.
Group Five was arguably the most competitive of the qualifying stage. Aside from the out of nowhere, double-take, jaw-dropping run from Trey Mitchell to win his group on the third day of competition, it was the only group that didn't have a predetermined winner early on. Shaw, JF Caron, and Konstantine Janashia all knew they'd won their group if they just showed up to the Pickaxe Hold. Thompson has been a juggernaut so far at the 2021 WSM, and although it was surprising to see him win the group in the moment, after reflecting on it, it's really shouldn't have been. He is exceptional in the overhead events — he's the American log lift record holder, after all — and he always seems to push squat and deadlift events into very high rep ranges.
As far as I know, not many people had high hopes of Thompson stepping onto the podium this year. The pressure of living up to those kinds of expectations is not something Thompson has to contend with — unlike Shaw. And now, Thompson has the momentum of winning his group and knocking out the 2020 WSM champ under his belt heading into the Finals. That kind of confidence is worth more than words on the page can convey in a competition like this.
JF Caron
JF Caron is an absolute machine. The man looks like a humanoid frame with muscle slabbed onto it solely to lift arbitrarily heavy things off the ground. I chose Caron in third because he is as consistent as they come. In his career at the WSM, he has only ever improved or matched his previous year's performance. To go against the notion of "history repeats itself" with the nine-time Canada's Strongest Man champion is a fool's errand.
I'm skeptical that Caron will win any events in the Finals, but I'm confident he will do well in every event in the Finals. My guess is he hovers near the top of the standings, is a contender for the title, narrowly ousts Shaw, and watches Tom Stoltman win the competition in the Atlas Stones, which will be the deciding event.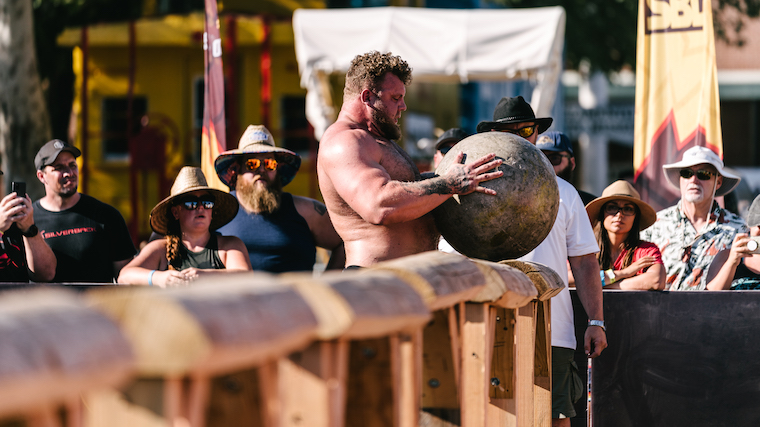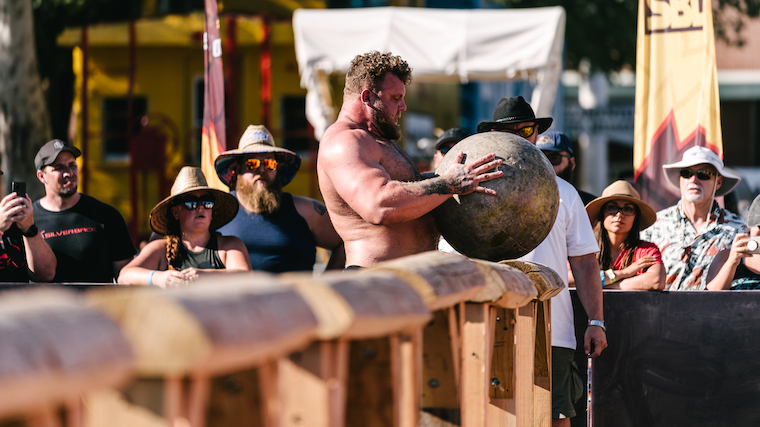 [Related: How to Plan Group Training for Strongman]
Honorable Mentions
It's hard to narrow down my picks for the podium, let alone a full 10-man roster. Here are two more standouts that left an impression.
Trey Mitchell
It would be a disservice to pen a piece like this and not talk about Trey Mitchell. Holy cow, what a performance he's had. It wasn't a secret that he's a strong guy — he did win 2021 Texas' Strongest Man — but who knew he could move as fast as he does?
Before Novikov and Luke Stoltman stepped into the Overhead Medley event, Mitchell tore through the medley so quickly that spectators audibly went "ooh," "ahh," and "wow!" when they heard his official time. And that wasn't the only time this happened. He did the same thing in the Train Push and the Pickaxe Hold. He's not on my top picks this year, but I will not be surprised when he eventually wins himself a WSM title.
Related: 2021 World's Strongest Man Overhead Medley — Results and Recap
Luke Stoltman
"Never count out a Scotsman!" Luke Stoltman roared to the crowd after besting Novikov in the Pickaxe Hold. Much of the qualifying stage was watching Stoltman and Novikov battle it out head to head. They faced off in the Fingal's Fingers, the Overhead Medley, and the Pickaxe Hold. It was as though they were in a war solely with each other throughout the competition. Novikov won the Fingal's Fingers and the Overhead Medley, but Stoltman got him in the Pickaxe Hold. It is unfortunate that Novikov had a lackluster day one because days two and three were impressive showings.
Luke Stoltman is an honorable mention because I learned something important about him this week — he feeds off the competition. There is no doubt in my mind, watching Stoltman clash with the reigning best in the world over and over, that his mini-rivalry with Novikov fueled him. If he brings that same drive to the Finals, he will certainly be in the top half of the standings.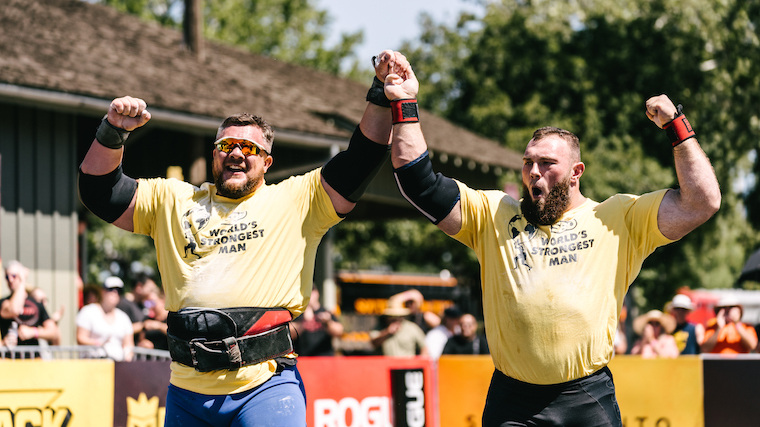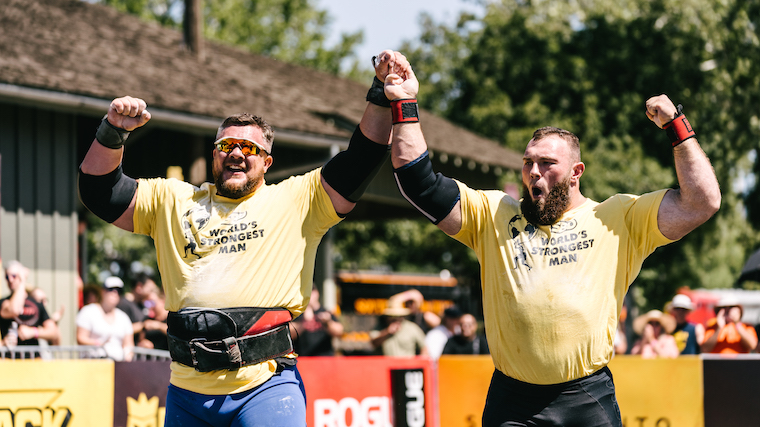 [Related: Best Pre-Workout Supplements for Strength, Cardio, and More]
2021 Finals Breakdown
Here is what my prediction card looks like heading into the 2021 WSM Finals:
Tom Stoltman — United Kingdom
Bobby Thompson — USA
JF Caron — Canada
Brian Shaw — USA
Luke Stoltman — United Kingdom
Trey Mitchell — USA
Maxime Boudreault — Canada
Adam Bishop — United Kingdom
Eythor Ingolfsson Melsted — Iceland
Konstantine Janashia — Georgia
Honestly, I expect most of my predictions to be wrong because the event so far has been surprise after surprise after surprise. If you told me Johnny Hansson would come back and win the Train Push event after exerting himself for over a minute trying to move a 50-ton train with the brakes on, I wouldn't believe you, but that's what happened. If you told me the 2020 WSM champion would miss the opportunity to defend his title in the Finals because of a 2.57-second time difference in one event, I wouldn't believe you, but that's what happened. If you told me the now-retired Terry Hollands would still compete in the deadlift event with what looked like a deflated biceps — and still pull six reps and finish in third place in that event — I wouldn't believe you, but that's what happened.
The only prediction I am 100 percent confident in is the 2021 WSM Finals will be one hell of an event — both because of the talent competing and because the scorching temperatures will remain in the triple-digits. Regardless, get ready to see a new WSM champion crowned.
Feature image courtesy of World's Strongest Man