Over the years, one of the staples of TYR Wodapalooza has been the open water swim in the warm waters of the Atlantic ocean. Year in and year out, an event featuring the swim has been an attraction and the bane of competitors from all over the world.
No other major CrossFit competition offers the infrastructure and views of being able to swim and perform functional CrossFit movements in a large body of water under the shadows of a major metropolitan skyline. This year's water workout was a two-parter: a 5K run while the other teammates simultaneously performed a three-round chipper that featured the popular swim off the Bayside stage.
[Related: 2023 TYR Wodapalooza Results — Elite Individuals and Teams]
[Related: Best Ski Erg Workout for CrossFit for Every Experience Level]
Team Event Two — "Chasing Waterfalls"
Complete for Time, in a relay style:
Part A:
Part B:
Three Rounds For Time
15 D-Ball Cleans — Men: 150 pounds | Women: 100 pounds
Open Water Swim — unspecified distance
21 D-Ball Squats
Time cap: 25 minutes
Women's Team Results
Invictus Chicks — 15:36.97
Team BPN — 15:41.59
The Dottirs ft. MOB — 15:45.41
GOWOD Girls — 16:56.56
Michigan Made – Orange — 16:56.72
A.K.A. Humble Killers — 17:03.96
All American Girls — 17:06.53
Kolesnikov Team — 17:10.10
Invictus — 17:17.22
Team Swedes — 17:25.59
Men's Team Results
Team Training Program — 14:10.56
Gilman Athletics — 14:26.38
Smith Bros — 14:33.39
Omnia — 14:34.25
J Ai Doua — 14:47.16
Big Body Boys — 14:48.02
The Lads — 14:50.06
King B.K & Friends — 14:59.51
Le Boiz — 14:59.52
Canadian PB&J — 15:00.97
[Related: 2023 TYR Wodapalooza Individual Event 6 Results — Paige Powers and Ricky Garard Claim First Career Major Competition Titles]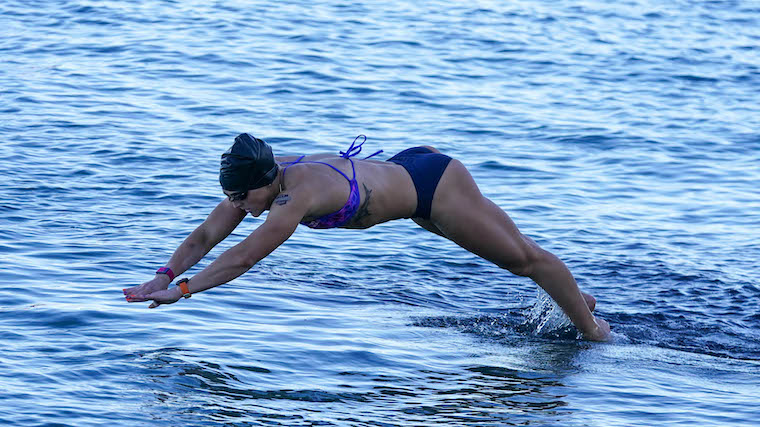 [Related: The Key to Nailing Split Squat Form]
Women's Event Two Highlights
Right from the start, the Amanda Barnhart, Brooke Wells, and Kristi Eramo O'Connell team jumped out to the early lead during "Part B" of the workout. The "All American Girls" used Barnhart's collegiate swimming experience to win the swimming and D-Ball movements of the workout by nearly two minutes over the "The Dottirs Ft. MOB" team of Annie Thorisdottir, Katrin Davíðsdóttir, and Mal O'Brien with a time of 16:54.56. "Team BPN" placed third with a time of 19:41.07, nearly a minute behind "The Dottirs Ft. MOB" team.
"Part A" of the workout consisted of all three teammates combining to complete a 5K run on the Assault Runner. The "Invictus Chicks" team of Lauren Stallwood, Emily Rethwill, and Allison Weiss set the time to beat in the second heat of 15:36.97. In the third heat, "Team BPN" attempted to take down that score, but Gabriela Migała, Laura Horvath, and Jamie Simmonds came up five seconds short of winning the event, finishing the triplet in 15:41.59. "The Dottirs Ft. MOB" garnered yet another top-three finish, their third in three events, finishing just four seconds behind "Team BPN."
Men's Event Two Highlights
Unlike the women's division of the workout, the men's field saw times in "Part A" coming from lesser-known and celebrated teams in the earlier heats. "Team Training Program," which featured past Games athlete Joshua Wichtrup along with William Kane and Felix Rehder, show off their running ability setting the time to beat, combining to complete the 5K in 14:10.56 in Heat 2.
CrossFit Covalence's "Gilman Athletics" team finished second in that heat and in the workout behind "Team Training Program" with a time of 14:26.38. In third was the "Smith Bros" featuring 2015 Fittest Man on Earth® Ben Smith and his brothers Alec and Dane, winning the final heat with a time of 14:33.39.
The defending Wodapalooza champions, "The Boyz," won their second workout of the day, finishing "Part B" of the workout at 19:20.44. "Team GOWOD", consisting of an international hodgepodge of athletes in Roman Khrennikov, Willy Georges, and Jay Crouch, finished at 19:37.39 to take second, their best finish of the day.
The Canadian team of Patrick Vellner, Brent Fikowski, and Jeffrey Adler finished 20 seconds behind "Team GOWOD" to place third overall in the workout.
Featured image via Patrick Clark.