On Jan. 12, 2023, some of the best CrossFit athletes in the world descended on Miami, Fl, for this year's TYR Wodapalooza (WZA). With a $500,000 total prize purse up for grabs, athletes had every reason to come out swinging on the first morning of the four-day competition. The second event of the weekend, "Back to the Future," was a chipper of epic proportions.
Emma Cary and Roman Khrennikov both put a win in the books here. Cary was fresh off of another first-place finish in the competition's first event, "Rings & Squats." For his part, Khrennikov was fighting his way back from the 14th-place slot from Event 1.
[Related: CrossFit Performance of the Week: Kelly Shirley Hits Two PRs in Two Days]
Individual Event 2 Results — "Back to the Future"
This chipper was long and grueling. It threw everything from legless rope climbs and unforgiving double kettlebell exercises to GHD sit-ups and a one-mile assault run. Here are the athletes who came out on top.
Women's Results
Emma Cary — 18:55.82
Emily Rolfe — 19:05.83
Sara Sigmundsdóttir — 19:24.06
Paige Powers — 19:42.97
Emma Tall — 19:59.71
Rebecca Fuselier— 20:22.33
Freya Moosbrugger — 20:34.28
Sydney Wells — 20:36.52
Dani Speegle — 20:47.13
Paige Semenza — 20:50.94
Men's Results
Roman Khrennikov — 17:27.00
Ricky Garard — 17:39.65
Alexandre Caron — 18:16.64
Patrick Vellner — 18:34.08
Cole Greashaber — 18:51.46
Nick Mathew — 19:03.10
Dallin Pepper — 19:35.90
Lago Guiraldes — 19:49.38
Brent Fikowski — 19:55.14
Artur Semenov — 20:02.78
Individual Event 2 Workout — "Back to the Future"
Complete for time:
Time cap: 22 minutes
Women's Event 2 Highlights
Emma Cary couldn't participate in the 2022 CrossFit season due to injury, but she seemed to be making up for lost time to kick off 2023. She made it two-for-two to start off the weekend, winning the second event of the opening day. Cary once again set the time to beat in the second heat, finishing the grueling chipper in front of the packed bleachers of the Bayside competition floor.
She finished in 18:55.82, about 10 seconds ahead of Emily Rolfe, whose time of 19:05.83 in heat two also held. Rolfe finished the event in second place, a likely balm after having to withdraw from the 2022 CrossFit Games due to health complications. Another athlete coming back from an injury-plagued 2022 season, Sara Sigmundsdóttir, placed third with a time of 19:24.06.
Men's Event 2 Highlights
For the second straight event, the crowd witnessed a heavyweight battle on the men's side. This time, instead of taking on Nick Mathew, Ricky Garard faced down fellow 2022 NOBULL CrossFit Games podium-finisher Roman Khrennikov.
Garard dominated the first part of the chipper, starting the one-mile Assault run almost 30 seconds ahead of the closest competitor. He was the first athlete off the runner, finishing the mile in less than seven minutes.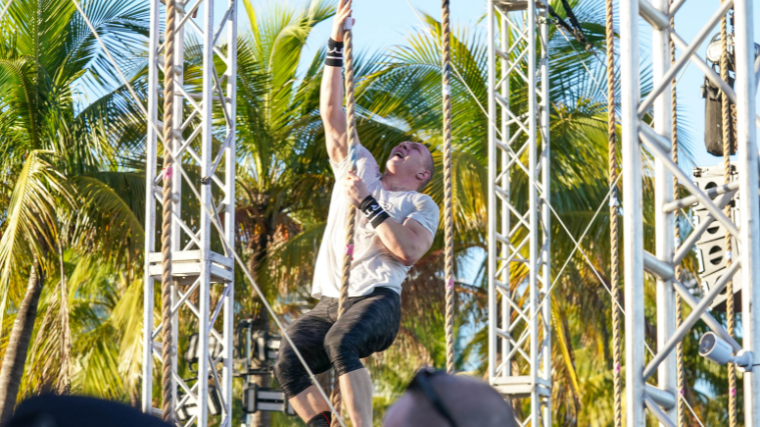 Khrennikov made up some time on the runner, but Garard held a considerable lead after the kettlebell thrusters and walking lunges. It was the 40 GHD sit-ups that let Khrennikov make his move, as his cycle speed was considerably faster than Garard's. He completed nearly three reps to Garard's one.
Khrennikov took the lead from Garard and made it to the rope climb first. He maintained a one-rep lead over his friendly rival, finishing in 17:27. Garard finished in 17:39.65. Alexandre Caron, a WZA podium finisher in 2022, placed third with a time of 18:16.64.
Stay Tuned
The four-day 2023 TYR Wodapalooza will be ongoing through Sunday, Jan. 15. You can catch the livestream on the Loud and Live Sports YouTube channel. For up-to-date WZA news and results, stay tuned to BarBend's Stay tuned to BarBend's Wodapalooza event coverage and results page.
Featured Image: Patrick Clark / Athlete's Eye Photography